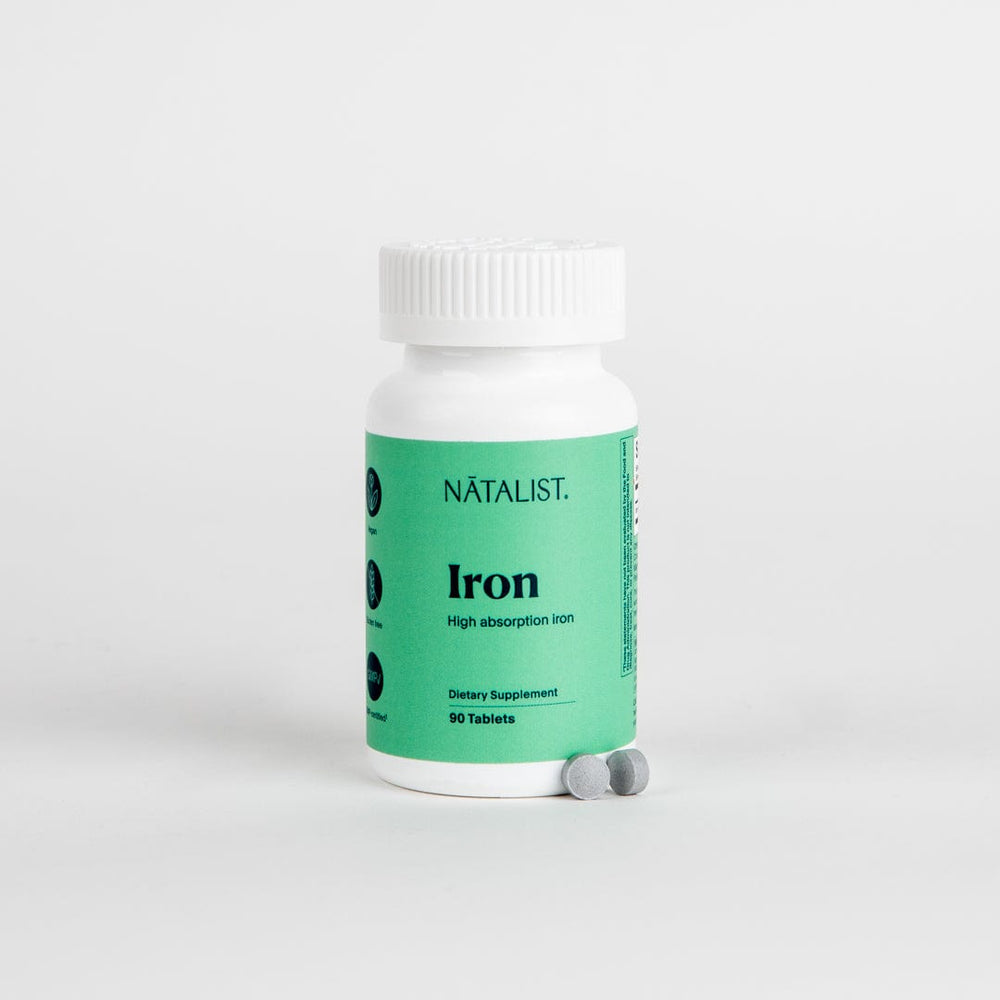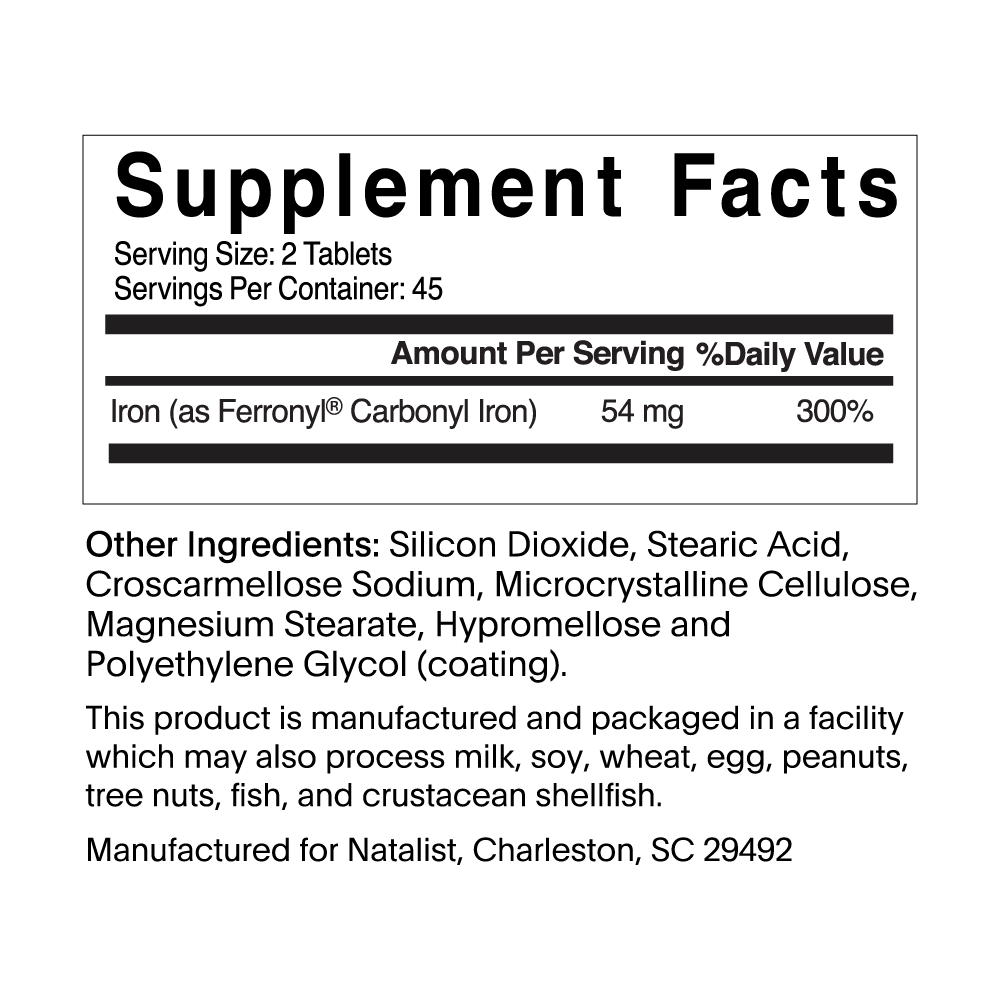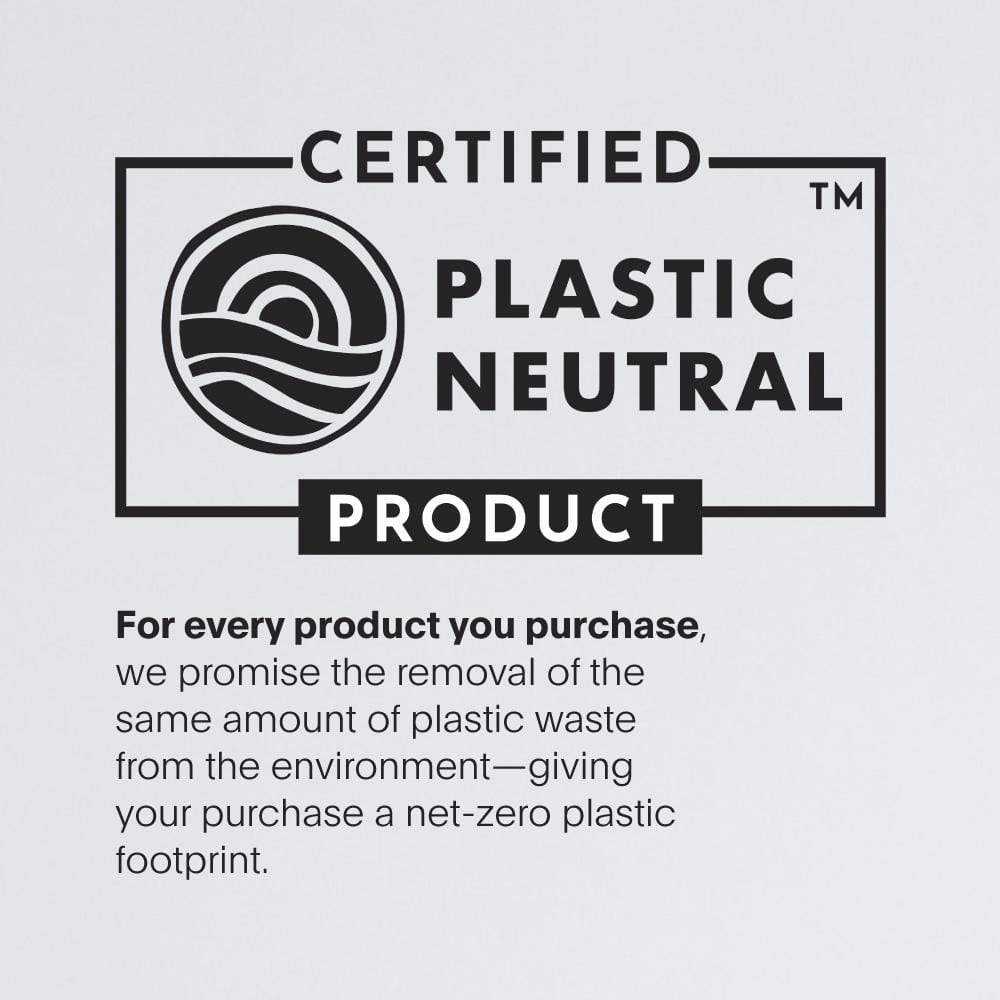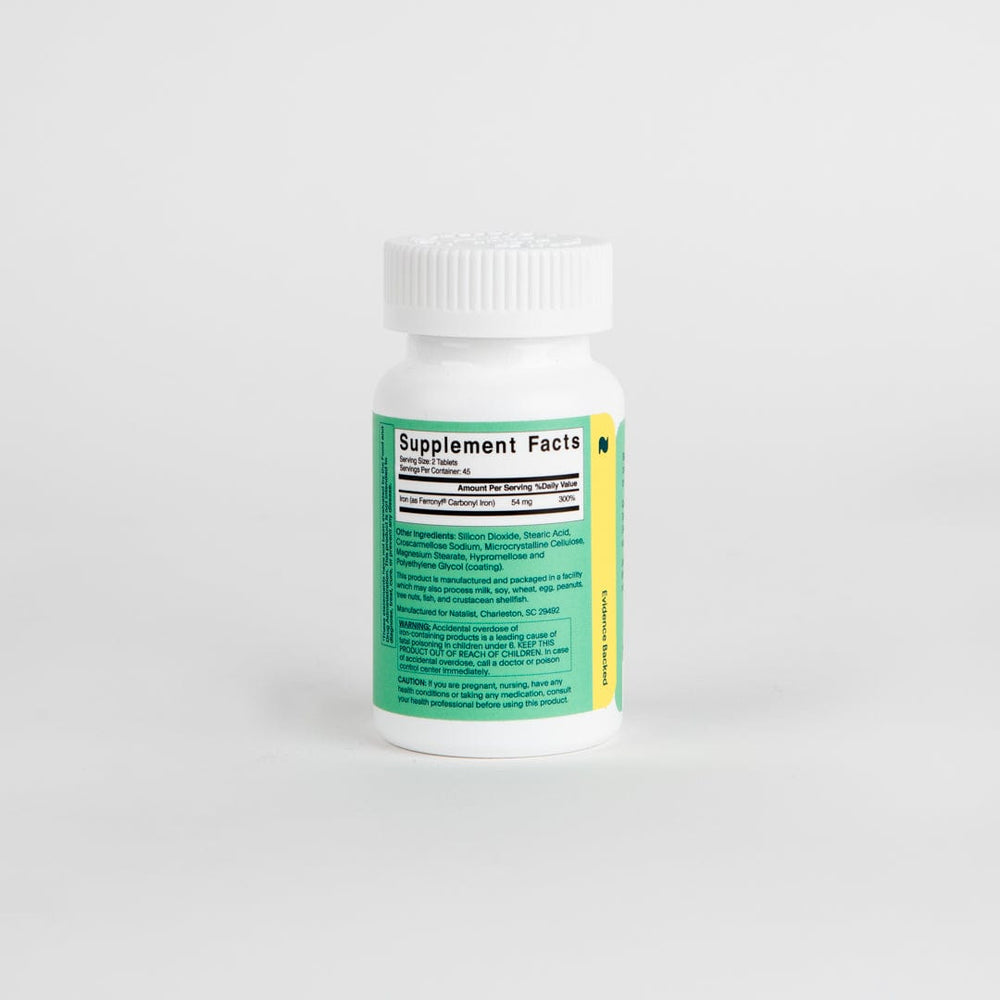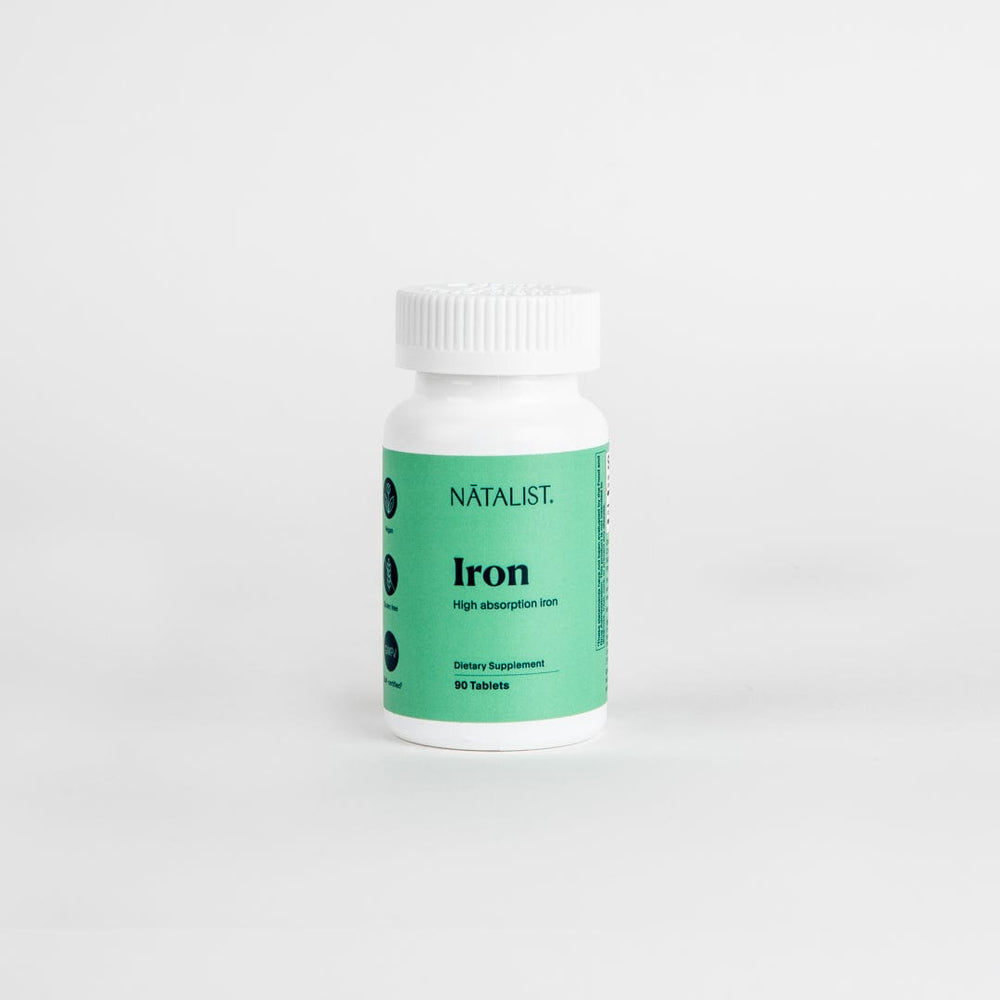 Iron
A low toxicity iron supplement to support red blood cell formation.
Over 40% of pregnant women are anemic and up to 25% are iron deficient, which can be dangerous if left untreated. Our vegan iron supplements meet APA and WHO guidelines, providing 54 mg of iron carbonyl to support healthy iron levels during your pregnancy.‡
Product Details
45 day supply: 90 vegan iron tablets
Provides 54 mg of iron carbonyl
Contains high purity elemental iron
Low toxicity and easy on the stomach
Contains no yeast, wheat, gluten, soy protein, milk/dairy, corn, sodium, sugar, starch, artificial coloring, preservatives, or flavoring
Why We're Proud
GMP Certified
Evidence Backed
Vegan
Gluten Free
No Synthetic Colorants
Fertility Expert
"About 40% of pregnant women are anemic (or have low red cell volumes), and the overwhelming majority are due to low or absent iron stores. Treatment with our iron supplement can support healthy iron levels over time."
We do our homework. See the research behind our Iron supplement.
Natalist vitamins are formulated with attention to detail. Each ingredient is researched and considered.
Natalist dietary supplements are formulated with premium, high bioavailability ingredients for maximum efficacy and potency.‡ Our non-heme iron supplements are low toxicity, gluten free, evidence backed, and vegan, making them the perfect option for those following a plant-based or vegetarian diet.
We are committed to manufacturing excellence. Every batch of vitamins is tested for product integrity.
All of our vitamins are made in an FDA Registered and Inspected Facility, which meets or exceeds FDA 21 CFR 111 guidelines.
In addition to testing the raw material components of our vitamins to ensure their purity and accuracy, we also test each batch after it is produced to ensure final product integrity and quality. Testing includes a chemical analysis to ensure accuracy, a microbial analysis (salmonella, E. coli, yeast, and mold) and a heavy metals test (including arsenic, cadmium, and lead).
Our iron supplements are free of artificial and synthetic dyes. Additionally, they are manufactured under strict procedures to ensure there is no cross-contamination during manufacturing and storage.
Formulated with iron carbonyl, a highly pure iron made entirely of microparticles of elemental iron.
Rather than a mix of iron salts like other iron supplements, our carbonyl iron consists of high purity elemental iron. Research has shown carbonyl iron to be an effective treatment for iron deficiency anemia, to have tolerable side effects, and to substantially reduce the risk of iron poisoning in children.‡
You may need extra iron when you are trying to conceive (TTC) or pregnant.
Iron deficiency is the most common nutritional deficiency in the developed world and almost half of the cases are due to not getting enough of this mineral via diet or supplementation (the other half may be due to genetics or an underlying medical condition).
You may think you are in the clear because you are eating iron-rich foods like red meat, chia seeds, and spinach, but iron deficiency can sneak up on you—especially when you are pregnant or TTC. Pregnant women are at an elevated risk for iron deficiency since their iron needs increase over the course of pregnancy. Data suggests that up to 52% of pregnant women may be diagnosed with iron deficiency anemia.
During pregnancy, your body needs to produce more blood to support your growing body and baby. If you are not getting enough iron in your diet, your body may not be able to make enough red blood cells to produce additional and essential blood.‡
Some women are more at risk for an iron deficiency.
If you don't have enough iron in your system and are not treated for iron deficiency anemia, it puts you and your baby at risk for various conditions, including preeclampsia, premature birth, low birth weight, baby being born with an iron deficiency, and baby being born with a developmental delay or developing one over the first year of life.
Some groups of people will be more at-risk for an iron deficiency than others and should proactively check with their healthcare provider. These groups include those on a vegetarian or plant based diet, teenagers who are expecting, pregnant women with a history of iron deficiency, pregnant women of multiples, and pregnant women with extreme morning sickness.‡
Supports fertility for women with ovulatory dysfunction.
Data suggests that supplementation of dietary iron may help support a woman's TTC goals if she is managing infertility resulting from ovulatory dysfunction (abnormal, irregular, or absent ovulation). A study evaluating over 18,000 women who were TTC found that dietary iron supplements and non-heme iron (vegetarian sources of iron) from other sources may decrease the risk of ovulatory infertility.‡
May also help fight fatigue.
Iron is a mineral that is key for helping move oxygen around in the body. If you don't have enough iron in your blood, you may feel tired because oxygen is not getting to where it needs to be. In fact, 44 percent of people with iron deficiency experience fatigue. In a systematic review evaluating 18 studies, iron supplementation was associated with reduced subjective measures of fatigue in those who are iron deficient, but not officially diagnosed with anemia.‡
Take iron with something acidic to encourage absorption.
Iron absorption is best in an acidic environment, thus supplements should be taken on an empty stomach or with citrus foods and drinks such as orange juice. Avoid taking too much iron with cow's milk, antacids, caffeine, or high fiber solid foods.
Non-GMO, but that doesn't really matter.
Along with
88% of polled scientists
, Natalist believes that the majority of genetically modified (GM) solid foods are safe. That said, we also believe that bioengineered ingredients should be clearly labeled so that consumers can make an informed purchase decision. Transparency is essential in building trust between brands and consumers. Our products clearly state if they do or do not contain genetically modified organisms (GMOs).
Discuss your prenatal supplement routine with your healthcare provider.
There's a lot of junk science out there, and products being sold with grand promises, but little or no data to back it up. We stand by our products and only sell fertility supplements with ample clinical evidence supporting the claims. We try to be very clear about who would benefit most from these supplements, but it's also important to discuss your prenatal supplement routine with your physician who can give further guidance.
This product is manufactured in a facility which may also process milk, soy, wheat, egg, peanuts, tree nuts, fish, and crustacean shellfish.
Accidental overdose of iron-containing products is a leading cause of fatal poisoning in children under 6. Keep this product out of reach of children. In case of accidental overdose, call a doctor or poison control center immediately.
Here's some of the research that went into making our supplemental Iron.
Technical Information
Maintaining a good and healthy iron level is important, especially when TCC. Thus, taking iron supplements daily is extremely beneficial for fertility and pregnancy. An iron supplement for pregnancy can help fight fatigue and support healthy iron levels for you and your baby.
Iron Usage
Adults take 2 iron tablets every day or as directed by your healthcare provider.
Serving Size: 2 Tablets
Servings Per Container: 45
Ingredients
Iron (as Ferronyl, iron carbonyl)
54 mg
Other ingredients
Silicon Dioxide, Stearic Acid, Croscarmellose Sodium, Microcrystalline Cellulose, Magnesium Stearate, Hypromellose and Polyethylene Glycol (coating)
Commonly asked questions about Natalist Iron
Should I take iron while pregnant?
About 40% of pregnant women are anemic (or have low red cell volumes), and the overwhelming majority are due to low or absent iron stores. Treatment with our iron supplement can support healthy iron levels over time.
Can I take iron while breastfeeding?
Yes. You can take iron while breastfeeding. However, we recommend you consult your healthcare provider if you have any concerns.
Are your vitamins gluten-free?
Are your vitamins GMO-free?
Yes, all of our vitamins are non-GMO.
Will iron make me nauseous?
It's possible, but unlikely. If they do, try taking them with food or before bed to lessen this effect.
How should I store this product?
For optimal results, vitamins should be stored in a cool, dry place. Avoid placing your vitamins in areas with excess heat or moisture; these elements can start to deteriorate the product and reduce their potency.
Do these expire?
Yes, all good things must come to an end. Check the expiration date on the bottle.
What if I take too many vitamins?
Call poison control at 800-222-1222.
How big are the supplements?
The Natalist Iron is a 7/16" round pill.
What is this bottle made of?
Our supplement bottles are made of HDPE plastic (#2), BPA and phalate free, and are blue-bin recyclable.
Is this product FSA/HSA eligible?
This item may be eligible with a Letter of Medical Necessity (LMN) with a flexible spending account (FSA), health savings account (HSA), or a health reimbursement arrangement (HRA). Be sure to check with your specific HSA/FSA benefits coordinator for clarification on the specific requirements for reimbursement including usage, protocol, and qualifications. You can either use your HSA debit card or use the itemized receipt (which will be in your inbox after you make a purchase). Read more about submitting for FSA and HSA reimbursement here.
What makes your packaging earth friendlier?
All Natalist products and packaging are 100% plastic neutral. For every pound of plastic we sell, we facilitate the removal of a pound of plastic pollution—giving your purchase a net-zero plastic footprint.
Can I get just one month's worth of Iron?
Consistency is key for many supplements, so we only offer this product as a subscription purchase. If you want to try it just once, you can place an order and either skip the next shipment, choose a specific date for your next shipment, or cancel. Simply log in to your Natalist account, head over to "Manage Subscriptions," and click "Edit" to get started. Additionally, we are excited to offer exclusive perks to subscribers, including discounted products (up to 50% off) and free shipping on all subscription orders.
‡These statements have not been evaluated by the Food and Drug Administration. This product is not intended to diagnose, treat, cure, or prevent any disease.