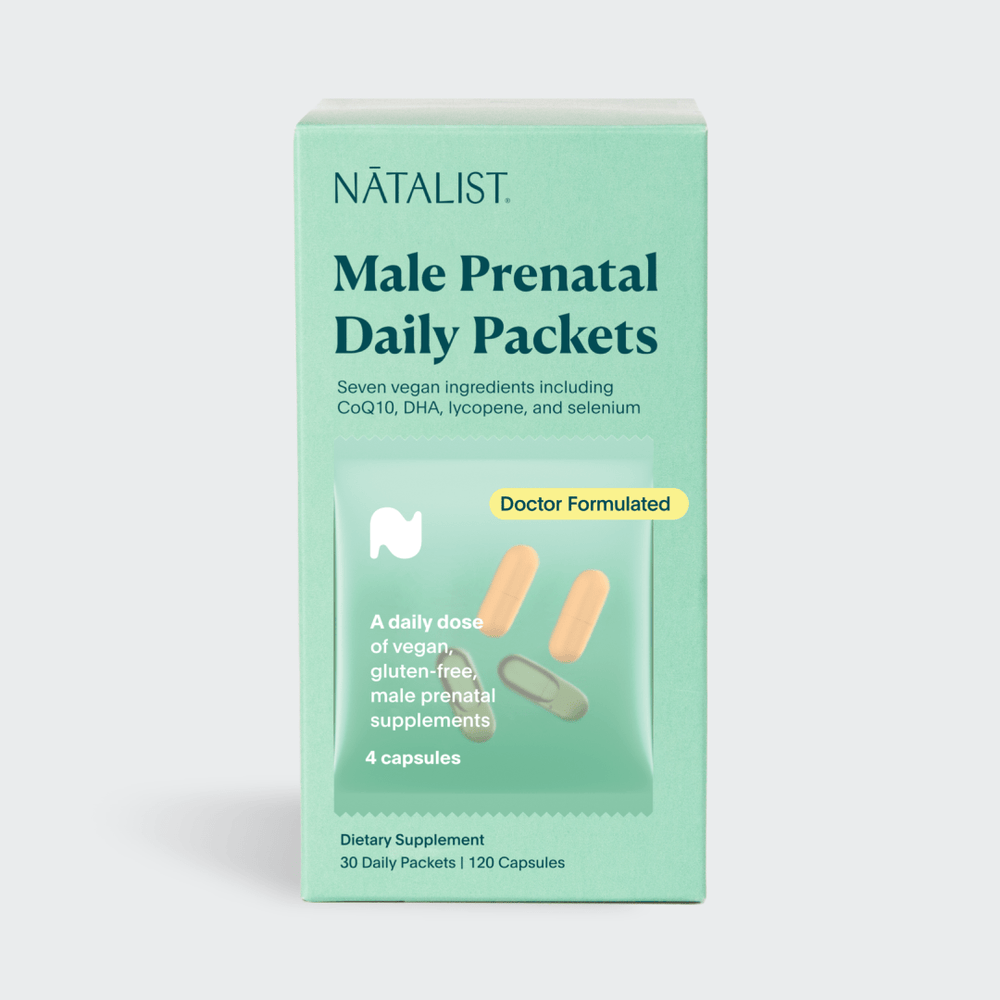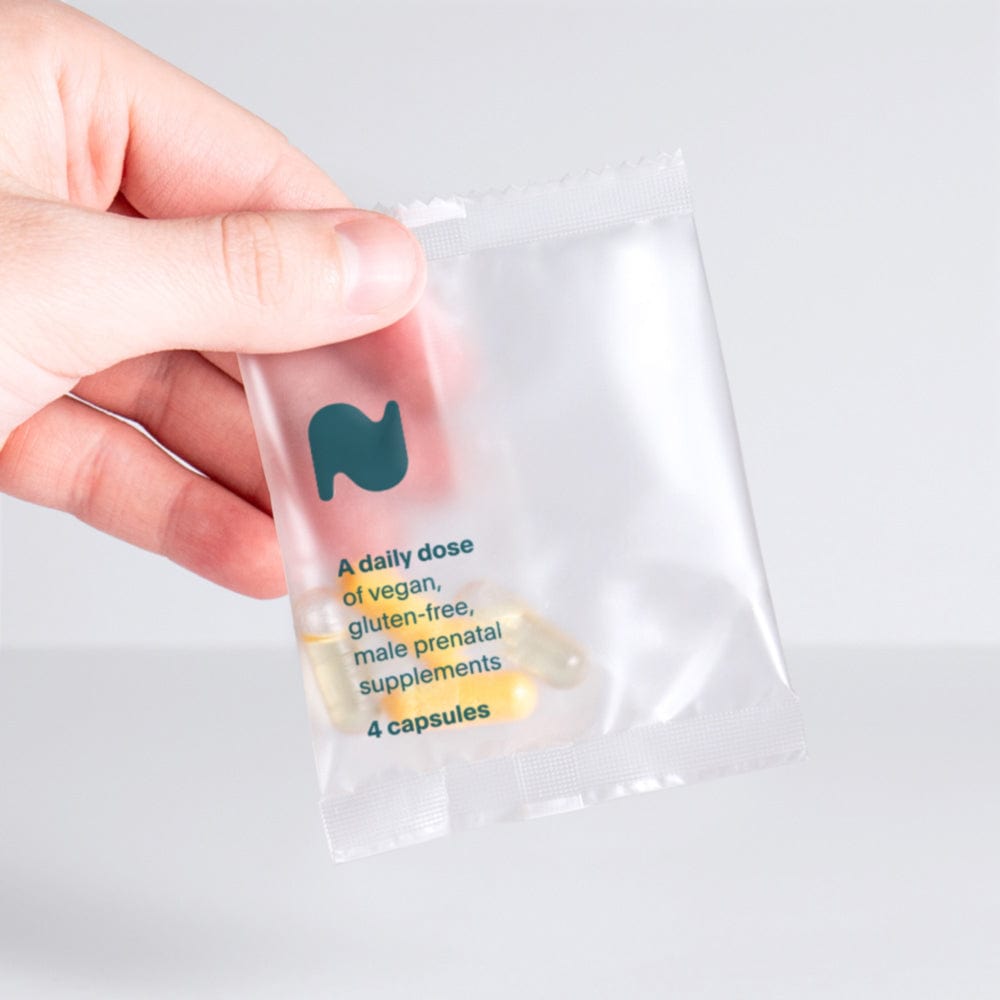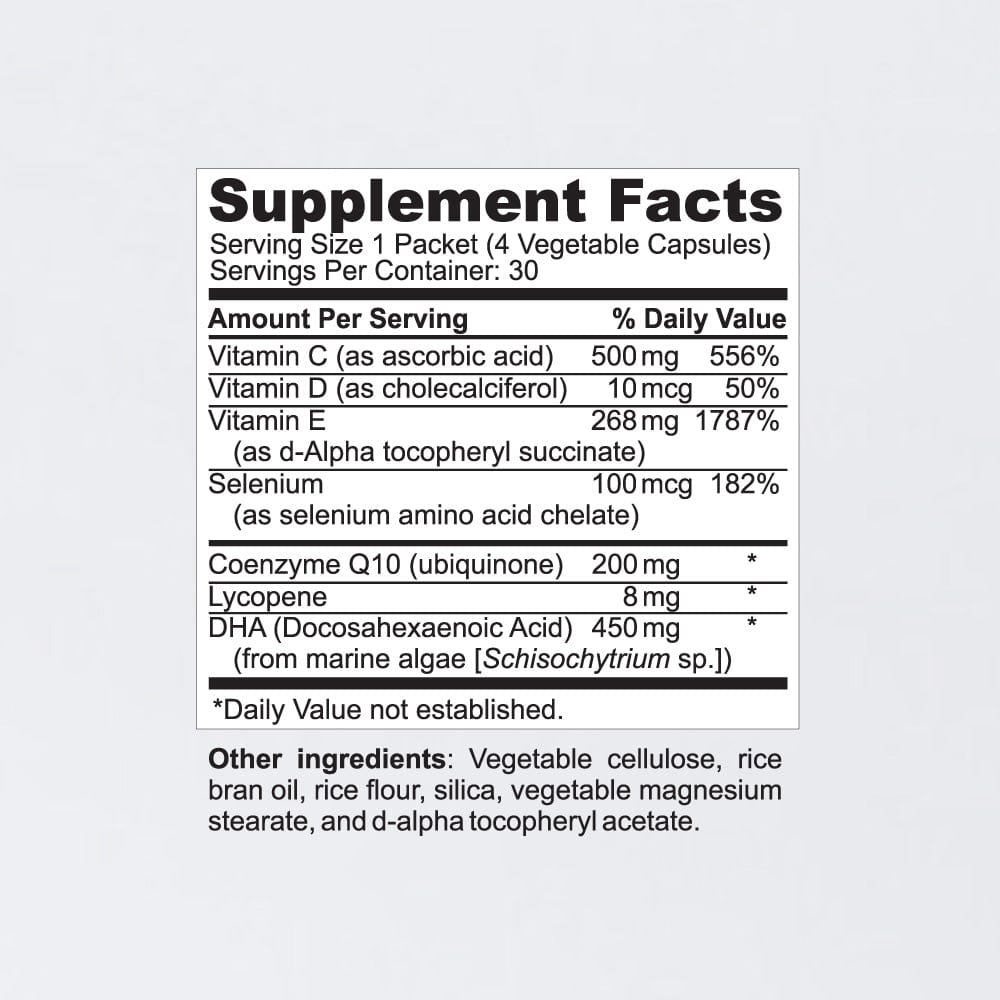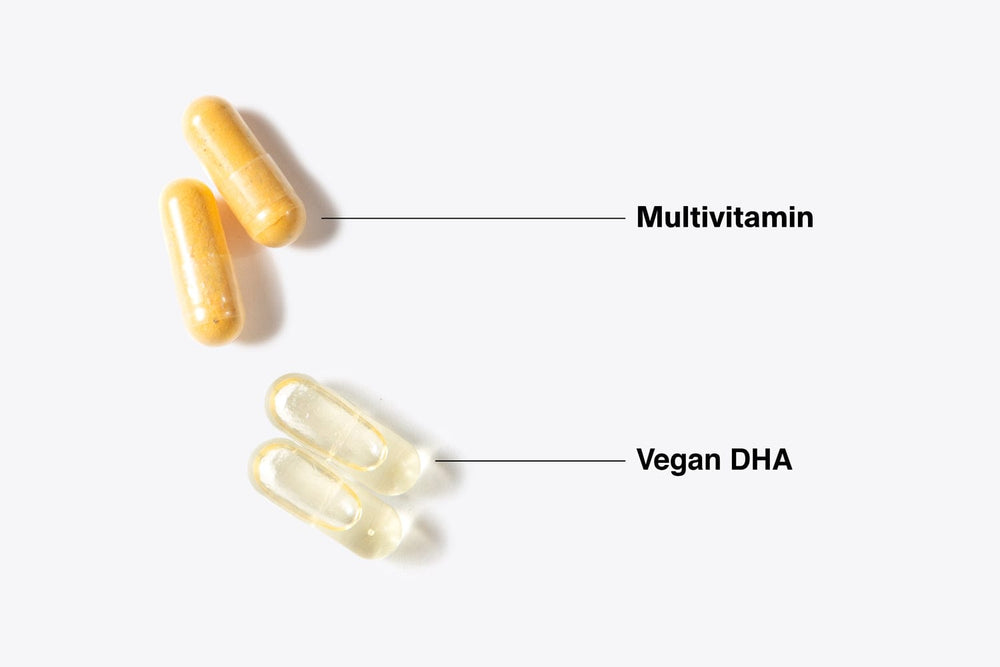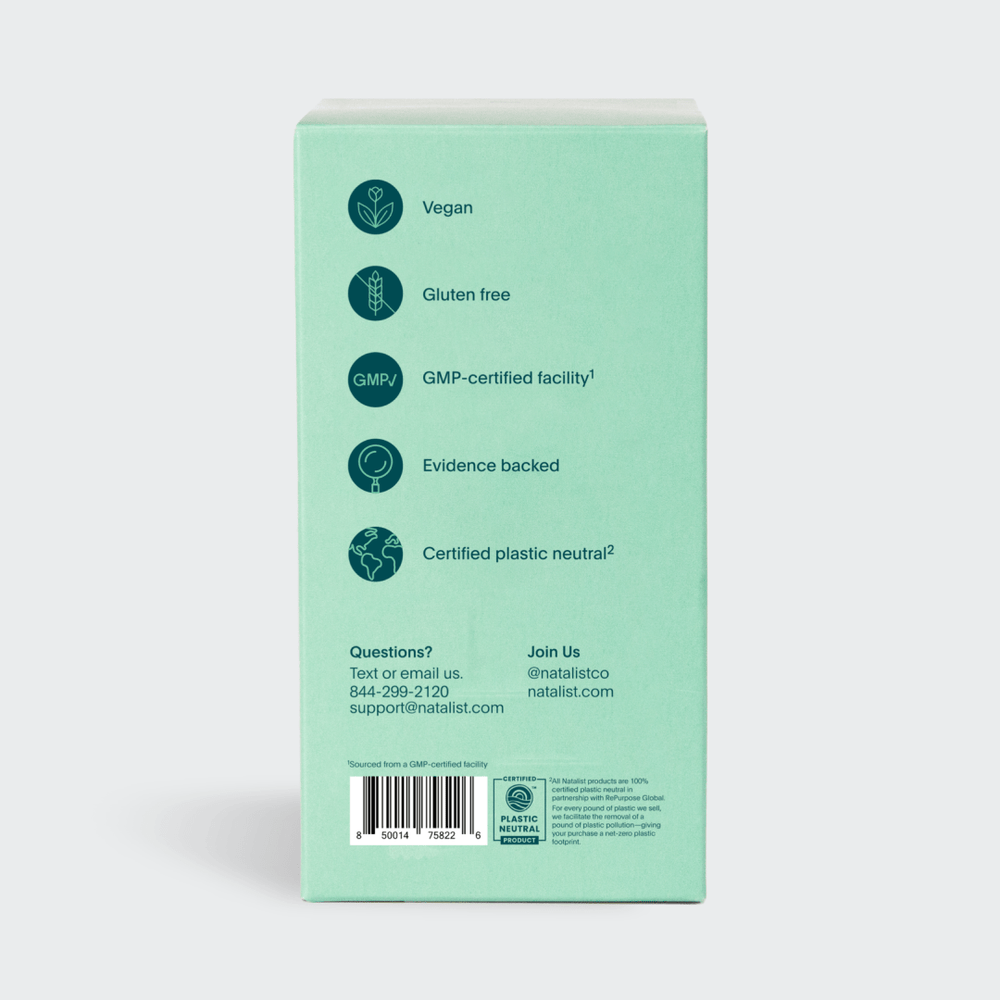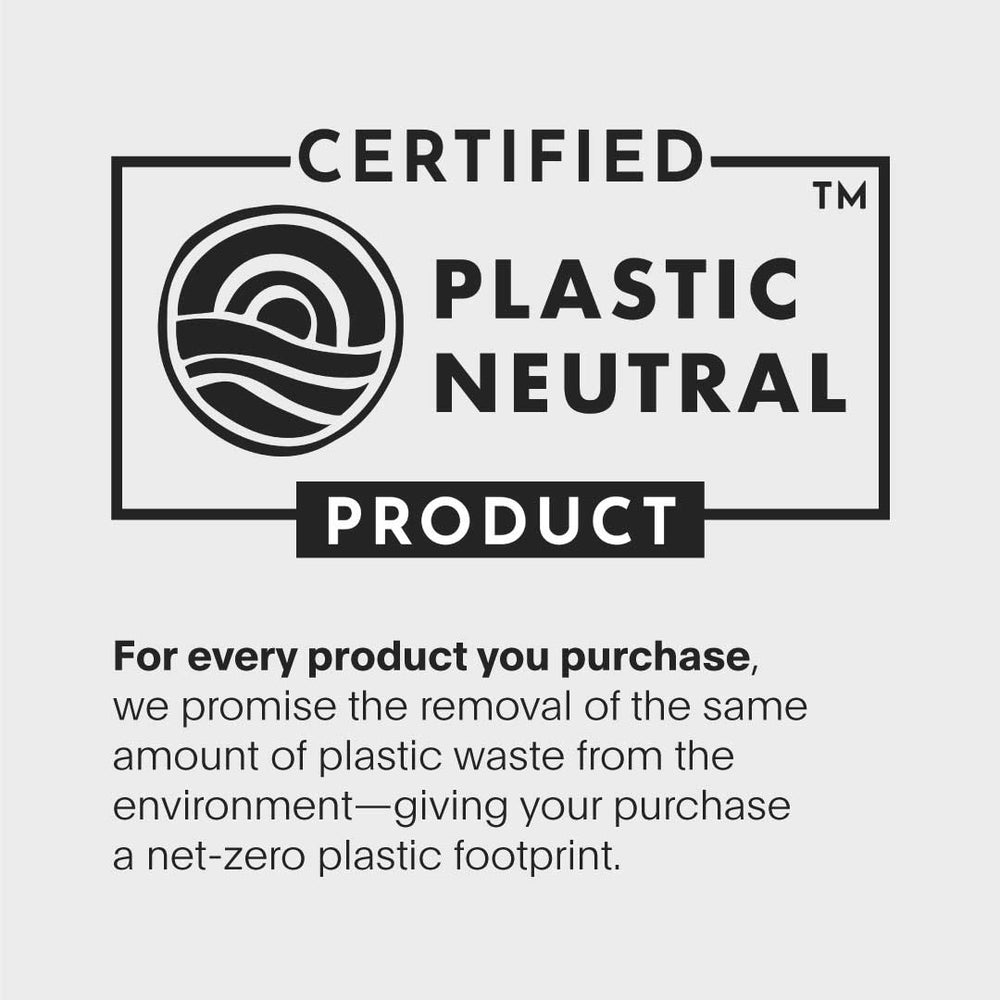 Male Prenatal Daily Packets
Because sperm health is half the equation.
Our 'Prenatal for him' prenatal vitamins for men daily multivitamin packets have a new look and a new name, Male Prenatal Daily Packets. Don't worry, we kept the same great formula, developed by a urologist and male fertility nutrition specialist, our extensively-researched prenatal supplement for men is a high-quality, antioxidant-rich multivitamin formulated for male fertility with key nutrients designed to support sperm count and health. Because fertility outcomes rely on both egg and sperm, our prenatal vitamins for men are specifically designed to address nutrient deficiencies and put you on track for your journey.
Product Details
One month supply: 30 daily packs
Vegan and gluten free
Made with seven high-quality fertility supplement ingredients including Coenzyme Q10, DHA, lycopene, selenium, vitamin C, vitamin D, and vitamin E
Free from milk, eggs, fish, crustacean, tree nuts, peanuts, wheat yeast, gluten, corn, sodium, sugar, starch, artificial coloring, preservatives, and flavoring
Why We're Proud
Vegan
Gluten Free
GMP Certified
Manufactured in the USA*
100% Plastic Neutral
Evidence Backed
7 high-quality ingredients
Using seven essential ingredients, our men's preconception vitamins are formulated to help take out the guesswork in determining which nutrients can be taken on your journey to pregnancy. The Male Prenatal Daily Packets were carefully developed using peer-reviewed studies that reflect the latest research in male fertility, nutrient deficiencies, and pregnancy outcomes. The formula development of these prenatals for men was led by a Harvard-trained urologist and a registered dietitian-nutritionist. Not only were the specific ingredients selected for the male prenatal vitamin based on strength of evidence, but the dosages of each ingredient are also evidence based to ensure adequate impact on sperm quality and health.
Urologist and Male Fertility Expert
"When combined with a healthy diet and lifestyle, the ingredients in our extensively researched and scientifically formulated Male Prenatal Daily Packets have been shown to improve semen volume and sperm quality."
We do our homework. See the research behind Male Prenatal Daily Packets.
The Male Prenatal Daily Packets were thoughtfully formulated by experts.
Our prenatal vitamins for me ndaily packets were carefully developed using peer-reviewed studies that reflect the latest research in male fertility. The formula development was led by Dr. Andrew Sun, a Harvard-trained urologist and expert in the field of male fertility and Lauren Manaker, RD, an award-winning registered dietitian-nutritionist and specialist in male fertility.
We use high bioavailability, biologically identical ingredients.
Our vitamins are formulated with premium, high bioavailability ingredients for maximum efficacy and potency.
Dosage matters, and we use evidence to determine optimal dosages of each ingredient.
Not only were the specific ingredients selected based on strength of evidence, but the quantities of each ingredient are also evidence-based to ensure adequate impact.
We are committed to manufacturing excellence. Every batch of vitamins is tested for product integrity.
All of our vitamins are made in an FDA Registered and Inspected Facility, which meets or exceeds FDA 12 CFR 111 guidelines, and is also GMP Certified. Certificates of analysis are reported for every batch of manufactured prenatal vitamins to ensure final product integrity and quality. Our vitamins are free of artificial and synthetic dyes, and all allergens are disclosed on our label. Additionally, our vitamins are manufactured under strict procedures to ensure there is no cross-contamination during manufacturing and storage.
It matters where your omega-3s are coming from. Ours is from the best source—the ocean.
Omega-3s are a class of long-chain polyunsaturated fatty acids (FA) that are integral to the formation of neuronal cell membranes in the brain and retina. The human body cannot synthesize most omega-3s, and instead, must rely on dietary sources. Not all omega-3 FAs are created equally. Depending on the source of omega-3 FAs in a supplement, the ratio of DHA, EPA, and ALA will be different. Omega-3s sourced from algae, like ours, are highly enriched in DHA. Omega-3s from vegan sources, such as flaxseed oil, chia seed oil or walnut oil, do not contain DHA. Instead, they predominantly contain ALA, which isn't useful during pregnancy. Always read the label, and check the DHA content of your omega-3 supplement.
Our vegan omega DHA from margin algae undergoes an environmentally-friendly, chemical-free extraction process.
Our vegan and 100% natural omega DHA is derived from a strain of wild-sourced marine algae, initially discovered and isolated from the pristine coastal waters of the Bay of Fundy, Nova Scotia, Canada. The DHA oil undergoes an environmentally-friendly, chemical-free extraction process. Each batch is then tested for heavy metals and allergens.
Formulated to support fertility treatment outcomes.
Antioxidants have been shown to improve live birth rate for couples undergoing fertility treatment. A 2019 Cochrane systematic review concluded that antioxidant supplementation in subfertile men improves live birth, clinical pregnancy rate, and sperm DNA fragmentation.
Unlike other like-supplements, we don't include folic acid or zinc in our men's prenatal formula. We intentionally chose to exclude these two ingredients based on the outcomes of a well-designed study published in JAMA. In this randomized clinical trial of 2,370 couples, the use of folic acid and zinc supplementation by male partners, compared with placebo, did not significantly improve live birth rates or semen quality.
Medical research is a constantly evolving field. As new research and clinical experience broaden our knowledge, changes in our formula may become apparent or appropriate.
Formulated with ingredients associated with improved semen quality.
The antioxidants in our formula have been associated with improving many sperm health parameters: motility, count, concentration, and morphology.
Vitamin E plays a vital role in protecting cell membranes from oxidative damage trapping and scavenging free radicals within cellular membranes. Studies show that vitamin E supplementation significantly improves sperm motility.
A meta analysis showed omega-3 supplements might improve semen quality parameters in infertile men and men from couples seeking fertility treatment.
Made with ingredients shown to protect against oxidative damage.
Oxidative stress is known to be an important factor that causes male infertility by damaging sperm DNA, which can affect natural conception and embryo development.
Antioxidants play an important role in protecting semen from oxidative stress and may improve sperm health. A meta-analysis of 32 studies published between 2000 and 2013 related to male infertility and antioxidants found vitamin E, vitamin C, selenium, and CoQ10 to be effective in improving semen parameters.
May help with erectile dysfunction (ED).
A significant proportion of erectile dysfunction (ED) patients have a vitamin D deficiency. Research shows that vitamin D supplementation may help delay the onset of ED—and may even restore normal sexual function to some men when coupled with positive lifestyle changes. Additionally, one study suggests vitamin C and vitamin E support the biochemical pathways leading to nitric oxide (NO) release, improving erectile function.
Non GMO, but that doesn't really matter.
Along with 88% of polled scientists, Natalist believes that the majority of genetically modified (GM) foods are safe. That said, we also believe that bioengineered ingredients should be clearly labeled so that consumers can make an informed purchase decision. Transparency is essential in building trust between brands and consumers. Our products clearly state if they do or do not contain genetically modified organisms (GMOs).
This product is manufactured and processed in a facility which may also process milk, soy, wheat, egg, peanuts, tree nuts, fish, and crustacean shellfish.
Here's some of the research that went into making the Male Prenatal Daily Packets.
Falsig AL, Gleerup CS, Knudsen UB. The influence of omega-3 fatty acids on semen quality markers: a systematic PRISMA review. Andrology. 2019 Nov;7(6):794-803. doi: 10.1111/andr.12649. Epub 2019 May 22. PMID: 31116515.
Farag, Y., Guallar, E., Zhao, D., Kalyani, R. R., Blaha, M. J., Feldman, D. I., Martin, S. S., Lutsey, P. L., Billups, K. L., & Michos, E. D. (2016). Vitamin D deficiency is independently associated with greater prevalence of erectile dysfunction: The National Health and Nutrition Examination Survey (NHANES) 2001-2004. Atherosclerosis, 252, 61–67. https://doi.org/10.1016/j.atherosclerosis.2016.07.921
Giacomo Tirabassi, Maurizio Sudano, Gianmaria Salvio, Melissa Cutini, Giovanna Muscogiuri, Giovanni Corona, Giancarlo Balercia, "Vitamin D and Male Sexual Function: A Transversal and Longitudinal Study", International Journal of Endocrinology, vol. 2018, Article ID 3720813, 8 pages, 2018. https://doi.org/10.1155/2018/3720813
Jensen TK, Priskorn L, Holmboe SA, et al. Associations of Fish Oil Supplement Use With Testicular Function in Young Men. JAMA Netw Open. 2020;3(1):e1919462. doi:10.1001/jamanetworkopen.2019.19462
Kim G. Y. (2018). What should be done for men with sperm DNA fragmentation?. Clinical and experimental reproductive medicine, 45(3), 101–109. https://doi.org/10.5653/cerm.2018.45.3.101
Moslemi, M. K., & Tavanbakhsh, S. (2011). Selenium-vitamin E supplementation in infertile men: effects on semen parameters and pregnancy rate. International journal of general medicine, 4, 99–104. https://doi.org/10.2147/IJGM.S16275
Schisterman EF, Sjaarda LA, Clemons T, et al. Effect of Folic Acid and Zinc Supplementation in Men on Semen Quality and Live Birth Among Couples Undergoing Infertility Treatment: A Randomized Clinical Trial. JAMA. 2020;323(1):35–48. doi:10.1001/jama.2019.18714
Smits RM, Mackenzie‐Proctor R, Yazdani A, Stankiewicz MT, Jordan V, Showell MG. Antioxidants for male subfertility. Cochrane Database of Systematic Reviews 2019, Issue 3. Art. No.: CD007411. DOI: 10.1002/14651858.CD007411.pub4.
Senka Imamovic Kumalic, Bojana Pinter, "Review of Clinical Trials on Effects of Oral Antioxidants on Basic Semen and Other Parameters in Idiopathic Oligoasthenoteratozoospermia", BioMed Research International, vol. 2014, Article ID 426951, 11 pages, 2014.https://doi.org/10.1155/2014/426951
Sorenson, M., & Grant, W. B. (2012). Does vitamin D deficiency contribute to erectile dysfunction?. Dermato-endocrinology, 4(2), 128–136.https://doi.org/10.4161/derm.20361
Technical Information
Male Prenatal Daily Packets Usage:
Take one (1) packet daily, or as recommended by your healthcare professional.
Serving: 1 Packet (4 Vegetable Capsules)
Servings Per Container: 30
Ingredients
Vitamin C (as ascorbic acid)
500 mg
Vitamin D (as cholecalciferol)
10 mcg
Vitamin E (as d-Alpha tocopheryl succinate)
260 mg
Selenium (as selenium amino acid chelate)
100 mcg
Coenzyme Q10 (ubiquinone)
200 mg
DHA ( Docosahexaenoic Acid)
450 mg (from marine algae [Schisochytrium so.])
Other Ingredients
Vegetable cellulose, rice bran oil, rice flour, silica, vegetable magnesium stearate, and d-alpha tocopheryl acetate.
Commonly asked questions about Male Prenatal Daily Packets:
Are your prenatal vitamins vegan?
Yes! The ingredients used in our prenatal vitamins for men daily packets are vegan and gluten free.
What's in this prenatal vitamin?
450 mg vegan DHA
100 mcg selenium
200 mg CoQ10
10 mcg (400 IU) vitamin D
500 mg vitamin C
8 mg lycopene
268 mg (400 IU) vitamin E
What's different about your prenatal vitamins?
Our vitamins are formulated based on extensive research and use high-quality, ultra-pure ingredients. We encourage you to compare our male fertility supplement label to others on the market, and look at what's included, how it's included, and how much is included.
How will I know these are safe? What kind of testing do you do?
We have several quality control measures in place to ensure the highest safety and quality standards for our vitamins:
All our vitamins are made in an FDA Registered and Inspected Facility, which meets or exceeds FDA 12 CFR 111 guidelines, and is also GMP Certified manufacturing standards.
We directly test the raw material components of our vitamins to ensure their purity before they are used for production.
Certificates of analysis (COA) are performed on every batch of manufactured vitamins to ensure final product integrity and quality.
Additionally, all of our products are free of artificial dyes and most allergens.
How big are these pills? Are they easy to swallow?
The Male Prenatal Daily Packets multivitamin and DHA capsules are about two centimeters in length and one centimeter in width, making them easy to swallow.
Can your prenatal vitamins be opened and taken as a powder?
Yes! You can open the orange prenatal capsules and take the contents as a powder. We recommend ingesting the powder immediately after releasing. Powdered contents can be mixed with other substances such as applesauce or yogurt, if desired.
The DHA should only be swallowed in pill form.
How many pills come in a pack?
Each daily pack contains four pills: two vegan DHAs capsules and two multivitamin and antioxidant pills that contain CoQ10, lycopene, selenium, and vitamins C, D, and E.
Do I have to take the pills at the same time?
That's up to you! We find it easier to remember when taking them all at once. But some people prefer to take some in the morning and the rest at bedtime.
How long should I take these pills?
Since sperm take 72 days to regenerate, consider taking them for at least three months, or until pregnancy goals are achieved.
Should I stop taking these prenatals at any point?
That is up to you! Because sperm production and regeneration takes 72 days, we recommend taking these prenatals for at least three months, up until your pregnancy goals are achieved. After that, make sure to maintain a healthy diet and lifestyle.
What makes your packaging earth friendlier?
We always keep our impact on Mother Earth top of mind when making packaging decisions, and the Male Prenatal Daily Packets packaging uses 17% less plastic than equivalent supplement bottles.
Plus, like all of our products, it is guaranteed 100% plastic neutral. This means that for every pound of plastic we sell, we remove the equivalent amount of plastic from the environment through our partnership with rePurpose.
Is this product FSA/HSA eligible?
This item may be eligible with a Letter of Medical Necessity (LMN) with a flexible spending account (FSA), health savings account (HSA), or a health reimbursement arrangement (HRA). Be sure to check with your specific HSA/FSA benefits coordinator for clarification on the specific requirements for reimbursement including usage, protocol, and qualifications. You can either use your HSA debit card or use the itemized receipt (which will be in your inbox after you make a purchase). Read more about submitting for FSA and HSA reimbursement here.
Are Natalist Male Prenatal Daily Packets the same as your Prenatal for him product?
Yes. In mid-August 2022, we gave our male prenatal daily packets a glow-up! We repackaged them in a box, instead of the old pouch, and launched them under a new name 'Male Prenatal Daily Packets' that we feel was a better representation of what they are and who they are for. The Male Prenatal Daily Packets are the same formula as our previously named Prenatal for him, just in new packaging.
Can I get just one month's worth of Male Prenatal Daily Packets?
Consistency is key for many supplements, especially for reproductive health, so we only offer this product as a subscription purchase. If you want to try it just once, you can place an order and either skip the next shipment, choose a specific date for your next shipment, or cancel. Simply log in to your Natalist account, head over to "Manage Subscriptions," and click "Edit" to get started. Additionally, we are excited to offer exclusive perks to subscribers, including discounted products (up to 50% off) and free shipping on all subscription orders.
‡These statements have not been evaluated by the Food and Drug Administration. This product is not intended to diagnose, treat, cure, or prevent any disease.
* Manufactured in the USA with globally sourced ingredients.
Consult your healthcare provider before adding any supplements to your regimen.