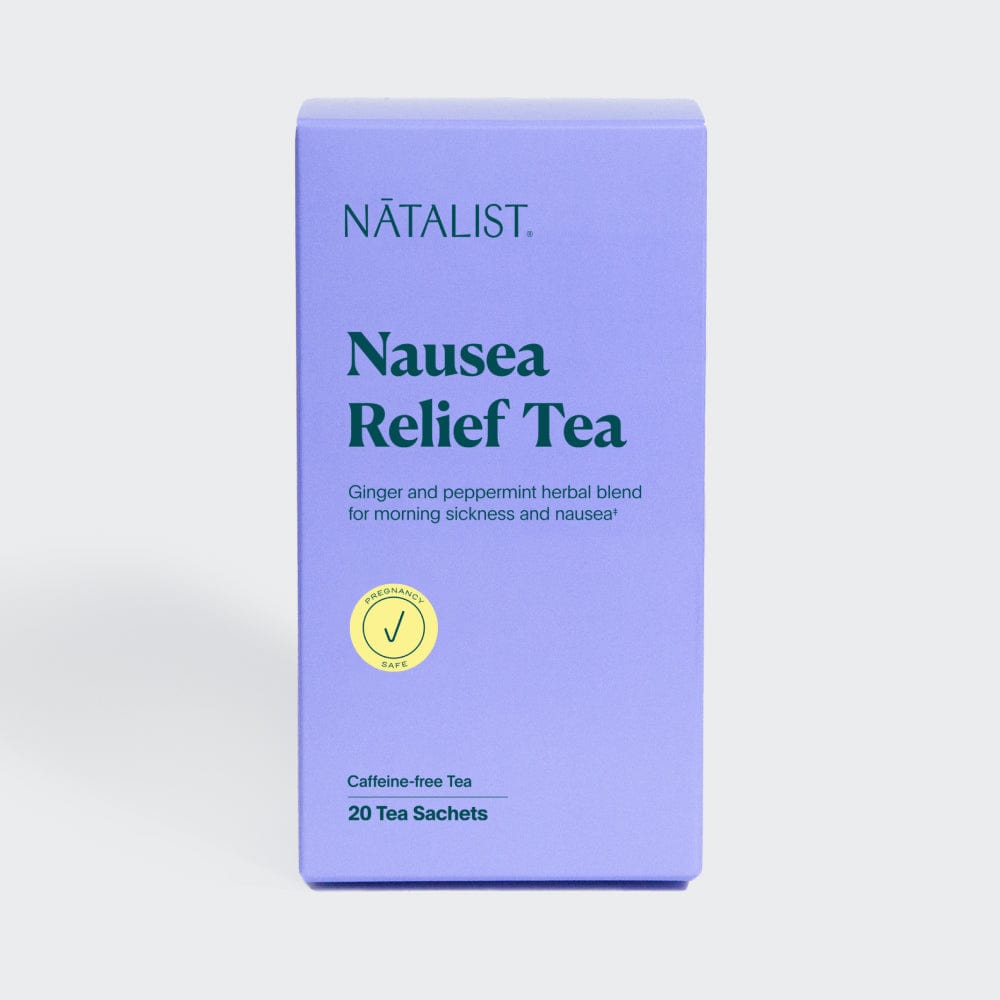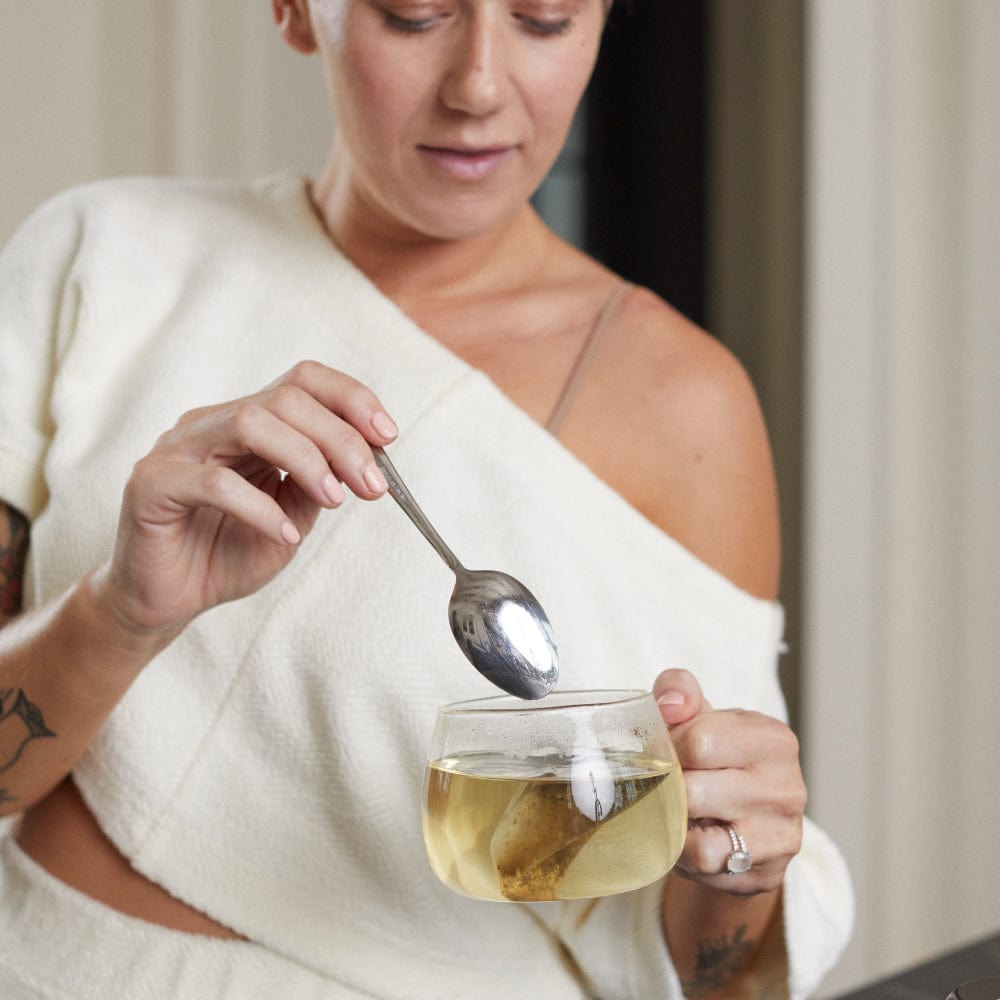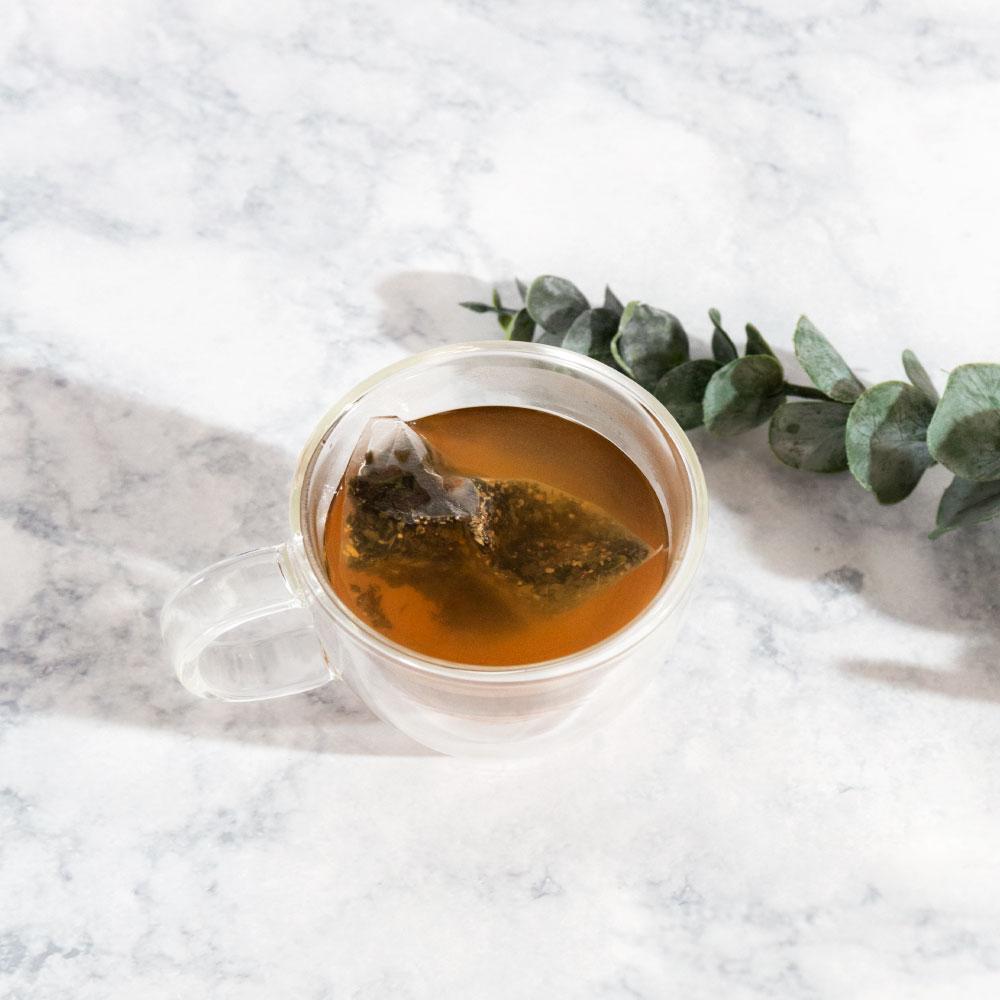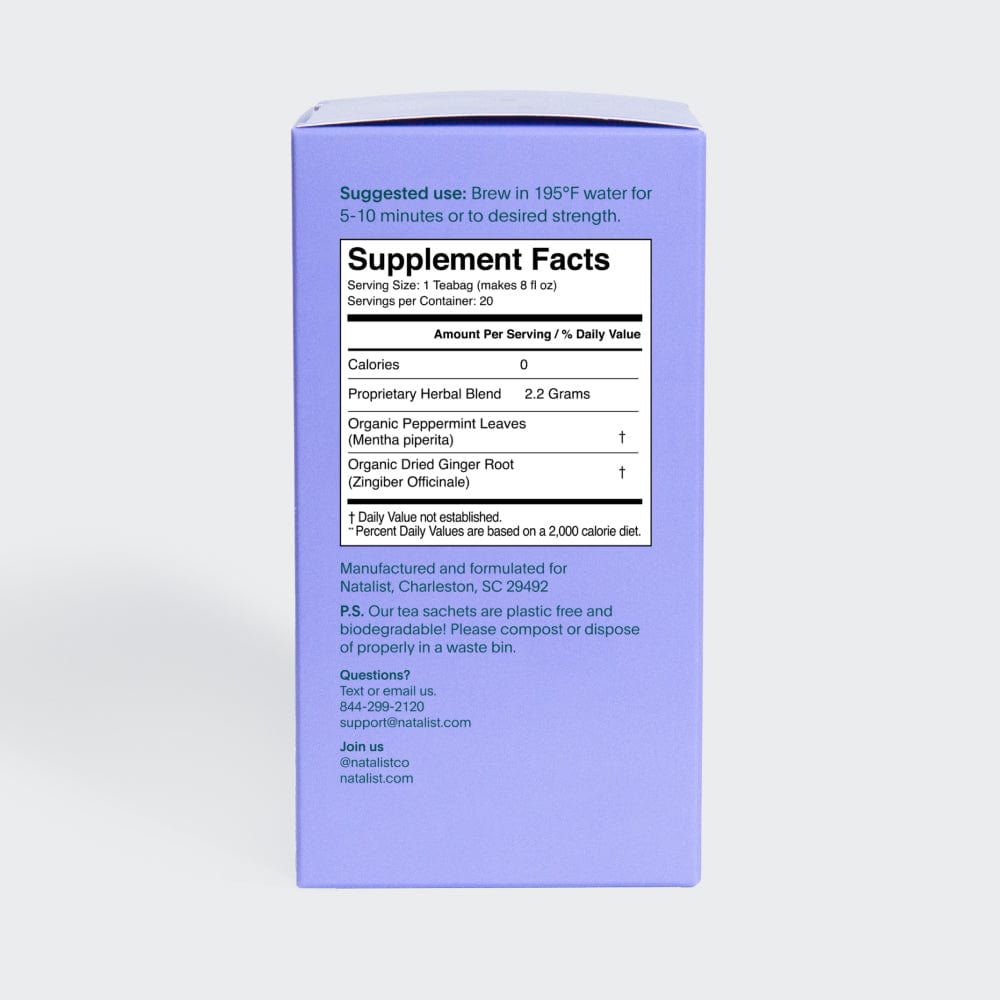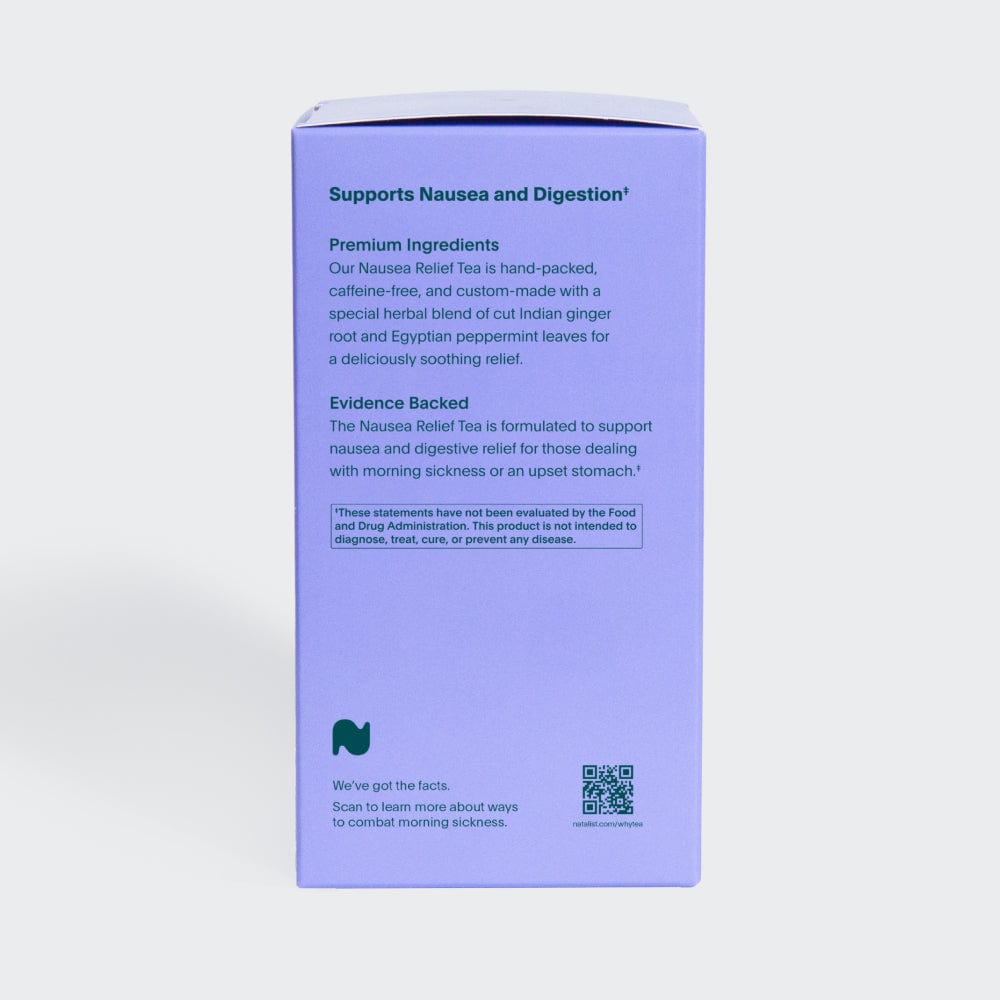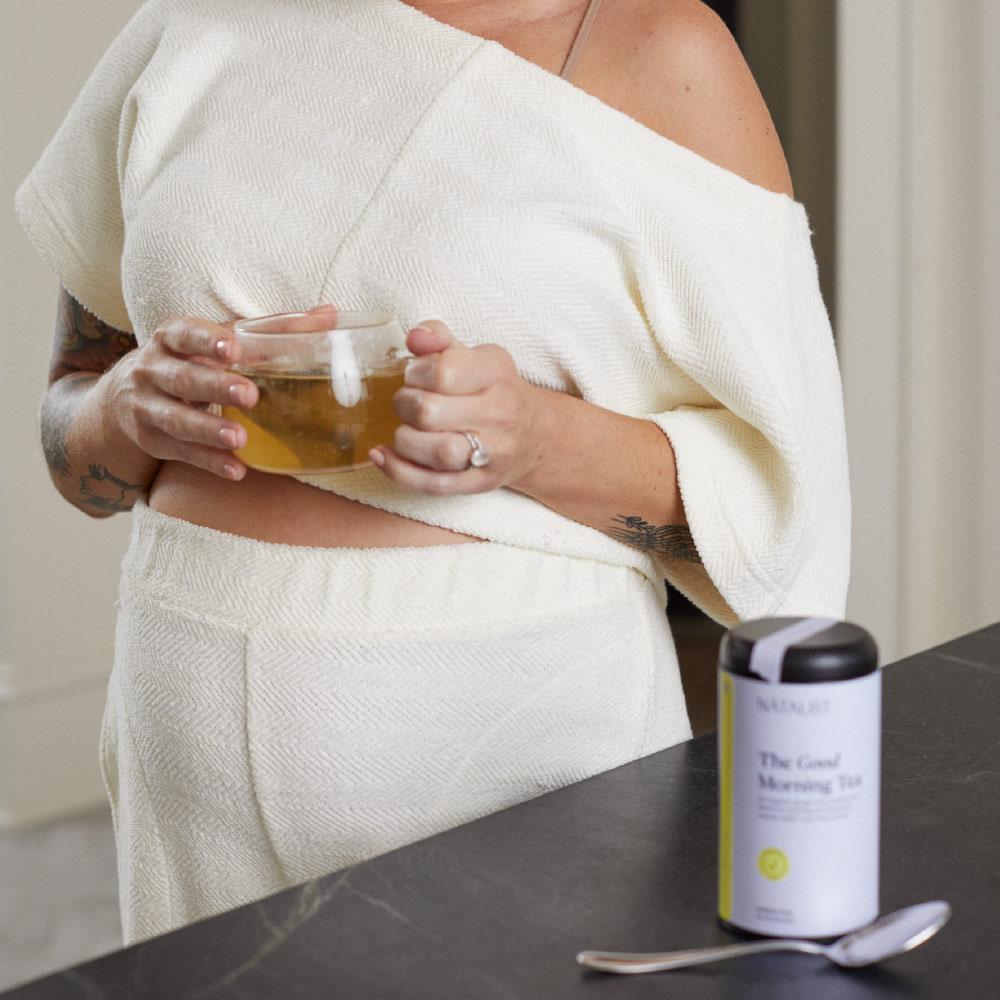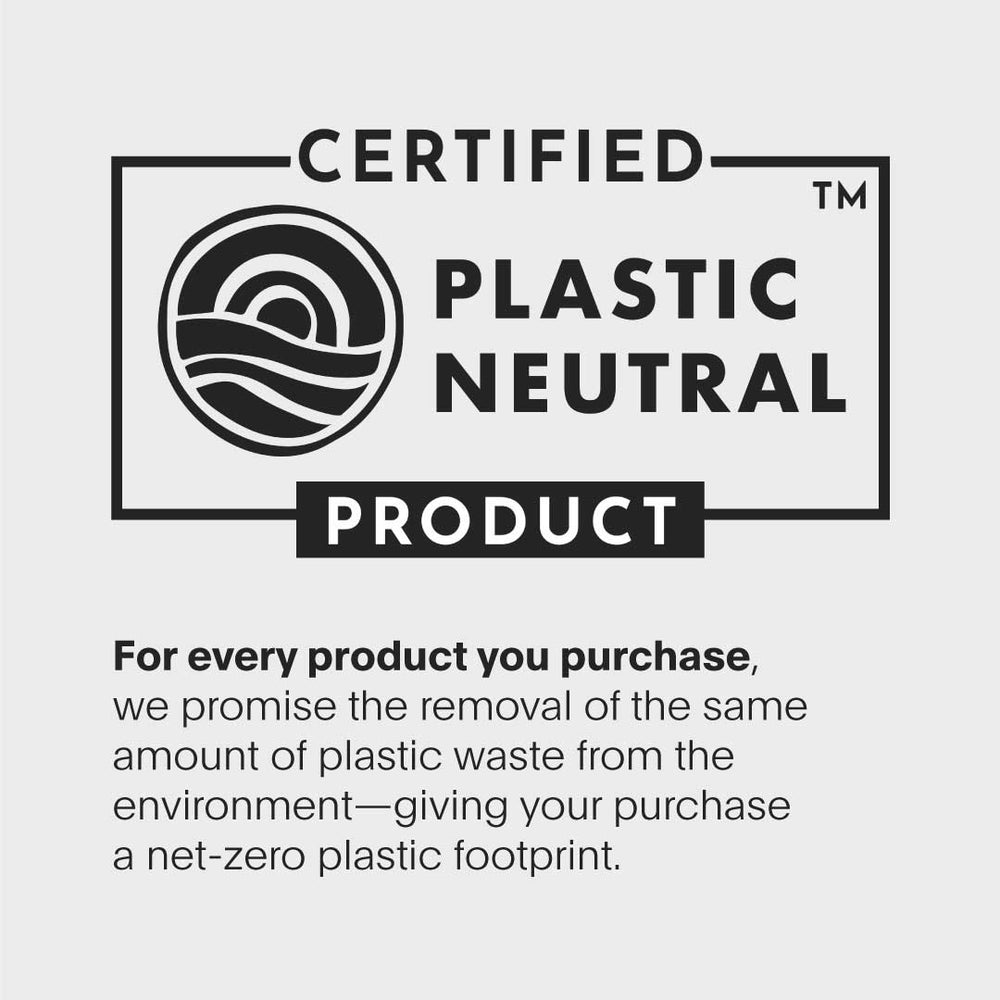 Nausea Relief Tea
For morning sickness and nausea relief, any time of day.
Make every morning a good morning. Keep pregnancy nausea at bay with our organic, hand-packed morning sickness tea. A delicately spiced fusion of organic ingredients, including organic, Indian ginger root and organic, Egyptian peppermint, this custom-made herbal tea for pregnancy is designed to help relieve common morning sickness symptoms including nausea, vomiting, and an upset stomach.‡ Our Nausea Relief Tea was formerly known as 'The Good Morning Tea' and is the same great formula, just with a packaging glow-up pretty enough for your countertop.
"This tea is a perfect thing to sip on when the "ick" comes along." - PopSugar
Product Details
20 caffeine-free, biodegradable tea sachets
Made with all organic ingredients
New packaging, same great formula
Formerly known as 'The Good Morning Tea'
Why We're Proud
Vegan
Gluten Free
Evidence Backed
100% Plastic Neutral
Manufactured in the USA*
We do our homework. See the research behind Nausea Relief Tea.
Nausea and vomiting of pregnancy (NVP) affects up to 90% of pregnant women.
Nausea and vomiting of pregnancy (NVP) rank high among the most common complaints during pregnancy, with pregnancy symptoms generally starting around four to nine weeks of gestation, peaking around the seventh to 12th week, and subsiding by the 16th week.
Nausea Relief Tea is made with ingredients shown to be safe and effective.
Various preclinical and clinical studies have evaluated ginger as an effective and safe natural remedy for nausea and vomiting in pregnancy. A small, double-blind randomized cross-over trial showed powdered root of fresh ginger was better than a placebo in diminishing or eliminating the symptoms of morning sickness. A systematic review review showed fresh ginger could be considered a harmless and possibly effective alternative option for women suffering from the symptoms of severe nausea and vomiting in pregnancy.
Peppermint has supportive evidence for use for indigestion and irritable bowel syndrome, and peppermint tea specifically may reduce postprandial nausea. Another study concluded that use of peppermint tea is effective in relieving GERD Grade 1 (NERD) during pregnancy.
The FDA classifies both peppermint and ginger as "Generally Recognized as Safe."
Ginger is widely recommended by doctors for pregnant women.
In one study, 50 physicians were asked if they recommend ginger herbal therapy for pregnant women with NVP. 62% of them responded by quite often, and the remaining 38% responded by sometimes.
Discuss your diet and supplement routine with your doctor.
There's a lot of junk science out there, and products being sold with grand promises, but little or no data to back it up. We try to be very clear about who would benefit most from our products, from pregnancy tea to belly oil and pregnancy tests, but it's also important to discuss your diet and supplement routine with your doctor who can give further guidance.
We are committed to manufacturing excellence.
Nausea Relief Tea is formulated, produced, and packaged in a GMP-certified facility in Charleston, SC.
Technical Information
Usage
Brew in 195°F water for 5-10 minutes.
Ingredients
Cut Organic Ginger Root, Organic Peppermint Leaves
Commonly asked questions about Nausea Relief Tea:
What is your tea sachet made out of?
Sachets are a non-GMO, plant-based product and fully biodegradable in 21 days.
From where are the ingredients sourced?
Our organic ginger is sourced from India, and the organic peppermint is sourced from Egypt.
How many times a day should I drink Nausea Relief Tea?
Drinking herbal tea with ginger may help relieve nausea during pregnancy. It's generally considered safe to drink up to four cups (950 ml) of ginger tea per day while pregnant.
Is it okay to add honey?
Yes, it is safe to eat honey while you are pregnant. The American College of Obstetricians and Gynecologists does not list honey in their recommended list of foods that pregnant women should avoid. Ask your doctor about their recommendation for eating honey while you are pregnant as women with gastrointestinal problems, such as inflammatory bowel disease (IBD), may want to take extra precautions about eating honey during their pregnancies.
When does Nausea Relief Tea expire?
Our herbal tea for pregnancy is recently packaged and best when used by 06/2025.
All Natalist products and packaging are certified plastic neutral.
All Natalist products and packaging are 100% plastic neutral. For every pound of plastic we sell, we facilitate the removal of a pound of plastic pollution—giving your purchase a net-zero plastic footprint.
‡These statements have not been evaluated by the Food and Drug Administration. This product is not intended to diagnose, treat, cure, or prevent any disease.
* Manufactured in the USA with globally sourced ingredients.