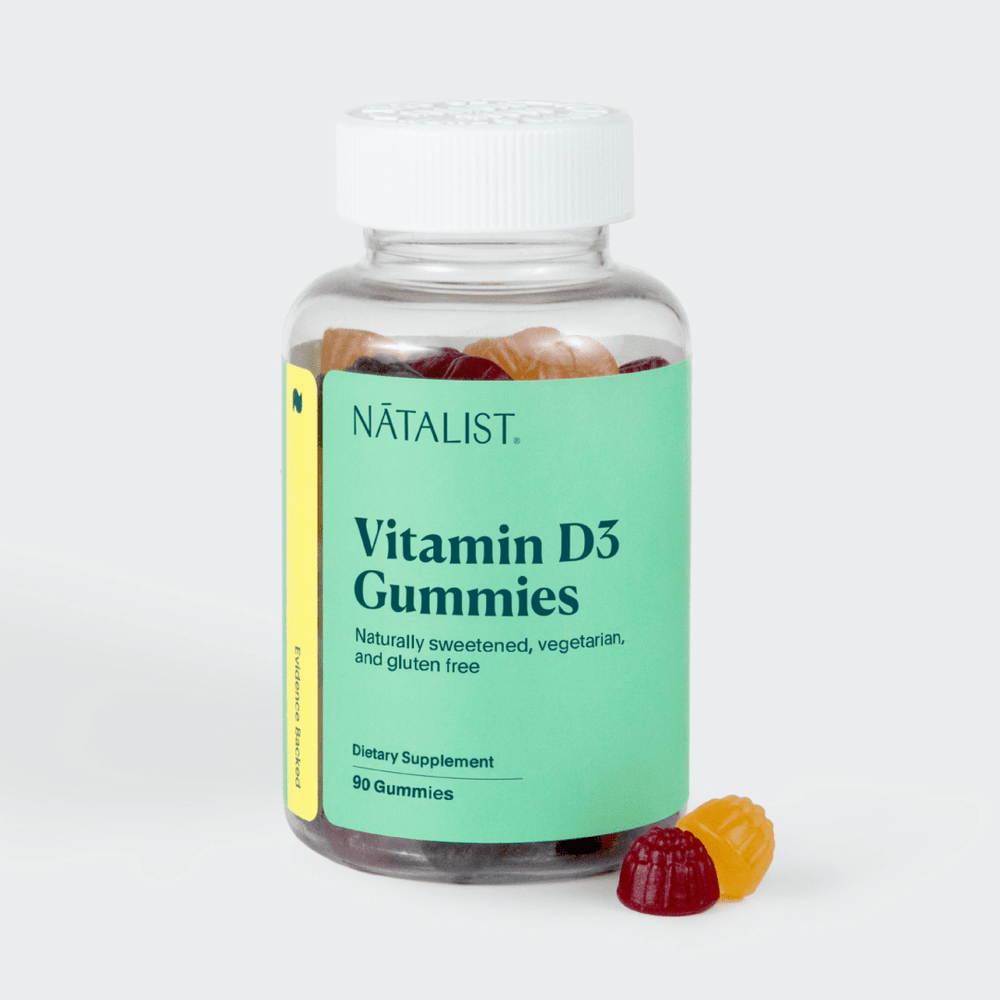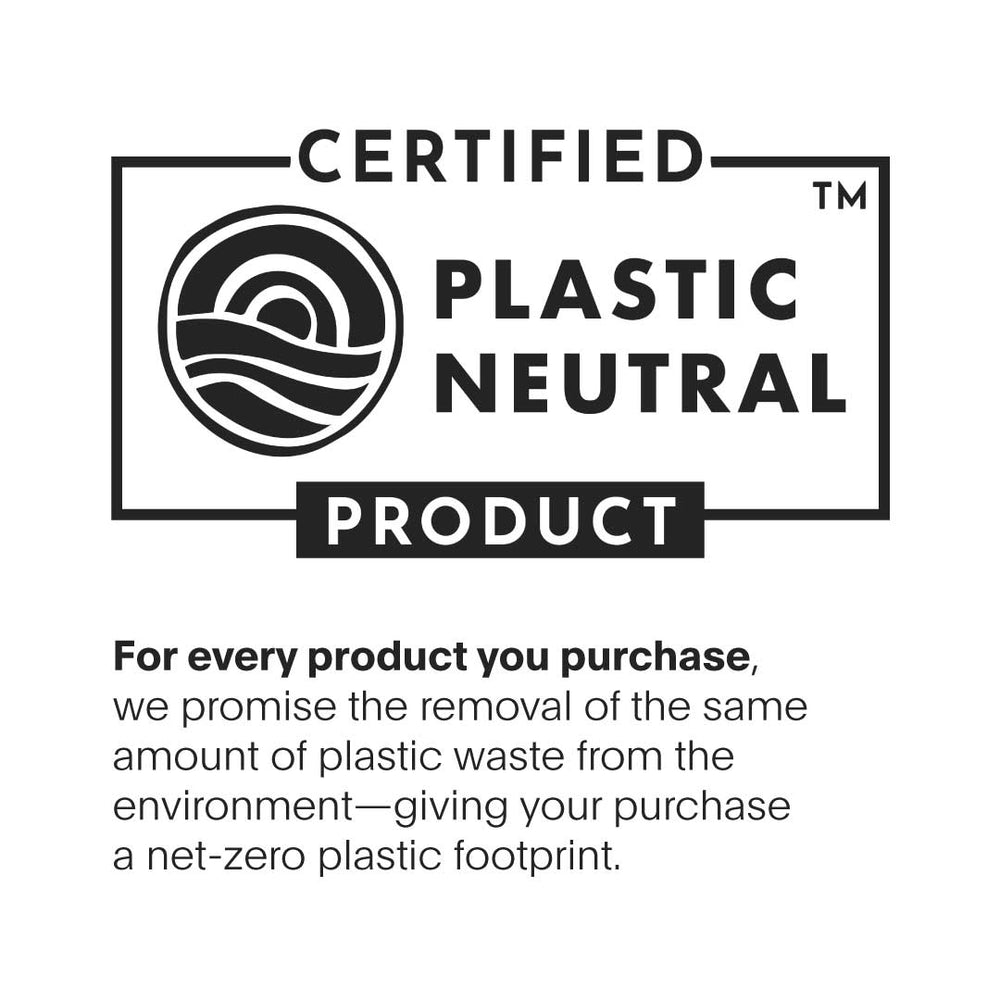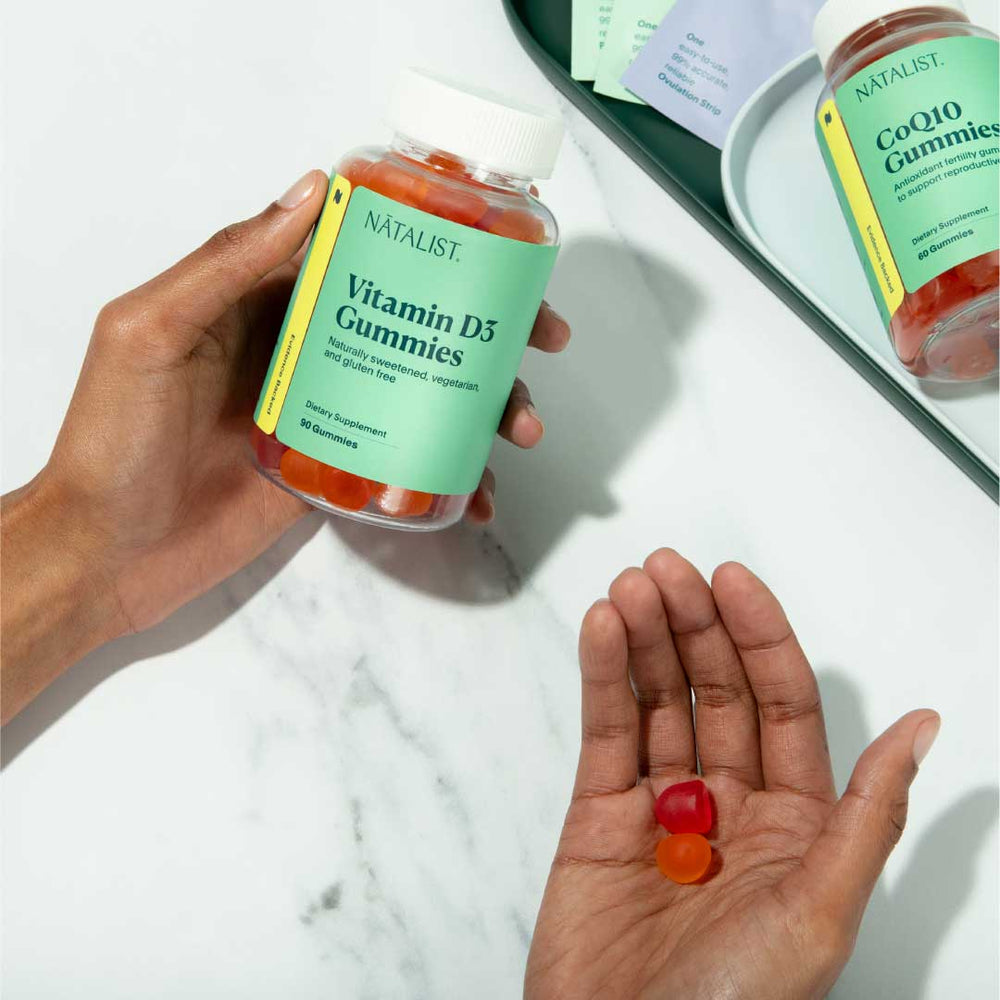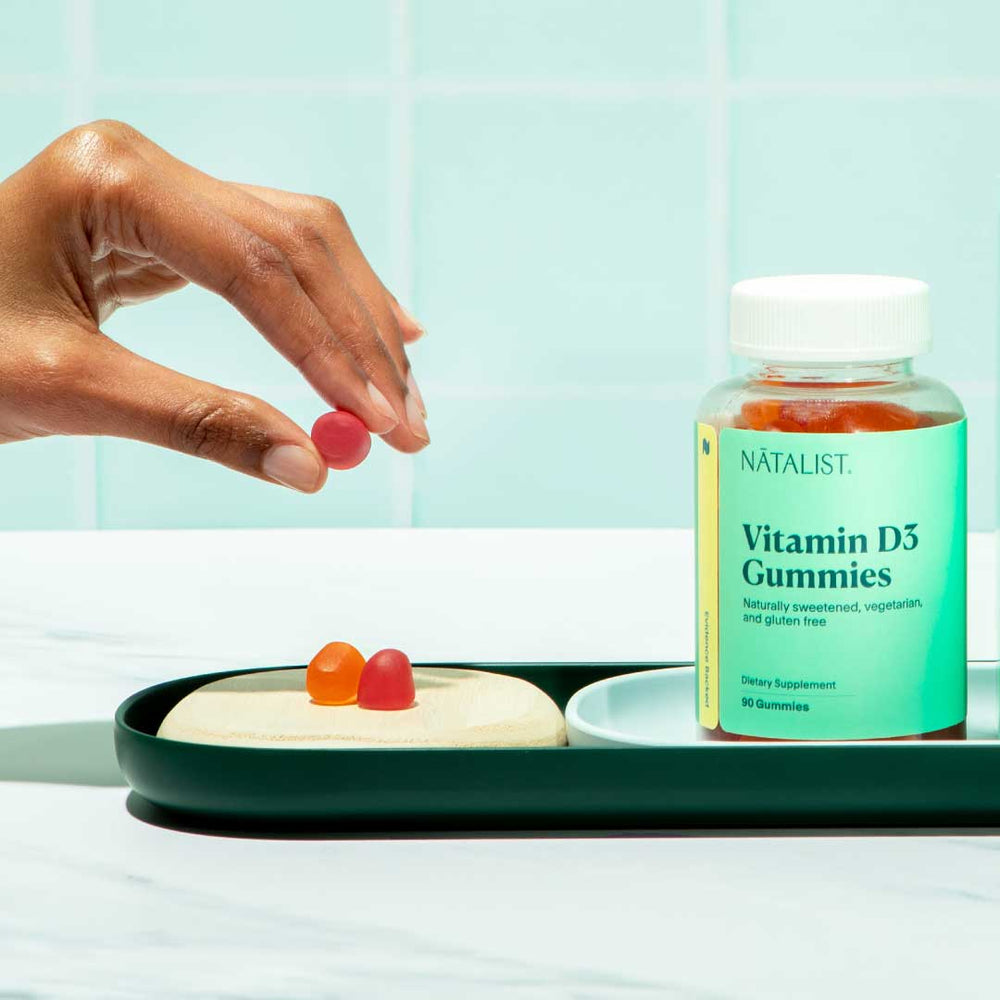 Vitamin D3 Gummies
Boost your vitamin D game.
Our Vitamin D3 Gummies are simply delicious. Treat yourself with the "sunshine vitamin" that supports healthy teeth, bones, and immune function. Vitamin D can also help provide important nutrients during your pregnancy. Naturally sweetened and made from highly bioavailable cholecalciferol, each vitamin D gummy is vegetarian, gluten free, gelatin free, and made without high-fructose corn syrup. Contains 1,000 IU D3 per serving.‡
Product Details
90 vegetarian prenatal vitamin D gummies
1,000 IU (25 mcg) D3 per gummy
Naturally sweetened and comes in a mix of three fruity flavors
Contains no yeast, gluten, dairy, synthetic colors, high-fructose corn syrup, artificial sweeteners, or preservatives
Satisfaction guaranteed ✨
Why We're Proud
Vegetarian
Gluten Free
Manufactured in the USA*
GMP Certified
100% Plastic Neutral
Evidence Backed
OBGYN and Fertility Expert
"Increasing your Vitamin D intake is not only safe, but beneficial—especially for those with vitamin D deficiency or increased risk of pregnancy complications."
We do our homework. See the research behind our Vitamin D3 Gummies.
Natalist supplements are formulated with attention to detail. Each ingredient is researched and considered.
Natalist vitamins are formulated with premium, highly bioavailable ingredients for maximum efficacy and potency.
We are committed to manufacturing excellence. Every batch of vitamins is tested for product integrity.
All of our vitamins are made in an FDA Registered and Inspected Facility, which meets or exceeds FDA 21 CFR 111 guidelines. Certificates of analysis are reported for every batch of manufactured vitamins to ensure final product integrity and quality. Our vitamins are free of artificial and synthetic dyes and all allergens are disclosed on our label. Additionally, our vitamins are manufactured under strict procedures to ensure there is no cross-contamination during manufacturing and storage.‡
Naturally flavored and sweetened without high-fructose corn syrup.
Our gummy is naturally flavored and sweetened to create mixed fruity flavors without the use of high-fructose corn syrup.
Made without animal gelatin.
Unlike other gummies, we do not use gelatin in our formula. Gelatin is extracted from the hides and bones of pigs and cows and is not considered vegetarian. Our premium D3 gummy is made with pectin, a plant-based option.
An estimated 40% of Americans are vitamin D deficient.
A NHANES study found 40% of the population to be vitamin D deficient. Vitamin D deficiency is more common during pregnancy, especially among high-risk groups such as vegetarians, women with limited sun exposure, and people with darker skin.
More so, Black women and women with rich darker pigment are even more susceptible to vitamin D deficiency and often require higher doses of vitamin D due to decreased absorption through the skin. This difference is important to note since Black women share a higher burden of preterm birth, low birth weight, and pre-eclampsia—conditions that have all been studied in association with lower vitamin D levels.
Vitamin D plays an important role in bone health.
The body needs vitamin D to absorb calcium, which supports bone health. Children and adults alike need vitamin D in order to build and keep strong bones.
Our Vitamin D3 is made from cholecalciferol, the natural form of vitamin D that your body makes from sunlight.
Research shows that supplementation of vitamin D3 is more effective than D2 at increasing vitamin D levels and is the preferred form to optimize vitamin D status within the general population.
May support immune function.
Deficiency in vitamin D is associated with increased autoimmunity as well as an increased susceptibility to infection. Data from vitamin D supplementation studies have shown beneficial effects of extra vitamin D on immune function, in particular in the context of autoimmunity.
Support for male and female fertility.
There is evidence vitamin D exerts some effects on female reproduction including IVF outcome, PCOS, and endometriosis.
The same systematic review found that for men, vitamin D status might be related to spermatogenesis and semen quality.
Healthy vitamin D levels are important during IVF.
Multiple studies have found that vitamin D sufficient women undergoing IVF had higher implantation and pregnancy rates compared with the vitamin D deficient women. One study suggested that "Vitamin D supplementation could provide an easy and cost-effective way of improving pregnancy rates."
May help with erectile dysfunction (ED).
A significant proportion of erectile dysfunction (ED) patients have a vitamin D deficiency. Research shows that vitamin D supplementation may help delay the onset of ED—and may even restore normal sexual function to some men when coupled with positive lifestyle changes.
Natalist Vitamin D3 dosage is considered pregnancy and breastfeeding safe by leading organizations. This makes vitamin D gummies safe to take along with your prenatal vitamins.
Most experts agree vitamin D supplements are safe in dosages up to 4,000 IU per day during pregnancy or lactation. When taken with our Prenatal Multi (which contains 800 IU of D3), one gummy a day would give you a total of 1,800 IU of vitamin D3. When taken with Prenatal for her (which contains 2,000 IU of D3), one gummy a day would give you a total of 3,000 IU of vitamin D3.
Vitamin D supplementation while breastfeeding has benefits.
Because breastfeeding moms share a lot of nutrients with baby while breastfeeding, the CDC suggests it is important to consume an extra 400-500 calories a day of healthy, vitamin-rich foods. Supplementing is a great way to ensure people who breastfeed are receiving all the nutrients needed to support their health and the health of the baby.
Research shows that prolonged breastfeeding without vitamin D supplementation can cause rickets in infants. Rickets softens the bones and can lead to bowed legs, mobility delays, and soft skulls.
Taking a vitamin D supplement while breastfeeding helps strengthen teeth and bones and can improve immune function of both baby and mama. In addition to getting vitamin D from breast milk, the American Academy of Pediatrics recommends breastfed infants get 400 IU supplement per day of vitamin D beginning in the first few days of life. They recommend babies continue vitamin D supplementation until the infant is weaned to at least one liter per day of vitamin D–fortified formula. Talk to your doctor about what supplementation makes sense for you and your baby.
Read more about vitamin D and breastfeeding here.
Discuss your prenatal supplement routine with your doctor.
There's a lot of junk science out there, and products being sold with grand promises, but little or no data to back it up. We stand by our products and only sell fertility supplements with ample clinical evidence supporting the claims. We try to be very clear about who would benefit most from prenatal nutritional supplementation, but it's also important to discuss your prenatal supplement routine with your physician who can give further guidance.
Here's some of the research that went into making our Vitamin D3 supplement.
ACOG. "Vitamin D: Screening and Supplementation During Pregnancy." American College of Obstetricians and Gynecologists. 2017.
Aranow, Cynthia. "Vitamin D and the immune system." Journal of investigative medicine : the official publication of the American Federation for Clinical Research vol. 59,6 (2011): 881-6. doi:10.2310/JIM.0b013e31821b8755
Farzadi, Laya et al. "Correlation between follicular fluid 25-OH vitamin D and assisted reproductive outcomes." Iranian journal of reproductive medicine vol. 13,6 (2015): 361-6.
Laird, Eamon et al. "Vitamin D and bone health: potential mechanisms." Nutrients vol. 2,7 (2010): 693-724. doi:10.3390/nu2070693
Lerchbaum, E., & Obermayer-Pietsch, B. (2012). Vitamin D and fertility: a systematic review. European journal of endocrinology, 166(5), 765–778. https://doi.org/10.1530/EJE-11-0984
Logan, Victoria F et al. "Long-term vitamin D3 supplementation is more effective than vitamin D2 in maintaining serum 25-hydroxyvitamin D status over the winter months." The British journal of nutrition vol. 109,6 (2013): 1082-8. doi:10.1017/S0007114512002851
Mithal, Ambrish, and Sanjay Kalra. "Vitamin D supplementation in pregnancy." Indian journal of endocrinology and metabolism vol. 18,5 (2014): 593-6. doi:10.4103/2230-8210.139204
NIH. "Vitamin D." 2020. https://ods.od.nih.gov/factsheets/VitaminD-HealthProfessional/
Ozkan, Sebiha et al. "Replete vitamin D stores predict reproductive success following in vitro fertilization." Fertility and sterility vol. 94,4 (2010): 1314-1319. doi:10.1016/j.fertnstert.2009.05.019
Paffoni, Alessio et al. "Vitamin D deficiency and infertility: insights from in vitro fertilization cycles." The Journal of clinical endocrinology and metabolism vol. 99,11 (2014): E2372-6. doi:10.1210/jc.2014-1802
Parva, Naveen R et al. "Prevalence of Vitamin D Deficiency and Associated Risk Factors in the US Population (2011-2012)." Cureus vol. 10,6 e2741. 5 Jun. 2018, doi:10.7759/cureus.2741
Prietl, Barbara et al. "Vitamin D and immune function." Nutrients vol. 5,7 2502-21. 5 Jul. 2013, doi:10.3390/nu5072502
Qureshi, Shaista A, and Joanne E Wilkinson. "Vitamin D supplementation for women during pregnancy." American family physician vol. 87,5 (2013): 314.
Tripkovic, Laura et al. "Daily supplementation with 15 μg vitamin D2 compared with vitamin D3 to increase wintertime 25-hydroxyvitamin D status in healthy South Asian and white European women: a 12-wk randomized, placebo-controlled food-fortification trial." The American journal of clinical nutrition vol. 106,2 (2017): 481-490. doi:10.3945/ajcn.116.138693
WHO. "Guideline: Vitamin D supplementation in pregnant women." Mithal, Ambrish, and Sanjay Kalra. "Vitamin D supplementation in pregnancy." Geneva, World Health Organization, 2012.
This product is manufactured and processed in a facility which may also process milk, soy, wheat, egg, peanuts, tree nuts, fish, and crustacean shellfish.
Technical Information
Vitamin D3 Usage
Take two gummies daily or as directed by your doctor.
Serving Size: 2 Gummy
Servings Per Container: 45
Ingredients
Total Sugars (includes 4g added sugar)
4g
Vitamin D (as cholecalciferol)
50 mcg (2,000 IU)
Other ingredients
Glucose Syrup, Sugar, Water, Pectin, Citric Acid, Black Carrot Concentrate, Trisodium Citrate, Natural Strawberry and Mixed Berry Flavors, Chlorophyll, Natural Peach Flavor, Paprika Extract, and Carnauba Wax
Commonly asked questions
Are your vitamins gluten free?
What flavor are your Vitamin D3 Gummies?
Our Vitamin D3 Gummies are a delectable variety of drop-shaped gummies in peach ( orange), mix-berries (purple) and strawberry (red). Make sure you drop us a line on social to tell us which you like best!
How should I store this product?
For optimal results, vitamins should be stored in a cool, dry place. Avoid placing your vitamins in areas with excess heat or moisture; these elements can start to deteriorate the product and reduce their potency.
Do these expire?
Yes, all good things must come to an end. Check the expiration date on the bottle.
What if I take too many vitamins?
Call poison control at 800-222-1222.
How big are the supplements?
Each D3 gummy is 1.5mm x 1.9mm, which is about the size of a gum drop.
What is this bottle made of?
Our supplement bottles are made of PET (#1) and HDPE (#2) plastic. PET and HDPE plastics are free from BPA, phthalates, heavy metals, allergens, and harmful fumes. PET bottles are infinitely recyclable, and 90% of PET is recycled annually in the U.S. HDPE is typically made from post-consumer recycled (PRC) materials, and like PET, is 100% recyclable.
Are GMOs used in your vitamin D supplement?
Along with 88% of polled scientists, Natalist believes that the majority of genetically modified (GM) foods are safe. That said, we also believe labeling is important so that consumers can make an informed purchase decision. Some ingredients in this product may have been derived from a genetically modified source material, but genetically modified DNA and the proteins derived from genetically modified DNA are unlikely to be detectable in this product. To the best of our knowledge, these ingredients are refined and do not contain any genetically modified proteins or DNA.
Can vitamin D have interactions with other medications?
Vitamin D supplements may interact with several types of medications, including orlistat, statins, steroids, and thiazide diuretics. If you are taking these and other medications on a regular basis, please discuss your vitamin D intakes and status with your doctor.
Is this product FSA/HSA eligible?
This item may be eligible with a Letter of Medical Necessity (LMN) with a flexible spending account (FSA), health savings account (HSA), or a health reimbursement arrangement (HRA). Be sure to check with your specific HSA/FSA benefits coordinator for clarification on the specific requirements for reimbursement including usage, protocol, and qualifications. You can either use your HSA debit card or use the itemized receipt (which will be in your inbox after you make a purchase). Read more about submitting for FSA and HSA reimbursement here.
What makes your packaging earth friendlier?
All Natalist products and packaging are 100% plastic neutral. For every pound of plastic we sell, we facilitate the removal of a pound of plastic pollution—giving your purchase a net-zero plastic footprint.
Can I buy just one month's worth of Vitamin D3 Gummies?
Consistency is key for many supplements, so we only offer this product as a subscription purchase. If you want to try it just once, you can place an order and either skip the next shipment, choose a specific date for your next shipment, or cancel. Simply log in to your Natalist account, head over to "Manage Subscriptions," and click "Edit" to get started. Additionally, we are excited to offer exclusive perks to subscribers, including discounted products (up to 50% off) and free shipping on all subscription orders.
‡These statements have not been evaluated by the Food and Drug Administration. This product is not intended to diagnose, treat, cure or prevent any disease.
* Manufactured in the USA with globally sourced ingredients.
Consult your healthcare provider before adding any supplements to your regimen.