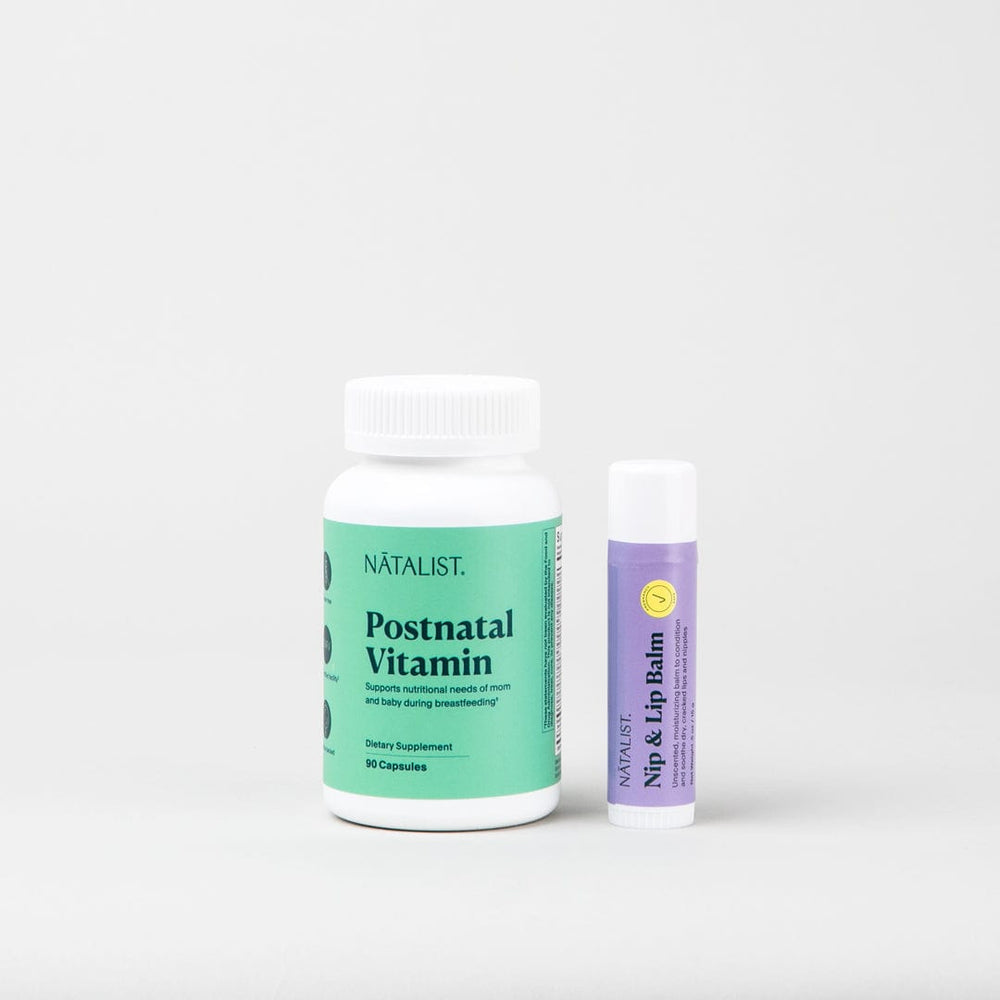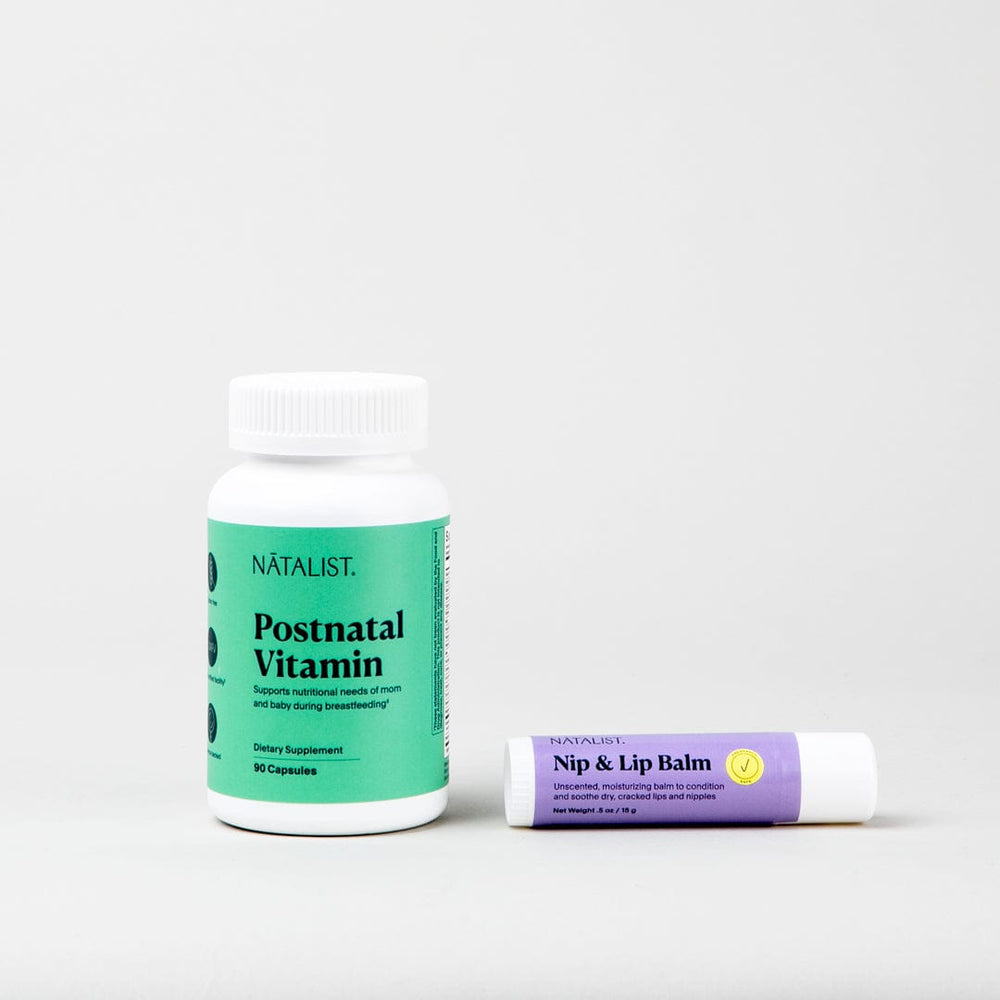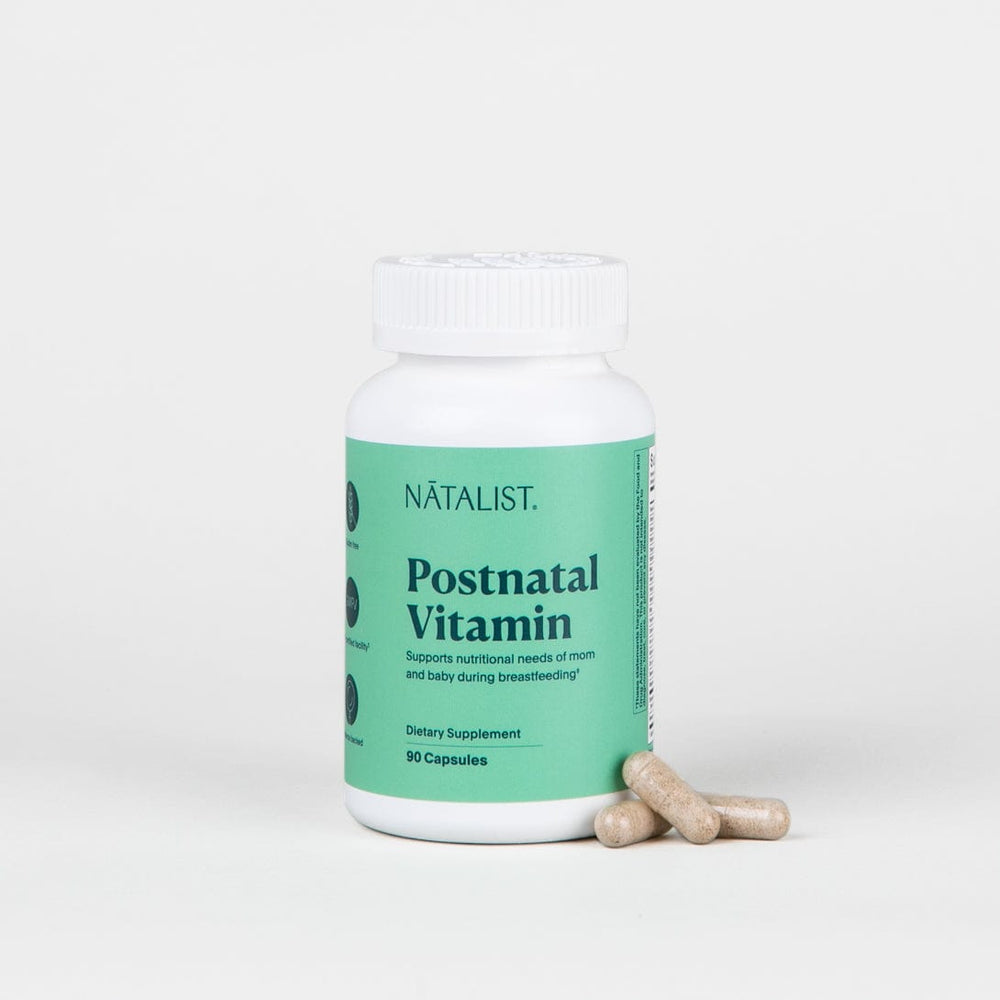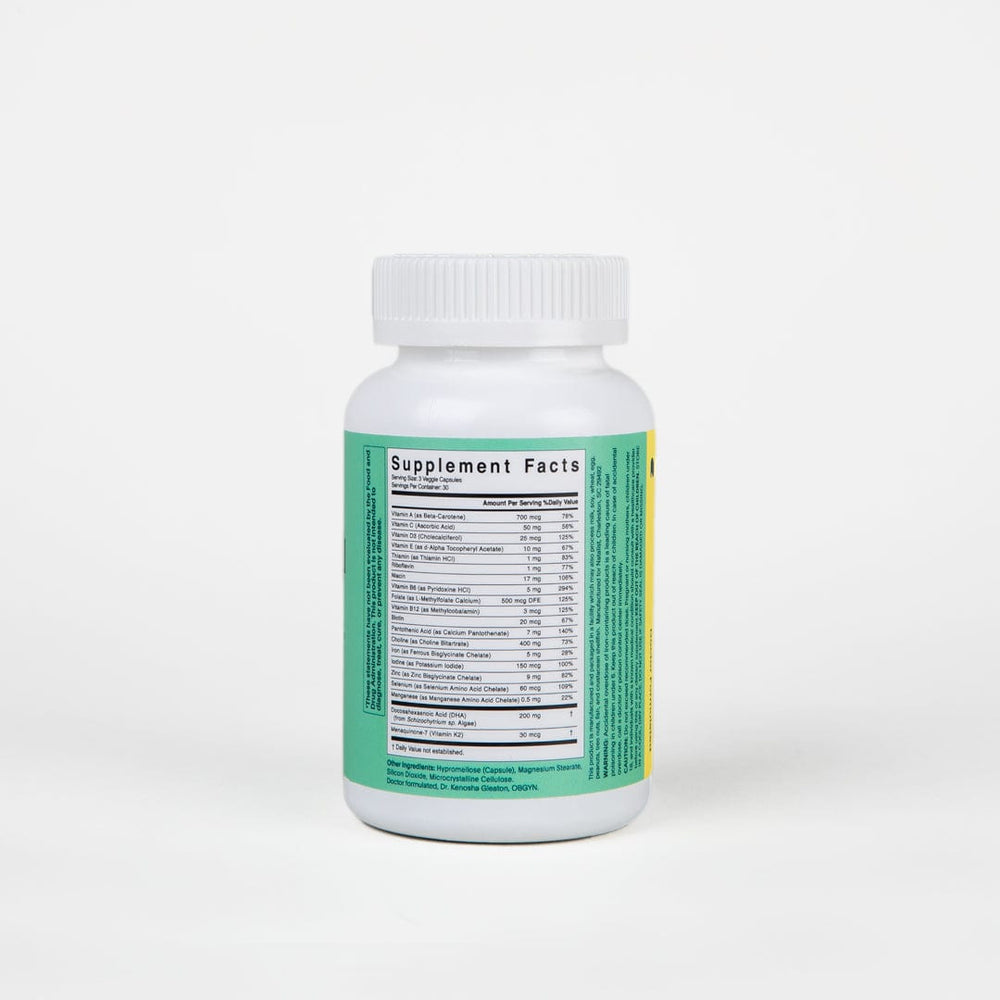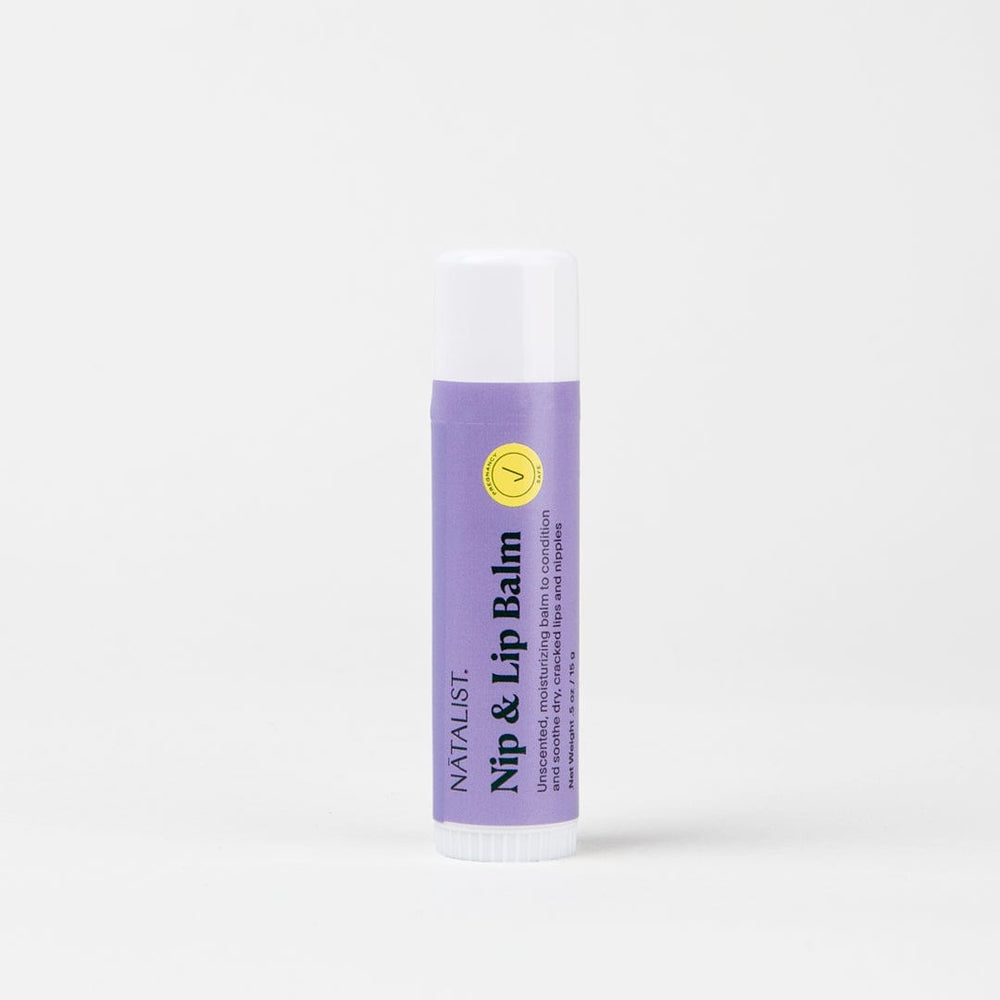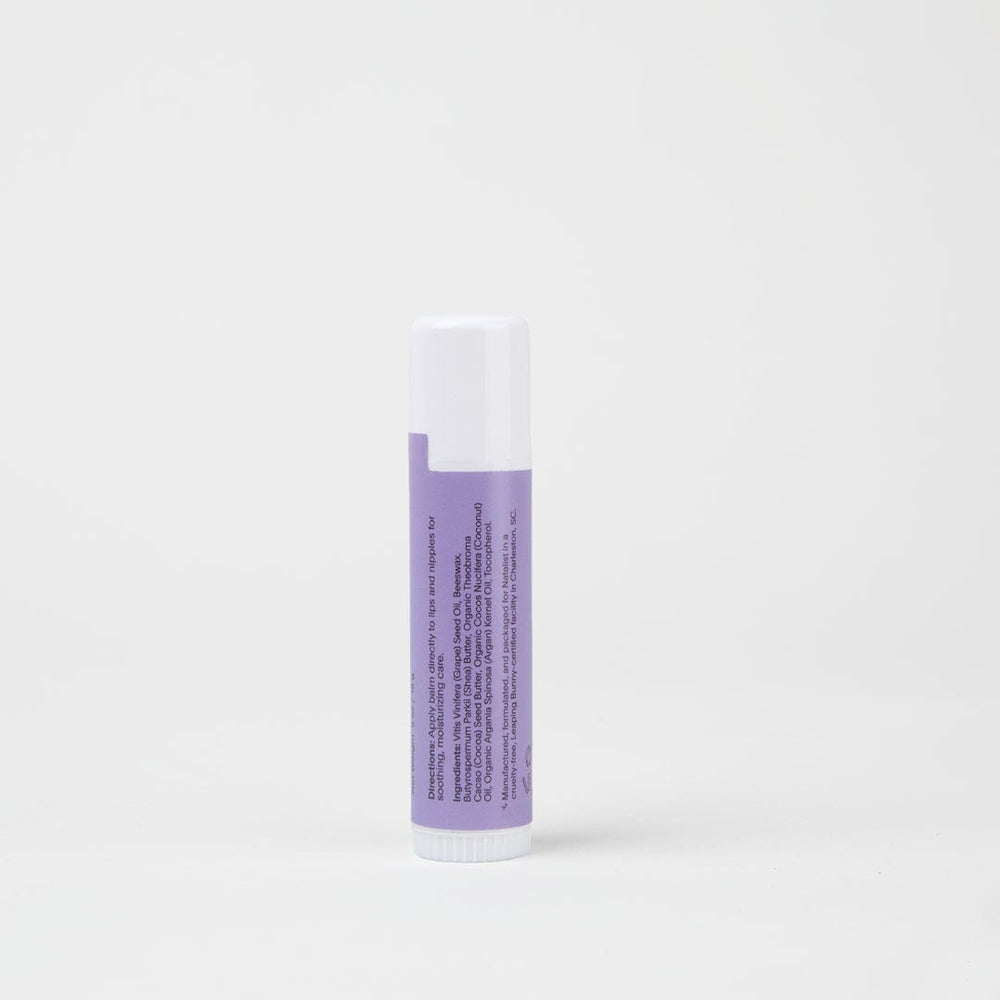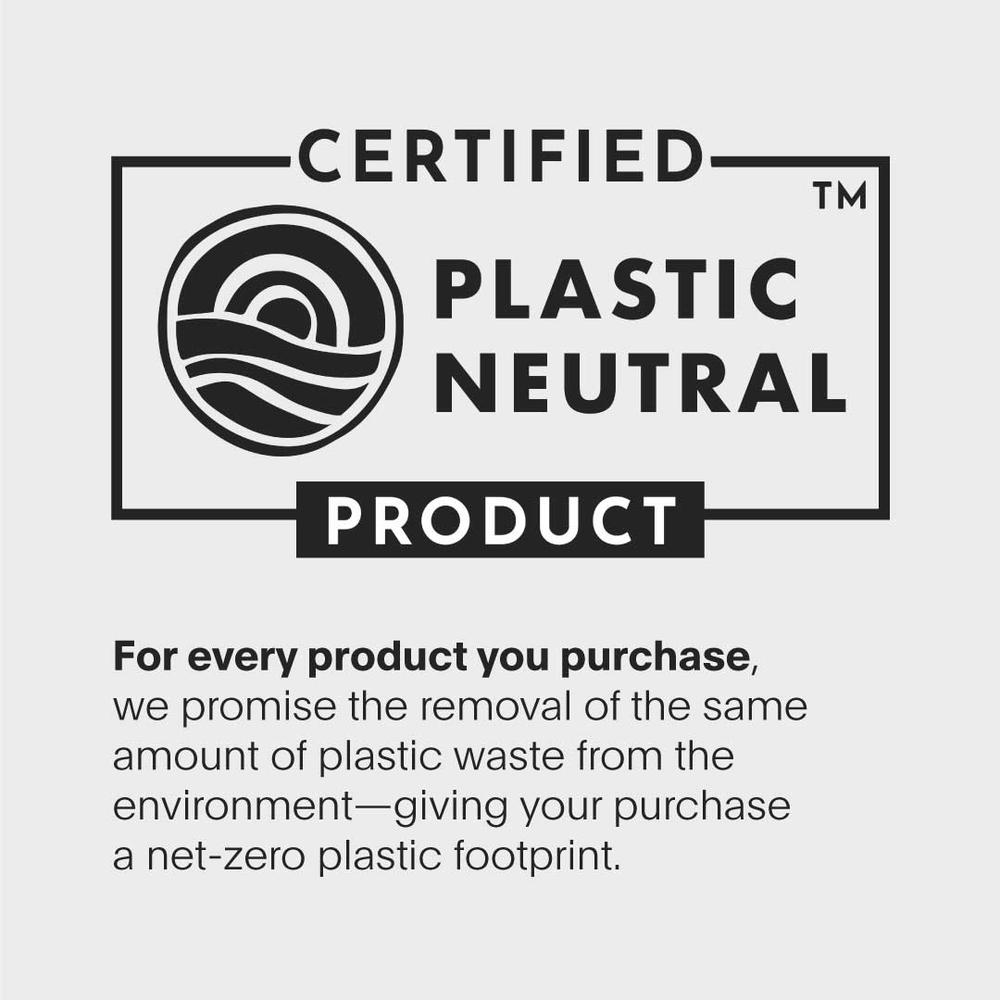 Subscribe & Save $5.00
Breastfeeding Essentials
Specially curated breastfeeding kit for nursing moms
This nourishing duo is what every breastfeeding mom needs! Natalist Postnatal Vitamins are specially formulated to support the unique nutritional needs of mom and baby during breastfeeding.‡ Our Nip & Lip Balm conditions and soothes dry, cracked, or sore nipples with no need to wipe off before feeding your babe. Whether you are using a breast pump or nursing your newborn baby, our soothing nipple balm hydrates the skin with moisturizing oils, while our postnatal multivitamin supports baby's brain development.

For a limited time, get FREE access to Breastfeeding Made Simple, an online breastfeeding course from our friends at Baby Settler with the purchase of this product. You'll receive an email after you purchase with an exclusive link and code for access to the course.
Why We're Proud
Manufactured in the USA*
100% Plastic Neutral
OBGYN and fertility expert
""Eating a nutritious diet and taking a quality postnatal vitamin can support the needs of mama and baby while breastfeeding.""
We do our homework. See the research behind our Breastfeeding Essentials
Postnatal Vitamins were thoughtfully formulated by experts (who are also moms).
Our high-quality postnatal multivitamins were carefully developed using peer-reviewed studies that reflect the latest research in postnatal nutrition. The formula development was led by our Medical Advisor and board-certified OBGYN, Dr. Kenosha Gleaton, and an award-winning registered dietitian-nutritionist and specialist in fertility, Lauren Manaker, RD.
Natalist Nip & Lip Balm is free of parabens and phthalates.
See the research behind our Nip & Lip Balm
Caimari A, Mariné-Casadó R, Boqué N, Crescenti A, Arola L, Del Bas JM. Maternal intake of grape seed procyanidins during lactation induces insulin resistance and an adiponectin resistance-like phenotype in rat offspring. Sci Rep. 2017;7(1):12573. Published 2017 Oct 3. doi:10.1038/s41598-017-12597-9
Endocrine Society."Endocrine-Disrupting Chemicals (EDCs)
Here's some of the research that went into making Postnatal Vitamins.
Dietary Guidelines for Americans, 2020-2025; United States Department of Agriculture https://www.dietaryguidelines.gov/sites/default/files/2020-12/Dietary_Guidelines_for_Americans_2020-2025.pdf [Accessed 22 July 2022]. USDA Publication #: USDA-FNS-2020-2025-DGA.
Mayte Sanz Alaejos, Ph D, Carlos Diaz Romero, Ph D, Selenium in Human Lactation, Nutrition Reviews, Volume 53, Issue 6, June 1995, Pages 159–166, https://doi.org/10.1111/j.1753-4887.1995.tb01543.x
CDC. Iodine. Centers for Disease Control and Prevention. Published January 24, 2018. https://www.cdc.gov/breastfeeding/breastfeeding-special-circumstances/diet-and-micronutrients/iodine.html
Cusick, S. and Georgieff, M., 2022. The Role of Nutrition in Brain Development: The Golden Opportunity of the "First 1000 Days". https://www.jpeds.com/article/S0022-3476(16)30221-9/fulltext#articleInformation
Derbyshire E, Obeid R. Choline, Neurological Development and Brain Function: A Systematic Review Focusing on the First 1000 Days. Nutrients. 2020;12(6):1731. Published 2020 Jun 10. doi:10.3390/nu12061731 https://www.ncbi.nlm.nih.gov/pmc/articles/PMC7352907/
‌Saini RK, Prasad P, Sreedhar RV, Akhilender Naidu K, Shang X, Keum YS. Omega-3 Polyunsaturated Fatty Acids (PUFAs): Emerging Plant and Microbial Sources, Oxidative Stability, Bioavailability, and Health Benefits-A Review. Antioxidants (Basel). 2021;10(10):1627. Published 2021 Oct 15. doi:10.3390/antiox10101627 https://www.ncbi.nlm.nih.gov/pmc/articles/PMC8533147/
Ankar A, Kumar A. Vitamin B12 Deficiency. [Updated 2021 Jun 7]. In: StatPearls [Internet]. Treasure Island (FL): StatPearls Publishing; 2022 Jan-. Available from: https://www.ncbi.nlm.nih.gov/books/NBK441923/
Milman, N. Postpartum anemia I: definition, prevalence, causes, and consequences. Ann Hematol 90, 1247 (2011). https://doi.org/10.1007/s00277-011-1279-z
The Postnatal Vitamin is manufactured in a facility which may also process milk, soy, wheat, egg, peanuts, tree nuts, fish, and crustacean shellfish.
Postnatal Vitamin contains Iron. Accidental overdose of iron-containing products is a leading cause of fatal poisoning in children under 6. Keep this product out of reach of children. In case of accidental overdose, call a doctor or poison control center immediately.