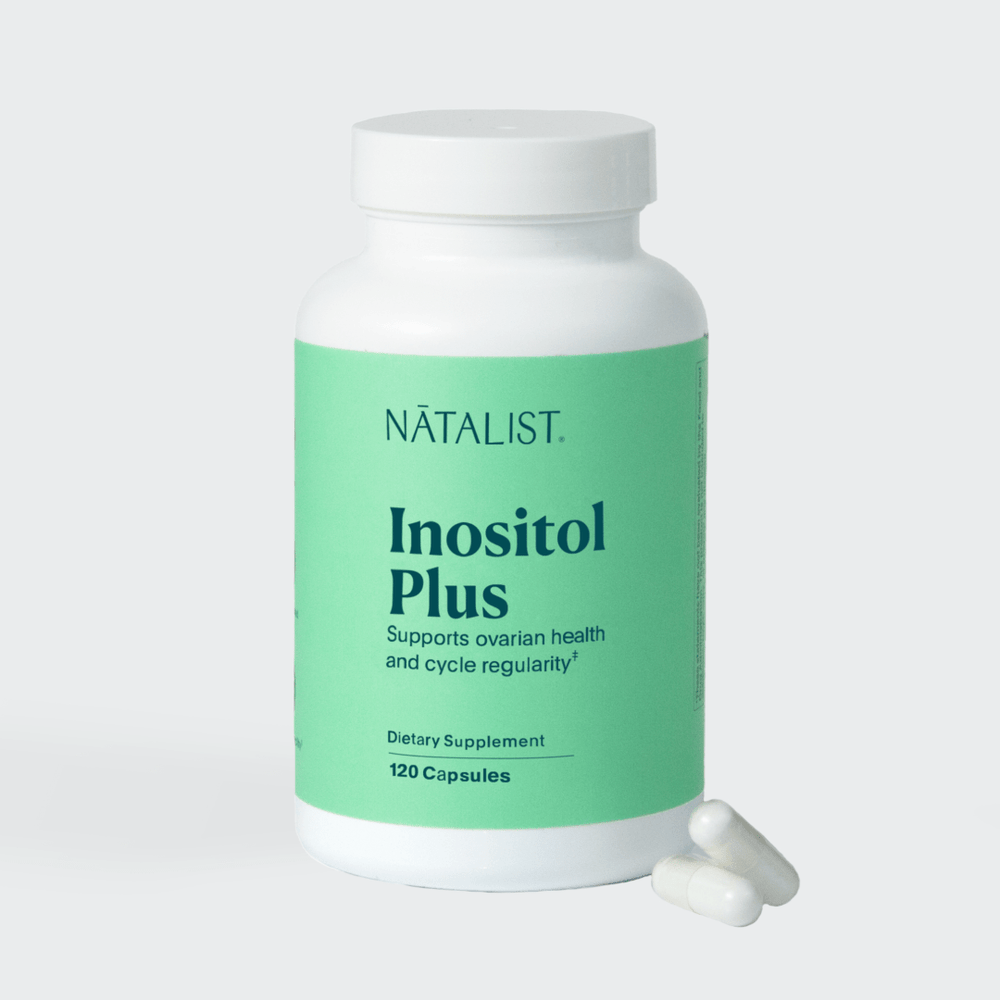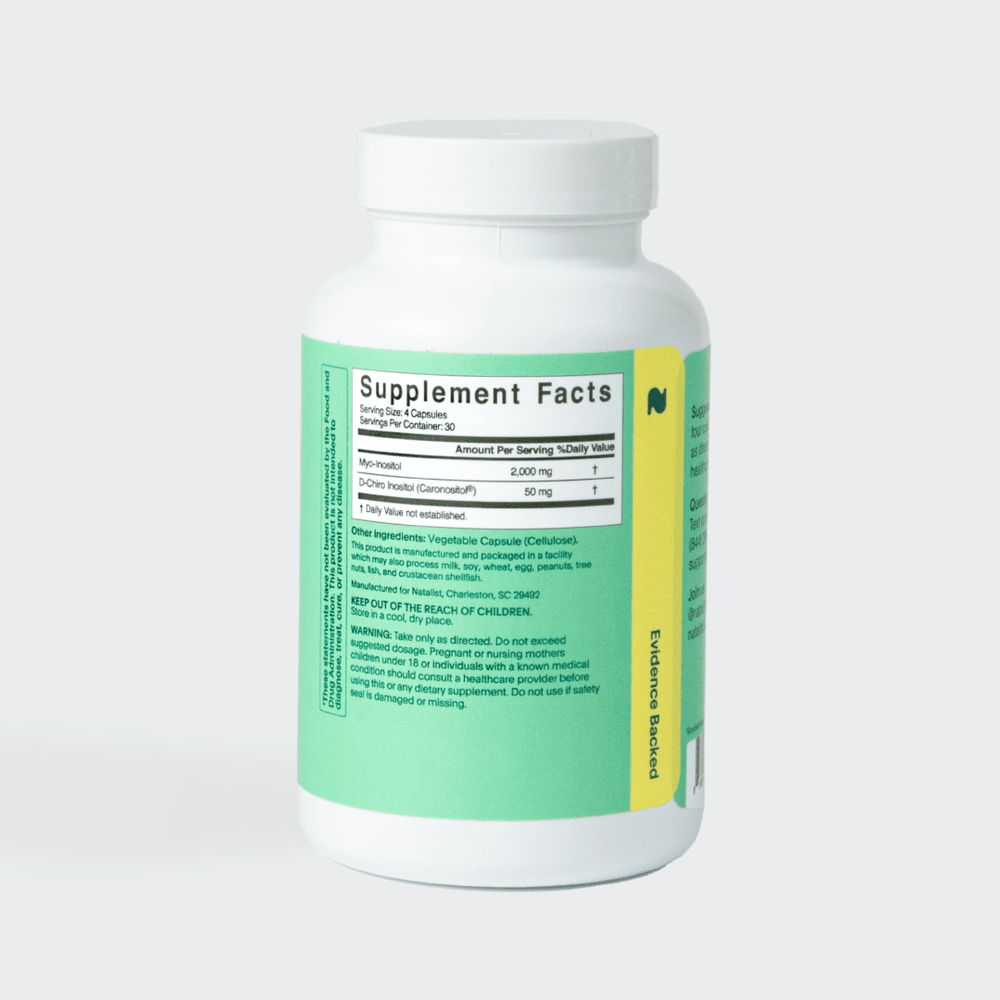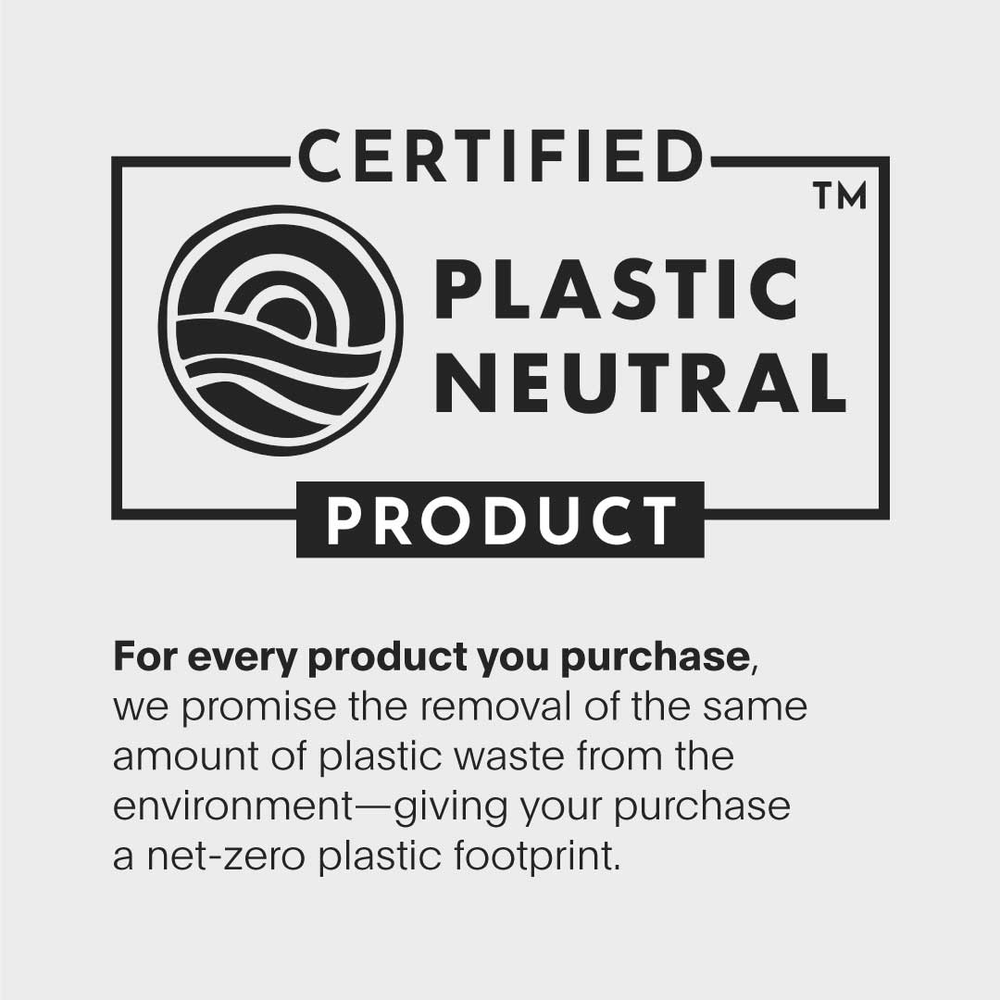 Inositol Plus
 Supports healthy hormone levels, egg health, and cycle regularity‡
Successful ovulation is the first step to getting pregnant. Inositol Plus was developed to help support ovarian health and egg health while promoting healthy hormone levels. Following clinical evidence, our Inositol Plus dietary supplement is formulated to match your body's natural 40:1 ratio of Myo-Inositol (MI) and D-Chiro Inositol (DCI) with 2,000 mg Myo-Inositol and 50 mg D Chiro-Inositol per serving.‡
Product Details
One month supply: 120 capsules

2,000 mg Myo-Inositol per serving

50 mg D Chiro-Inositol per serving

Vegetarian

Gluten free

Non GMO

Can also be blended into a smoothie!
Why We're Proud
Vegetarian
Gluten Free
GMP Certified
Evidence Backed
100% Plastic Neutral
Manufactured in the USA*
OBGYN and Fertility Expert
"I recommend inositol supplementation to support menstrual cycle regularity and hormone balance."
We do our homework. See the research behind our Inositol Plus supplement.
Inositol Plus was thoughtfully developed by experts (who are also moms).
Our Inositol Plus supplement was carefully developed in collaboration with our Medical Advisor and board-certified OBGYN, Dr. Kenosha Gleaton, using peer-reviewed studies that reflect the latest research.
We are committed to manufacturing excellence. Every batch of vitamins is tested for product integrity.
All of our vitamins are made in an FDA Registered and Inspected Facility, which meets or exceeds FDA 21 CFR 111 guidelines.
In addition to testing the raw material components of our vitamins to ensure their purity and accuracy, we also test each batch after it is produced to ensure final product integrity and quality. Testing includes a chemical analysis to ensure accuracy, a microbial analysis (salmonella, E. coli, yeast, and mold) and a heavy metals test (including arsenic, cadmium, and lead).
Inositol Plus is free of artificial and synthetic dyes. Additionally, Inositol Plus is manufactured under strict procedures to ensure there is no cross-contamination during manufacturing and storage.
What are the benefits of Inositol if I have Polycystic Ovary Syndrome (PCOS)?
Inositol isn't a treatment for PCOS, but research shows that inositol supplementation may be beneficial for some of the symptoms. PCOS symptoms can vary greatly from person to person, ranging from irregular periods to acne, obesity, or excess body hair. If you are experiencing one or more of these common PCOS symptoms, talk to your healthcare provider to see if myo-inositol supplementation is right for you. Inositol supplementation may also help support normal insulin sensitivity and may help support healthy hormone levels.‡
What are the benefits of Myo-Inositol for men and women?
What are the benefits of D Chiro-Inositol?
Can inositol supplementation support healthy blood pressure?
The ratio of Myo-Inositol to D Chiro-Inositol in your supplement matters.
Our Inositol Plus dietary supplement is formulated to match your body's natural 40:1 ratio of Myo-Inositol and D-Chiro Inositol.‡
This product is manufactured and processed in a facility which may also process milk, soy, wheat, egg, peanuts, tree nuts, fish, and crustacean shellfish.
Here's some of the research that went into making Inositol Plus:
Pundir J, Charles D, Sabatini L, et al. Overview of systematic reviews of non-pharmacological interventions in women with polycystic ovary syndrome. Hum Reprod Update. 2019;25(2):243-256. doi:10.1093/humupd/dmy045
Laganà AS, Garzon S, Casarin J, Franchi M, Ghezzi F. Inositol in Polycystic Ovary Syndrome: Restoring Fertility through a Pathophysiology-Based Approach. Trends Endocrinol Metab. 2018;29(11):768-780. doi:10.1016/j.tem.2018.09.001
Facchinetti F, Unfer V, Dewailly D, et al. Inositols in Polycystic Ovary Syndrome: An Overview on the Advances. Trends Endocrinol Metab. 2020;31(6):435-447. doi:10.1016/j.tem.2020.02.002
Facchinetti F, Espinola MSB, Dewailly D, et al. Breakthroughs in the Use of Inositols for Assisted Reproductive Treatment (ART). Trends Endocrinol Metab. 2020;31(8):570-579. doi:10.1016/j.tem.2020.04.003
Showell MG, Mackenzie-Proctor R, Jordan V, Hodgson R, Farquhar C. Inositol for subfertile women with polycystic ovary syndrome. Cochrane Database Syst Rev. 2018;12(12):CD012378. Published 2018 Dec 20. doi:10.1002/14651858.CD012378.pub2
Dinicola S, Unfer V, Facchinetti F, et al. Inositols: From Established Knowledge to Novel Approaches. Int J Mol Sci. 2021;22(19):10575. Published 2021 Sep 30. doi:10.3390/ijms221910575
Wojciechowska A, Osowski A, Jóźwik M, Górecki R, Rynkiewicz A, Wojtkiewicz J. Inositols' Importance in the Improvement of the Endocrine-Metabolic Profile in PCOS. Int J Mol Sci. 2019;20(22):5787. Published 2019 Nov 18. doi:10.3390/ijms20225787
Iervolino M, Lepore E, Forte G, Laganà AS, Buzzaccarini G, Unfer V. Natural Molecules in the Management of Polycystic Ovary Syndrome (PCOS): An Analytical Review. Nutrients. 2021;13(5):1677. Published 2021 May 15. doi:10.3390/nu13051677
Kamenov Z, Gateva A. Inositols in PCOS. Molecules. 2020;25(23):5566. Published 2020 Nov 27. doi:10.3390/molecules25235566
Montanino Oliva M, Buonomo G, Calcagno M, Unfer V. Effects of myo-inositol plus alpha-lactalbumin in myo-inositol-resistant PCOS women. J Ovarian Res. 2018;11(1):38. Published 2018 May 10. doi:10.1186/s13048-018-0411-2
Azizi Kutenaei M, Hosseini Teshnizi S, Ghaemmaghami P, Eini F, Roozbeh N. The effects of myo-inositol vs. metformin on the ovarian function in the polycystic ovary syndrome: a systematic review and meta-analysis. Eur Rev Med Pharmacol Sci. 2021;25(7):3105-3115.
Cantelmi T, Lambiase E, Unfer VR, Gambioli R, Unfer V. Inositol treatment for psychological symptoms in Polycystic Ovary Syndrome women. Eur Rev Med Pharmacol Sci. 2021;25(5):2383-2389. doi:10.26355/eurrev_202103_25278
Nordio M, Basciani S, Camajani E. The 40:1 myo-inositol/D-chiro-inositol plasma ratio is able to restore ovulation in PCOS patients: comparison with other ratios. Eur Rev Med Pharmacol Sci. 2019;23(12):5512-5521. doi:10.26355/eurrev_201906_18223
Facchinetti F, Appetecchia M, Aragona C, et al. Experts' opinion on inositols in treating polycystic ovary syndrome and non-insulin dependent diabetes mellitus: a further help for human reproduction and beyond. Expert Opin Drug Metab Toxicol. 2020;16(3):255-274. doi:10.1080/17425255.2020.1737675
Unfer V, Facchinetti F, Orrù B, Giordani B, Nestler J. Myo-inositol effects in women with PCOS: a meta-analysis of randomized controlled trials. Endocr Connect. 2017;6(8):647-658. doi:10.1530/EC-17-0243
Roseff S, Montenegro M. Inositol Treatment for PCOS Should Be Science-Based and Not Arbitrary. Int J Endocrinol. 2020;2020:6461254. Published 2020 Mar 27. doi:10.1155/2020/6461254
Artini PG, Obino MER, Sergiampietri C, et al. PCOS and pregnancy: a review of available therapies to improve the outcome of pregnancy in women with polycystic ovary syndrome. Expert Rev Endocrinol Metab. 2018;13(2):87-98. doi:10.1080/17446651.2018.1431122
Bhide P, Pundir J, Gudi A, Shah A, Homburg R, Acharya G. The effect of myo-inositol/di-chiro-inositol on markers of ovarian reserve in women with PCOS undergoing IVF/ICSI: A systematic review and meta-analysis. Acta Obstet Gynecol Scand. 2019;98(10):1235-1244. doi:10.1111/aogs.13625
Merviel P, James P, Bouée S, et al. Impact of myo-inositol treatment in women with polycystic ovary syndrome in assisted reproductive technologies. Reprod Health. 2021;18(1):13. Published 2021 Jan 19. doi:10.1186/s12978-021-01073-3
Pourghasem S, Bazarganipour F, Taghavi SA, Kutenaee MA. The effectiveness of inositol and metformin on infertile polycystic ovary syndrome women with resistant to letrozole. Arch Gynecol Obstet. 2019;299(4):1193-1199. doi:10.1007/s00404-019-05064-5
De Diego MV, Gómez-Pardo O, Groar JK, et al. Metabolic impact of current therapeutic strategies in Polycystic Ovary Syndrome: a preliminary study. Arch Gynecol Obstet. 2020;302(5):1169-1179. doi:10.1007/s00404-020-05696-y
Emekçi Özay Ö, Özay AC, Çağlıyan E, Okyay RE, Gülekli B. Myo-inositol administration positively effects ovulation induction and intrauterine insemination in patients with polycystic ovary syndrome: a prospective, controlled, randomized trial. Gynecol Endocrinol. 2017;33(7):524-528.
Regidor PA, Schindler AE, Lesoine B, Druckman R. Management of women with PCOS using myo-inositol and folic acid. New clinical data and review of the literature. Horm Mol Biol Clin Investig. 2018;34(2):/j/hmbci.2018.34.issue-2/hmbci-2017-0067/hmbci-2017-0067.xml. Published 2018 Mar 2. doi:10.1515/hmbci-2017-0067
Agrawal A, Mahey R, Kachhawa G, Khadgawat R, Vanamail P, Kriplani A. Comparison of metformin plus myoinositol vs metformin alone in PCOS women undergoing ovulation induction cycles: randomized controlled trial. Gynecol Endocrinol. 2019;35(6):511-514. doi:10.1080/09513590.2018.1549656
Vitek W, Hoeger K, Legro RS. Treatment strategies for infertile women with polycystic ovary syndrome. Minerva Ginecol. 2016;68(4):450-457.
Technical Information
Inositol Plus Suggested Usage
Adults take 4 capsules every day or as directed by your doctor
Serving Size: 4 capsules
Servings Per Container: 30
Ingredients
D-Chrio Inositol (Caronositol®)
50 mg
Other Ingredients: Vegetable Capsules (Cellulose).
Commonly asked questions about Inositol Plus:
Is your Inositol Plus vegetarian?
How often should I take Inositol Plus?
Take 4 capsules daily or as directed by your healthcare provider
Can I open the capsules to take as a Myo and D-Chiro Inositol powder?
Yes! If you prefer, our Inositol Plus capsules can be opened and the powder added to a smoothie.
What makes your packaging earth friendlier?
All Natalist products and packaging are 100% plastic neutral. For every pound of plastic we sell, we facilitate the removal of a pound of plastic pollution—giving your purchase a net-zero plastic footprint.
Can I buy just one month's worth of Inositol Plus?
Consistency is key for many supplements, so we only offer this product as a subscription purchase. If you want to try it just once, you can place an order and either skip the next shipment, choose a specific date for your next shipment, or cancel. Simply log in to your Natalist account, head over to "Manage Subscriptions," and click "Edit" to get started. Additionally, we are excited to offer exclusive perks to subscribers, including discounted products (up to 50% off) and free shipping on all subscription orders.
‡These statements have not been evaluated by the Food and Drug Administration. This product is not intended to diagnose, treat, cure, or prevent any disease.
*Manufactured in the United States, with ingredients sourced from around the world.
Consult your healthcare provider before adding any supplements to your regimen.