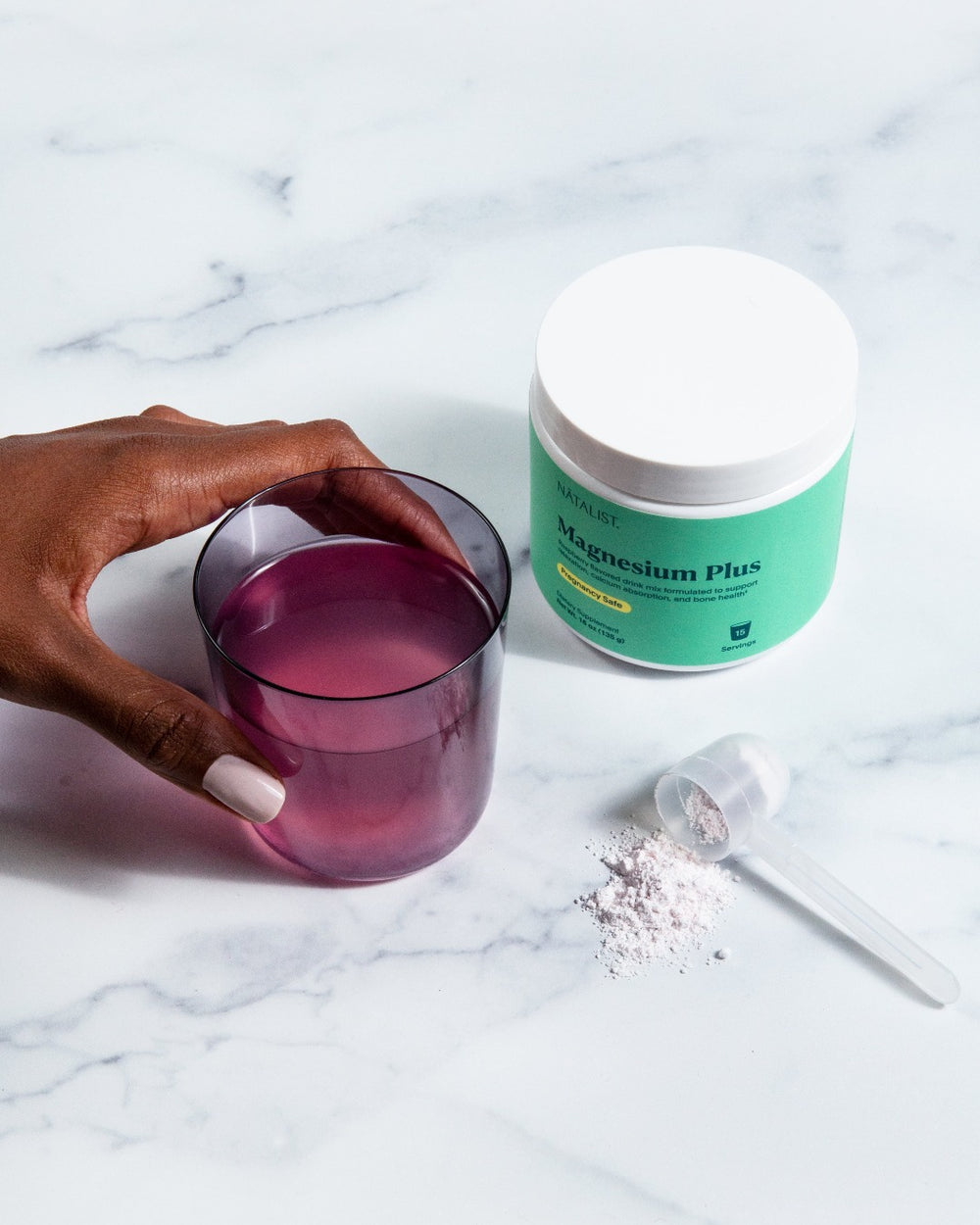 Magnesium & Multi Pack
Our best-selling prenatals and pregnancy-safe drink mix to support relaxation‡
Natalist Prenatal Daily Packets are thoughtfully formulated for prenatal care with 21 high-quality, gentle ingredients including folate, iron and vitamin B12 to nourish and support your body at every stage of your pregnancy journey. Get superior daily nutrition in one prenatal multivitamin packet.‡
Our new, Magnesium Plus drink mix is formulated with a blend of magnesium, calcium, and vitamin D3 to support relaxation, calcium absorption, and bone health.‡ Formulated to help restore magnesium levels, this powdered drink mix may help ease tension.‡ Our Magnesium Plus is formulated to be safe to use during pregnancy and breastfeeding. With just the right amount of raspberry flavor, our magnesium powder is tasty and refreshing.
Product Details
Bundle & save $5
Subscribe to save $10
Why We're Proud
GMP Certified
Vegetarian
Gluten Free
Pregnancy-Safe
100% Plastic Neutral
The Magnesium & Multi Pack is perfect for hopeful moms, mamas-to-be, and new moms. This giftable set includes our new Magnesium Plus calming drink mix and our doctor-formulated Prenatal Daily Packets with 21 essential nutrients to support you at every stage of your reproductive journey.
Superior prenatal nutrition, in one daily packet
The Prenatal Daily Packets were carefully developed using peer-reviewed studies that reflect the latest research in prenatal nutrition. Led by a board-certified OBGYN and a registered dietitian-nutritionist, ingredient selection was based on strength of evidence, and the dosages are evidence-based to ensure adequate impact.
OBGYN and Fertility Expert
"With 21 essential ingredients, our Prenatal Daily Packets were extensively researched and formulated to support intricate fetal development needs during preconception and pregnancy."
We do our homework. See the research behind Prenatal Daily Packets and Magnesium Plus.
Technical Information
Prenatal Daily Packets Usage
Take one packet daily.
Magnesium Plus Usage
Stir one scoop of drink mix into 8-10 ounces of warm water until fully dissolved. Enjoy daily.
Serving Size: 1 Scoop (9g)
Servings Per Container: 15
Prenatal Daily Packets
Biotin (1% rice flour)
100mcg
Calcium (Calcium Citrate)
200mg
Choline (Bitatrate)
150mg
Folate (Calcium L-5 methyltetrahydrofolate equivalent to 1333 mcg DFE)
800mcg
Iodine (Potassium Iodine)
150mcg
Iron (TRAACS Ferrochel Ferrous Bisglycinate Chelate)
27mg
Magnesium (Dimagnesium Malate)
50mg
Selenium (L-Selenomethionine)
55mcg
Vitamin A (beta carotene and palmitate 700 mcg RAE)
2,333 IU
Prenatal Daily Packets
Vitamin B1 (Thiamine Mononitrate)
160mg
Vitamin B12 (Methylcobalamin)
16mcg
Vitamin B2 (Riboflavin)
2mg
Vitamin B3 (Niacinamide)
18mg
Vitamin B6 (Pyridoxal '5 Phosphate)
2mg
Vitamin C (ascorbic acid)
48mg
Vitamin D (Cholecalciferol from LIchen equivelane to 50 mcg)
2,000 IU
Vitamin E (as d-alpha tocopherol succinate equivalent to 15mg)
22.38 IU
Vitamin K2 (Menaquinone)
90mcg
Zinc (TRAACS Zinc Glycinate Chelate)
3.9mg
Prenatal Daily Packets
Other Ingredients: Multi: Vegetable cellulose, rice flour, magnesium stearate, silicon dioxide, water, ethylcellulose, ammonium hydroxide, medium-chain triglycerides, oleic acid, sodium alginate, stearic acid, lemon oil, and titanium dioxide. DHA: Hypromellose, Rice Bran Oil, Lemon Oil, d alpha tocopherol acetate and silicon dioxide
Magnesium Plus
Vitamin D3
(as Cholecalciferol) 25 mcg
Calcium (as 2,228mg Calcium Gluconate)
200 mg
Magnesium (as 6,000mg Magnesium Gluconate)
600 mg
Other Ingredients: Citric Acid, Natural Flavors, Stevia Reb A 95, Silicon Dioxide, Beet Root Powder (for color).
Commonly asked questions
Prenatal Daily Packets
Are your prenatal vitamins vegan?
Yes!
Is your prenatal kosher or halal certified?
Natalist Prenatal Daily Packets are not kosher, but they are halal certified.
What's different about your prenatal vitamins?
Our vitamins are formulated based on extensive research and use high-quality, ultra-pure ingredients. We encourage you to compare our supplement label to others on the market, and look at what's included (choline, iron, etc.), the quality of ingredients (e.g. as folate vs folic acid), and the dosages.
How will I know these are safe? What kind of testing do you do?
We have several quality control measures in place to ensure the highest safety and quality standards for our vitamins:
All our vitamins are made in an FDA Registered and Inspected Facility, which meets or exceeds FDA 12 CFR 111 guidelines, and is also GMP Certified.
We directly test the raw material components of our vitamins to ensure their purity before they are used for production.
Certificates of analysis (COA) are performed on every batch of manufactured vitamins to ensure final product integrity and quality.
Additionally, all our products are free of artificial dyes and most allergens.
How big are these pills? Are they easy to swallow?
The Prenatal Daily Packets multivitamin and DHA capsules are about two centimeters in length and one centimeter in width. Their compact size makes them easy to swallow.
I'm not pregnant or trying to have a baby. Can I still take prenatal vitamins?
Yes! The general recommendation is for women of reproductive age to take a prenatal vitamin if they are not preventing pregnancy, planning to TTC in the near future, actively TTC, pregnant, or breastfeeding. This recommendation stems from the fact that up to 45% of pregnancies in the United States are unintended. Furthermore, many such pregnancies are unrecognized for the first four to six weeks—which represents a vital time for organ development, mainly for the baby's brain and spinal cord.
How often should I take your prenatals?
When trying to conceive or pregnant, take one packet a day or as directed by your doctor.
Will your prenatal vitamins cause fishy burps?
Nope! Our vegan DHA undergoes an environmentally-friendly, chemical-free extraction process to eliminate virtually all traces of taste and odor. This was a priority for us.
Can your prenatal vitamins be opened and taken as a powder?
You can open the three white prenatal multivitamin capsules and take the contents as a powder. We recommend ingesting the powder immediately after releasing. Powdered contents can be mixed with other substances such as applesauce or yogurt, if desired.
The DHA should only be swallowed in pill form.
How many pills come in a pack?
Each daily pack contains five pills: two vegan DHAs and three multivitamins containing choline, folate, iron, B6, iodine, biotin, selenium, and more.
Do I have to take the pills at the same time?
That's up to you! We find it easier to remember when taking them all at once. But some people prefer to take some in the morning and the rest at bedtime.
Should I double my prenatal regimen if I'm expecting twins?
We do not recommend doubling up on prenatal vitamins as increased amounts of certain vitamins can be dangerous. In general, doctors recommend increased folate intake with twins. Please talk to your doctor about the recommended values. If you have a history of seizures and are on anticonvulsants, or if you have a history of a baby affected by a neural tube defect, talk to your doctor about increased folate intake.
What makes your packaging earth friendlier?
We always keep our impact on Mother Earth top of mind when making packaging decisions, and the Prenatal Daily Packets supplement uses 55% less plastic than comparable supplement bottles. The box is made with post-consumer recycled materials. Please recycle it. The daily packets cannot be recycled.
Plus, like all of our products, it is guaranteed 100% plastic neutral. This means that for every pound of plastic we sell, we remove the equivalent amount of plastic from the environment through our partnership with rePurpose.
Is this product FSA/HSA eligible?
Yes! This product is eligible for FSA and HSA reimbursement. You can either use your HSA debit card at checkout, or use the itemized receipt (which will be in your inbox after you make a purchase). Read more about submitting for FSA and HSA reimbursement here.
Which of your prenatal vitamin options is best for me?
We offer two high-quality prenatal vitamin routines: Prenatal Daily Packets and Prenatal Gummies. To learn more about which option best fits your needs, check out the chart below. After all, the best prenatal vitamins are the ones you can take every single day!
Magnesium Plus
Is your Magnesium Plus drink mix vegetarian?
Yes.
Is your Magnesium Plus drink mix gluten free?
Yes.
How often should I drink Magnesium Plus?
Talk with your healthcare provider about your daily intake.
What's different about your Magnesium Plus drink mix?
Our drink mix is formulated with magnesium, calcium, and vitamin D3 to help support relaxation when planning to conceive in the near future, actively trying to conceive, pregnant, or breastfeeding.
I'm not pregnant or trying to have a baby. Can I still consume Magnesium Plus drink mix?
Yes, our drink mix is formulated with magnesium plus calcium and vitamin D3 to help support calcium absorption, relaxation, and bone health.
Is Magnesium Plus drink mix safe during pregnancy and when breastfeeding?
A board-certified OBGYN and a registered dietitian-nutritionist assisted in the development of our pregnancy-safe formula. Consult with your healthcare provider if you have questions about daily intake when pregnant or breastfeeding.
What kind of testing do you do on Magnesium Plus?
All production is compliant to Good Manufacturing Practices (GMP) testing for heavy metals, yeast, mold, salmonella, and E. coli along with chemistry/assay testing on the magnesium and calcium.
Can I get just one month's worth of product?
Consistency is key for many supplements, so we only offer this product as a subscription purchase. If you want to try it just once, you can place an order and either skip the next shipment, choose a specific date for your next shipment, or cancel. Simply log in to your Natalist account, head over to "Manage Subscriptions," and click "Edit" to get started. Additionally, we are excited to offer exclusive perks to subscribers, including discounted products (up to 50% off) and free shipping on all subscription orders.
‡These statements have not been evaluated by the Food and Drug Administration. This product is not intended to diagnose, treat, cure, or prevent any disease.
* Manufactured in the USA with globally sourced ingredients.
Consult your healthcare provider before adding any supplements to your regimen.