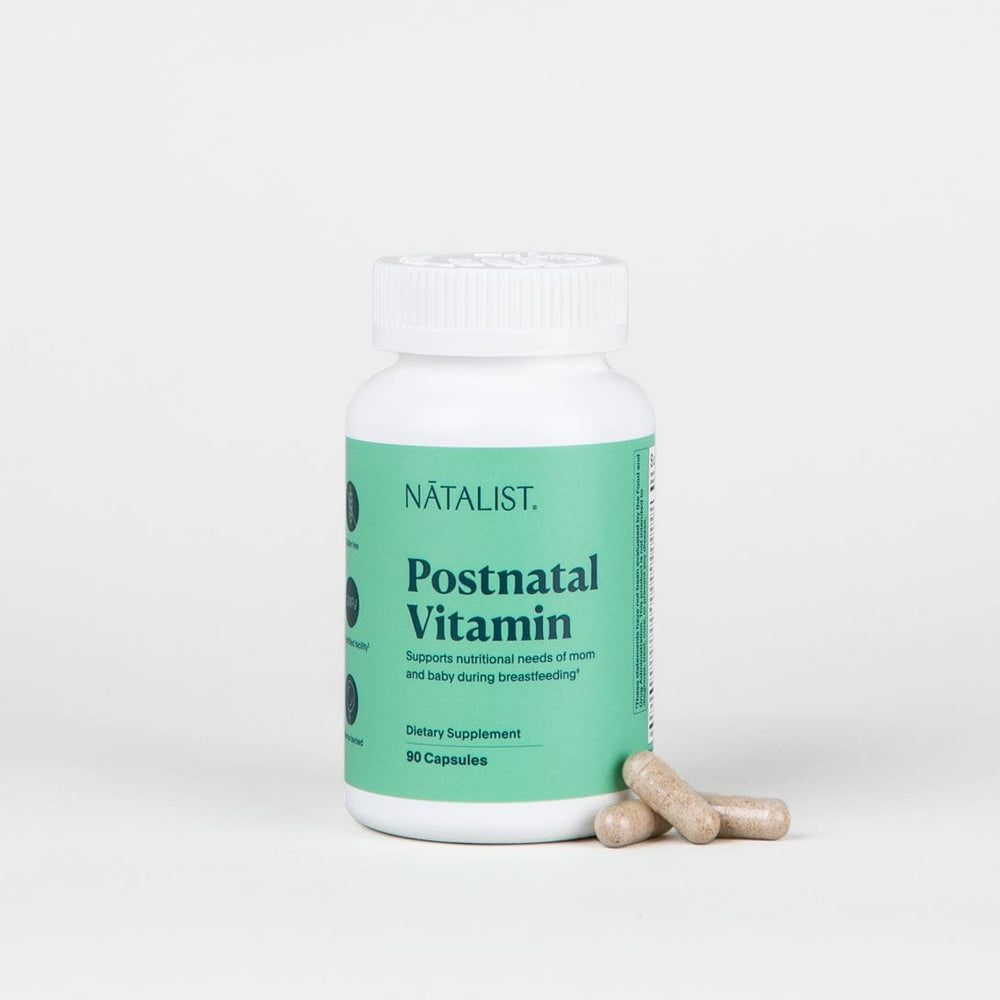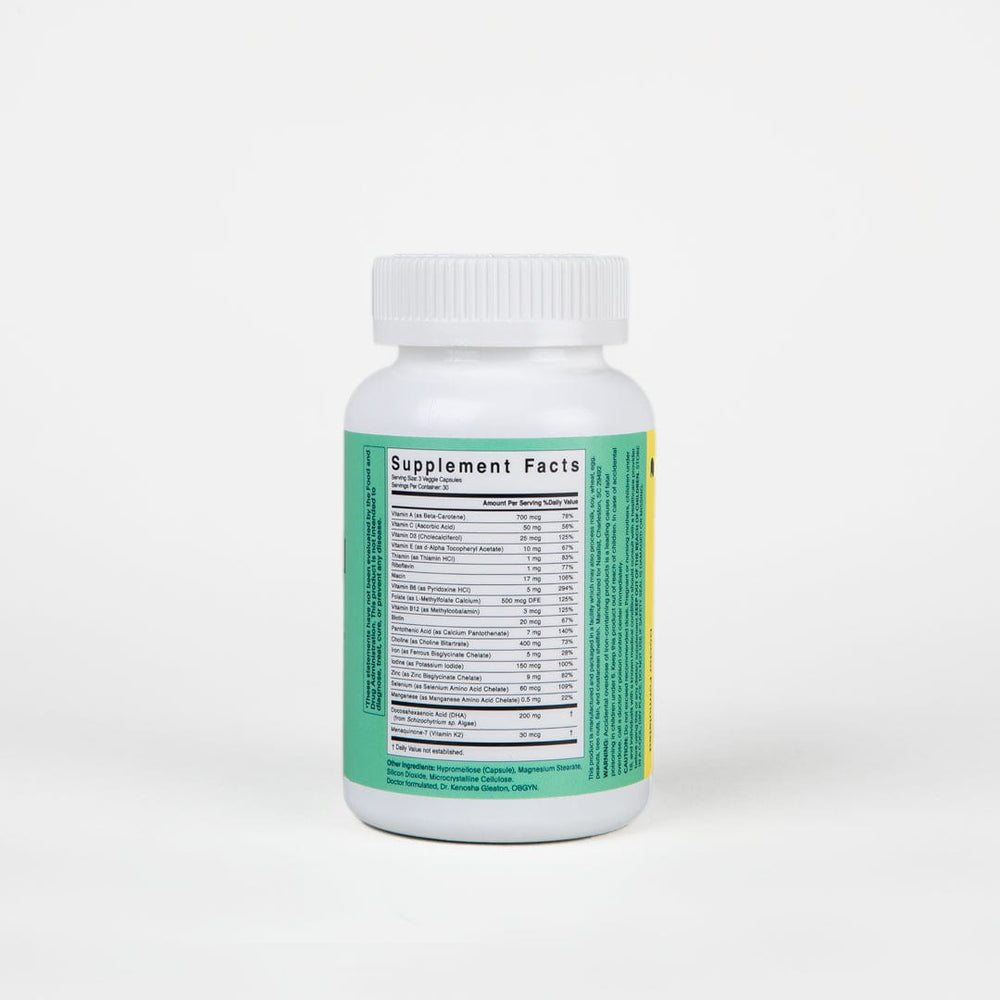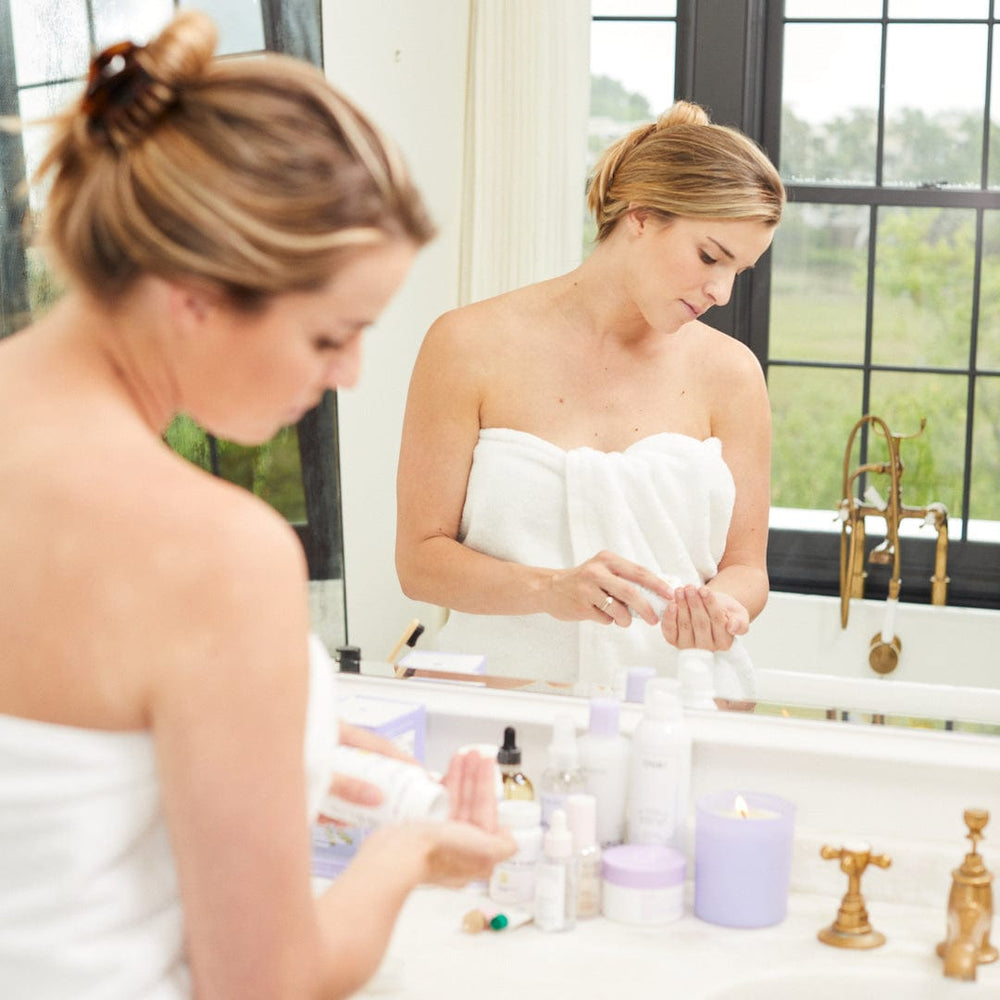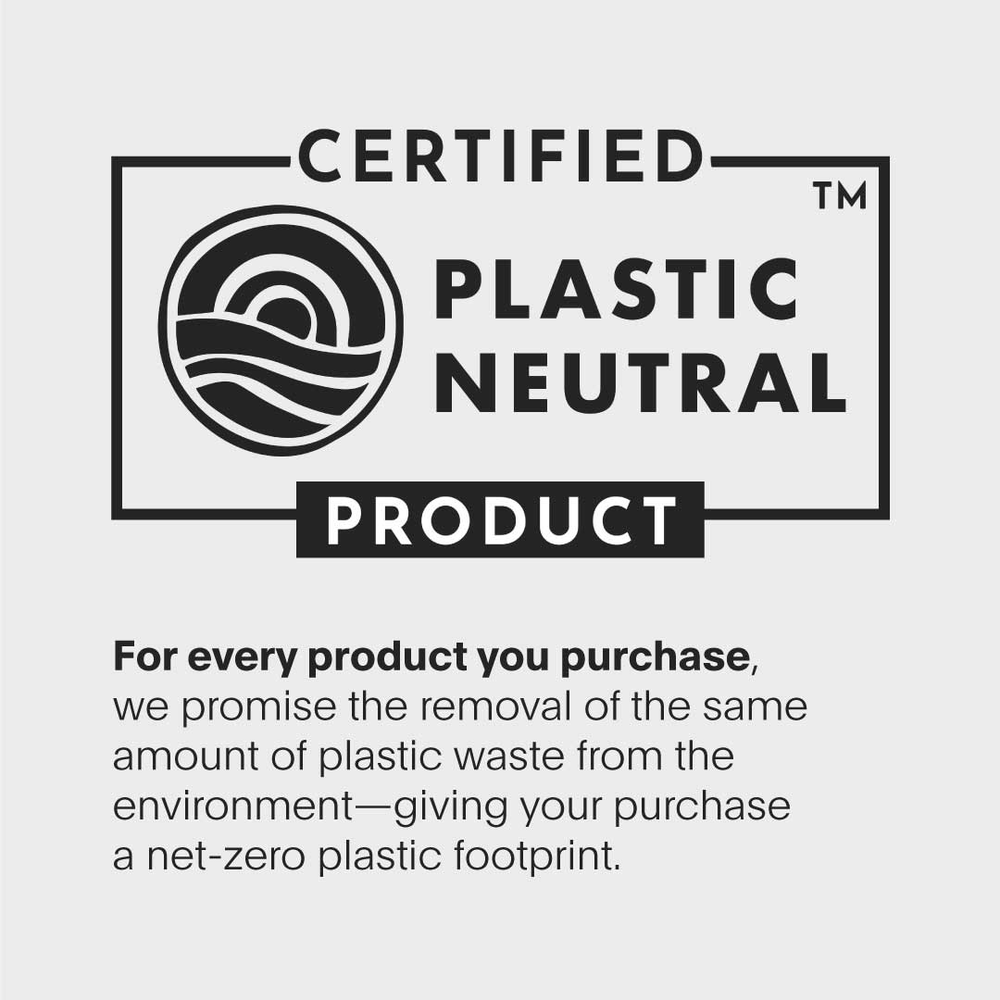 Postnatal Vitamin
Supports nutritional needs of mom and baby during breastfeeding‡

The Natalist postnatal multivitamin supplement is specially formulated to support the unique nutritional needs of mom and baby during breastfeeding. Created to help fill key dietary requirements of new moms throughout lactation, this postpartum supplement offers 20 high-quality nutrients including plant-based DHA to support baby's brain and eye development, choline to support baby's neurodevelopment and brain function, B vitamins to support mama's energy levels, and iron to replenish red blood cells.‡
For a limited time, get FREE access to Breastfeeding Made Simple, an online breastfeeding course from our friends at Baby Settler with the purchase of this product. You'll receive an email after you purchase with an exclusive link and code for access to the course. 
Product Details
One month supply: 90 capsules
Gluten free
Made with 20 essential nutrients including DHA, choline, iron, zinc, folate, iodine, selenium, vitamin A, vitamin B12, and vitamin D.
Free from artificial colors, artificial flavors, artificial preservatives, gluten, GMOs, tree nuts, shellfish, fish, egg, soy, lactose, and pork.
Why We're Proud
Evidence Backed
Gluten Free
Manufactured in the USA*
GMP Certified
100% Plastic Neutral
OBGYN and Fertility Expert
"Eating a nutritious diet and taking a quality postnatal vitamin can support the needs of mama and baby while breastfeeding."
We do our homework. See the research behind our Postnatal Vitamins.
Postnatal Vitamins were thoughtfully formulated by experts (who are also moms).
Our high-quality postnatal multivitamins were carefully developed using peer-reviewed studies that reflect the latest research in postnatal nutrition. The formula development was led by our Medical Advisor and board-certified OBGYN, Dr. Kenosha Gleaton, and an award-winning registered dietitian-nutritionist and specialist in fertility, Lauren Manaker, RD.
Our postpartum supplement was formulated to meet increased needs during lactation and support baby's development.‡
Our postpartum multivitamin formula was formulated to fill key postpartum dietary needs and can help meet the the higher daily values of choline, selenium, and iodine needed for breastfeeding moms post-pregnancy and during lactation.
Natalist Postnatal Vitamins were specifically formulated to support breast milk quality and help meet the nutritional needs of breastfeeding babies:
Formulated to support and nourish breastfeeding moms during their postpartum journey.
Natalist Postnatal Vitamins contain a variety of B vitamins, including 3 mcg of Vitamin B12 to support mom's energy levels.‡ With 5 mg of high bioavailable iron, Postnatal Vitamins can help support healthy blood levels after delivery.‡
We are committed to manufacturing excellence. Every batch of vitamins is tested for product integrity.
All of our vitamins are made in an FDA Registered and Inspected Facility, which meets or exceeds FDA 21 CFR 111 guidelines.
In addition to testing the raw material components of our vitamins to ensure their purity and accuracy, we also test each batch after it is produced to ensure final product integrity and quality. Testing includes a chemical analysis to ensure accuracy, a microbial analysis (salmonella, E. coli, yeast, and mold) and a heavy metals test (including arsenic, cadmium, and lead).
Our postnatal vitamins are free of artificial and synthetic dyes. Additionally, our postnatal vitamins are manufactured under strict procedures to ensure there is no cross-contamination during manufacturing and storage.
Non-GMO, but that doesn't really matter.
Along with 88% of polled scientists, Natalist believes that the majority of genetically modified foods are safe. That said, we also believe that bioengineered ingredients should be clearly labeled so that consumers can make an informed purchase decision. Transparency is essential in building trust between brands and consumers. Our products clearly state if they do or do not contain genetically modified organisms (GMOs).
Here's some of the research that went into making Postnatal Vitamins.
Dietary Guidelines for Americans, 2020-2025; United States Department of Agriculture https://www.dietaryguidelines.gov/sites/default/files/2020-12/Dietary_Guidelines_for_Americans_2020-2025.pdf [Accessed 22 July 2022]. USDA Publication #: USDA-FNS-2020-2025-DGA.
Mayte Sanz Alaejos, Ph D, Carlos Diaz Romero, Ph D, Selenium in Human Lactation, Nutrition Reviews, Volume 53, Issue 6, June 1995, Pages 159–166, https://doi.org/10.1111/j.1753-4887.1995.tb01543.x
CDC. Iodine. Centers for Disease Control and Prevention. Published January 24, 2018. https://www.cdc.gov/breastfeeding/breastfeeding-special-circumstances/diet-and-micronutrients/iodine.html
Cusick, S. and Georgieff, M., 2022. The Role of Nutrition in Brain Development: The Golden Opportunity of the "First 1000 Days". https://www.jpeds.com/article/S0022-3476(16)30221-9/fulltext#articleInformation
Derbyshire E, Obeid R. Choline, Neurological Development and Brain Function: A Systematic Review Focusing on the First 1000 Days. Nutrients. 2020;12(6):1731. Published 2020 Jun 10. doi:10.3390/nu12061731 https://www.ncbi.nlm.nih.gov/pmc/articles/PMC7352907/
‌Saini RK, Prasad P, Sreedhar RV, Akhilender Naidu K, Shang X, Keum YS. Omega-3 Polyunsaturated Fatty Acids (PUFAs): Emerging Plant and Microbial Sources, Oxidative Stability, Bioavailability, and Health Benefits-A Review. Antioxidants (Basel). 2021;10(10):1627. Published 2021 Oct 15. doi:10.3390/antiox10101627 https://www.ncbi.nlm.nih.gov/pmc/articles/PMC8533147/
Ankar A, Kumar A. Vitamin B12 Deficiency. [Updated 2021 Jun 7]. In: StatPearls [Internet]. Treasure Island (FL): StatPearls Publishing; 2022 Jan-. Available from: https://www.ncbi.nlm.nih.gov/books/NBK441923/
Milman, N. Postpartum anemia I: definition, prevalence, causes, and consequences. Ann Hematol 90, 1247 (2011). https://doi.org/10.1007/s00277-011-1279-z
Accidental overdose of iron-containing products is a leading cause of fatal poisoning in children under 6. Keep this product out of reach of children. In case of accidental overdose, call a doctor or poison control center immediately.
This product is manufactured in a facility which may also process milk, soy, wheat, egg, peanuts, tree nuts, fish, and crustacean shellfish.
Technical Information
Postnatal Vitamin Usage
Take three (3) veggie capsules daily.
Serving Size: 3 Veggie Capsules
Servings Per Container: 30
Ingredients
Vitamin A (as Beta Carotene)
700mcg
Vitamin C (Ascorbic Acid)
50mg
Vitamin D3 (Cholecalciferol)
25mcg
Vitamin E (as d-Alpha Tocopheryl Acetate)
10mg
Thiamin (as Thiamin HCl)
1mg
Vitamin B6 (as Pyridoxine HCl)
5mg
Folate (as L-Methylfolate Calcium)
500mcg DFE
Vitamin B12 (as Methylcobalamin)
3mcg
Ingredients
Choline (as Choline Bitartrate)
400mg
Iron (as Ferrous Bisglycinate Chelate)
5mg
Iodine (as Potassium Iodide)
150mcg
Zinc (as Zinc Bisglycinate Chelate)
9mg
Selenium (as Selenium Amino Acid Chelate)
60mcg
Manganese (as Manganese Amino Acid Chelate)
0.5mg
Docosahexaenoic Acid (DHA) (from Schizochytrium sp. Algar)
200mg
Menaquinone-7 (Vitamin K2)
30mcg
Other Ingredients:
Hypromellose (Capsule), Magnesium Stearate, Silicon Dioxide, Microcrystalline Cellulose.
Commonly asked questions about Postnatal Vitamins:
Is your Postnatal Vitamin gluten free?
Is your Postnatal Vitamin vegetarian?
Will this dietary supplement increase breastmilk supply?
No. Natalist Postnatal Vitamins are formulated to support mother's breast milk quality,‡ not breast milk quantity.
Is choline included in this postnatal multivitamin formula?
Yes, Natalist Postnatal Vitamins include choline bitartrate.
What's unique about the Natalist Postnatal Vitamin formula?
Unlike most postnatal supplements, our postpartum multivitamin is formulated with 400 mg of choline bitartrate, 200 mg of DHA, and 500 mcg of folate as L-methylfolate calcium per serving.
Why should I take a postnatal supplement instead of your prenatal vitamin after delivery?
Our postnatal multivitamin is specifically formulated with choline bitartrate, DHA, selenium, iodine, vitamin D, and vitamin A to support both mother's breast milk quality and baby's development, whereas our prenatal vitamin is formulated with key nutrients support specific nutritional needs during pregnancy.‡
Should I take the Postnatal Vitamin if I'm not breastfeeding?
We specifically formulated this multivitamin to support the nutritional needs of breastfeeding women and their babies. If you are not breastfeeding, speak with your healthcare provider within the first three weeks postpartum and discuss continuing your prenatal vitamin routine.
Why is magnesium not included in this formula?
A board-certified OBGYN and a registered dietitian-nutritionist assisted in the development of our postnatal multi formula; because we were unable to fit magnesium into the formula while keeping a daily intake at three capsules, we made room for key ingredients. However, we offer magnesium in our Magnesium Plus drink mix.
What kind of testing do you do on Postnatal Vitamin?
All production is compliant to Good Manufacturing Practices (GMP) and includes quality testing.
‡These statements have not been evaluated by the Food and Drug Administration. This product is not intended to diagnose, treat, cure or prevent any disease.
Consult your healthcare provider before adding any supplements to your regimen.
* Manufactured in the USA with globally sourced ingredients.