Candace Wohl on Pregnancy as a Gift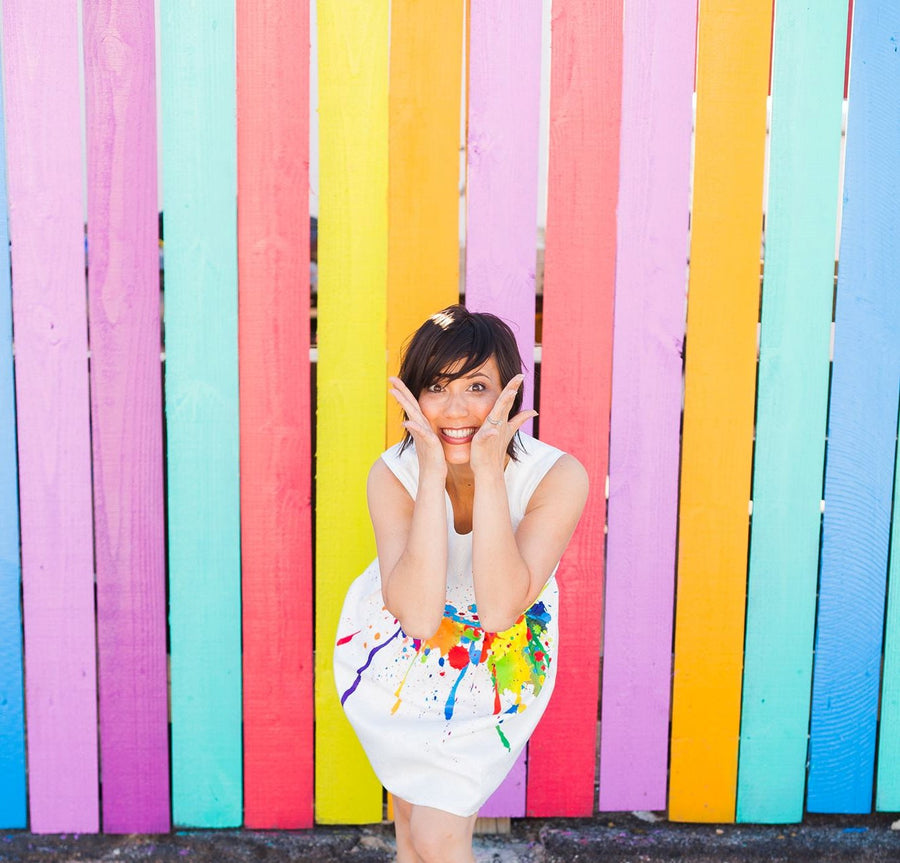 Tell us a little about yourself.
I write. I advocate. I have a close relationship with an ultrasound wand.
You can follow me on Instagram @ourmisconception and learn more at Our Misconception.
What brought you to where you are now? Bring us along from the beginning.
When I closed my eyes, I imagined I would have one of those "too much wine" nights. The ones where you break out the slow jam mix list, and you opt for lace over the ol' cotton comfies. Then a few weeks later, I am staring down at the sight of double lines on a pregnancy test. I imagined waddling over to a maternity section in the store and trying everything in my power to sausage myself into a pair of elastic banded pants. If I squint really hard, my imagination would take me to the hospital labor room where I pushed, threatened possible bodily harm to any passersby, ending with the crescendo of that sweet glorious cry of our baby.
The reality of infertility. Instead, my reality was, best forgo that crazy wine night because alcohol decreases fertility, so they say. That slow jam mix made my eye twitchy since it had been played out of favor over the past seven years of trying to get pregnant. Lace? WTF is that? It ended with a bucket filled with negative pregnancy tests, IVF IOUs, and the beginning stages of uterine cancer. Those images in my head of what was supposed to be, became just a story tale in my imagination after my hysterectomy.
Wait, that's super sad and kind of depressing, right? Perspective. Not having that choice opened up new ones I had previously shut down and forever dismissed as being a direct pathway to parenthood. We tried adoption. I'll spare the details, but it didn't work for us at the time. In that process though, someone approached us about becoming a surrogate (gestational carrier) for us. We had two remaining frozen embryos from our bajillion past IVFs (seven and counting), and we took a chance.
Surrogacy was something that was miles off from our "this is us" radar. It is muddy, unexpected, and beautiful all tossed into a blender and served best, shaken not stirred. In terms of Facebook status, most of the time I would choose the "it's complicated" option to describe it because as beautiful as it is, let's be honest it can be just that, beautifully complicated.
Tell us about your partner. What made you want to start or grow a family together?
Rocket scientist by day, trophy husband by night. He too writes and advocates about all things broken plumbing. He also has an endless supply of dad jokes now that he is parenting after infertility.
Figuring out when to being starting a family was easy...he had a brain tumor. Hanging out in the waiting room of a OR a few too many times has a way of putting things into perspective, namely family building. Life is short; we wanted to have a family. We just didn't think it would be the unsurmountable challenge that it was.
What was your journey to parenthood like?
It was the definition of insanity. Doing the same thing over and over again, hoping for a different outcome. We all have our limits. We all have that one last straw that can break you. Infertility was that. Some how, despite the obstacles, we persisted. The gist, it took over a decade and way more zeros on the end of numbers than I would like to count. Oh, and two pretty amazing women who tagged in to help carry our babes. Thank God for surrogacy.
 What was happening in your life when you decided to start your family?
Chris, my husband just had not one, but two major brain surgeries. That prompted us to put a major focus on family.
How did you care for yourself while trying to conceive?
Wine. Copious amounts of wine.
Kidding, kinda. Self-care is important. It's two fold, body and mind. Counseling is what the cool kids do. We were one of those couples that focused on making sure no matter how seismic the activity around us was, our foundation would be unaffected.
What experiences shaped your understanding of conception and pregnancy?
Most people think that once you decide to try to conceive, it takes one or two "too many" wine nights and BAM knocked up. Not the case for us...or for the other one in eight couples who struggle with infertility. I had a trashcan I named the bucket of disappointment. It was overflowing with negative pregnancy tests and ovulation kits. I've taken more than I care to count. When you are laser focused on conception, one tends to overly pay attention to inner workings of the birds and the bees.
Tell us how you found out you were pregnant. We'd love details!
Our first gestational carrier took a pregnancy test before our clinic beta. It was the first time I had ever seen double lines. I remember her being nervous to tell us. For our second gestational carrier, our favorite REI gave us a call that I can only describe as spaz-excitement.
What have you learned as a result of trying to get pregnant and/or being pregnant?
Pregnancy (motherhood) is a gift, not something that is given. The difficulty that people have to get there will never be lost on me.
What's your wish for women who are trying to conceive?
Access to affordable care. Fin.