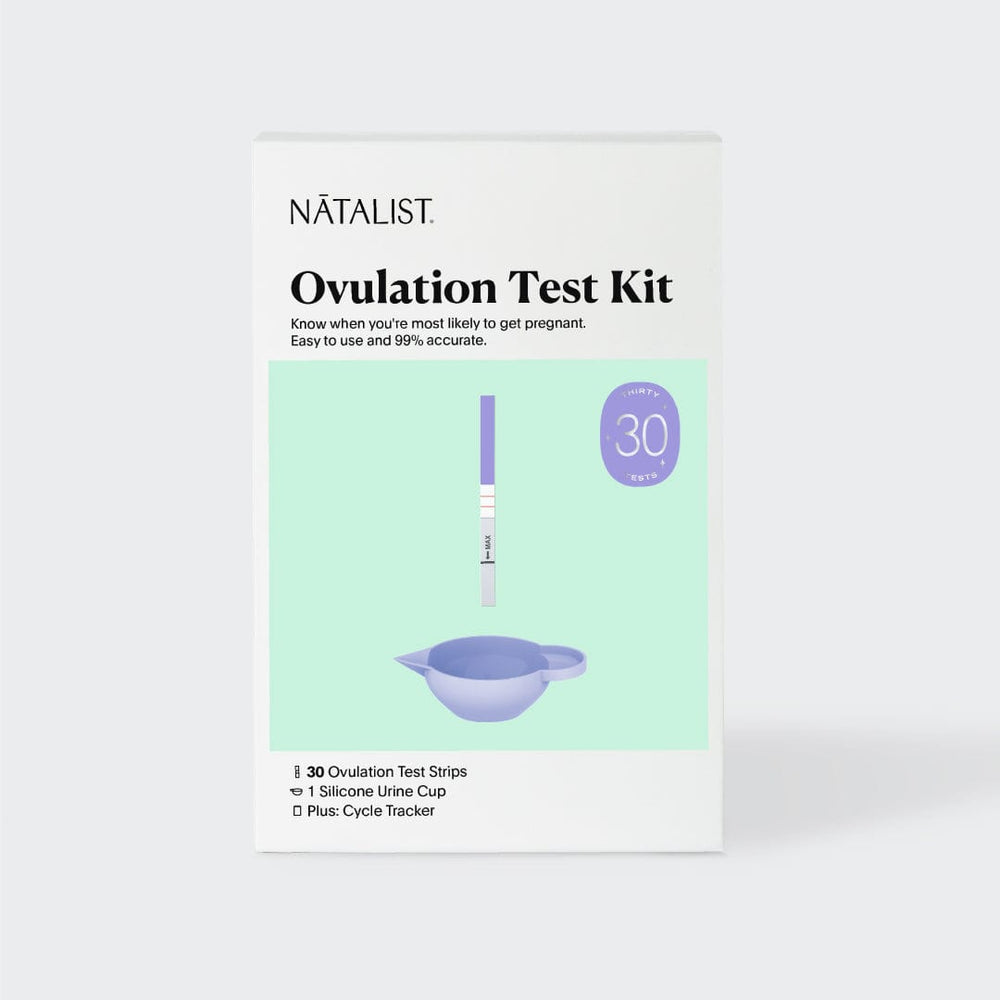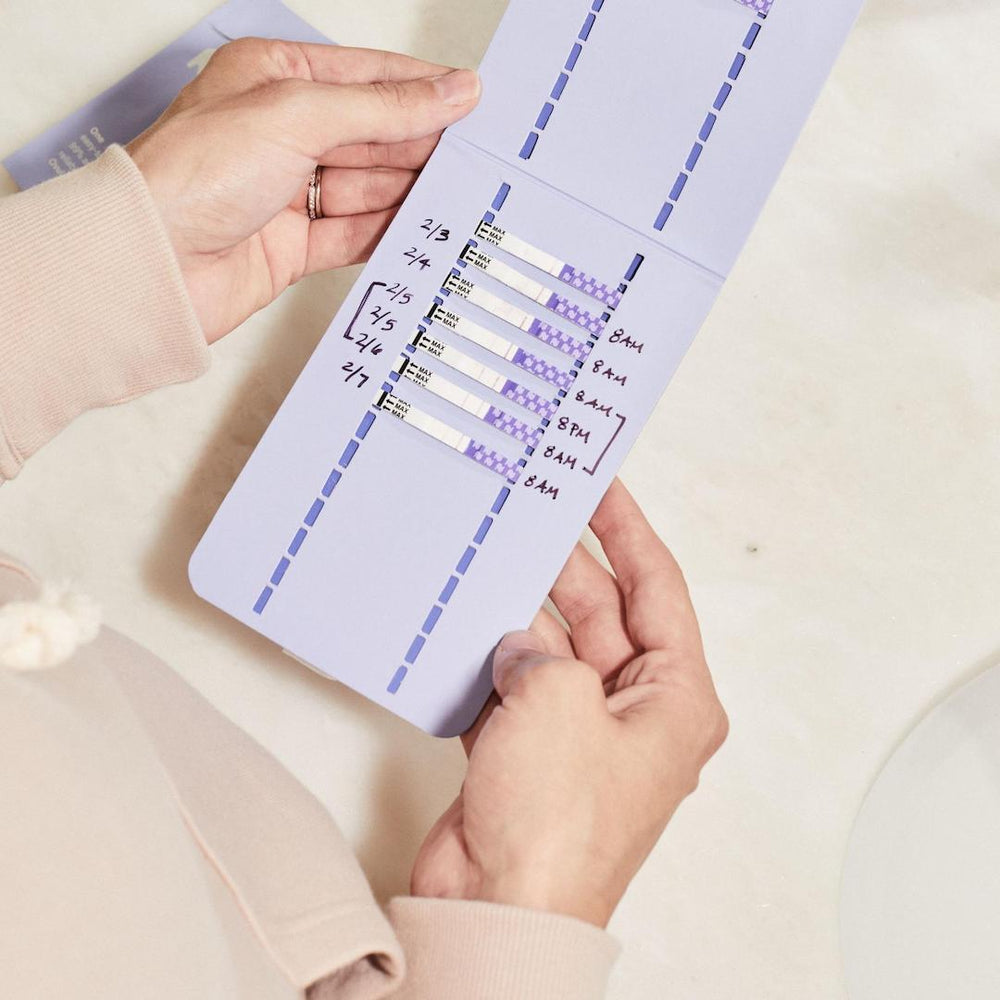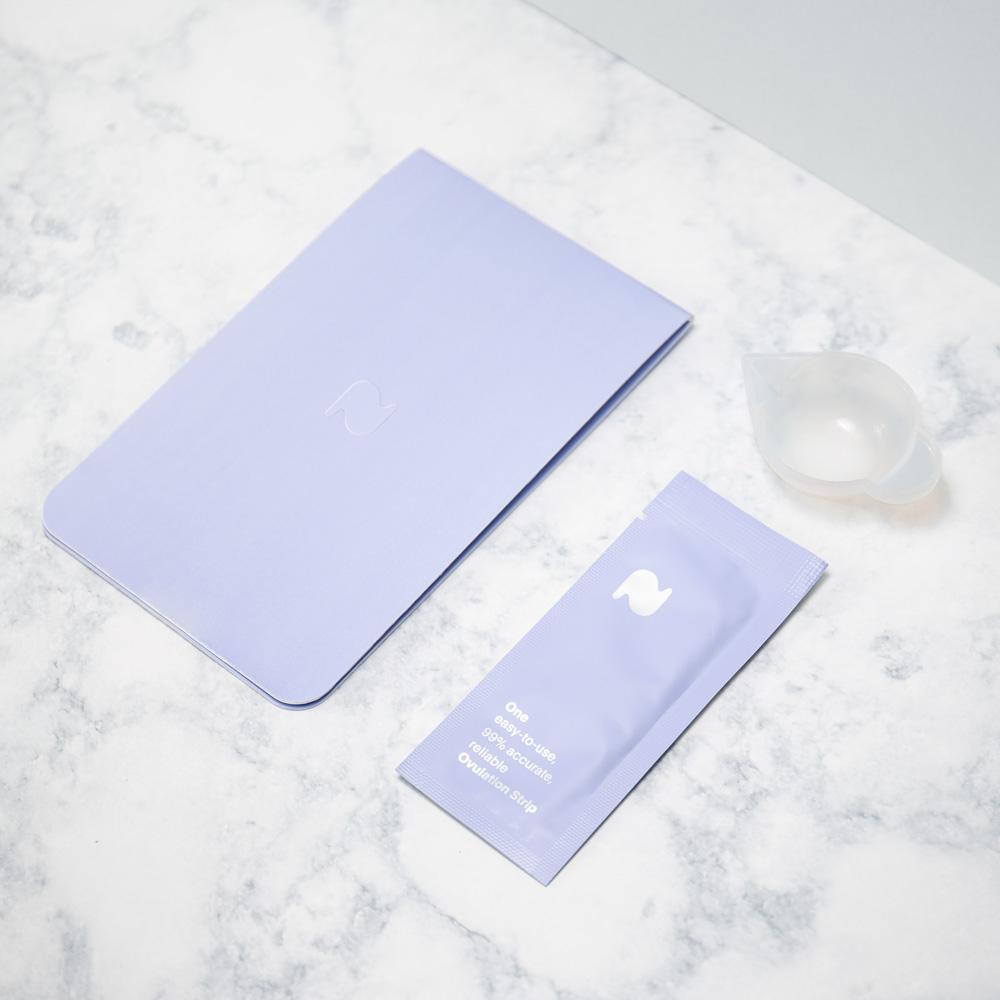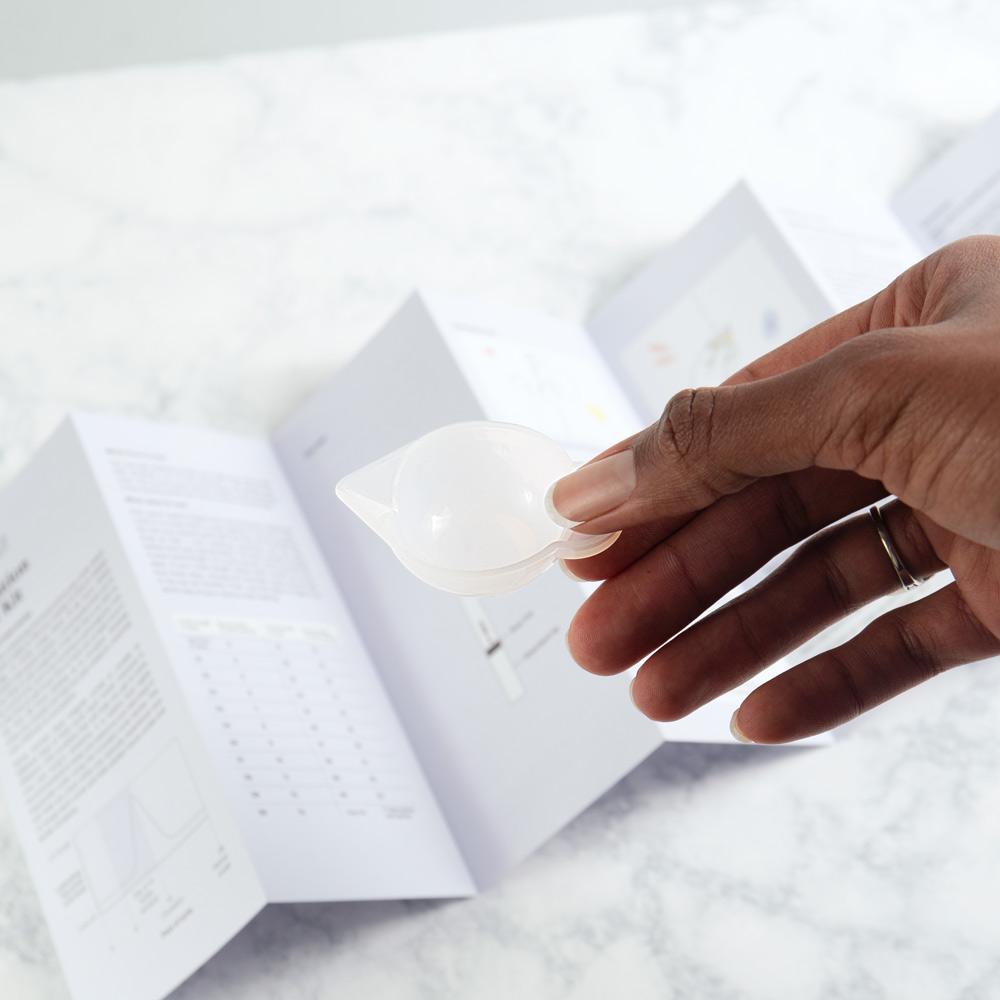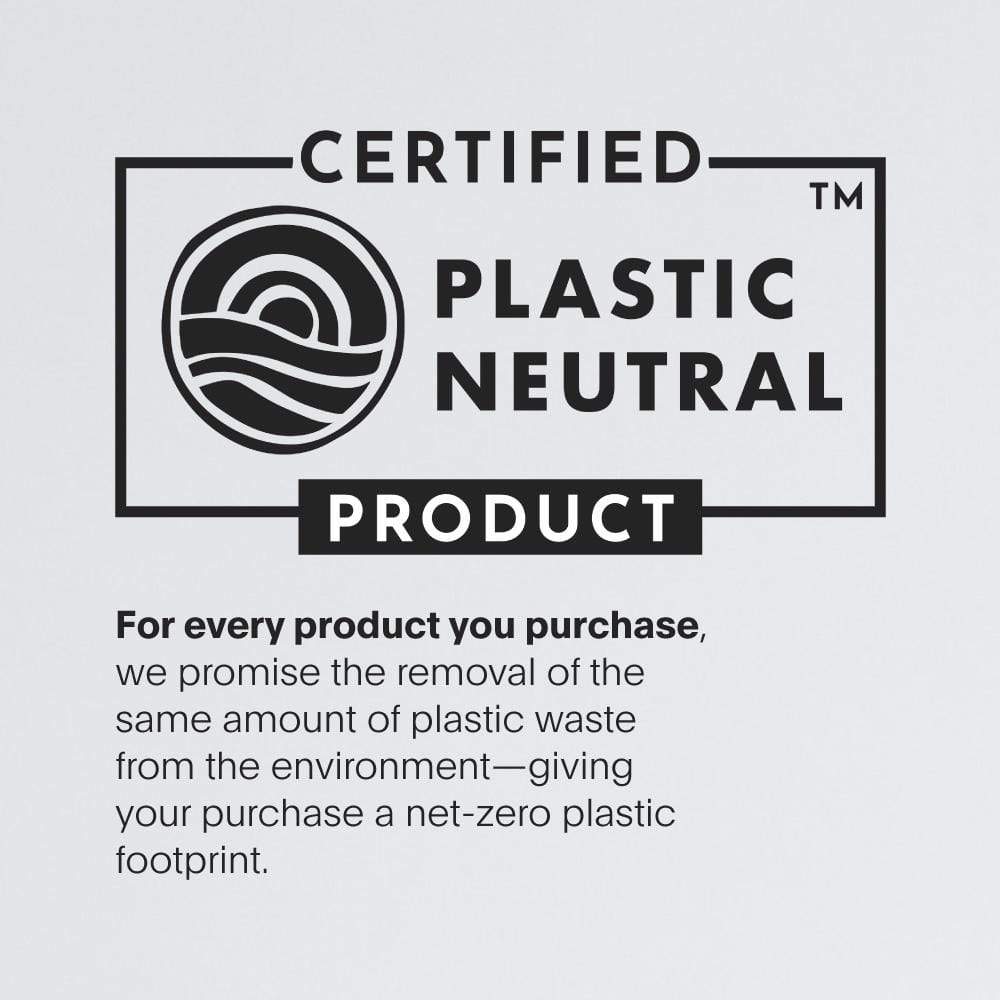 Ovulation Test Kit
The Ovulation Test Kit takes out the guesswork out so you can get down to business.

Let's get it on. Tracking your ovulation can increase your chances of getting pregnant by telling you the best time to have sex based on peak fertility. Use our reduced-waste, eco-friendly ovulation test strips and helpful Cycle Tracker to keep your ovulation test results organized and easily identify when you have a high LH level, all bundled in one convenient ovulation kit.
Product Details
Over 99% accurate
Easy-to-use with jargon-free instructions in English and Spanish
Includes 30 ovulation test strips, 1 reusable silicone urine cup, and a Cycle Tracker
Buy in bulk & save, as low as $0.65 per test
Why We're Proud
FDA Registered
HSA/FSA Eligible
Evidence Backed
100% Plastic Neutral
GMP Certified
More for less
We've got you covered. This Ovulation Test Kit includes everything you need to find your fertile days. Our clear, jargon-free instructions will walk you through how to use the at-home ovulation kit. Plus, our one-of-a-kind Cycle Tracker helps keep your test results organized so you can easily identify when you typically experience your LH surge each cycle and help predict future cycles and fertile windows.
Ditch the casing! An earth-friendlier option.
This ovulation predictor kit uses 75% less plastic than other urine sample tests with casing. Plus, unlike digital ovulation tests, it produces zero electronic waste. Our ovulation prediction kits are also certified plastic neutral which means we remove as much plastic waste from nature as our products produce.
How it works
The Ovulation Test Kit includes ovulation test strips, which look to identify a hormone called luteinizing hormone (LH) that surges as your brain tells your ovaries when it's time to release an egg.
The Ovulation Test Kit is clinically proven to identify your fertile window with over 99% accuracy, so you know when you're most likely to get pregnant.
Fertility Expert and OBGYN
"For patients trying to get pregnant, I typically recommend using ovulation tests to better understand their body and cycle. Knowing your body's fertile window and timing sex helps increase your chances of getting pregnant."
We do our homework. See the research behind the Ovulation Test Kit.
Ovulation test strips help identify your fertile window by detecting your LH surge.
Ovulation is induced by a surge of luteinizing hormone (LH), a hormone produced by the anterior pituitary in the brain. This LH surge, which occurs approximately 24-48 hours before ovulation, can be detected by our easy at-home ovulation LH test strips. During your surge, an abundance of the LH hormone is excreted in urine, which the ovulation test kit will detect and display as a positive ovulation test result.
Ovulation tests are clinically proven to be accurate in predicting your ovulation cycle.
There are lots of options available to women to track ovulation: basal body temperature (BBT) charting, cervical mucus tracking, salivary ferning, and home ovulation tests (also known as OPKs, or ovulation predictor kits). Multiple studies have evaluated the clinical accuracy of the above methods and home ovulation tests that detect urinary LH, like the ovulation test strips included in the Natalist Ovulation Test Kit, have consistently been shown to be accurate in predicting ovulation.
Timing is critical when you're trying to get pregnant. Our ovulation test kit finds your ideal time to conceive.
Timing is everything when trying to conceive. Finding your fertile window, aka the days when you are most likely to conceive, is essential. It can be difficult to decode your biology to find the ideal time to try to get pregnant each month whether you have irregular cycles or not. When your cycle length is inconsistent, it can feel impossible as your fertile window makes itself a moving target. If that's you, our ovulation kit can be especially helpful—the clear readout of the Natalist Ovulation Test Kit will tell you if you are in your LH surge or not, enabling you to confidently identify when you are ovulating.
Our ovulation test strips are FDA registered.
The sale of home ovulation tests is regulated by the Food and Drug Administration (FDA) in the United States. Ovulation tests are classified as Class I medical devices, and the FDA sets regulatory standards for their manufacture and distribution and requires that all Class I device manufacturers are registered with the FDA (FDA Registered).
All Natalist products and packaging are certified plastic neutral.
All Natalist products and packaging are 100% plastic neutral. For every pound of plastic we sell, we facilitate the removal of a pound of plastic pollution—giving your purchase a net-zero plastic footprint.
We do our homework. Here's some of the research that went into making the Natalist Ovulation Test Kit.
Commonly asked questions about the Natalist Ovulation Test Kit
What comes with the Ovulation Test Kit?
Each box contains 30 individually-wrapped ovulation test strips, one reusable silicone urine cup, and we've also included a bonus: our patent pending Cycle Tracker to easily identify your LH surge.
How do I use these ovulation test strips?
Ovulation strips are similar to midstream test sticks, only without the plastic casing. To use your ovulation test strips, pee into the cup, and place the cup on a flat surface. Unwrap one test, and hold by the purple handle. Dip the test into the cup of urine for 20 seconds. Do not pee above the max line! You can learn more about using our ovulation test strips in our jargon-free instructions.
Why are my results streaky?
Test results may appear streaky if the test was not dipped for long enough. Make sure to dip the test for the full 20 seconds to avoid a misleading result.
What does a positive result look like?
A positive result is when the test line is as dark, or darker, than the control line. To learn more about interpreting your ovulation test, read here.
What days should I take the ovulation test?
It varies depending on the length of your cycle—but the short answer is seven to 11 days after the first day of your period. Learn more about your hormone levels as well as when and how to use an ovulation test here.
What is the sensitivity level (mIU/mL) of your tests?
How do I use the Cycle Tracker?
It is helpful (and highly recommended) to keep and reference your test strips in sequential order using the included Cycle Tracker. This will help you keep track of when you typically experience your LH surge each cycle and will also help predict future cycles and fertile windows.
Is the cup reusable?
Yes! The cup is made from silicone, which is durable and sustainable. Please wash and reuse!
How do I dispose of the ovulation prediction kit?
Please recycle the box and paper materials. The tests, wrappers, and desiccants cannot be recycled.
Is this product FSA/HSA eligible?
Yes! This product is eligible for FSA and HSA reimbursement. You can either use your HSA debit card at checkout, or use the itemized receipt (which will be in your inbox after you make a purchase). Read more about submitting for FSA and HSA reimbursement here.
We have applied for patent protection with the United States Patent and Trademark Office for our Ovulation Test Kit Cycle Tracker.
TEST STRIP PACKAGING, USA, Application Number 29/774,904