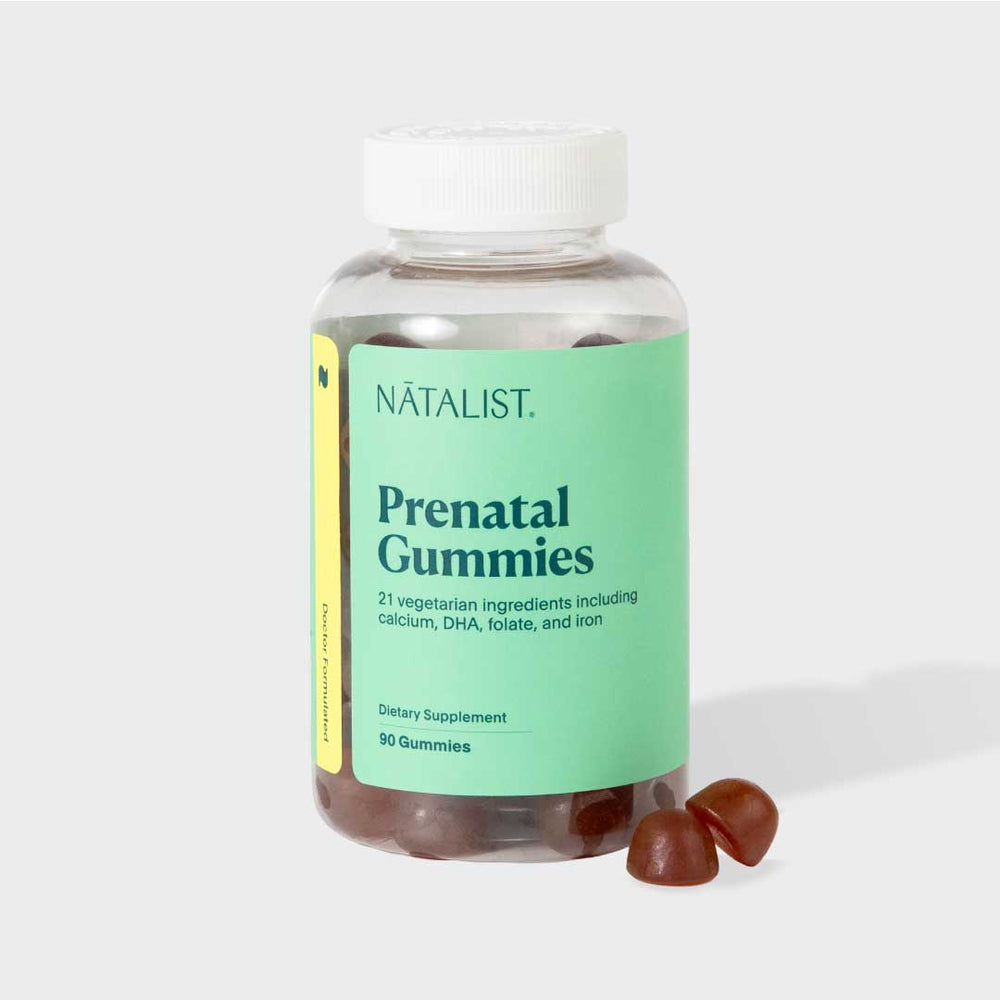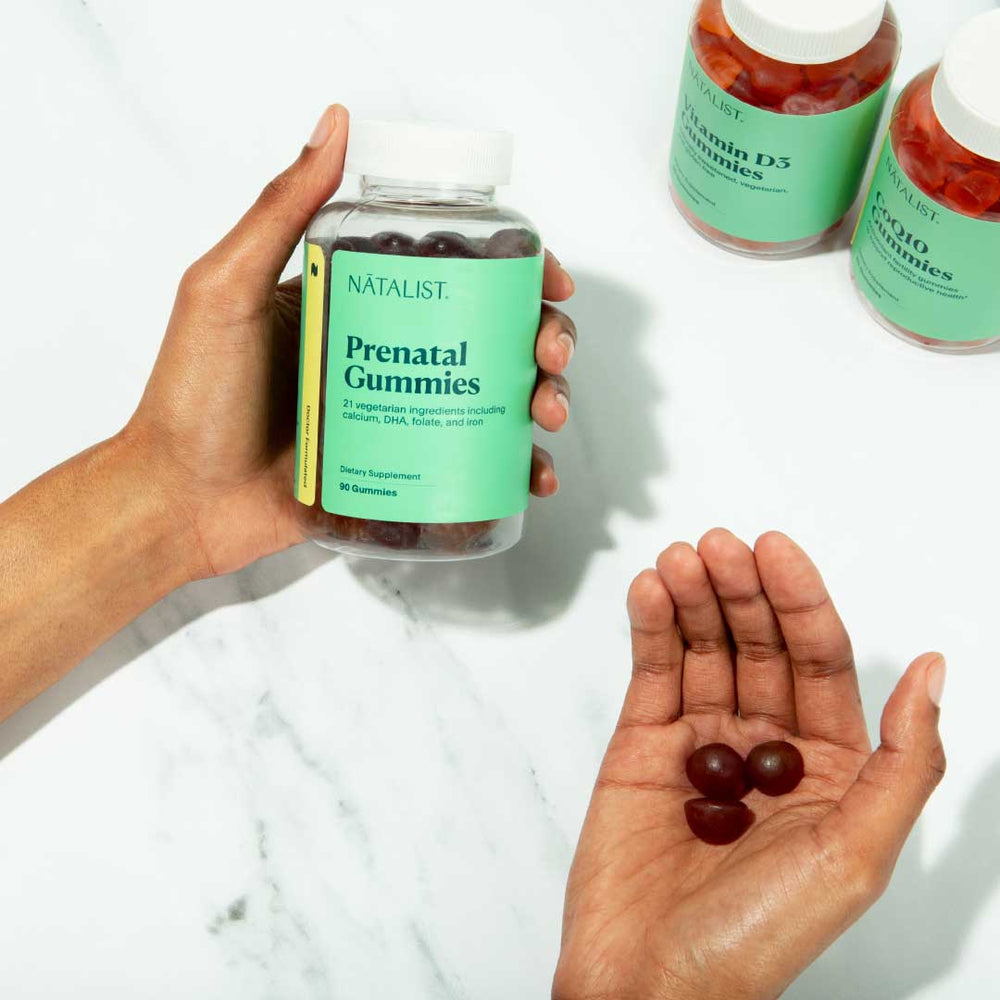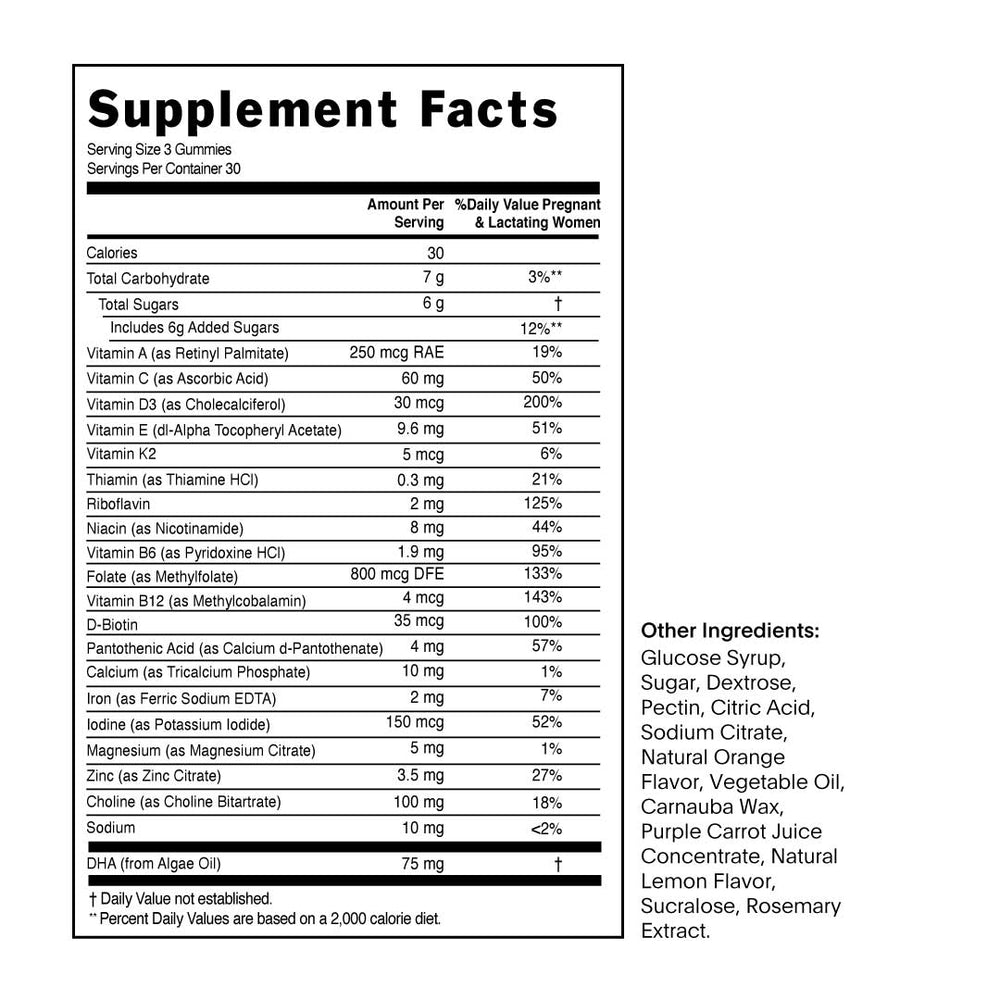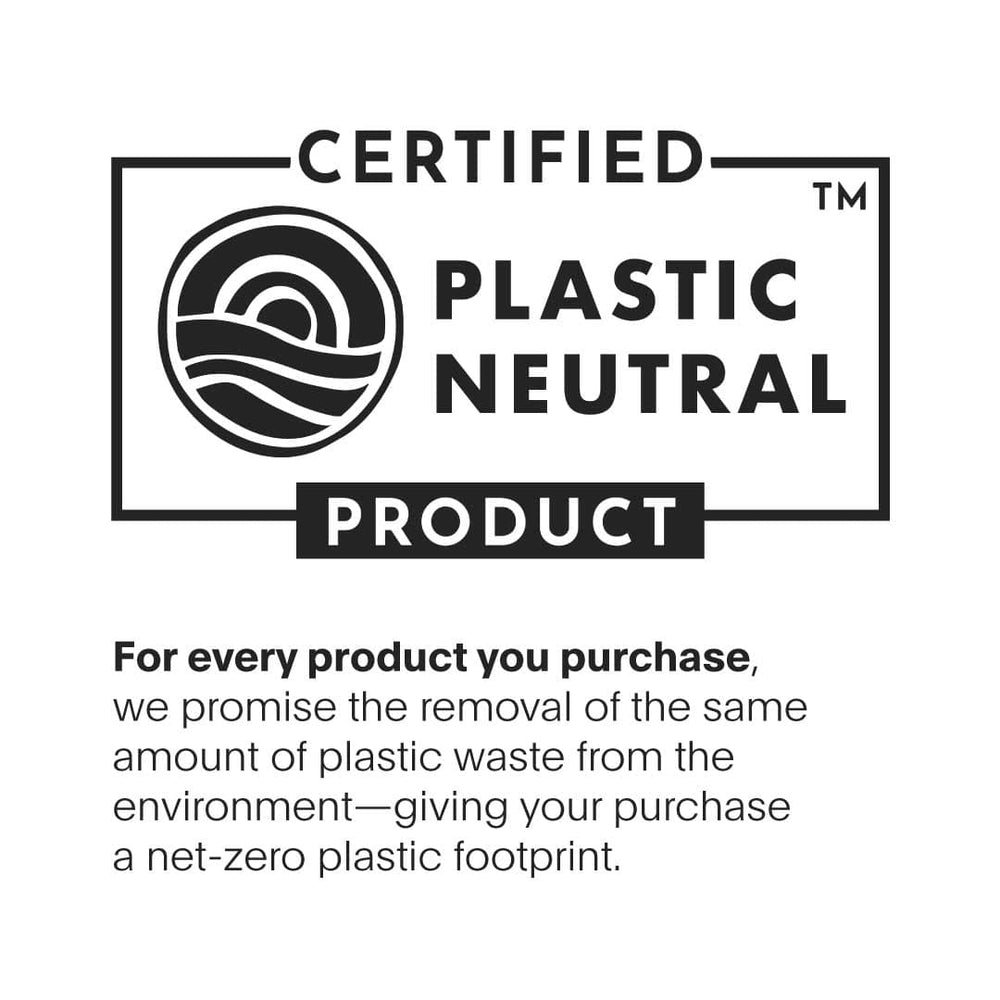 Prenatal Gummies
A tastier prenatal gummy vitamin.
Natalist Prenatal Gummies are doctor formulated with 21 premium vegetarian ingredients including key prenatal essential vitamins such as choline which can help support spinal cord development; DHA which may assist brain, eye, and nervous system growth; folate which can aid in prevention of neural tube defects; and iron which may help supply oxygen to the fetus.‡ Each essential ingredient is researched and considered according to peer reviewed studies to support and nourish your body at every stage of your pregnancy journey.‡ These delicious and chewable gummy prenatal vitamins can also be incorporated into your prenatal personal care routine as a multivitamin during lactation and beyond.‡
Product Details
One month supply: 90 gummies
Vegetarian and gluten-free
Chewable gummy vitamins for easy consumption
Made with 21 high-quality, essential nutrients including DHA, choline, folate, iron, B6, B12, iodine and biotin.
Free from milk, eggs, fish, crustacean, tree nuts, soybean, peanuts, wheat yeast, gluten, artificial coloring, artificial preservatives, or artificial flavors
Why We're Proud
GMP Certified
Vegetarian
Gluten Free
HSA/FSA Eligible
Manufactured in the USA*
100% Plastic Neutral
Evidence Backed
Fertility Expert
"Formulated to support preconception and pregnancy, our Prenatal Gummies are a delicious prenatal vitamin option—a great alternative for those who struggle with swallowing pills, especially if pregnancy nausea hits!"
We do our homework. See the research that went into making Prenatal Gummies.
Prenatal Gummies were thoughtfully formulated by experts (who are also moms).
Our high-quality prenatal gummy vitamins were carefully developed using peer-reviewed studies that reflect the latest research in prenatal nutrition. The formula development was led by our Medical Advisor and board-certified OBGYN, Dr. Kenosha Gleaton, an award-winning registered dietitian-nutritionist and specialist in fertility, Lauren Manaker, RD, and our Founder and EVP of Women's Health Strategy at Everly Health, Halle Tecco MBA, MPH.
We are committed to manufacturing excellence. Every batch of our essential vitamins is tested for product integrity.
All of our vitamins are made in an FDA Registered and Inspected Facility, which meets or exceeds FDA 21 CFR 111 guidelines, and is also Good Manufacturing Practices (GMP) certified. In addition to testing the raw material components of our vitamins to ensure their purity and accuracy, we also test each batch after it is produced to ensure final product integrity and quality. Testing includes a chemical analysis to ensure accuracy, a microbial analysis (salmonella, E. coli, yeast, and mold) and a heavy metals test (including arsenic, cadmium, and lead). Our prenatal gummy vitamins are free of artificial and synthetic dyes. Additionally, our prenatal gummy vitamins are manufactured under strict procedures to ensure there is no cross-contamination during manufacturing and storage.
Formulated with high bioavailability MTHF folate to aid in protection against neural tube defects.‡
MTHF folate (L-5-MTHF) is the most abundant folate found in the human body. It is naturally found in food, but is most easily absorbed from a dietary supplement. MTHF folate is the highest bioavailable folate found in dietary supplements. It can be immediately utilized by your body and doesn't need to be converted by the enzyme methylenetetrahydrofolate reductase (MTHFR).
Up to 25% of the population has a variant of the MTHFR gene (MTHFR 677TT) that can significantly impair their ability to metabolize folic acid. Individuals with this MTHFR variation are also at a higher risk of having a child with neural tube defects. The research is still preliminary, but people with the MTHFR 677TT variant may benefit from MTHF folate supplementation over taking a folic acid supplement.‡ Learn more ⟶
Our Methylcobalamin B12 works with MTHF folate to decrease cellular homocysteine.‡
All B12 contains the mineral cobalt, which is why they are collectively called cobalamins. B12 can be formulated as synthetic cyanocobalamin or bioidentical methylcobalamin. Natalist Prenatal Gummies contain bioidentical methylcobalamin, the bioactive form of B12 that is naturally found in the human body. B12 is only naturally found in animal products, so a prenatal supplement is especially important for those who do not consume animal products. Both vitamin B12 and folate are essential to homocysteine metabolism, an amino acid in which low levels are linked with potential increased risks of neural tube defects, heart disease, and stroke.‡
Made with iron to help protect against pregnancy-induced anemia without blocking absorption of other nutrients.‡
Iron is the elemental transporter of oxygen in blood in the form of hemoglobin and the facilitator of oxygen storage in muscles in the form of myoglobin. Pregnant women require two to three times as much iron as non-pregnant women. Iron supplementation during pregnancy can help protect against pregnancy-induced anemia, a condition where you do not have enough red blood cells to carry oxygen throughout your body. Some studies have shown that anemia during pregnancy increases a person's risk of hemorrhage and the chance of having a child with low birth weight.‡
Made with DHA, a key nutrient to support brain, eye, and nervous system growth.‡
Some prenatals lack choline; our Prenatal Gummies have 100 mg per serving.
Some prenatal supplements on the market lack choline, but growing evidence of shows choline can improve several pregnancy outcomes and may protect against certain neural and metabolic disorders. Approximately 95% of pregnant women don't get enough choline through diet, and most prenatal multivitamins contain little—if any—choline. Some evidence indicates that lower choline levels are associated with an increased risk of neural tube defects. And while adding choline as an ingredient into a gummy was admittedly a challenge when it came to formulation, it was important to our team that our prenatal gummy include it. Natalist Prenatal Gummies contain 100mg of choline per serving, and when paired with a nutrient-rich diet, can help support you throughout every stage of trying to conceive (TTC) and pregnancy. For more information on choline-rich foods, read more here.‡
Contains 150 mcg iodine, as recommended by the American Thyroid Association.
Adequate maternal dietary intake of iodine during pregnancy is an essential nutrient for maternal thyroxine production and for thyroid function in the fetus. The American Thyroid Association recommends all prenatal vitamins contain 150 mcg of iodine, and ours complies with that recommendation.‡
Non-GMO, but that doesn't really matter.
Along with 88% of polled scientists, Natalist believes that the majority of genetically modified foods are safe. That said, we also believe that bioengineered ingredients should be clearly labeled so that consumers can make an informed purchase decision. Transparency is essential in building trust between brands and consumers. Our products clearly state if they do or do not contain genetically modified organisms (GMOs)
The CDC recommends starting a prenatal vitamin one to three months before getting pregnant.
Most women are aware that prenatal vitamins are an important part of a healthy pregnancy. What a lot of them don't know is that they should be taking them before conceiving. In fact, according to the Centers for Disease Control & Prevention (CDC), all women between ages 15 and 45 should be taking 400 micrograms (mcg) of folate. That recommendation isn't just from the CDC either. The American College of Obstetricians and Gynecologists (ACOG) also recommends folate supplementation to any woman who may become pregnant.
The ideal time to start a prenatal for pregnancy health is one to three months before trying to conceive. The main reason for this because of the large number of unintended pregnancies. A study published in 2016 revealed that a staggering 45% of pregnancies in the US are unplanned. The window during which folate supplementation is most important is in the first 21 to 28 days after conception, which is much earlier than many of these pregnancies are recognized. Read more here.‡
Our gummies are made with pectin, not gelatin.
Pectin is a plant-based, vegan fiber that helps make our gummies easily chewable. It also lowers the likelihood that they'll melt together in transit.
We do our homework. Here's some of the research that went into making Prenatal Gummies.
Brunst KJ, Wright RO, DiGioia K, Enlow MB, Fernandez H, Wright RJ, Kannan S. Racial/ethnic and sociodemographic factors associated with micronutrient intakes and inadequacies among pregnant women in an urban US population. Public Health Nutr. 2014 Sep;17(9):1960-70. doi: 10.1017/S1368980013003224. Epub 2013 Dec 13. PMID: 24476840; PMCID: PMC4071127.
Caudill MA. Pre- and postnatal health: evidence of increased choline needs. J Am Diet Assoc. 2010 Aug;110(8):1198-206. doi: 10.1016/j.jada.2010.05.009. PMID: 20656095.
Coletta, J. M., Bell, S. J., & Roman, A. S. (2010). Omega-3 Fatty acids and pregnancy. Reviews in obstetrics & gynecology, 3(4), 163–171.
Makrides, M., Crosby, D. D., Bain, E., & Crowther, C. A. (2014). Magnesium supplementation in pregnancy. The Cochrane database of systematic reviews, 2014(4), CD000937. https://doi.org/10.1002/14651858.CD000937.pub2
Mock D. M. (2009). Marginal biotin deficiency is common in normal human pregnancy and is highly teratogenic in mice. The Journal of nutrition, 139(1), 154–157. https://doi.org/10.3945/jn.108.095273
Nordgren, Tara M., Elizabeth Lyden, Ann Anderson-Berry, and Corrine Hanson. 2017. "Omega-3 Fatty Acid Intake of Pregnant Women and Women of Childbearing Age in the United States: Potential for Deficiency?" Nutrients 9 (3).
Shireman, T. I., E. H. Kerling, B. J. Gajewski, J. Colombo, and S. E. Carlson. 2016. "Docosahexaenoic Acid Supplementation (DHA) and the Return on Investment for Pregnancy Outcomes." Prostaglandins, Leukotrienes, and Essential Fatty Acids 111 (August): 8–10.
Uauy, R., P. Mena, and C. Rojas. 2000. "Essential Fatty Acids in Early Life: Structural and Functional Role." The Proceedings of the Nutrition Society 59 (1): 3–15.
Wainwright, Patricia E. 2002. "Dietary Essential Fatty Acids and Brain Function: A Developmental Perspective on Mechanisms." The Proceedings of the Nutrition Society 61 (1): 61–69.
Yarrington, C., & Pearce, E. N. (2011). Iodine and pregnancy. Journal of thyroid research, 2011, 934104. https://doi.org/10.4061/2011/934104
Zhang, Zhiying, Victor L. Fulgoni, Penny M. Kris-Etherton, and Susan Hazels Mitmesser. 2018. "Dietary Intakes of EPA and DHA Omega-3 Fatty Acids among US Childbearing-Age and Pregnant Women: An Analysis of NHANES 2001-2014." Nutrients 10 (4).
This product is manufactured and packaged in a facility which may also process milk, soy, wheat, egg, peanuts, tree nuts, fish, and crustacean shellfish.
Accidental overdose of iron-containing products is a leading cause of fatal poisoning in children under 6. Keep this product out of reach of children. In case of accidental overdose, call a doctor or poison control center immediately.
The best prenatal is the one you can take!
We offer two high-quality prenatal vitamin routines: Prenatal Daily Packets and Prenatal Gummies. To learn more about which option best fits your needs, check out the chart. After all, the best prenatal vitamins are the ones you can take every single day!
place-holder
Type
Vegan
21 Key Ingredients
Dose
Sugar Contents
Gluten Free
GMP Certified
HSA/FSA Eligible
Nutrients Recommended by OBGYNs
Prenatal Daily Packets
Nutrients Recommended by OBGYNs:
Prenatal Gummies
Nutrients Recommended by OBGYNs:
| | | |
| --- | --- | --- |
| Type | Capsule | Gummy |
| Vegan | | |
| 21 Key Ingredients | | |
| Dose | 5/day | 3/day |
| Sugar Contents | 0g | 5g |
| Gluten Free | | |
| GMP Certified | | |
| HSA/FSA Eligible | | |
| Nutrients Recommended by OBGYNs | | |
| | Shop Now | Shop Now |
Technical Information
Prenatal Gummies Usage
Take three gummies daily or as directed by your doctor
Serving Size: 3 Gummies
Servings Per Container: 30
Ingredients
Total Sugars (includes 6g added sugar)
6g
Vitamin A (as Retinyl Palmitate)
250 much RAE
Vitamin C (as Ascorbic Acid)
60 mg
Vitamin D3 (as cholecalciferol)
30 mcg (1,200 IU)
Vitamin E (as d-Alpha Tocopherol Acetate)
9.6 mg
Thiamin (as Thiamine HCl)
0.3 mg
Ingredients
Niacin (as Nicotinamide)
8 mg
Vitamin B6 (as Pyridoxine HCl)
1.9 mg
Folate (as Methylfolate)
800 mcg DFE
Vitamin B12 (Methylcobalamin)
4 mcg
Pantothenic Acid (as Calcium d-Pantothenate)
5 mg
Calcium (as Tricalcium Phosphate)
4 mg
Iron (as Ferric Sodium EDTA)
2 mg
Iodine (as Potassium Iodide)
150 mcg
Magnesium (as Magnesium Citrate)
5 mg
Ingredients
Zinc (as Zinc Citrate)
3.5 mg
Choline (as Choline Bitartrate)
100 mg
DHA (from Algae Oil)
75 mg
Other ingredients
Glucose syrup, sugar, dextrose, pectin, citric acid, sodium citrate, natural orange flavor, vegetable oil, carnauba wax, purple carrot juice concentrate, natural lemon flavor, Sucralose, rosemary extract.
Commonly asked questions about Prenatal Gummies:
Are your prenatal vitamins vegetarian?
Is your prenatal kosher or halal certified?
Natalist Prenatal Gummies are kosher and halal friendly, not certified.
What's different about your prenatal vitamins?
Our vitamins are formulated based on extensive research and use high-quality, ultra-pure ingredients to protect your pregnancy health. We encourage you to compare our supplement label to others on the market, and look at what's included (choline, iron, etc.), the quality of ingredients (e.g. as folate vs folic acid), and the dosages.
How will I know these are safe? What kind of testing do you do?
We have several quality control measures in place to ensure the highest safety and quality standards for our vitamins:
All our vitamins are made in an FDA Registered and Inspected Facility, which meets or exceeds FDA 12 CFR 111 guidelines, and is also GMP Certified.
We directly test the raw material components of our vitamins to ensure their purity before they are used for production.
Certificates of analysis (COA) are performed on every batch of manufactured vitamins to ensure final product integrity and quality.
Additionally, all our products are free of artificial flavors, dyes and most allergens.
How big are these gummies? Are they easy to swallow?
Prenatal Gummies are button shaped and 1.8 centimeters in width and 1.6 centimeters in height. Their gummy form factor makes them easy to chew and swallow.
I'm not pregnant or trying to have a baby. Can I still take prenatal vitamins?
Yes! The general recommendation is for women of reproductive age to take a prenatal vitamin if they are not preventing pregnancy, planning to TTC in the near future, actively TTC, pregnant, or breastfeeding. Furthermore, many such pregnancies are unrecognized for the first four to six weeks—which represents a vital time for organ development, especially the brain and spinal cord.‡
How often should I take your prenatals?
When trying to conceive or pregnant, take three gummies a day or as directed by your doctor.
Should I double my prenatal regimen if I'm expecting twins?
We do not recommend doubling up the daily value of prenatal vitamins as increased amounts of certain vitamins can be dangerous. In general, healthcare providers recommend increased folate intake with twins. Please talk to your healthcare provider about the recommended values. If you have a history of seizures and are on anticonvulsants, or if you have a history of a baby affected by a neural tube defect, talk to your healthcare provider about increased folate intake. Based on conversations with your healthcare provider, you can supplement with our MTHF Folate for reproductive health and fetal development.‡
Is this product FSA/HSA eligible?
Yes! This product is eligible for FSA and HSA reimbursement. You can either use your HSA debit card at checkout, or use the itemized receipt (which will be in your inbox after you make a purchase). Read more about submitting for FSA and HSA reimbursement here.
Which of your prenatal vitamin options is best for me?
We offer two high-quality prenatal vitamin routines: Prenatal Daily Packets and our Gummy Prenatal Vitamin. We are here to help you choose the best prenatal vitamin option. After all, the best prenatal vitamins are the ones you can take every single day!
Can I get just one month's work of Prenatal Gummies?
Consistency is key for many supplements, so we only offer this product as a subscription purchase. If you want to try it just once, you can place an order and either skip the next shipment, choose a specific date for your next shipment, or select pause. Simply log in to your Natalist account, head over to "Manage Subscriptions," and click "Edit" to get started. Additionally, we are excited to offer exclusive perks to subscribers, including discounted products (up to 50% off) and free shipping on all subscription orders.
‡These statements have not been evaluated by the Food and Drug Administration. This product is not intended to diagnose, treat, cure or prevent any disease.
Consult your healthcare provider before adding any supplements to your regimen.
* Manufactured in the USA with globally sourced ingredients.