Effective Hyperemesis Gravidarum Treatment Options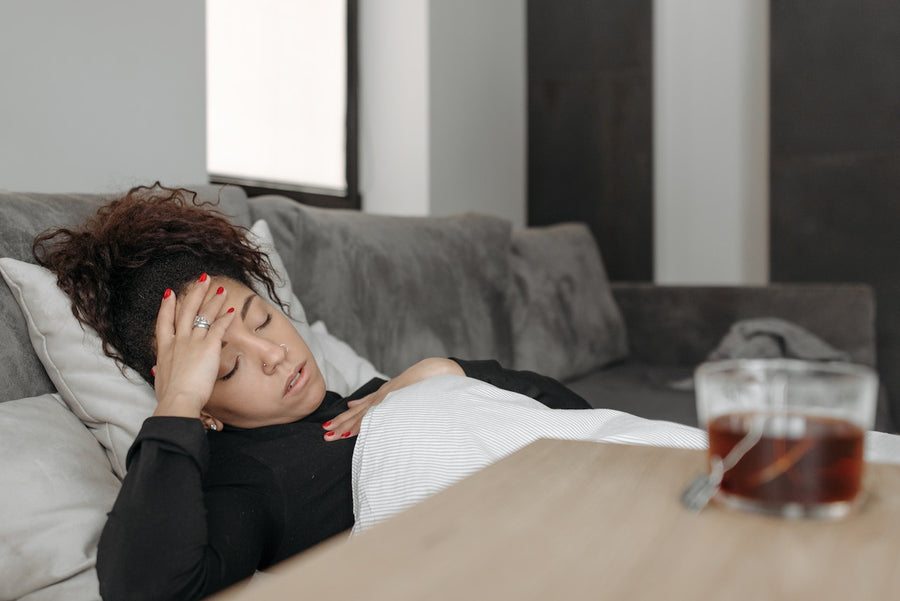 By OBGYN Dr. Kenosha Gleaton
Understanding Hyperemesis Gravidarum
Morning sickness is a common pregnancy symptom, seen in up to 80% of pregnant people. [1] Typical morning sickness is often defined as passing feelings of nausea and occasional vomiting, experienced at any time of day. Usually morning sickness will pass on its own after someone enters the second trimester, and can be managed through dietary and lifestyle changes, as well as some medications or supplements. [1-2] Unfortunately this isn't always the case, and a small percentage of pregnant people may actually experience a potentially dangerous and more severe type of morning sickness. [2] 
What is Hyperemesis Gravidarum?
Hyperemesis gravidarum (HG) is the medical term that refers to severe nausea and vomiting during pregnancy. People experiencing HG may require medical assistance to prevent or manage any negative health effects associated with severe and persistent morning sickness. [2] Hyperemesis gravidarum has the potential to impact homeostasis, electrolyte balance, kidney function, and fetal health. [3] 
The Difference Between Morning Sickness and Hyperemesis Gravidarum
They may sound similar, but typical morning sickness is not as severe as HG. Morning sickness is described as feelings of nausea and/or vomiting during early pregnancy and can often be self-diagnosed. Oftentimes morning sickness can be managed with changes to diet, lifestyle, and the use of some medications or supplements. [1-2] HG on the other hand is a more severe type of morning sickness that is much more difficult to manage. In order to be diagnosed with HG, someone must meet certain criteria, such as loss of body weight, symptoms of dehydration, and more. [3] While morning sickness is present in a large majority of pregnancies, HG only occurs in up to 3%. [2-3]  Learn how soon morning sickness starts after conception → 
Causes and Risk Factors of Hyperemesis Gravidarum
Similar to morning sickness, we aren't exactly sure what the cause of hyperemesis gravidarum is. Many researchers theorize that the increase in certain hormones, such as human chorionic gonadotropin (hCG), estrogen, and progesterone, during early pregnancy could be to blame. [1] Other potential links include gastrointestinal dysfunction, kidney abnormalities, nutritional deficiencies, allergies, and more. [3] Some risk factors associated with the presence of severe morning sickness include [2-4]:
Gestational trophoblastic disease (GTD)- this disease is related to the growth of abnormal cells or tumors during pregnancy
A history of migraines
A history of motion sickness
A history of morning sickness during a previous pregnancy
Multiple pregnancy (twins, triplets, etc)
Family history of HG/genetics
Hormonal abnormalities 
Symptoms and Diagnosis of Hyperemesis Gravidarum
Hyperemesis gravidarum presents as severe nausea and vomiting. This may occur at any time of the day and is often persistent. [2-3] Nausea may be ongoing for the majority of the day while vomiting may occur multiple times. In order to diagnose someone with HG, healthcare providers look for the following [2-4]:
The loss of at least 5% of prepregnancy weight
Dehydration symptoms

Dark colored urine
Strong smelling urine
Decreased urine output
Dizziness or fainting
Inability to keep down any liquids
Abnormal heart rate or blood pressure
When to Seek Medical Attention
You should always check in with your healthcare provider when you notice any new, painful, or concerning symptoms. It's extremely important that you seek out medical attention if you're unable to keep any food or water down, or you notice any of the previously mentioned symptoms. [2] Dehydration can be very dangerous for the health of you and your baby and it's vital that you replenish lost fluids as soon as possible. [3] 
Treatment Options for Hyperemesis Gravidarum
Treating HG may not be as simple as treating morning sickness. Basic treatment and management options are often focused on modifying the diet, eating habits, lifestyle factors, and medical interventions such as medications and intravenous (IV) fluids. [1-2] It may be easier to find relief for morning sickness, whereas those with HG may require regular observation to protect fetal and maternal health. [3] Fortunately, many people with HG will have relief before 20 weeks gestation, although some may experience symptoms throughout the majority of pregnancy. [5] 
Lifestyle and Dietary Changes
Some of the first recommendations for those suffering from morning sickness or HG are to modify their diet and lifestyle habits. Many providers recommend eating frequent but small amounts of food throughout the day to avoid an empty stomach. [3] It may also be helpful to eat foods full of carbohydrates and protein and avoid foods high in fat or acid. Any flavor, texture, or smell that may trigger nausea should be avoided. Bland foods and electrolytes should be prioritized when possible. [3] Learn How to Combat Early Pregnancy Nausea Through Diet
Many providers also recommend plenty of rest and minimal stress when treating HG. Avoid strenuous activities and find ways to relax during the day, such as herbal tea, a warm bath, reading, taking naps, etc. [2-3] 
Medications and Supplements
There are a handful of medications and supplements that have been shown to reduce nausea and vomiting and promote healthy digestion. It's important to note that you should always speak to a healthcare provider before attempting any sort of treatment at home. One of the first recommendations is often vitamin B6, also known as pyridoxine. [2] Vitamin B6 is a natural, over-the-counter treatment option that has been shown to improve nausea and vomiting related to pregnancy. [4] If B6 alone doesn't help with symptoms, it may be given in addition to doxylamine, another medication often found in sleep aids. If someone still doesn't have relief, prescription medications may be given to prevent vomiting. [2-4]  
Severe Cases: Hospitalization and Intravenous Treatments
In some cases, hyperemesis gravidarum is so severe that hospitalization may be required. This is usually only seen in 1% to 5% of HG patients. [3] Hospitalization may be needed if someone is experiencing uncontrollable vomiting, is unable to keep down any foods or liquids, is experiencing dehydration symptoms, etc. [2-3] Being hospitalized allows for the patient to be monitored regularly and given intravenous treatments, such as fluids to replenish lost electrolytes or antiemetics to prevent vomiting. [3] If weight loss continues and your provider is concerned about nutrient intake, a feeding tube may be recommended. [2] 
Living with Hyperemesis Gravidarum
Even if you've gotten some relief from management or treatment options, dealing with HG can be draining and difficult. It's important to find healthy coping strategies and support your mental health while undergoing the many physical and emotional changes that come with pregnancy. 
Coping Strategies for Daily Life
Being pregnant can be challenging enough without the added difficulty of severe morning sickness. If you are struggling, make sure you're open and honest with your loved ones and your healthcare provider. They may be able to offer assistance and ease the burdens you're experiencing. Remind yourself that your HG symptoms will pass, and there are medical interventions available to help ease nausea and vomiting. Some people find that having a distraction, such as sewing, reading, or watching TV can help with relaxation and reduce nausea or vomiting. 
Emotional Support and Mental Health Considerations
If your healthcare provider hasn't already offered emotional support, you should speak to them about your options. Psychotherapy, behavioral therapy, and other support methods may be beneficial. [3] Emotional support services can be especially helpful if you're having difficulty managing your stress. 
How Natalist Can Help
Hyperemesis gravidarum is one of many conditions that can impact your pregnancy and cause uncomfortable symptoms. When experiencing dehydration, nausea, digestive problems, and more throughout the pregnancy and postpartum period, it's important to have products that you can trust to be evidence-based and effective. Natalist is proud to offer products such as Anti-Nausea Gummies, Nausea Relief Tea, pregnancy-safe Hydration & Energy Electrolyte Mix, and more. Remember to always consult your healthcare provider before trying any new supplements or products. 
Sources:
Lee NM, Saha S. Nausea and vomiting of pregnancy. Gastroenterol Clin North Am. 2011;40(2):309-vii. doi:10.1016/j.gtc.2011.03.009
Morning Sickness: Nausea and Vomiting of Pregnancy. FAQ126. American College of Obstetricians and Gynecologists. December 2021. URL. Accessed July 2023.
Wegrzyniak LJ, Repke JT, Ural SH. Treatment of hyperemesis gravidarum. Rev Obstet Gynecol. 2012;5(2):78-84.
Hyperemesis Gravidarum. Cleveland Clinic. February 21 2023. URL. Accessed July 2023.
Hyperemesis Gravidarum (HG). HER Foundation. Accessed July 2023. URL.
Shop Products From This Article
Subscribe & Save $3.00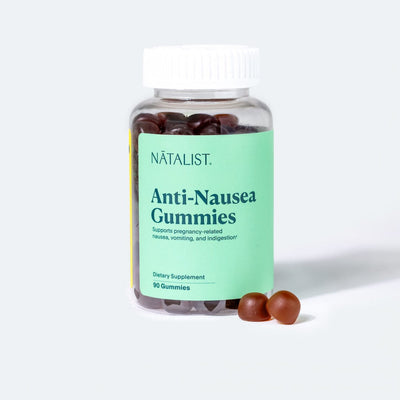 Extra 10% off your first delivery when you subscribe with code SEPT23
$32