Metabolic Syndrome: Criteria, Symptoms, and More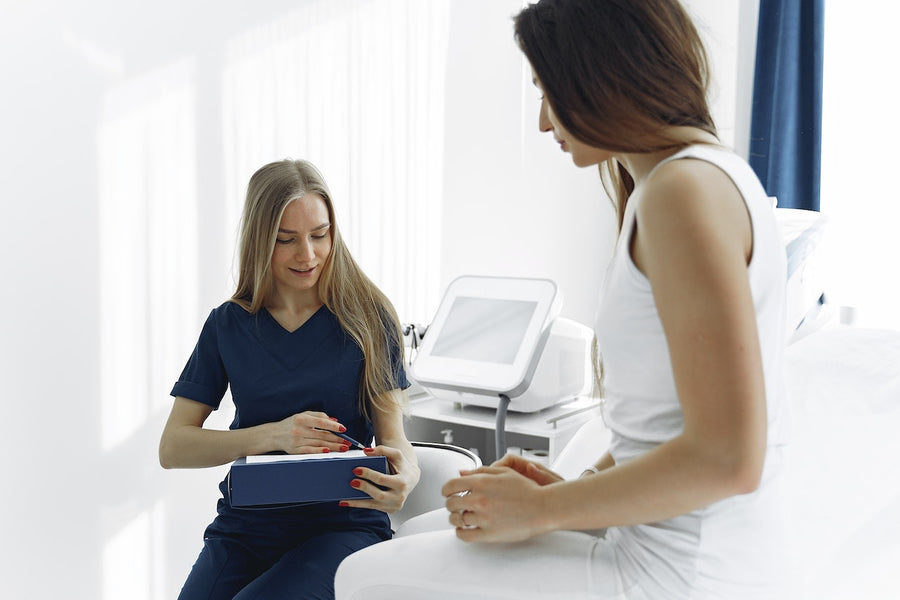 By OBGYN Dr. Kenosha Gleaton
What Is Metabolic Syndrome?
Metabolic syndrome (MetS), also referred to as insulin resistance syndrome, is a group of conditions that can raise the risk of heart disease, diabetes, stroke, and many other health conditions. [1] Metabolic syndrome is thought to impact nearly one in three adults in the United States. [1-2] Research also suggests that MetS can have detrimental effects on fertility and pregnancy. [3-4] 
Metabolic Syndrome Criteria
In order for someone to have metabolic syndrome, they must have at least three out of five different health conditions. These conditions include [1-2]:
Excess abdominal weight: a large waistline or excess fat in the stomach area increases the risk of heart disease. 
Hypertriglyceridemia: Having high levels of fat, AKA triglycerides, in the blood can raise the risk of heart disease. 
Low levels of HDL cholesterol: HDL cholesterol is sometimes known as the "good" cholesterol, as it helps the body remove bad cholesterol from the blood vessels. 
High blood sugar levels: High blood sugar can damage the blood vessels and increase the risk of blood clots. 
High blood pressure: Chronic high blood pressure can lead to damaged blood vessels. High blood pressure also leads to a buildup of plaque in the arteries, increasing the risk of a heart attack or stroke. 
All of these conditions individually raise someone's risk of heart disease, diabetes, and stroke. The combination of three or more of these conditions at the same time significantly increases the risk of negative health outcomes. [1] 
There are many factors that contribute to metabolic syndrome, such as diet, genetics, activity level, and more. Many researchers also believe that insulin resistance plays a major role in the development of metabolic syndrome. [2] 
What Is Insulin Resistance?
Insulin resistance refers to a condition in which the body can't respond properly to insulin. In normal circumstances, the body will break down food into glucose, which signals to the pancreas to release insulin. [5] Insulin then works as a key to help glucose enter muscle, fat, and liver cells. Once glucose has entered these cells, the pancreas stops producing insulin. 
When someone has insulin resistance, their cells may not efficiently accept or store glucose from the blood. This causes insulin to be overproduced by the pancreas and in time, may cause elevated blood glucose levels, prediabetes, or type 2 diabetes. [5] Those with insulin resistance are also at a higher risk of obesity, heart disease, liver disease, polycystic ovary syndrome (PCOS), and metabolic syndrome. Learn how to identify PCOS symptoms.
Signs and Symptoms of Metabolic Syndrome
Unfortunately there aren't always obvious symptoms that accompany metabolic syndrome. If you are someone who looks generally healthy, it may be harder to know that you are at risk or currently living with metabolic syndrome. [1-2] The best way to know if you are at risk is to speak to your healthcare provider about getting lab work done. Measuring your triglycerides, cholesterol, blood sugar, and blood pressure will give you and your provider a better idea of your health. Some symptoms that may arise include [2]:
Blurred vision
Fatigue
Increased urination
Increased thirst
Darkened skin around the armpits or neck
You can also test some markers from home- check out the virtual care and at-home test options from our sister company Everlywell. 

Metabolic Syndrome and Fertility
It's extremely important to discuss the impact that metabolic syndrome has on both female and male fertility. Research shows that those at risk of or living with MetS are more likely to notice impaired sperm production, sperm function, adverse pregnancy outcomes, and difficulty conceiving. [3,4,6]
The criteria and related factors of MetS include obesity, insulin resistance, hypertension, and others. These factors lead to distressed endocrine systems, oxidative stress, and an increase in scrotal temperature. Research shows that these effects lead to poor erectile function and ejaculatory function. [3] Without the ability to produce healthy sperm or ejaculate properly, it can be very difficult to achieve pregnancy without medical intervention. Learn more about male fertility. 
One study focused on fertility treatments and found that metabolic syndrome was present in nearly 30% of infertile women with polycystic ovary syndrome. [6] The following was also observed in patients with MetS [6]:
Longer infertility duration
Required higher and longer doses of hormones 
Retrieved fewer eggs 
Had fewer available embryos
Lastly, studies focused on maternal metabolic syndrome in pregnancy found that those with MetS are at a higher risk of adverse pregnancy and birth complications, including [4,7,8]:
Cell tissue damage
Adverse child developmental outcomes
Preeclampsia
Gestational diabetes (learn about GD symptoms here)
Preterm birth
Baby that is large for gestational age
How to Prevent and Treat Metabolic Syndrome
The good news is that metabolic syndrome can be reversed, treated, and prevented with the help of lifestyle changes, medications, and other treatment options. [1-2] Because MetS is a syndrome, prevention and treatment methods are focused on the underlying conditions and symptoms that lead to MetS. Some options for preventing and managing MetS include [1-2]:
Maintaining a healthy weight
Getting regular exercise
Maintaining a heart-healthy diet: Limiting unhealthy fats, sugar, red meats, and processed starches. Adding in more vegetables, fruits, whole grains, fish, and poultry. 
Reducing stress
Getting adequate sleep 
These methods can also be used in conjunction with various treatments if someone is hoping to reverse metabolic syndrome, such as prescription medications, weight loss surgery, etc. [2] 
If you're trying to conceive soon or you're pregnant, it's especially important that you prioritize a healthy lifestyle in order to reduce the risk of various complications. General guidelines for a healthy lifestyle during pregnancy include taking a prenatal vitamin, drinking plenty of water, staying active, eating a healthy diet, and avoiding drugs and alcohol. 
Speak to your healthcare provider about what you can do to support your health and reduce your risk of MetS.
Supplements for Insulin Resistance
In some cases, certain dietary supplements may help the body utilize insulin properly. For example, research shows that vitamin D supplementation was able to provide a small but statistically significant decrease in blood sugar levels and fasting insulin levels. [9] Additionally, magnesium, zinc, vitamin C, probiotics, and polyphenols were found to improve fasting blood glucose levels. [9] You can consume many of these nutrients in a healthy diet, dietary supplements, and nutrient dense drink mixes. 
Myoinositol is a natural carbohydrate found in the body. Many vital cells and tissues contain inositol, including the liver, brain, testes, and ovaries. [10] Years of research suggest that taking an inositol supplement may actually improve insulin resistance, potentially improving symptoms and markers for conditions such as metabolic syndrome, PCOS, and diabetes. [10] Remember, you should always speak to a healthcare provider before taking any new supplements. 
Support Your Health With Natalist
Metabolic syndrome is just one of many conditions that can impact your fertility and pregnancy. Living a healthy lifestyle is the best way to reduce your risk of MetS as well as fertility and pregnancy complications. This means taking your vitamins, eating a nutritious diet, staying active, and maintaining a healthy weight. Thinking about conceiving soon, or currently pregnant? Support your reproductive health with Natalist products- from supplements to self-care bundles. 
References:
What Is Metabolic Syndrome? National Heart, Lung, and Blood Institute. May 2022. https://www.nhlbi.nih.gov/health/metabolic-syndrome
Metabolic Syndrome. Cleveland Clinic. September 2023. https://my.clevelandclinic.org/health/diseases/10783-metabolic-syndrome#management-and-treatment
Martins AD, Majzoub A, Agawal A. Metabolic Syndrome and Male Fertility. World J Mens Health. 2019;37(2):113-127. doi:10.5534/wjmh.180055
Kwok, J., Speyer, L.G., Soursou, G. et al. Maternal metabolic syndrome in pregnancy and child development at age 5: exploring mediating mechanisms using cord blood markers. BMC Med 21, 124 (2023). https://doi.org/10.1186/s12916-023-02835-5
Insulin Resistance. Cleveland Clinic. December 2021. https://my.clevelandclinic.org/health/diseases/22206-insulin-resistance
He Y, Lu Y, Zhu Q, et al. Influence of metabolic syndrome on female fertility and in vitro fertilization outcomes in PCOS women. Am J Obstet Gynecol. 2019;221(2):138.e1-138.e12. doi:10.1016/j.ajog.2019.03.011
Jayasinghe IU, Agampodi TC, Dissanayake AK, Agampodi SB. Early pregnancy metabolic syndrome and risk for adverse pregnancy outcomes: findings from Rajarata Pregnancy Cohort (RaPCo) in Sri Lanka. BMC Pregnancy Childbirth. 2023;23(1):231. Published 2023 Apr 5. doi:10.1186/s12884-023-05548-y
McAninch, D., Bianco-Miotto, T., Gatford, K.L. et al. The metabolic syndrome in pregnancy and its association with child telomere length. Diabetologia 63, 2140–2149 (2020). https://doi.org/10.1007/s00125-020-05242-0
Fong C, Alesi S, Mousa A, et al. Efficacy and Safety of Nutrient Supplements for Glycaemic Control and Insulin Resistance in Type 2 Diabetes: An Umbrella Review and Hierarchical Evidence Synthesis. Nutrients. 2022;14(11):2295. Published 2022 May 30. doi:10.3390/nu14112295
DiNicolantonio JJ, H O'Keefe J. Myo-inositol for insulin resistance, metabolic syndrome, polycystic ovary syndrome and gestational diabetes. Open Heart. 2022;9(1):e001989. doi:10.1136/openhrt-2022-001989