Vi Fessenden on Navigating the Unexpected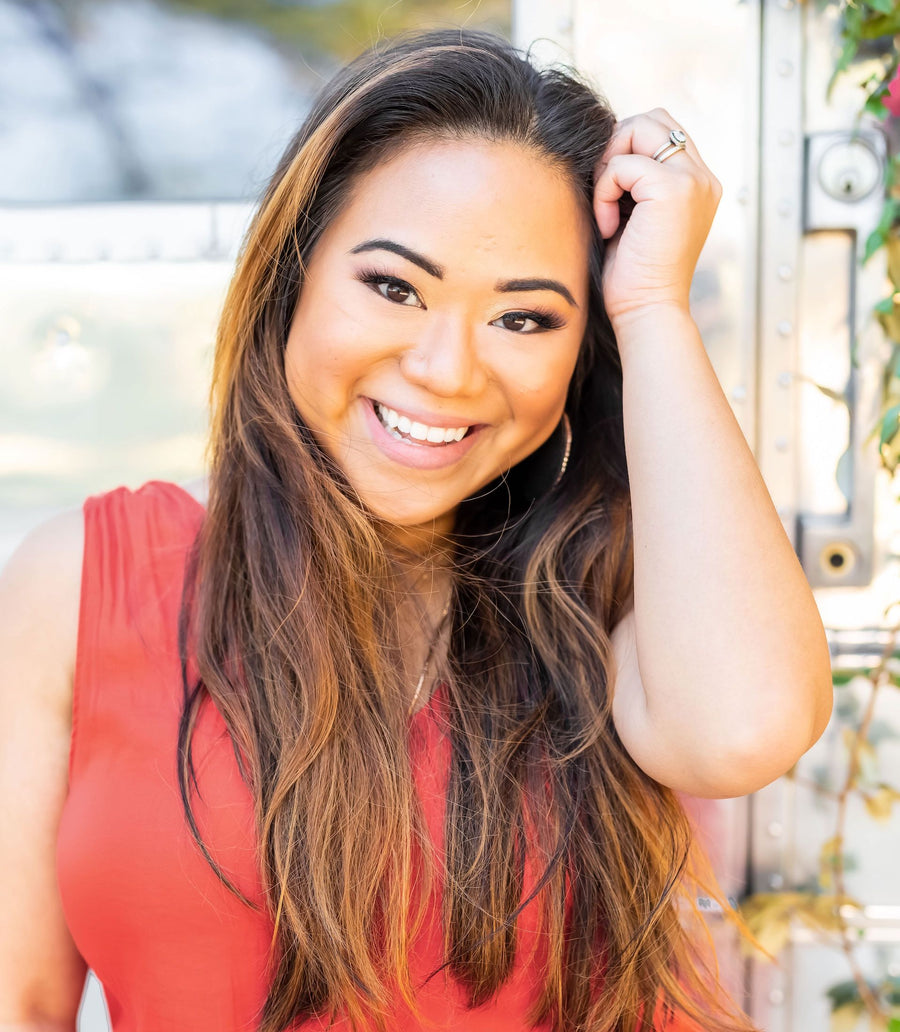 Tell us a little about yourself.
I'm a first time modern mom. I'm a stay-at-home working mom who runs two business and works three jobs. I'm 26 and a Charleston blogger and influencer / content creator as well as event coordinator. I'm married to my best friend. I have lots of goals and am definitely a goal digger!
You can follow me on Instagram @hoangviton and learn more at beautyfoodymom.com.
What was your journey to parenthood like?
It's been a wild highs and lows type of roller coaster. I was so anxious of the 360 lifestyle change during pregnancy, and I loved Maverick when he was born, but I didn't love myself. I had postpartum depression although I didn't admit it at the time. But I didn't enjoy the things I used to, and I didn't do the things that I loved. I felt shut off from the whole world and that my focus should only be my baby, until I started blogging. I wanted to find a mom tribe that could relate to the things that I could relate to and it has given me so many great opportunities, friends, and a tribe. I'm still learning to balance work and spending time with my family and Maverick. My main priority is Maverick, but I also want to provide him with all that I can and all that I didn't have. It's been a struggle between all of the work, but I think we are getting to a point where I'm able to have freedom. Maverick is the smartest, most adorable, and caring little 18 month old I've ever seen! I may be a little biased.
✨ Shop Little Words Mama Bracelets ⟶
What was happening in your life when you decided to start your family?
I had been separated from my first husband for a little over a year. I was still very lost, and I also didn't really trust being in a relationship. I wanted to have someone there, but I didn't. My trust in men was completely lost, but I wanted a sign from God to push me into the right direction, whether it be to be with my now husband Matthew or whether to move forward with having the baby. The fact that he would only have one set of grandparents as a secondhand support, I wanted the best circumstance to have a baby. But God doesn't give you perfect, he gives you life-changing learning experiences for you to grow. So I let go, loved again, then I loved even harder when we had our little one! I'm so happy I made the decision that I did.
How did you care for yourself while trying to conceive?
I wasn't trying to conceive; it just happened. I think God allowed me to carry my purpose out and give this tiny beautiful human life to give to the world so that I could find my purpose. Sometimes things happen without intention and the right things just fall into your lap.
How did you care for your body while pregnant?
I took prenatal vitamins. I ate a lot healthier than I normally did, and it shows in my baby's taste in expensive healthy food! I had organic and natural meats and used natural and organic products to ensure that I would be able to have a healthy and happy baby safely.
What experiences shaped your understanding of conception and pregnancy?
I had a great support system. It's weird—you'd think South Carolina wouldn't have a great conception for pregnancy. But SCDHEC and WIC as well as Roper and The Breastfeeding Center of Charleston have seriously really helped the whole pregnancy journey and parenthood. We did a lot of classes and lessons and learned a lot about all things conception and pregnancy.
Tell us how you found out you were pregnant. We'd love details!
It was during a hurricane in 2017 that we found out. I was in denial, but I was throwing up all the time and super tired, and I didn't know why. My husband and I went to the store and bought a pregnancy test and braced ourselves for the results. It was scary and exciting all at the same time. But we were preparing ourselves so that we could tell our families, who are both very conservative and traditional and did not believe in pregnancy out of wedlock. Contrary to both of our families' beliefs, we went forward and announced it to them individually and slowly. To our surprise, they were happy and excited for us.
What have you learned as a result of trying to get pregnant and/or being pregnant?
I've learned a lot. Patience. Patience and compromise. Those are the two that stick out to me. Trying to be the human that my baby looks up to. Children emulate everything that you do and say, so laying out a clear and set example of how to be a good, kind human has been my main focus. Learning to be patient with a little human that is just learning and doesn't know anything about life, teaching him grace, as I'd want from others, teaching him that different is okay. Maverick has taught me unconditional love.
What's your wish for women who are trying to conceive?
What's meant to be will be. Love with your heart, grieve with your heart. Heal with your heart. You are in control of your body; you know what's right for you, your child, and your family. Motherhood has been such a beautiful journey of changes and growth.