After Ovulation Symptoms: What To Look For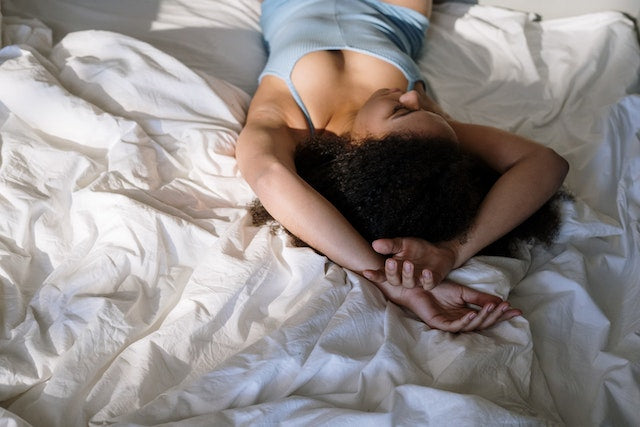 By Dr. Kenosha Gleaton, OBGYN
Phases of the menstrual cycle and pregnancy share many common symptoms, and it can be difficult to tell them apart. Whether or not you're trying to conceive, it can be helpful to know what symptoms you may experience after ovulation or during the start of early pregnancy.
A Menstrual Cycle Overview
To recap, there are four phases of the menstrual cycle, which is on average about 28-35 days long. Phase one, menstruation, kicks off day one of the cycle and lasts about a week. The follicular phase, or phase two, stretches from menstruation to ovulation. This phase is about two to three weeks long and can vary month to month. Ovulation is phase three, which is when an egg is released from the ovary and luteinizing hormone is surging. Then comes phase four, which is known as the luteal phase. Luteal phase stretches from ovulation to the start of the next menstrual cycle. 
What Are The Symptoms of Ovulation?
Ovulation symptoms can vary from person to person, and may be fairly similar to period symptoms or premenstrual symptoms. Two signs that are unique to ovulation include a noticeable difference in cervical mucus and basal body temperature, which are two methods that can be used when tracking ovulation alongside an ovulation test. Cervical mucus tends to become creamy right before ovulation, and becomes an egg white consistency during the most fertile period. Basal body temperature rises about half a degree the week surrounding ovulation, although this may only be seen in about 80% of women. [1] Other ovulation symptoms you may notice include [2]:
Breast pain (learn more about breast pain during ovulation here).
Abdominal pain and cramping
Bloating
Spotting
Mood changes
Increased libido
Post Ovulation Symptoms
The luteal phase stretches from ovulation to the start of the next cycle. This is also when you may start to notice some early signs of pregnancy. A lot of the time, symptoms of premenstrual syndrome (PMS), ovulation, pregnancy, and the luteal phase can overlap, making it difficult to determine why you're experiencing certain symptoms. [2-3] Let's talk a little more about what symptoms you should expect during early pregnancy, as well as symptoms that are commonly experienced during the luteal phase of someone that isn't pregnant. 
Luteal Phase Symptoms
The luteal phase of the menstrual cycle lasts about 14 days and is based around your body preparing for pregnancy. During the luteal phase, an egg ruptures from a mature ovary (ovulation), your uterine lining will become thick, and your body will wait for implantation of a developing embryo to occur. [4] If this doesn't happen, your menstrual cycle starts over as your uterine lining sheds and you start your period. If you do conceive during the luteal phase, you may start to notice the early signs of pregnancy. Otherwise, there are hormonal changes that occur throughout all the phases of the menstrual cycle, including the luteal phase, which can cause symptoms such as [4]:
Changing Basal Body Temperature (BBT)
BBT is the resting temperature of the body. If you consistently track your BBT throughout your cycle, you'll notice that there is a small change in temperature during the luteal phase/around ovulation. This is minor, about a half a degree, but it signals that ovulation has just occurred. 
Dry Cervical Mucus
Your cervical mucus can tell you a lot about your vaginal health and which phase of the menstrual cycle you're in. Mucus tends to be slippery when you're most fertile, and becomes thicker and paste-like during the luteal phase. This is the body's way of protecting the uterus from any bacteria reaching a potential embryo.  
Mood Changes
It's also common to experience mood changes during the luteal phase, regularly associated with PMS. [5] This could be anxiety, depression, irritability, or a combination of feelings. 
Bloating
Bloating is often seen following ovulation and leading up to menstruation, likely due to increased fluid retention. [6] 
Acne
A study found that premenstrual acne occurs in about 63% of people. [7] Likely due to the rise in hormones following ovulation and preceding menstruation. Tender breasts and appetite changes are also associated with the luteal phase of the menstrual cycle as well as PMS. 
Pregnancy Symptoms After Ovulation
How early can someone have pregnancy symptoms? It can vary a lot from person to person, but it is possible to start having early pregnancy symptoms within a few days of conception. Some common symptoms of early pregnancy include [3]:
Missed Period
One of the most obvious signs of pregnancy is having a late or missed period. Once conception has occurred, your body does what it can to protect the embryo and avoid shedding the uterine lining or releasing any more eggs. Some early pregnancy tests can come back positive up to six days before a missed period. 
Fatigue
High levels of hormones like progesterone during early pregnancy can lead to feelings of exhaustion. If you're noticing that you feel more tired than usual or need more sleep than usual, you could be experiencing this early pregnancy fatigue. 
Frequent Urination
This is another symptom that can occur even before a missed period. Having to pee often is a result of increased blood supply during pregnancy, and can happen within a few days of conception. 
Morning Sickness
Nausea and vomiting after ovulation are a likely sign of early pregnancy. The name is misleading though, as these symptoms can occur at any time of day. Nausea Relief tea can help with an upset stomach at any time of day! 
Sore Breasts
This is another common symptom across the menstrual cycle, but sore or swollen breasts can be a symptom of pregnancy. There could also be a change in the color of your areolas or the size of your breasts. 
Implantation Bleeding
Light spotting occurs in some cases as an early sign of pregnancy as well. This is likely to happen about 10 days after conception and can be misleading as many think it's the start of their period. 
There are many other symptoms that have been reported during early pregnancy but aren't as common, including a metallic taste in the mouth, bloating, acne, food aversions or cravings, headaches, mood swings, and more. [3] If you think you might be pregnant, it's important to act fast and find out as soon as you can using early pregnancy tests. If you're currently trying to conceive, it's recommended that you start taking a prenatal vitamin while you're trying. Lastly, be sure to make a visit to your doctor to confirm pregnancy through a blood test or ultrasound.
How Long Will I Have Post-Ovulation Symptoms?
If you are experiencing symptoms post-ovulation, they will likely resolve within 10 to 17 days, which is the average length of the luteal phase. [4] If there are symptoms that aren't going away or seem to be changing, you may be experiencing pregnancy symptoms. Pregnancy symptoms vary day-by-day and month-by-month, so there's really no telling how long you might have symptoms. Talk with your healthcare provider if you're experiencing any pain or discomfort that doesn't seem to be resolving on its own. 
Key Takeaways
There are four phases of the menstrual cycle: menstruation, follicular phase, ovulation, and luteal phase.
There are similar symptoms for early pregnancy, PMS, and luteal phase, including sore breasts, cramping, spotting, bloating, and mood swings.
The luteal phase is your body's way of preparing for pregnancy, and occurs from ovulation until the start of the next menstrual cycle.
Early pregnancy symptoms include fatigue, missed period, nausea and vomiting, frequent urination, and spotting.
Luteal phase symptoms include dry or paste-like cervical mucus, changing basal body temperature, acne, bloating, and mood changes.
Luteal phase symptoms may occur for up to 17 days.
References:
Moghissi KS. Accuracy of basal body temperature for ovulation detection. Fertil Steril. 1976;27(12):1415-1421.
Ovulation. Cleveland Clinic. July 2022. URL. 
Am I Pregnant? Cleveland Clinic. July 2022. URL. 
Luteal Phase. Cleveland Clinic. November 2022. URL. 
Menstrually Related Mood Disorders. UNC School of Medicine. Accessed August 2023. URL. 
White CP, Hitchcock CL, Vigna YM, Prior JC. Fluid Retention over the Menstrual Cycle: 1-Year Data from the Prospective Ovulation Cohort. Obstet Gynecol Int. 2011;2011:138451. doi:10.1155/2011/138451
Geller L, Rosen J, Frankel A, Goldenberg G. Perimenstrual flare of adult acne. J Clin Aesthet Dermatol. 2014;7(8):30-34.