Amanda Warsavsky on IVF and a Rainbow Pregnancy During COVID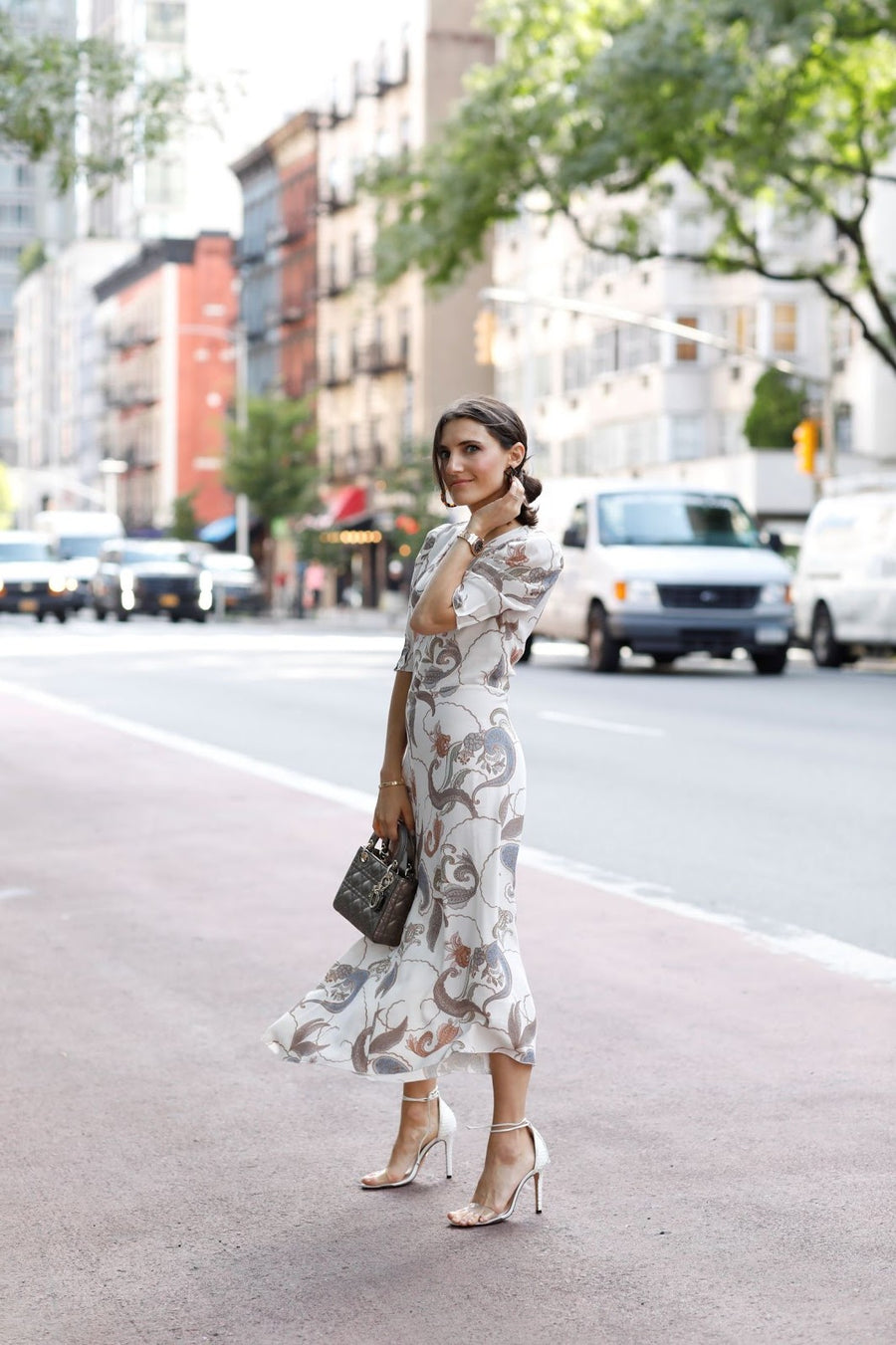 What was happening in your life when you decided to start your family?
I was working at a high pressure job in finance and had gotten married young, so had no friends even considering starting a family at the time. My mother suffered from secondary infertility trying to get pregnant with my sister, so it was always in the back of my head that it could happen to me (I know, I know, they say it isn't genetic.) 
After I got married, I immediately went off the pill just to see if I'd get a normal cycle and actually was actively trying NOT to get pregnant. However, after months and months passed with no period and no pregnancy, I started to realize my fears of following in my mom's footsteps might be true.
You can follow Amanda on Instagram @amandawarsavksy and learn more on her website, That Pencil Skirt.
You went through seven IUIs, a failed IVF transfer, and a miscarraige before having your first daughter, Scarlet. How did you hang onto hope that entire time? 
Wow! Well, seeing it laid out like that makes me wonder the same! I've always been a pretty optimistic person—which helps—but there were definitely moments where I felt defeated. The miscarriage happened when I was actually visitng my husband's family out in California (we live in New York), and we had just shared the news with our families. I remember in that moment just feeling like this was it, and I'd never have a baby. I decided to take two months off and went on a trip (that was intended to be our "babymoon") and used that time to clear my head and focus on everything non-pregnancy related. Having a break from the shots, counting the cycle days, and the hope and defeat cycle helped my mental state in a big way. When I came back from that trip, I felt very excited to try again.
I also kept asking questions and being my own advocate. Throughout this journey, I switched doctors once, got countless second opinions, and added a second doctor (a miscarriage specialist) to the equation. Taking action made me feel like there still were more options that hadn't yet been exhausted.
Tell us how you found out you were pregnant this time around. We'd love details!
It wasn't easy. When Scarlett turned one, I decided to try ASAP with another cycle. I got pregnant right away with a frozen transfer (crazy, right?) and found out I had the same due date as two of my close friends. Starting at six weeks, I had major complications. The pregnancy ended with a late stage abortion at 20 weeks after we confirmed our belief that the baby had serious problems. I was the saddest I had ever been, but was more determined than ever to try again. This time around, I felt that if I could do it once, I could do it again. I advocated a little bit too hard for myself and convinced my doctors to let me try a cycle probably too soon after my loss. I just really wanted to be pregnant before my due date and was willing to do whatever it took to get there. Unfortunately, that pregnancy ended in an early miscarriage at five and a half weeks and one that was completely unexplained...
I would have tried again the next month, but COVID hit, and my fertility clinic stopped cycles. This forced me to take a few months off and miraculously, my period came back naturally and regularly, which was a complete first to me. I drank wine, cooked, ate a ton, and focused on work and spending so much time with my then two year old daughter. I, again, was persistent and acted as my own advocate and called the fertility doctor weekly to make sure I'd be the first call when they reopened. I can't thank my doctor (Dr. Grifo at NYU) enough because I was, in fact, their first call to book a new cycle once their doors reopened. I cheated and tested four days after my transfer and saw the positive line. I can't lie; I felt more relief than excitement. 
What is it like to be pregnant after a miscarriage/ loss?
This time it was completely different because I was living with my parents, my sister, and her husband under a very high pressure situation (COVID.) It was hard to hide from them what we were doing, so I had to be open. Having the support of my immediate family was both stressful and helpful. I hated talking about it. I hated accepting that my HCG had, in fact, gone up and doubled. And I hated when anyone brought up the "P" word.This pregnancy has been filled with anxiety, and I have tried to stay as disconnected as possible to prepare myself for any possible disappointment. I am now almost 27 weeks and finally starting to accept that I really am pregnant and allowing myself (and my family) to feel some excitement.
This pregnancy has been filled with anxiety, and I have tried to stay as disconnected as possible to prepare myself for any possible disappointment.
How do you think about doing your best work while being a parent? Has that understanding shifted over time?
Being a parent has pushed me harder than I thought possible to be a better person in life and in business. Feeling responsible for a little human just makes me want to succeed even more! It isn't always easy, particularly when juggling ten things at once, but all my daughter has to do is smile at me and tell me she loves me, and it's all worth it.
How did you care for your body while pregnant?
I am a big believer in eating whole foods. I rarely (pregnant or not) eat anything processed. I worked out a good amount when I was pregnant with Scarlett, but it feels so impossible this time around. I'm trying to just listen to my body and when I feel good, stay active, and when I don't, I don't feel bad about it.
What is your favorite Natalist product? 
I can't wait to try the Belly Oil. :)
What advice do you have for other aspiring mamas? 
Stay positive, stay hopeful, and be your own advocate. And if you are already pregnant, get ready for the craziest, most exciting, most beautiful ride of your life!