Arielle Spiegel on Her Fertility Journey, Motherhood, and Founding Cofertility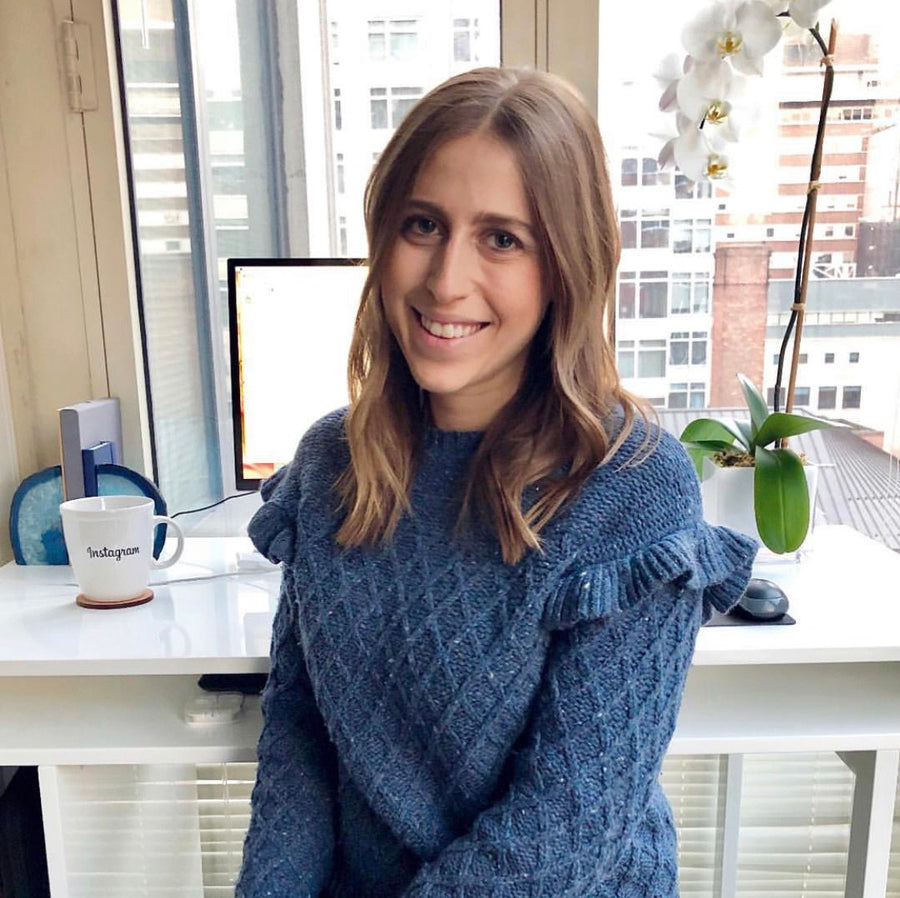 Tell us a little bit about yourself.
I'm Arielle, co-founder of Cofertility, — a human-centered fertility ecosystem, enabling women to freeze their eggs for free when they donate half of the eggs to a family that otherwise can't conceive and providing support and education for everyone involved along the way.
Co was created out of my own experience with infertility—it took me two and a half years, two cycles of IVF, multiple pregnancy losses, and tons of fertility treatment to get to the point of my latest pregnancy. I knew the one in eight American couples struggling with fertility issues deserved better. So, Co was born.
After living in New York City for almost ten years, since launching Co, I moved to the Boston area where I recently had my rainbow baby, Lev!
You can follow Arielle at @ariellespiegel or check out her company at Cofertility.
What was happening in your life when you decided to start your family?
My husband and I were the first of our friends to get married, so we wanted to wait a bit and just enjoy married life before starting to try for a family. I was still the first of my friends to start trying, but we knew it was the right time and had always talked about raising a family with multiple children. 
I remember texting my friend to tell her I went off the pill and I was holding my breath…now I look back on that moment and laugh!
Tell us about your journey to motherhood and your experience undergoing fertility treatments.
Of course, when I told my OBGYN about our plans to get pregnant, I got the standard, "just have fun, relax, and if nothing happens in six months, come back." 
After a few months of nothing happening, I started trying ovulation tracking kits for better timing. Four months in, I experienced a chemical pregnancy. I knew something wasn't right. But I waited the full six months to come back to my OBGYN, who ordered an HSG. The HSG showed an abnormality in my uterus, which turned out (after confirming with an MRI) to actually be a septum the full length of my uterus—essentially, dividing my uterus into two sections. 
Right away, I made an appointment with an RE who claimed after removing my septum I should have no problem getting pregnant. So when nothing happened months after my hysteroscopy and septum removal, we were scratching our heads. My husband looked better than perfect on paper, and my levels looked great too. My cycles were longer than average, but I was ovulating every cycle. We did a sonohysterogram and another MRI to confirm there was no scar tissue or re-growth of my septum (there wasn't) and then moved on to IUI. Three rounds of that resulted in a second chemical pregnancy, but no baby. 
Still unexplained at this point, after crunching the numbers and getting organized, we pursued IVF since that was the only way to know what was really going on with my eggs (I suspected poor quality). While my egg quality was good, our embryo quality wasn't great. For some reason, by Day Six, of the 18 eggs and 15 fertilized embryos, we only had four remaining—whittled down to two after PGS testing. 
🎁Shop The Get Pregnant Bundle ⟶
Because we know we want multiple children, I just didn't feel comfortable with only two embryos (which, I get, we're lucky to have!). We moved into a second IVF cycle as soon as we were able, which resulted in lower yield (eight eggs), but same results (two embryos). Because my lining and my hormones looked good—and because our timing was super tight with travel and a family wedding—our RE allowed us to move forward with a five-day-post-retrieval transfer of one of our embryos from Round One. Unfortunately, this resulted in our third chemical pregnancy.
Our doctor suggested that the chemical may have resulted from an embryo issue, but at this point, I wanted to pursue all testing possible before putting another one in me. I tested negative for everything on the repeat loss blood panel and negative for endometritis. 
We debated pursuing immunology, but I'm glad I did. After some super heavy duty, detailed blood work, my reproductive immunologist discovered I have the PAI-1 4G-5G mutation (this should be 5G-5G, and helps get rid of blood clots), which is hereditary and can result in recurrent miscarriage. This, combined with my positive testing for IgG-antiphospholipid antibodies, confirmed I have some blood flow interference going on that could impact the embryo once implanted. He also discovered that my CD19+ and CD5+ cells are at 13% (they should be under 10%)—so a very slight elevation of autoimmune cells that may attack an embryo.
When we moved to Boston, we miraculously spontaneously got pregnant on our own. My hcG levels were the highest they've ever been; a beta of 2500 vs. the 40s and 50s I'd seen with our previous chemical pregnancies. I was experiencing some light bleeding daily, though, so my new OBGYN here suggested getting an ultrasound to rule out an ectopic pregnancy. The technician told us the pregnancy was angular (had implanted on the inner corner near the tube) and potentially life-threatening. Over the next week, we agonized over the possibility of terminating. Thankfully, a repeat ultrasound confirmed it wasn't angular (we saw a heartbeat and everything!), but that I did have a small subchorionic hematoma likely causing the bleeding. Unfortunately, at our following ultrasound at seven weeks, there was no heartbeat. I had a D&E the next day. 
We did another transfer in September 2019. Between my new RE and my reproductive immunologist, my transfer protocol was brutal. But something about it worked, or maybe it was just chance. Despite some complications early on, and a hell of a lot of anxiety along the way, we welcomed our rainbow baby, Levi, this past June. 
How did you stay optimistic throughout two and a half years of trying to get pregnant?
It was hard! Thankfully, my husband is super positive and really remained my rock and driving force throughout the process. I truly don't know what I would have done without him.
I also made a bunch of amazing new friends (and reconnected with old ones!) throughout the process who were also dealing with infertility. They were a lifeline whenever I needed uplifting, 3am text support, or second and third opinions. I'm super grateful that I had this community in place to keep me going.
How has your experience with infertility changed your perspective on women's health and inspired you to found Cofertility?
Once I started talking about my infertility, I realized just how common fertility challenges actually are, yet there's still a huge stigma against it. Previously, fertility information was found on janky 20-year-old forums, anecdotal blogs, or clinic sites that are trying to get your foot in the door. Or, worse, fertility content was wedged within a parenting, motherhood, or pregnancy site. I felt like this community needed its own safe space and dedicated love.
Infertility is a journey that's filled with questions. Questions that, sometimes, you feel too stupid to ask—even if you have access to amazing experts and resources. We hope Cofertility remains that place that provides answers to all your fertility questions in a way that's digestible, easy to understand, and not filled with tons of overwhelming medical jargon. 
Tell us how you found out you were pregnant.
We had just done my second IVF transfer right after participating in the Walk of Hope, which fundraises for RESOLVE, the National Infertility Association. We had family in town for the walk and the following weekend for the Jewish holidays—so, thankfully, I was super distracted throughout my two-week wait. 
I found out I was pregnant right after my mother-in-law's 60th birthday party. Our first transfer had resulted in (yet another) chemical pregnancy, and I was terrified to take a pregnancy test. We waited until after her party to test because we didn't want to be disappointed and for another failed cycle to ruin our time at the party. 
I had a funny feeling I was pregnant, but I didn't let myself get my hopes up. We tested right away after the party, and, to our amazement, there was a faint line. I remember my first words were, "I just hope it sticks." 
How did you care for your body while pregnant?
Simple: lots and lots of ice cream.
What was your favorite part of pregnancy? Least favorite part?
My favorite part of my pregnancy was feeling the kicks. It wasn't until that point that I felt like I could finally begin to accept the pregnancy and breathe. I was still filled with anxiety the entire time—which was definitely my least favorite part of pregnancy—but kicks and movement were always reassuring. I'm just in such awe of what our bodies are capable of! 
What stigma(s) in women's health do you wish to lift the veil on?
There's just still so much room for improvement when it comes to women's reproductive health. In the past, it hasn't been prioritized as much as other areas of medicine. 
Because so much about infertility is still completely unknown, asking questions is such an important part of the fertility journey. But there's also such a thing as TMI. Information overload is real, so we hope to demystify as much of the fertility process as possible. The bottom line: stay curious.
How do you think about doing your best work while being a parent? Has that understanding shifted now that you're a new mom?
In the past, I used to do my best work when I had chunks of uninterrupted time and minimal distractions. Now, that concept doesn't exist anymore! When you're working at home with a newborn, every minute counts. I've become so much more productive and treasure any chance I get to work. 
It's hard to take "maternity leave" off from a company you founded, but I'm trying to give myself some space to really treasure this time I worked so hard for. I'll always consider Co my first baby and try to make sure I'm still giving it the time it needs.
What's your favorite Natalist product?
I'm super psyched about the ovulation tests and can't wait to break into them when I start trying for another baby. Not only are they sleek and gorgeous to look at, but I feel good about using them as they're certified plastic neutral. Plus, you can buy them in bulk…and, given my last long experience trying for Lev, I'm already pretty prepared to go through a lot of these. At $0.89 a pop, that's pretty reasonable.
What advice do you have for other aspiring mamas? 
Be kind to yourself. You're going through a lot, and it's not for the faint of heart! Try to do something every day, unrelated to fertility, that's just for you. You deserve it!