Cassie Shortsleeve on Glamorizing Motherhood, Breastfeeding, and Work-Life Balance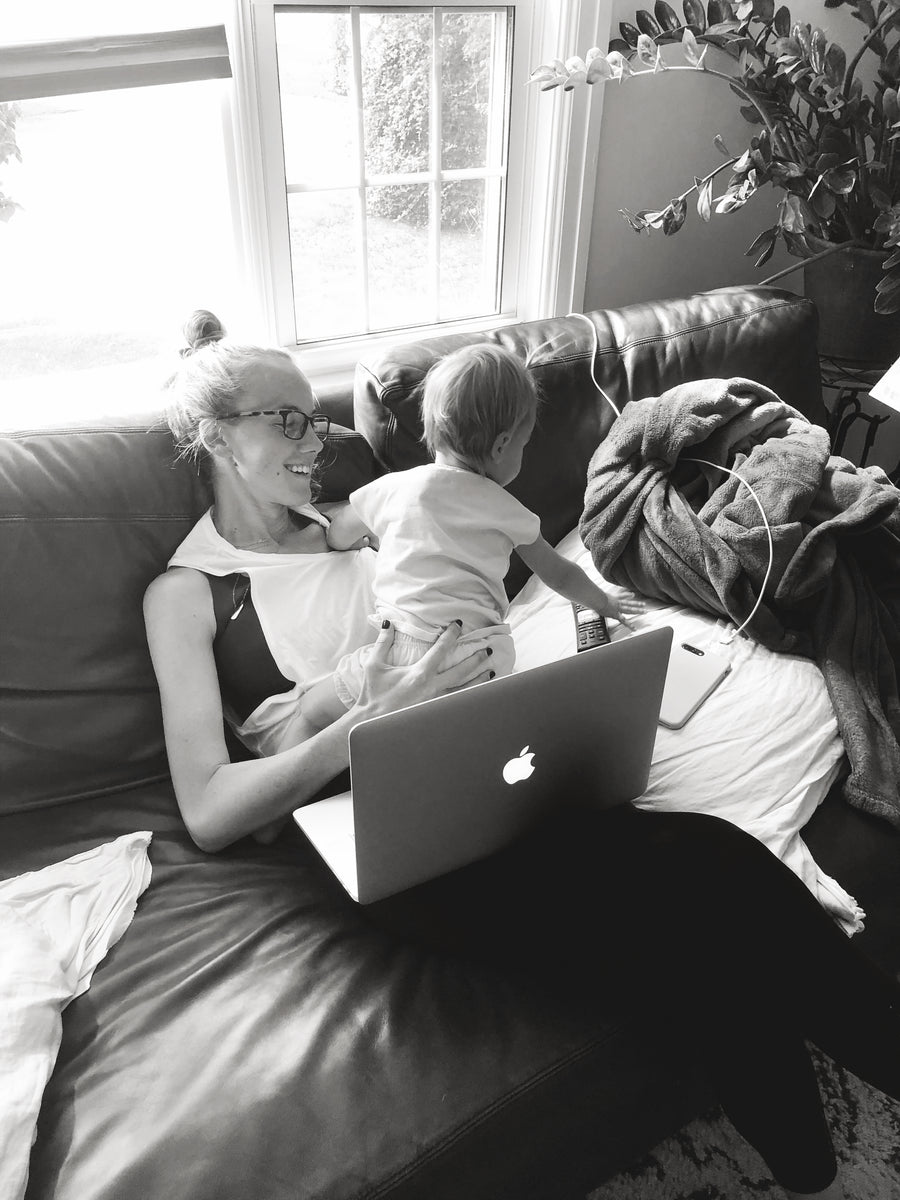 Tell us about yourself.
I'm a mom to my now 15-month-old daughter Sunday, currently pregnant with my second daughter, and I'm a freelance writer and contributor to many of the country's national health and parenting magazines, including Women's Health, Shape, Parents, What to Expect, and others. I'm also the founder of Dear Sunday, an online platform that I founded in June (named after my daughter!) that helps women adjust to pregnancy and new motherhood. We host support groups and webinars with experts, I do health coaching for the perinatal period, and I also wrote an e-book all about pregnancy with the help of 19 maternal health experts.
You can follow along at @dearsundaymotherhood or learn more on Dear Sunday.
Tell us about your journey to motherhood.
I like to say that I always wanted to be a mother, but I think—like most women who enter into their motherhood journeys in this country—I knew next to nothing about what motherhood (or pregnancy) truly entailed. I had a healthy, but emotionally challenging first pregnancy with my daughter, Sunday. Despite being a health reporter for the better part of a decade, I never felt more "in the dark" than when I was pregnant. I was uncomfortable, I was sick, I was confused, and I was anxious. I felt as though my experience contrasted to the picture-perfect image of pregnancy that we see out there. I was excited and grateful to be having a child, and I was also scared and unsure. My experience led me to the field of perinatal mental health—and to found Dear Sunday to help other women adjust to the monumental life change that is becoming a mother.
What was happening in your life when you decided to start your family? 
I think many people could likely relate to this: I was 30, I had been with my husband for years, I was established in my career, and I "knew" I wanted to have children. Eventually, I started to think, well, I suppose we should start trying. I never had that "aha" moment of wanting to have a baby. (Do people have that?!)
How long did it take you to get pregnant? What did you do to increase your chances of pregnancy? 
My husband and I were fortunate in that I got pregnant very quickly.
Tell us how you found out you were pregnant. We'd love details!
I found out I was pregnant on a Tuesday in October of 2018, and I cried. They weren't happy tears. It almost pains me to say that now because Sunday has brought so much joy and adventure into my life, but I think it's important to be honest and normalize the often shocking, challenging transition to pregnancy and motherhood (even if you are trying to get pregnant, which we were!). It's a big change, and you don't know how you're going to feel about it until it happens.
🎁Shop The Get Pregnant Bundle ⟶
How did you care for your body while pregnant?
I've always been a very active person, and I'm lucky in that I was able to keep up with my fitness (in varying ways) up until the day I had Sunday. If you're someone who loves to work out, I think you just need to let go a little bit. You're not going to be able to go as fast. You might need to switch up your workouts from time-to-time. There are going to be things that you're not able to do (temporarily!). That can be hard for athletes to accept, but I've found that understanding the changes your body is going through (a huge uptick in blood volume, for example) can help you come to terms with the fact that your body is busy building a baby so it makes sense that you're more tired than usual.
What was your favorite part of pregnancy? Least favorite part?
I'll be the first to say that I don't love being pregnant. I especially didn't like my first pregnancy. There were so many unknowns! I didn't like the way it changed my body. I didn't like the emotional up and downs. I didn't like the way society tended to "view" it as an "all positive." I often felt alone in my pregnancy. But if it wasn't for that experience, I wouldn't have started Dear Sunday. This time around, I feel so grateful to have the resources I have and the community I do. I'm grateful that I have a better understanding of the normal range of emotions that you can feel during pregnancy and that it is one of the biggest life transitions that you'll arguably ever go through. This time around, things have been easier.
You talk about breastfeeding on Dear Sunday Motherhood. Tell us about your experience breastfeeding.
My mom didn't breastfeed, and I'm not someone who ever thought I would. I was open to the idea of it, though, and when Sunday was born I'm lucky that I had absolutely no issues. She latched on, and we never had a problem. I breastfed for ten months until I found that I was just too exhausted physically and emotionally to keep going so we switched to formula. Breastfeeding is an enormous physical and mental demand on new moms and often comes with so much stress. I always tell moms to just try to be open minded and address issues as they pop up. I feel for the moms who push through on their breastfeeding journeys despite issues like mastitis, low milk supply, latch issues, and more. I'm also a big believer in what's best for mom is best for the family and if breastfeeding is causing you distress, then you should feed your baby in a way that makes most sense for you.
How do you think about doing your best work while being a parent? Has that understanding shifted as a new mom?
I wrote an article recently for Parents.com and the headline is The Hostile, American Reality That Is Going Back to Work as a New Mom. I think that really sums up what "working moms" (in quotes because don't we all work?!) are up against when they return to their jobs. There's no way around it: It's hard. And right now, for many, it's next to impossible. It's frustrating to talk about this topic knowing that the US has so few policies in place for parents and so few support systems, but I think the best thing we can do is support each other as moms and band together when possible to try to make change. I think it's also important not to hide our motherhood in the workplace. It's okay for a client to know that your childcare leaves at 4 pm or that you have a sick child at home. In fact, it's necessary. By showing that being a parent is a part of our identity as a worker, I hope we can force some small changes throughout the working world. But if you're a "working mom" give the Parents.com piece a read—it's worth it!
Is there a larger vision that keeps you going, even when your motivation is down?
My daughter. My dad once told me that after he had kids, he thought, "Oh, so this is why you work so hard." I get what he means now. Ultimately, I want to be able to provide the best life possible for Sunday, but I also hope to enact change. Maybe by the time she has children (if she wants children) this country will have a paid government-sponsored maternity leave. That would be the dream.
What stigma(s) in women's health do you wish to lift the veil on?
Oh jeez, there are so many, starting with the glamorization of motherhood. Motherhood is wonderful, but it's wonderful and it's so many other things (like exhausting and daunting and confusing). By touting this unrealistic image of what it is to be pregnant or what it is to be a mother, we lead women to believe that the transition will be easy, and for many women, it's not. Through my writing and through Dear Sunday, I try to normalize an array of emotional experiences surrounding motherhood. Even knowing that someone else isn't loving every single part of every day is enough to help you feel less alone.
What advice do you have for other aspiring mamas? 
To try to drop your expectations and take everything new motherhood (which starts in pregnancy) as it comes. And to accept your experience! There were so many times I fought with feelings of ambivalence or guilt or confusion instead of accepting them and seeing them as a normal part of such a huge life transition. I also think, in the right safe spaces, it's important to be honest about how you're feeling—and to do the work to change the conversation surrounding pregnancy and new motherhood. If you're a nervous wreck about delivery and someone asks you that "oh my gosh, are you so excited?" question, it's okay to tell the truth. By doing so, you're both educating someone on a very real experience of what it's really like to become a mother, and you're being honest about how you're feeling, which can be cathartic.