Immediate Constipation Relief During Pregnancy: 5 Home Remedies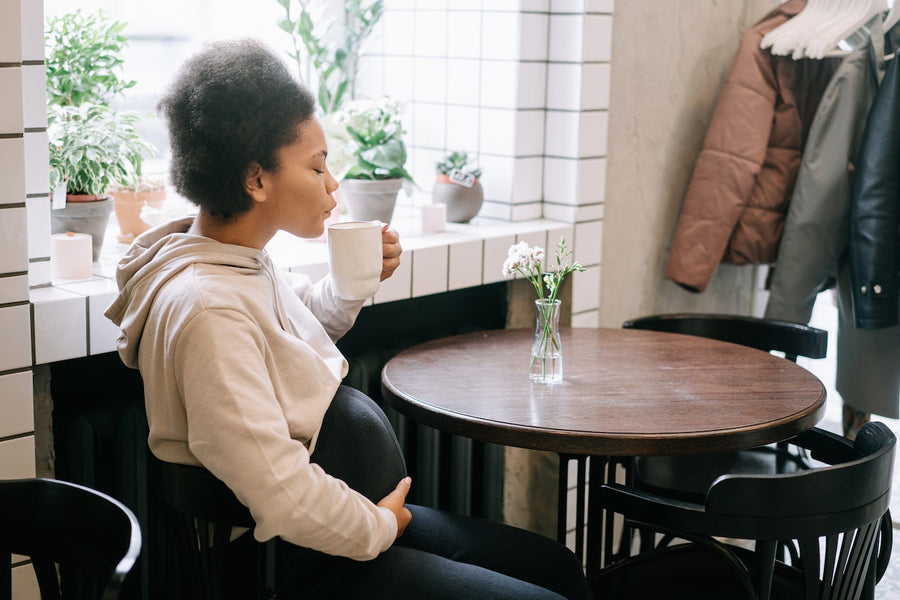 By Dr. Kenosha Gleaton, OBGYN
Are you pregnant and struggling to poop? You're not alone— constipation is common during pregnancy, occurring in up to 39% of pregnant people. [1] Constipation can lead to a lot of discomfort, including hemorrhoids or anal fissures. Let's talk a bit more about what causes constipation and how to find immediate relief during pregnancy. 
When Does Pregnancy Constipation Start?
Constipation may appear as early as the second or third month of pregnancy but is most often seen in the third trimester. [2] Constipation may be caused by a number of changes in the body brought on by pregnancy, such as hormonal changes, the growing fetus, and more. It's also normal for many newly postpartum people to experience constipation for a few weeks to a few months after giving birth. [2] 
How Do I Know If I'm Constipated?
Some people don't realize how common constipation actually is. Constipation doesn't always mean that you haven't pooped in multiple days, although that is one telltale sign. Some signs you may be constipated include [2]:
Having hard and lumpy stools 
Pain when passing stool
Straining to poop
Having a swollen and gassy stomach
You are only able to poop a few times a week
There are a few reasons someone may be experiencing pain during a bowel movement, decreased bowel movements, and other gastrointestinal symptoms. To be safe, you should always consult a healthcare provider about your symptoms to ensure you're getting the care you need. It's especially important that you speak to a healthcare provider if you're experiencing troubling symptoms for longer than a week. The good news is that constipation is very unlikely to harm your baby, even if it's unpleasant for you. [1-2] 
What Causes Constipation During Pregnancy?
There are a wide range of factors that can influence someone's bowel movements. This is especially true during pregnancy as the body changes both physically and physiologically to support a growing baby. When someone is pregnant, they will experience new and changing hormone levels, a growing uterus to support a growing fetus, a change in nutritional needs and vitamin intake, and much more. [1-2] 
Hormonal Changes
In order to support a healthy pregnancy, the body will begin to produce higher levels of the hormone progesterone. Progesterone plays an important role in supporting fetal development and smooth muscle relaxation, which has some pros and cons. While this is helpful for preventing early contractions and allowing the uterus to stretch, the bowels and intestines aren't able to work as hard as normal when attempting to pass waste through the body. [2] This can lead to harder stools and more difficulty having a bowel movement. 
Increased Iron Intake
Another potential cause of constipation during pregnancy is the increase in nutrient intake. Pregnant people are highly encouraged to take a prenatal vitamin supplement to boost their intake of vitamins and minerals. This is because the need for many nutrients is increased when growing and supporting a developing fetus. One ingredient that is extremely important for pregnancy is iron. While there are many benefits to having healthy iron levels, too much iron can actually make it difficult for the bowel to break down food. This can lead to a build-up of waste and constipation. [1-2] 
Pressure on the Bowel
In addition to increased levels of iron and hormones in the body, pregnancy also causes pressure on the bowel. When a fetus starts to grow, the uterus becomes heavier and pushes on the bowel. [1-2] This can make it difficult for waste to travel out of the body. 
Lifestyle Factors
Lastly, constipation may be caused or worsened by certain lifestyle factors. Healthy bowel movements are dependent on a healthy diet, fluid intake, exercise, and more. It's common for many pregnant people to fall short of their recommended fiber and water intake, which can make it difficult for the digestive system to move waste out of the body. [1-2] 

5 Home Remedies for Immediate Constipation Relief  
If you are experiencing constipation, you're probably interested in finding quick and easy relief from home. Fortunately, there are a few things you can try to encourage healthier bowel movements. 
Increase Fiber Intake
Fiber is an essential part of a healthy diet that plays a large role in our metabolism and heart health. There are two kinds of dietary fiber, known as soluble fiber and insoluble fiber. Soluble fiber mixes with water to slow digestion, while insoluble fiber acts as bulk to help food and waste pass through the gut. [3] It's recommended that pregnant people try to consume about 25 grams of fiber in their diet every day. Some good sources of fiber include apples, bananas, raspberries, whole-wheat products, lentils, and peas. [4] You may also be interested in fiber supplements to support digestion, but be sure to clear any new supplements with your provider. 
Drink More Fluids
While fiber can be extremely helpful for improving your bowel function, you also need plenty of fluids to help with digestion. Pregnancy requires even more fluid intake than the average person, so try to aim for up to 12 cups of water every day. [2,4] Water helps to soften stools, support digestion, support amniotic fluid formation, and more. If you get sick of water, try a nutritional alternative such as hydration electrolyte packets. Natalist offers a pregnancy-safe drink mix duo so you can support your fluid intake while getting additional vitamins and minerals. 
Increase Exercise
Moving around may sound like the last thing you want to do when you're pregnant, tired, constipated, bloated, the list goes on. While it may not sound like an appealing option, physical activity can actually be very beneficial for your digestion. You can stick to slow, easy movements, as long as you find a way to move your body some. In fact, research shows that simple exercises such as walking or yoga can improve constipation. [5-6] Be sure to check with a provider before attempting any new exercises while pregnant, especially if you're at a high risk for complications or premature labor. 
Decrease Your Iron Intake (With a Provider's Approval)
In some cases, it may be necessary to decrease the amount of iron you're consuming.  While iron is beneficial for pregnancy, you may want to opt for a prenatal vitamin with a little less iron to better support your digestion. [2] Ask your provider what they recommend for you based on your health history, iron levels, diet, and more. Alternative prenatal options like a prenatal gummy vitamin may be helpful. 
Pregnancy-Safe Laxatives
When all else fails, laxatives and stool softeners may be useful for treating constipation. Not all medications are safe for use while pregnant, so be sure to check with your healthcare provider before taking any new medications or supplements. Some options that are considered safe for use while pregnant include [1,7]:
Bulk-forming agents such as psyllium, polycarbophil, and methylcellulose
Stool softeners such as docusate sodium
Lubricant laxatives such as mineral oil
Osmotic laxatives, including lactulose and polyethylene glycol
Stimulant laxatives such as bisacodyl 
It should be noted that side effects are possible with these laxatives and long-term use is not recommended. 
In addition to over-the-counter laxatives, some foods or supplements have been shown to encourage healthy digestion and constipation relief. These include probiotics, prunes, coffee, and others. [8-10] Curious about trying the coffee method? Learn how much caffeine is safe during pregnancy. 
Natalist Pregnancy Safe Relief
Constipation is just one of many uncomfortable symptoms that can arise during pregnancy. Whether you're experiencing morning sickness, round ligament pain, cramping, swelling, or other symptoms, you deserve products that are effective, evidence-backed, and pregnancy-safe. At Natalist, we're proud to offer self-care items and supplements that are designed to put a little more TLC into the TTC and pregnancy journey. Shop pregnancy self-care products, or explore more topics on the Natalist blog. 
References:
Trottier M, Erebara A, Bozzo P. Treating constipation during pregnancy. Can Fam Physician. 2012;58(8):836-838.
Pregnancy Constipation. Cleveland Clinic. October 2021. https://my.clevelandclinic.org/health/diseases/21895-pregnancy-constipation 
Health benefits of dietary fibers vary. NIH's National Institute of Diabetes and Digestive and Kidney Diseases (NIDDK), National Center for Complementary and Integrative Health (NCCIH), and Office of the Director (OD). May 2022. https://www.nih.gov/news-events/nih-research-matters/health-benefits-dietary-fibers-vary 
What can help with constipation during pregnancy? ACOG October 2020. https://www.acog.org/womens-health/experts-and-stories/ask-acog/what-can-help-with-constipation-during-pregnancy
Gao R, Tao Y, Zhou C, et al. Exercise therapy in patients with constipation: a systematic review and meta-analysis of randomized controlled trials. Scand J Gastroenterol. 2019;54(2):169-177. doi:10.1080/00365521.2019.1568544
Shree Ganesh HR, Subramanya P, Rao M R, Udupa V. Role of yoga therapy in improving digestive health and quality of sleep in an elderly population: A randomized controlled trial. J Bodyw Mov Ther. 2021;27:692-697. doi:10.1016/j.jbmt.2021.04.012
Wick, M. Is it safe to take stool softeners to treat pregnancy constipation? Mayo Clinic. May 2022. https://www.mayoclinic.org/healthy-lifestyle/pregnancy-week-by-week/expert-answers/pregnancy-constipation/faq-20058550
Iriondo-DeHond A, Uranga JA, Del Castillo MD, Abalo R. Effects of Coffee and Its Components on the Gastrointestinal Tract and the Brain-Gut Axis. Nutrients. 2020;13(1):88. Published 2020 Dec 29. doi:10.3390/nu13010088
Lever E, Cole J, Scott SM, Emery PW, Whelan K. Systematic review: the effect of prunes on gastrointestinal function. Aliment Pharmacol Ther. 2014;40(7):750-758. doi:10.1111/apt.12913
Obuchowska A, Gorczyca K, Standyło A, et al. Effects of Probiotic Supplementation during Pregnancy on the Future Maternal Risk of Metabolic Syndrome. Int J Mol Sci. 2022;23(15):8253. Published 2022 Jul 26. doi:10.3390/ijms23158253
Shop Products From This Article
Subscribe & Save $2.00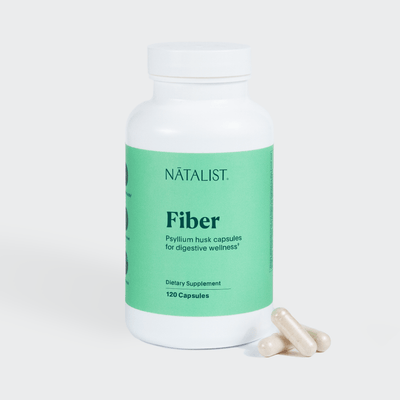 Prebiotic for digestive health
$23
Subscribe & Save $3.00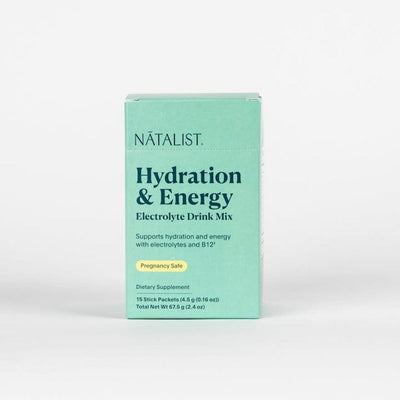 Caffeine-free & sugar-free energy support‡
$32