Pregnancy Symptoms 7 Days After Embryo Transfer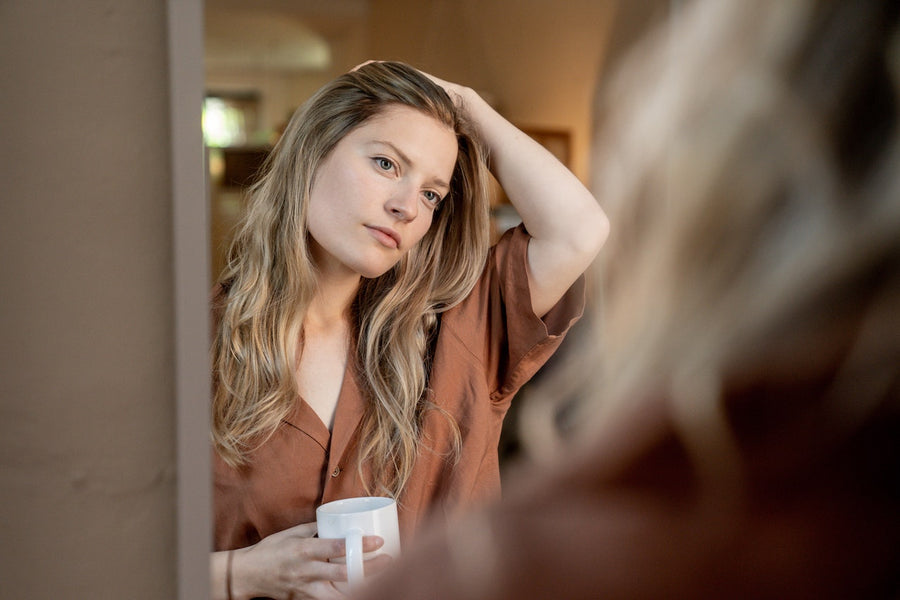 The embryo transfer, a significant step in the process of in vitro fertilization (IVF), is an experience marked by a blend of hope, anticipation, and anxiety. It signifies the culmination of multiple visits to the fertility clinic, countless hormone injections, and the emotional roller coaster that is IVF. The moment when one or several embryos are placed into your womb carries the profound hope of a potential life and the beginning of a new chapter in your journey toward parenthood.
But let's be real. The days following the embryo transfer, leading up to the pregnancy test, go by so slowly. When you're so eager to know if the transfer worked or not, you may be analyzing every slight change in your body. In this guide, we'll share some of the earliest pregnancy symptoms you may notice soon after your embryo transfer. 
Early Pregnancy Symptoms
Now that the waiting game has begun, you may be acutely attentive to any changes in your body, wondering if they could indicate successful implantation. It's essential to understand that every person's body is different, and there is no guarantee that everyone will experience noticeable symptoms early on, especially as early as 7 days post-transfer. [1-2] That being said, some of the earliest signs of pregnancy include [1-2]:
Implantation bleeding: Spotting or implantation bleeding may occur once the embryo has implanted in the lining of the uterus. This is usually lighter than a regular period and may be small drops of blood or brown-tinged discharge. Spotting may last for a few days to a few weeks. 
Tender breasts: Hormonal changes can lead to larger, more tender breasts. Your nipples may also stick out more.
Frequent urination: Pregnancy causes an increased blood supply, which results in more frequent urination.
Fatigue: You might feel more tired than usual as a result of progesterone levels increasing.
Nausea and vomiting: Commonly known as 'morning sickness,' nausea and vomiting can actually happen at any time of the day and may begin very early on during pregnancy. (Check out Natalist Anti-Nausea Gummies!)
Changes in appetite: You may have specific food cravings or a decreased appetite.
Digestive issues: Heartburn, indigestion, bloating, excess gas, and constipation can be early signs of pregnancy due to changes in hormones.
Weight fluctuation: You may gain or lose a few pounds, but significant weight changes are more common later in pregnancy. 
Many of these symptoms could also be related to the hormone medications used during IVF, making them unreliable as sole indicators of successful implantation. [3] So while it's easy to get hopeful and excited about symptoms, the best way to confirm pregnancy is through a urine or blood pregnancy test. [4]
What Are the Success Rates for an Embryo Transfer?
It's helpful to set your expectations by knowing more about the chances of implantation. There are many factors that determine if an embryo will implant, including maternal age, egg quality, and others. [5] Shady Grove Fertility reports that women under 35 years of age have over a 60 percent chance of pregnancy per transfer. [6] CCRM Fertility, another fertility clinic, reports pregnancy rates of 63-70% from transfers of frozen embryos that have been genetically tested and deemed chromosomally normal. [7] 
In addition to genetic testing, there is a strong correlation between blastocyst morphology and implantation and live birth. [8] The morphology of an embryo is the shape or appearance of cells in the embryo. There are a few embryo grading systems, but most can be bucketed into "good," "fair," and "poor." [8]
One observational study of 1,766 single embryo transfers showed that [8]:
Embryos graded as "Good" had an implantation (pregnancy) rate of 55% and a birth rate of 46.8%
Embryos graded as "Fair" had an implantation (pregnancy) rate of 47.2% and a birth rate of 39%
Embryos graded as "Poor" had an implantation (pregnancy) rate of 43.6% and a birth rate of 34.1%
The Ultimate Symptom: A Positive Pregnancy Test
After the transfer of an embryo, it takes a few days for the embryo to attach to the endometrial lining. [2] After implantation, a woman's body begins to produce human chorionic gonadotropin (hCG), also known as the "pregnancy hormone", from cells in the developing placenta. [9] 
Pregnancy is sometimes detected by early home pregnancy tests as soon as five days after a transfer of a Day 5 embryo. [10] To detect pregnancy as early as possible, you'll want to use a high-sensitivity test like the Natalist Pregnancy Test. 
I do want to note that in my experience, some clinics may ask that you wait for a pregnancy blood test (β-hCG, or "beta") to test for pregnancy instead of taking an at-home pregnancy test.
Keep in mind if you test at home and get a negative, there's still a chance you are pregnant so don't go off your medication regimen! [11] The blood pregnancy test at your clinic will give you the official confirmation. 
The "beta" is the blood test you will take roughly 10 days after the transfer. Beta hCG (aka β-hCG) is a quantitative serum test (done by your fertility clinic or a lab) to determine the level of hCG hormone present in your blood. [12] Serum β-hCG is proportional to the number and activity of the trophoblastic cells, and research shows that a higher serum β-hCG level is associated with positive pregnancy outcomes and IVF success. [13] 
Unfortunately, a positive pregnancy test result doesn't always lead to a live birth. One study found that women who underwent IVF miscarried almost 22% of the time. [14] Another study of 468 transfer cycles in one university clinic in the US found that 59% of Day 5 single-embryo transfers resulted in a pregnancy, but only 51.7% resulted in a live birth. [15] That means that of those who got a confirmed pregnancy result, 12% miscarried. I don't share these statistics to scare you, but rather to help you maintain realistic expectations of IVF outcomes. 
Summing It Up
The journey to parenthood through assisted reproduction like IVF can be deeply personal, emotional, and at times, challenging. The days following the embryo transfer, filled with anticipation and hope, can also be a period of anxiety as you keenly observe your body for signs of early pregnancy. These signs, however subtle, can ignite a sense of excitement and promise of a new beginning.
Remember, the symptoms listed above are not definitive proof of pregnancy and can also be linked to the fertility medications administered during IVF. While it's natural to watch for these signs, try to avoid placing undue stress on yourself. 
Each person's journey through IVF and early pregnancy is unique and unfolds in its own time. It's important to be patient with yourself and your body as you navigate this transformative period. Lean on the support of your healthcare team, loved ones, and community resources to help navigate any questions or anxieties you may have during this phase.
Remember, this journey is not just about the destination, but also about the courage, resilience, and strength you've displayed in choosing this path to parenthood. The seven-day wait post-embryo transfer is a testament to the immense hope and determination that you carry within you, painting a beautiful narrative of love and longing.
May the hope that brought you this far continue to light your way forward, and may your journey to parenthood be filled with moments of joy, growth, and inner peace.
Sources:
Changes During Pregnancy. ACOG. Accessed June 2023. URL. 
Am I Pregnant? Cleveland Clinic. July 26 2022. Accessed July 2023. URL. 
Human Chorionic Gonadotropin, HCG injection. Cleveland Clinic. Accessed July 2023. URL. 
Anderson J, Ghaffarian KR. Early Pregnancy Diagnosis. [Updated 2023 Jan 2]. In: StatPearls [Internet]. Treasure Island (FL): StatPearls Publishing; 2023 Jan-. Available from: https://www.ncbi.nlm.nih.gov/books/NBK556135
Zargar M, Dehdashti S, Najafian M, Choghakabodi PM. Pregnancy outcomes following in vitro fertilization using fresh or frozen embryo transfer. JBRA Assist Reprod. 2021;25(4):570-574. Published 2021 Oct 4. doi:10.5935/1518-0557.20210024
Frequently Asked Questions about Frozen Embryo Transfers. Shady Grove Fertility. September 18, 2020. Accessed May 2023. URL
CCRM Fertility Success Rates. CCRM Fertility. Accessed May 2023. URL
Bouillon C, Celton N, Kassem S, Frapsauce C, Guérif F. Obstetric and perinatal outcomes of singletons after single blastocyst transfer: is there any difference according to blastocyst morphology? Reprod Biomed Online. 2017;35(2):197-207. doi:10.1016/j.rbmo.2017.04.009
Fournier T. Human chorionic gonadotropin: Different glycoforms and biological activity depending on its source of production. Ann Endocrinol (Paris). 2016;77(2):75-81. doi:10.1016/j.ando.2016.04.012
Chard T. Pregnancy tests: a review. Hum Reprod. 1992;7(5):701-710. doi:10.1093/oxfordjournals.humrep.a137722
Priyadarshini S, Manas F, Prabhu S. False Negative Urine Pregnancy Test: Hook Effect Revealed. Cureus. 2022;14(3):e22779. Published 2022 Mar 2. doi:10.7759/cureus.22779
Fournier T, Guibourdenche J, Evain-Brion D. Review: hCGs: different sources of production, different glycoforms and functions. Placenta. 2015;36 Suppl 1:S60-S65. doi:10.1016/j.placenta.2015.02.002
Wang Z, Gao Y, Zhang D, Li Y, Luo L, Xu Y. Predictive value of serum β-human chorionic gonadotropin for early pregnancy outcomes. Arch Gynecol Obstet. 2020;301(1):295-302. doi:10.1007/s00404-019-05388-2
Philippe Tummers, Paul De Sutter, Marc Dhont, Risk of spontaneous abortion in singleton and twin pregnancies after IVF/ICSI, Human Reproduction, Volume 18, Issue 8, 1 August 2003, Pages 1720–1723, https://doi.org/10.1093/humrep/deg308
Kaye L, Will EA, Bartolucci A, Nulsen J, Benadiva C, Engmann L. Pregnancy rates for single embryo transfer (SET) of day 5 and day 6 blastocysts after cryopreservation by vitrification and slow freeze. J Assist Reprod Genet. 2017;34(7):913-919. doi:10.1007/s10815-017-0940-4