Everything You Need to Know About POAS (Peeing on a Stick): Pregnancy Test FAQ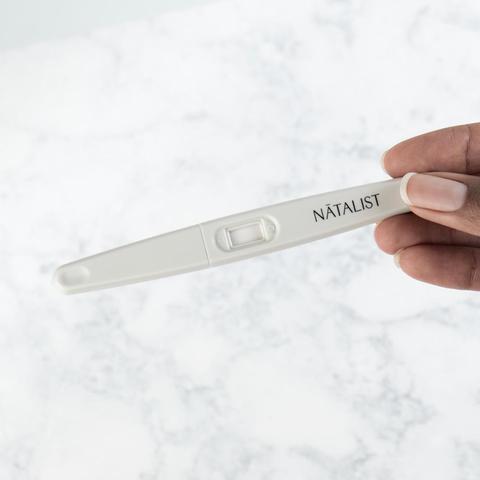 You've got questions, and we've got answers. In this guide, we'll answer the most common questions we get about taking at-home pregnancy tests.
By fertility expert and OBGYN Dr. Kenosha Gleaton
How to Take a Pregnancy Test
Not only can taking a pregnancy test be an emotional experience, but it can be confusing too.  We've compiled a list of common questions and misconceptions so you can be confident that you're getting an accurate pregnancy test result.
Can You Pee on a Pregnancy Test Wrong? 
You sure can. But not all pregnancy tests are as easy to use as the Natalist Pregnancy Test! You need to make sure you're saturating the absorbent tip or strip of the pregnancy test in order to increase your chances of getting an accurate result. 
Regardless of the test, it's important to follow the directions to ensure you're using the test correctly.
Should I Dip My Pregnancy Test or Pee On It?
If you have a midstream test (like the Natalist Pregnancy Test)—you can do either! As long as the absorbent tip is being fully saturated in urine, and the test window isn't getting wet, you are doing it right. Most people prefer peeing directly on a midstream test, but there are people who prefer to dip the test in a cup of urine.
Test strips, on the other hand, are not designed to be peed on directly. With HCG test strips, you'll want to pee in a cup and dip the test strip in the cup to get an accurate result. If you try to pee directly on the strip, the results may be blurry or invalid. 
Can You Hold a Pregnancy Test in Urine Too Long?
A common misunderstanding surrounding pregnancy tests is that the longer you leave a test in urine, the more accurate the results will be. While you do want to ensure that the test is fully saturated, it's important to follow the instructions carefully, or you might be left with an inaccurate result. 
When using a Natalist pregnancy test, you should pee on the tip or hold the tip in urine for five to 10 seconds, then place the cap back on the test and read the results within five to 15 minutes. 
Can You Use Pee in the Toilet for a Pregnancy Test?
Dipping a pregnancy test in the toilet isn't a great idea. That's because the water in the toilet will dilute the urine, and thus, it might not pick up any hCG (pregnancy hormone) that is present. This means you may get a negative result even if you are pregnant!
Is the Pregnancy Test Window Waterproof?
The test window is not waterproof. Make sure you don't get urine in the window or it could blur results or cause an evaporation line.
I Peed on the Test Result Window, Does it Affect the Result?
It happens! As we stated above, the test window isn't waterproof, so it's possible you could get an inaccurate result. Try taking another test (use a cup and dip the test if that's easier!) to ensure you're getting accurate results. 
Can I Use an Expired Home Pregnancy Test?
I wouldn't trust the results on an expired pregnancy test, especially if it's been over a year since expiration. That's because the antibodies inside an at-home pregnancy test that react to hCG (the pregnancy hormone) will eventually evaporate and become ineffective. An expired test could give you a false negative, a negative result when you are in fact pregnant. If you need an answer now, toss the expired test and grab one at Target or online. 
Does Pregnancy Test Sensitivity Matter?
A pregnancy test's sensitivity will dictate how early a positive result will show up. A low number means a test is more sensitive. But it also means it is more likely to detect false positive results. Natalist's Pregnancy Tests are highly sensitive- detecting 10 mIU/mL and are over 99% accurate!  
I Have More Questions
We'd love to help! Email us @ support@natalist.com