How To Fix Hormonal Imbalances in 3 Ways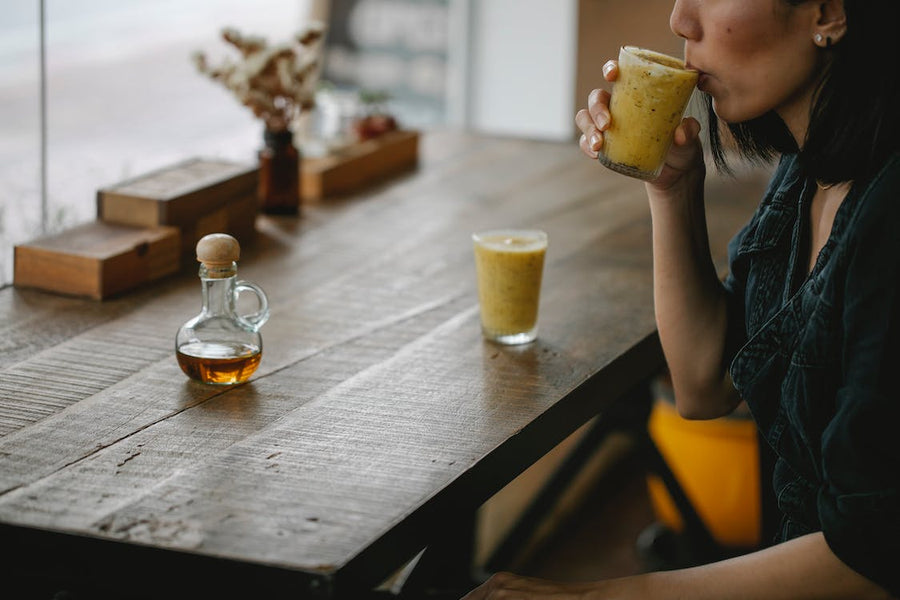 Originally published 12/22/2022. Updated for accuracy and relevancy on 09/06/2023.
Hormonal imbalances can cause a number of issues for both men and women. Read on to learn how to support hormone balance. 
By OBGYN Dr Kenosha Gleaton
Hormones rule our body in more ways than one. They are vital components of sleep, reproductive health, hair and skin, organ systems, and so much more. The effects of a hormone imbalance are widely spread throughout the body and can lead to infertility, digestive problems, mood swings, and more. Here's your guide on hormones, hormonal imbalances, and three ways to fix them. 
Hormones 101
Hormones are powerful chemicals in your body that act as messengers, coordinating many different bodily processes. Hormones are created from endocrine glands and are responsible for the proper functioning of our metabolism, sexual function, mood, homeostasis, sleep, and more. [1] A few endocrine glands you may recognize are the thyroid, pancreas, pituitary, testes, and ovaries. 
There are over 50 known hormones in the human body. [1] Even a small change in hormones can cause a chain reaction throughout your cells, organs, and organ systems. Usually you will notice a hormonal imbalance because of a wide range of symptoms. First, let's talk about why they happen.
What Causes a Hormone Imbalance?
A hormonal imbalance can occur when someone has too little or too much of one or more hormones. [2] Hormones fluctuate throughout our lives and especially during the menstrual cycle, puberty, menopause, and pregnancy. [2] 
Lifestyle Factors
Underlying Conditions
The following endocrine disorders and hormone-related conditions can impact hormone balance:
Cushing's Syndrome
Hypothyroidism
Hyperthyroidism
Polycystic Ovary Syndrome (PCOS)
Hashimoto's disease
Hormonal imbalances can be temporary and some can be chronic. Sometimes treatment may be required, while other times your hormones may be able to balance themselves out with the help of certain supplements or lifestyle changes. If you're concerned about a hormonal imbalance or endocrine disorder, be sure to talk to your healthcare provider.
Symptoms of Hormonal Imbalances
There are many medical conditions that can cause or may be caused by hormonal imbalances. Usually you will notice symptoms of irregular hormone levels fairly quickly, sometimes these symptoms can be inconvenient but not harmful, whereas some symptoms can severely impact your health and quality of life. Sometimes imbalances can go away on their own, others may require treatment. Here are some common symptoms [2]:
Irregular periods
Infertility
Acne
Weight fluctuations
Hair loss
Fatigue
Digestive problems
Mood swings
There are countless other symptoms that could arise due to hormonal imbalances. Having over 50 hormones in the human body means that there are many bodily functions that can be impacted and you could experience several different symptoms at once. There are also many other conditions that may cause the symptoms mentioned above. If you notice any unexplained changes or are concerned about a hormonal imbalance, you may want to test your hormone levels and talk to your doctor about your concerns. Learn more about hormones testing for fertility. 
How to Fix Hormonal Imbalances
If you are experiencing a hormonal imbalance, you  should find a way to level your hormones out to optimize your body's function While there isn't a cure-all for maintaining balanced hormones, there are a few things you could try.
1. Diet and Supplements
Maintaining a balanced diet full of necessary vitamins and minerals is key to maintaining overall health. A healthy diet is one that includes lean and healthy sources of protein, healthy fats, fiber, plenty of fruits and vegetables, and minimal sugar intake. Studies show that some specific nutrients can play a huge role in balancing certain hormones or targeting specific hormonal imbalances. [3] 
Inositol
Inositol may be a great option for anyone struggling with irregular periods, irregular ovulation, insulin resistance, and some fertility related hormonal imbalances. Inositol's effects on insulin signaling impact levels of hormones such as testosterone, insulin, and others. [4] Inositol is found in foods such as fruits, beans, grains, and nuts. You can also take an inositol supplement to support cycle regularity. 
Vitamin D 
A recommended supplement for TTC, pregnancy, and general wellbeing, vitamin D is actually considered to be a multifunctional hormone because of all its effects on the body. [5] Studies show that vitamin D supplementation may increase chances of conception and increase AMH levels in some women. [6-7] We get vitamin D from sun exposure, egg yolks, fish, and fortified foods. 
Magnesium
Magnesium is a powerful micronutrient that plays an important role in our nervous system, insulin release, and releasing and balancing hormones. [8] Magnesium is found in foods such as dark leafy greens, seeds, legumes, and avocados. Try Magnesium Plus drink mix for a great tasting way to support relaxation, calcium absorption, and bone health. 
Omega 3s 
Omega 3 fatty acids are healthy fats that can benefit the body in many ways. Our body uses these fats to prevent ADHD, depression, and decrease inflammation. [9-10] Studies have also shown that foods containing omega 3 fatty acids may be able to balance hormones and control symptoms of PCOS. [11] Omega 3s have to be consumed through supplements and foods, such as salmon, sardines, anchovies, walnuts, seeds, and egg yolks. 
2. Lifestyle Changes
On top of prioritizing a well rounded diet, many other parts of our daily routines and lifestyles can have a large impact on hormones and hormone signals. 
Stress Reduction
While it's easier said than done, we could probably all benefit from lowering our stress levels. High stress levels can have many negative effects on the body, including hormones. [12-13] Whether it's learning to ask for help more often, finding ways to stay organized, or letting yourself say no to things more frequently, decreasing and managing daily stress can do great things for your health. 
Improved Sleep
Sleep is an important factor in hormonal balance and regulation. [14] Hormone levels rise and fall throughout the day based on your sleep cycle, and if you aren't getting enough restful sleep at night, you could be severely impacting your hormone signaling throughout the day. 
3. Medical Intervention
Medical interventions may be necessary for some hormonal imbalances. Whether you have too much or too little of one or more hormones, your doctor may decide that medical treatment is necessary. 
Hormone Replacement Therapy
There are oral medications including estrogen and progesterone pills that may be prescribed by a doctor. You may also be prescribed injections for some hormone replacement. Speak with your healthcare provider about any questions or concerns.
Surgery
While this isn't the first solution for most, there are times when surgery, radiation therapy, or a combination of medical interventions could be necessary. This may be an option if the hormonal imbalance is caused by a tumor or another medical condition. Speak with your healthcare provider about your situation.
Supporting Hormone Balance
Oftentimes there isn't much you can do to prevent hormonal imbalances, however, maintaining good overall health is a great start. Incorporating healthy habits can help keep your hormones balanced and help you rule out other potential causes if you do start to notice symptoms of imbalance or endocrine disorders. 
Healthy habits to maintain or add to your routine include eating a balanced diet, exercising regularly, getting plenty of sleep, limiting alcohol and tobacco, and finding ways to manage stress levels. It's also helpful to avoid EDCs, or endocrine disrupting chemicals. These are chemicals that can have many negative effects on the body due to their ability to interfere with our natural hormones. EDCs can block hormones from working properly, or can trick the body into thinking they're hormones. This may result in an increase or decrease in some hormones. The best way to avoid EDCs is to check your household products for common EDCs such as phthalates, BPA, and others. 
If you're curious about your hormone levels, try an at-home testing kit or schedule an appointment with your doctor. 
Key Takeaways
Hormones are powerful chemicals in the body that act as messengers, coordinating many different bodily processes.
There are over 50 known hormones in the human body.
Hormones fluctuate throughout our lives and especially during the menstrual cycle, puberty, menopause, and pregnancy.
Other circumstances such as cancer, stress, medications, endocrine disorders, and more, can cause hormone imbalances.
There are many symptoms of hormonal imbalances, including acne, infertility, hair loss, weight fluctuations, etc.
Some supplements such as inositol, vitamin D, omega-3 fatty acids, and magnesium can support hormone regulation.
Stress reduction, adequate sleep, and avoiding damaging EDCs can be helpful in hormone balancing.
References:
Hormones. Cleveland Clinic. February 2022. URL. 
Hormonal Imbalance. Cleveland Clinic. April 2022. URL. 
Nutrition and Impacts on Hormone Signaling. Institute for Functional Medicine. URL. 
Unfer V, Facchinetti F, Orrù B, Giordani B, Nestler J. Myo-inositol effects in women with PCOS: a meta-analysis of randomized controlled trials. Endocr Connect. 2017;6(8):647-658. doi:10.1530/EC-17-0243
Ellison DL, Moran HR. Vitamin D: Vitamin or Hormone?. Nurs Clin North Am. 2021;56(1):47-57. doi:10.1016/j.cnur.2020.10.004
Jukic AMZ, Wilcox AJ, McConnaughey DR, Weinberg CR, Steiner AZ. 25-Hydroxyvitamin D and Long Menstrual Cycles in a Prospective Cohort Study. Epidemiology. 2018;29(3):388-396. doi:10.1097/EDE.0000000000000804
Moridi I, Chen A, Tal O, Tal R. The Association between Vitamin D and Anti-Müllerian Hormone: A Systematic Review and Meta-Analysis. Nutrients. 2020;12(6):1567. Published 2020 May 28. doi:10.3390/nu12061567
Kolanu BR, Vadakedath S, Boddula V, Kandi V. Activities of Serum Magnesium and Thyroid Hormones in Pre-, Peri-, and Post-menopausal Women. Cureus. 2020;12(1):e6554. Published 2020 Jan 3. doi:10.7759/cureus.6554
Simopoulos AP. Omega-3 fatty acids in inflammation and autoimmune diseases. J Am Coll Nutr. 2002;21(6):495-505. doi:10.1080/07315724.2002.10719248
Strickland AD. Prevention of cerebral palsy, autism spectrum disorder, and attention deficit-hyperactivity disorder. Med Hypotheses. 2014;82(5):522-528. doi:10.1016/j.mehy.2014.02.003
Ouladsahebmadarek E, Khaki A, Khanahmadi S, Ahmadi Ashtiani H, Paknejad P, Ayubi MR. Hormonal and metabolic effects of polyunsaturated fatty acid (omega-3) on polycystic ovary syndrome induced rats under diet. Iran J Basic Med Sci. 2014;17(2):123-127.
Yaribeygi H, Panahi Y, Sahraei H, Johnston TP, Sahebkar A. The impact of stress on body function: A review. EXCLI J. 2017;16:1057-1072. Published 2017 Jul 21. doi:10.17179/excli2017-480
Ranabir S, Reetu K. Stress and hormones. Indian J Endocrinol Metab. 2011;15(1):18-22. doi:10.4103/2230-8210.77573
Kim TW, Jeong JH, Hong SC. The impact of sleep and circadian disturbance on hormones and metabolism. Int J Endocrinol. 2015;2015:591729. doi:10.1155/2015/591729