How to Treat Itchy Stretch Marks During Pregnancy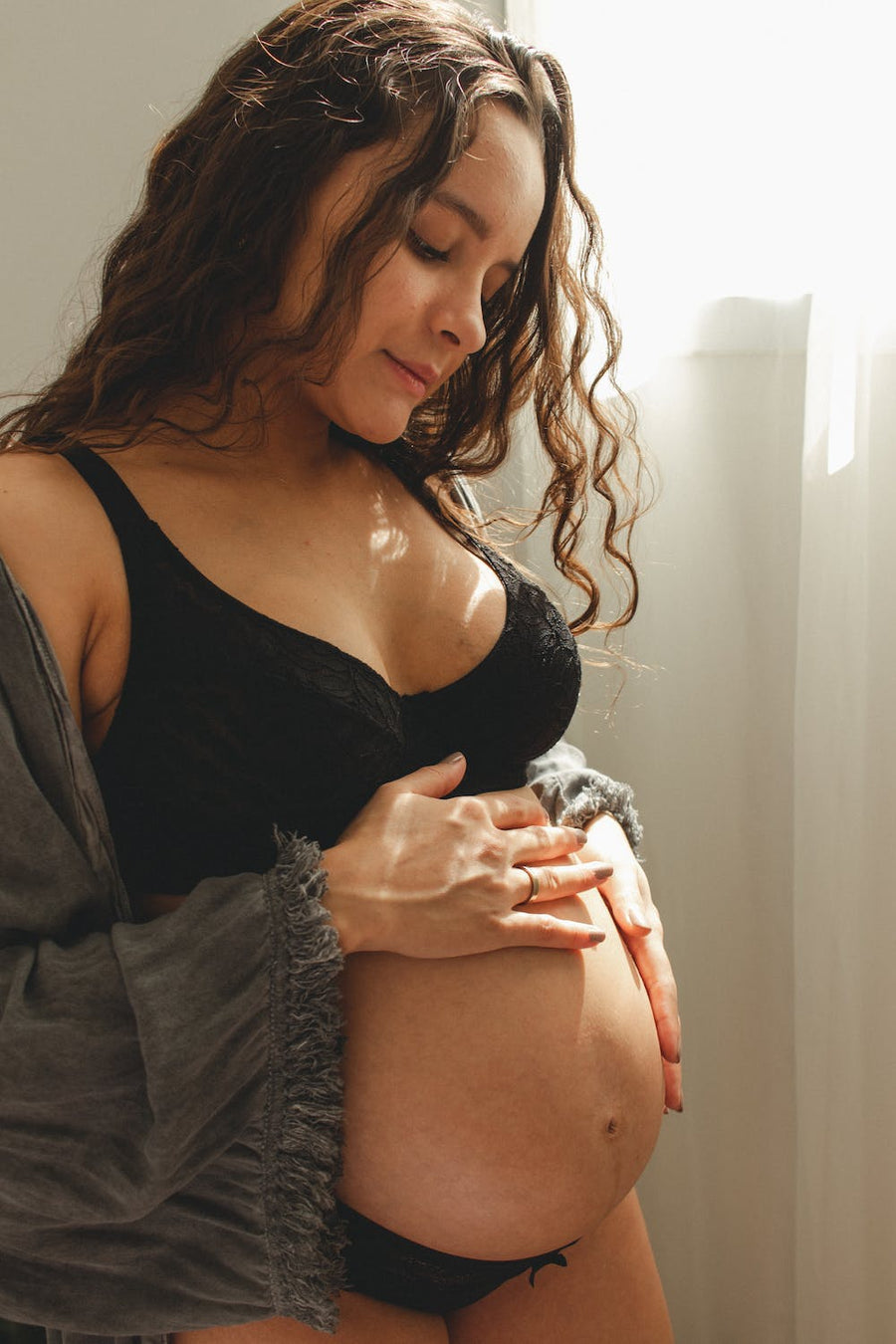 By OBGYN Dr. Kenosha Gleaton
Did you know that between 50% and 90% of all pregnant people develop stretch marks? [1] There are a lot of bodily changes occurring during and after pregnancy, including stretch marks, dry skin, brittle nails, hair loss, and more. Fortunately, we know that most of these changes are temporary and will get better with time. If you're experiencing itchy stretch marks during pregnancy, you're not alone. Let's talk about what causes them and how you can treat them at home. 
What causes stretch marks in pregnancy?
There are multiple layers of skin known as the epidermis, dermis, and hypodermis. The dermis is the middle layer of the skin, making up 90% of the skin thickness, and contains hair follicle roots, produces sweat and oil, nerve receptors, and important proteins known as collagen and elastin. [2] Collagen and elastin are responsible for keeping the skin, tissues, and organs resilient and flexible. When the skin stretches or shrinks rapidly as a result of weight or muscle fluctuations, medical conditions, pregnancy, etc., the elastin and collagen break and have to reorganize and heal. [3] This causes striae, AKA stretch marks, to form. 
There are a few different types of stretch marks classified by cause or appearance. The stretch marks that appear during pregnancy include [3]:
Striae distensae: Stretch marks that form as a result of stretched skin.
Striae gravidarum: Stretch marks seen during or following pregnancy.
Striae rubrae: These are new stretch marks and are usually red or pink.
Striae albae: These are old or mature stretch marks that have faded and are usually white. 
Striae nigra: This is also known as the linea nigra or pregnancy line, and is a dark vertical line seen in the center of the stomach.
Is it Normal for Pregnancy Stretch Marks to be Itchy?
It is normal to experience itchy stretch marks during pregnancy. Stretch marks are a natural result of growing a pregnant belly and the stretching of the skin can lead to itchiness. [4] This is partly due to the oil glands in the skin being stretched, making them unable to properly moisturize the skin. [4] The stomach or skin may also itch during pregnancy as a result of skin conditions, diseases, dehydration, and more. I go into more detail about combatting dry skin during pregnancy on the Natalist blog →
Soothing Remedies for Itchy Stretch Marks
Depending on the actual cause of your itchiness, there are some treatment methods that can help.
Keep your skin hydrated
If you are experiencing itchy skin or itchy stretch marks, keeping the skin moisturized is your best bet for reducing discomfort. [5] This can be done through applying pregnancy-safe lotions and products (like Natalist Belly Oil) that contain ingredients such as coconut oil, shea butter, argan oil, etc. [6] This can help replenish the fluid and hydration lost from the oil glands being stretched and unable to properly moisturize the skin. You may also benefit from drinking more water to help with hydration. While not widely studied, some research suggests that aloe vera and sweet almond oil can reduce itching and may even slow the progression of striae formation. [12] These are both considered safe for use during pregnancy, but you should check with your healthcare provider before use. [14-15] 
Cooling agents and other topical drugs
Research has shown that applying cooling agents such as mint oils and calamine can provide remarkable itching relief. [5] These are considered safe and effective therapies during pregnancy and work by stimulating nerve fibers in the skin. Natalist Cooling Cream is packed with anti-inflammatory ingredients formulated for swelling relief and contains hydrating and cooling ingredients like peppermint oil, aloe vera, and water to support itchy or dry skin. 
Other drugs to speak to your healthcare provider about include topical anesthetics and topical steroids. [5] 
Systemic drugs
Other options for itching relief include systemic drugs, which work throughout the body rather than at the direct site of the itching. You may want to consider using systemic drugs after attempting to moisturize the skin and using topical drugs. [5] The American College of Allergy, Asthma and Immunology (ACAAI) and the American College of Obstetricians and Gynecologists (ACOG) both recommend antihistamines such as chlorpheniramine and tripelennamine for use during pregnancy. [5] Steroids may also be an option if itching cannot be controlled through other medications. Keep in mind that you should still speak with a healthcare provider before taking any medications during pregnancy. 
Preventive Measures to Minimize Stretch Marks and Itchiness
The short answer is there are no proven remedies to prevent or "cure" stretch marks. [7] Stretch marks are a normal and natural part of having a growing body, occur in a majority of pregnancies, and are nothing to be ashamed of. [1] That being said, it's not ideal having to manage itchy or dry skin during pregnancy, which is why most research recommends keeping the skin properly hydrated. To support skin elasticity, drinking plenty of water and taking collagen peptides may help. [1,8,9] Although it's not a guarantee, some research suggests that collagen supplements may impact the appearance of stretch marks and the regeneration of skin. [8-9] 
When to Consult a Healthcare Professional
It is normal to experience itchy skin and stretch marks during pregnancy, but anything causing you discomfort or stress should be brought up with a healthcare provider. There may also be underlying problems contributing to your dry skin or discomfort, so consulting with a professional is the best way to proceed.
Signs of infection or complications
Dry or cracked skin increases your risk of infection, which should be taken very seriously. [10] If you notice signs of an infection or are experiencing any new or strange symptoms, you should consult with a healthcare provider. Signs of an infection or underlying condition include:
A rash or raised skin
Fever
Chills or sweating
Sore throat or inflamed lymph nodes
Congestion
Shortness of breath
Redness, soreness, or swelling
Pus or cloudy fluid coming from a scratch or wound
Itchiness interfering with daily life
You should also speak to a healthcare professional if the itchiness is causing you to lose sleep or focus on your daily activities. If you're not getting any relief from keeping the skin hydrated and using topical cooling products, prescription medications or creams may be needed. [4] You may also have pruritic urticarial papules and plaques of pregnancy (PUPPP), cholestasis of pregnancy, or another condition affecting pregnancy. [11,13] Cholestasis and PUPPP can cause itching and may result in other uncomfortable symptoms or increase your risk of complications. [11,13] While some conditions can go away on their own, it can be helpful to have a healthcare provider's guidance on treatment and management. 
Embrace Your Changing Body with Natalist
Pregnancy and postpartum are periods of rapid transformation in the body and come with both pleasant and unpleasant changes. Natalist believes every reproductive moment is worthy and has the information, products, and support you need from preconception to postpartum. If you're experiencing itchy or dry stretch marks, know that you aren't alone. Belly Oil and Cooling Cream may be helpful for swelling, itching, or dryness. Always check in with your healthcare provider about any products you're hoping to use and any symptoms you're experiencing. You got this! 


References:
Wollina U, Goldman A. Management of stretch marks (with a focus on striae rubrae). J Cutan Aesthet Surg. 2017;10(3):124-129. doi:10.4103/JCAS.JCAS_118_17
Skin. Cleveland Clinic. October 13 2021. URL.  Accessed May 2023. 
Oakley AM, Patel BC. Stretch Marks. [Updated 2022 Aug 8]. In: StatPearls [Internet]. Treasure Island (FL): StatPearls Publishing; 2023 Jan-. Available from: https://www.ncbi.nlm.nih.gov/books/NBK436005/
Rungsiprakarn P, Laopaiboon M, Sangkomkamhang US, Lumbiganon P. Pharmacological interventions for generalised itching (not caused by systemic disease or skin lesions) in pregnancy. Cochrane Database Syst Rev. 2016;2(2):CD011351. Published 2016 Feb 19. doi:10.1002/14651858.CD011351.pub2
Thomsen SF. Atopic dermatitis: natural history, diagnosis, and treatment. ISRN Allergy. 2014;2014:354250. Published 2014 Apr 2. doi:10.1155/2014/354250
Ahmed M, Hwang JH, Choi S, Han D. Safety classification of herbal medicines used among pregnant women in Asian countries: a systematic review. BMC Complement Altern Med. 2017;17(1):489. Published 2017 Nov 14. doi:10.1186/s12906-017-1995-6
What causes stretch marks during pregnancy? American College of Obstetricians and Gynecologists. October 2020. URL.  Accessed May 2023. 
Al-Atif H. Collagen Supplements for Aging and Wrinkles: A Paradigm Shift in the Fields of Dermatology and Cosmetics. Dermatol Pract Concept. 2022;12(1):e2022018. Published 2022 Jan 1. doi:10.5826/dpc.1201a18
Bolke L, Schlippe G, Gerß J, Voss W. A Collagen Supplement Improves Skin Hydration, Elasticity, Roughness, and Density: Results of a Randomized, Placebo-Controlled, Blind Study. Nutrients. 2019;11(10):2494. Published 2019 Oct 17. doi:10.3390/nu11102494
Dry Skin. Cleveland Clinic. June 23 2022. URL. Accessed May 2023. 
Chouk C, Litaiem N. Pruritic Urticarial Papules And Plaques Of Pregnancy. [Updated 2022 Aug 1]. In: StatPearls [Internet]. Treasure Island (FL): StatPearls Publishing; 2023 Jan-. Available from: https://www.ncbi.nlm.nih.gov/books/NBK539700/
Hajhashemi M, Rafieian M, Rouhi Boroujeni HA, et al. The effect of Aloe vera gel and sweet almond oil on striae gravidarum in nulliparous women. J Matern Fetal Neonatal Med. 2018;31(13):1703-1708. doi:10.1080/14767058.2017.1325865
Cholestasis of pregnancy. Mayo Clinic. December 2022. URL. Accessed May 2023.
Jahan S, Mozumder ZM, Shill DK. Use of herbal medicines during pregnancy in a group of Bangladeshi women. Heliyon. 2022;8(1):e08854. Published 2022 Jan 29. doi:10.1016/j.heliyon.2022.e08854
Timur Taşhan S, Kafkasli A. The effect of bitter almond oil and massaging on striae gravidarum in primiparaous women. J Clin Nurs. 2012;21(11-12):1570-1576. doi:10.1111/j.1365-2702.2012.04087.x