5 Medications and Supplements to Help With Morning Sickness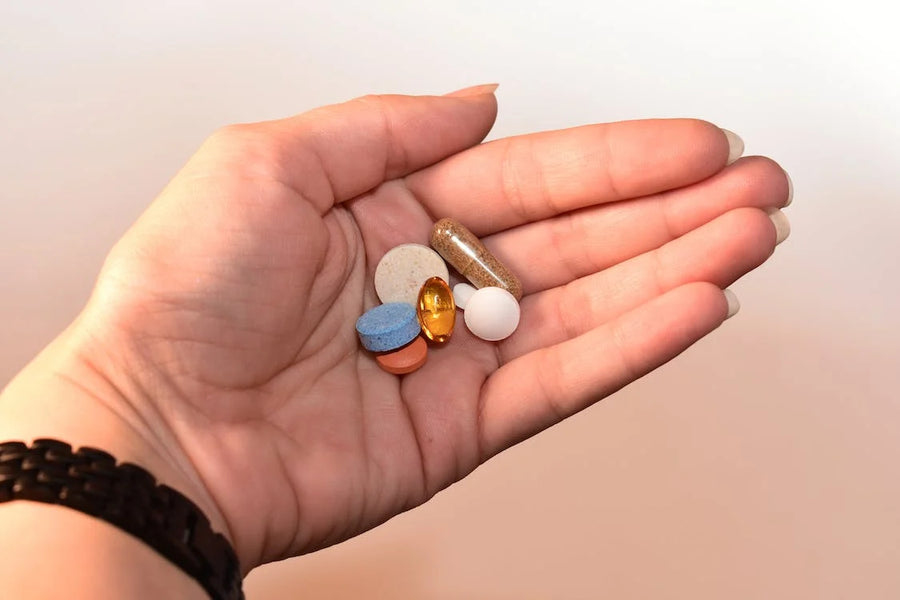 Nausea and vomiting of pregnancy (NVP) is a common symptom of early pregnancy, affecting up to 85% of pregnant people. [1] NVP, often referred to as morning sickness, is the most common medical condition during pregnancy. [1] In some cases morning sickness is manageable through diet and lifestyle changes, but there is still a percentage of people that don't find relief with these changes and require more intervention. [1] There are a few different options for treating morning sickness, including dietary supplements, fluids, over-the-counter medications, and prescription medications. 
5 Medications to Manage Morning Sickness
So what medications and supplements can help remedy morning sickness? There isn't one proven method for curing or preventing nausea and vomiting during pregnancy, but it is possible to reduce the severity. [2] While these medications may be helpful for some and are considered to be safe for pregnancy, you should always consult a healthcare provider before taking any new supplements or medications. 
Vitamin B6 
Vitamin B6, also known as pyridoxine, is a water soluble vitamin naturally found in many different foods. [3] Chickpeas, poultry, fortified cereals, and liver are all examples of rich vitamin B6 sources. [3] Vitamin B6 has been shown to improve nausea and vomiting during pregnancy and can be found over-the-counter in supplements and morning sickness gummies. [2] Read more about vitamin B6 for morning sickness.
Ginger
Ginger is a natural root vegetable that has been used medicinally for many years. [4] The compounds in ginger have therapeutic properties and have been used to remedy arthritis, pain, diabetes, inflammatory conditions, and more. [4-5] Additionally, ginger is often used to relieve nausea caused by gastrointestinal disorders, chemotherapy, and pregnancy. [4-5] The American College of Obstetrics and Gynecology (ACOG) states that ginger can be used to treat morning sickness and help settle the stomach during pregnancy. [2] Ginger can be found as a supplement, in herbal teas, candies, chews, and more. 
Peppermint
Peppermint is another natural remedy for treating morning sickness and other gastrointestinal problems. [6] Mint has long been used as a medicinal plant and has both antimicrobial and anti-inflammatory effects. [7] Studies show that peppermint tea and peppermint aroma both helped reduce nausea and vomiting associated with pregnancy, gastritis, abdominal pain, and chemotherapy. [7-9] 
Doxylamine
Doxylamine is an over-the-counter drug commonly found in sleep aids and allergy medications. [2,6] Doxylamine is often used to treat nausea and vomiting during pregnancy, allergic rhinitis, and insomnia. [1] Typically doxylamine is administered in lower doses and gradually increased if nausea persists. In some cases doxylamine can be administered with vitamin B6. [2] You should always speak to a healthcare provider before taking any medications or supplements. 
Prescription Drugs
If other supplements or medications are not reducing morning sickness, prescription drugs can sometimes be used at the discretion of a healthcare provider. Antiemetic drugs such as ondansetron are thought to be highly effective in preventing nausea and vomiting, but the safety of these medications during pregnancy is still being studied. [2] If someone has severe morning sickness, they may need to be monitored and given specific medications and fluids until symptoms are under control.  
Do Prenatal Vitamins Help with Morning Sickness?
Taking prenatal vitamins is thought to help reduce the risk of having severe nausea and vomiting during pregnancy, but there is no guarantee that you won't still experience morning sickness. [10] Some people actually feel more nauseous after taking vitamins, especially nutrient-dense vitamins like prenatals. Even if you think your prenatal vitamins are making your morning sickness worse, it's important that you still attempt to take them. You may find that taking a gummy prenatal vitamin tastes better and is easier to get down. You should also try to take your prenatal vitamins with a meal and plenty of water. [6] If you're still having a difficult time keeping up with your prenatal vitamins, speak to your healthcare provider about your options.
What Medication Should I Use First?
So what supplement or medication should you try first when attempting to treat morning sickness? Vitamin B6 may be used as first-line treatment for nausea and vomiting of pregnancy. [2] You may also try consuming ginger or using peppermint oil as early treatments of morning sickness. After trying these, over-the-counter medications such as doxylamine may be helpful. If you still aren't getting relief, speak to your healthcare provider about what your next step should be. 
Other Ways to Reduce Morning Sickness
ACOG first recommends diet and lifestyle changes before attempting to take any medications. [2,6] Some foods that fight nausea during pregnancy include low-fiber, non-spicy, bland items such as tea, broth, eggs, tofu, bananas, spinach, toast, and carrots. Some people also find relief by [2,6]:
Eating frequent and small meals
Avoiding moving around on an empty stomach
Taking prenatal vitamins
Avoiding smelly foods that may trigger food aversions
Consuming fluids at least 30 minutes before or after solid food
Avoiding stuffy rooms, odors, heat, humidity, and visual or physical motion
Avoiding lying on the left side
Brushing the teeth after eating
Changing meal times 
Are There Any Medications I Should Avoid?
For the safety of yourself and your baby, not all medications are considered safe for use during pregnancy. You should never assume a medication or supplement is safe without speaking to a healthcare provider first. A few examples of medications that should be avoided include alternative medicines (herbal remedies or essential oils) and scopolamine. [6] 
Any mix of essential oils, or herbal remedies should be avoided unless advised otherwise. Most alternative medicines have not been studied and effects may be unknown. [6] An example of this is Nzu, a traditional remedy that is sometimes sold under names such as Calabash clay, Calabar stone, Argile, La Craie, and Mabele. Scopolamine is a medication used to treat motion sickness and nausea and vomiting. Scopolamine may be useful for some, but should be avoided in anyone at high risk of preeclampsia due to potential negative effects. [6] 
Important Takeaways
Morning sickness is the most common medical condition experienced during pregnancy, impacting up to 85% of pregnant people. 
All medications and supplements should be discussed with a provider prior to use. 
Ginger, peppermint, and vitamin B6 are all natural options for morning sickness relief. Herbal teas, supplements, candies, and aromatherapy can be useful for reducing nausea and vomiting. 
Doxylamine is an over-the-counter drug that is used in allergy and sleep aid medications. Doxylamine has been shown to be useful for treating NVP and can be used in addition to vitamin B6.
Prescription drugs and fluids are also an option for those suffering from morning sickness and unable to get relief with over-the-counter medications and dietary changes. 
References:
Brott NR, Reddivari AKR. Doxylamine. [Updated 2022 Jun 11]. In: StatPearls [Internet]. Treasure Island (FL): StatPearls Publishing; 2023 Jan-. Available from: https://www.ncbi.nlm.nih.gov/books/NBK551646/
Morning Sickness: Nausea and Vomiting of Pregnancy. FAQ126. American College of Obstetricians and Gynecologists. December 2021. URL. Accessed May 2023. 
Abosamak NER, Gupta V. Vitamin B6 (Pyridoxine) [Updated 2023 Feb 27]. In: StatPearls [Internet]. Treasure Island (FL): StatPearls Publishing; 2023 Jan-. Available from: https://www.ncbi.nlm.nih.gov/books/NBK557436
Fifi AC, Axelrod CH, Chakraborty P, Saps M. Herbs and Spices in the Treatment of Functional Gastrointestinal Disorders: A Review of Clinical Trials. Nutrients. 2018;10(11):1715. Published 2018 Nov 9. doi:10.3390/nu10111715
Semwal RB, Semwal DK, Combrinck S, Viljoen AM. Gingerols and shogaols: Important nutraceutical principles from ginger. Phytochemistry. 2015;117:554-568. doi:10.1016/j.phytochem.2015.07.012
Smith J, Fox K, Clark S. Nausea and vomiting of pregnancy: Treatment and outcome. UpToDate. Topic 6811 Version 142.0 October 21 2022. URL. 
Chumpitazi BP, Kearns GL, Shulman RJ. Review article: the physiological effects and safety of peppermint oil and its efficacy in irritable bowel syndrome and other functional disorders. Aliment Pharmacol Ther. 2018;47(6):738-752. doi:10.1111/apt.14519
Efe Ertürk N, Taşcı S. The Effects of Peppermint Oil on Nausea, Vomiting and Retching in Cancer Patients Undergoing Chemotherapy: An Open Label Quasi-Randomized Controlled Pilot Study. Complement Ther Med. 2021;56:102587. doi:10.1016/j.ctim.2020.102587
Amzajerdi A, Keshavarz M, Montazeri A, Bekhradi R. Effect of mint aroma on nausea, vomiting and anxiety in pregnant women. J Family Med Prim Care. 2019;8(8):2597-2601. Published 2019 Aug 28. doi:10.4103/jfmpc.jfmpc_480_19
Emelianova S, Mazzotta P, Einarson A, Koren G. Prevalence and severity of nausea and vomiting of pregnancy and effect of vitamin supplementation. Clin Invest Med. 1999;22(3):106-110.
Shop Products From This Article
Subscribe & Save $3.00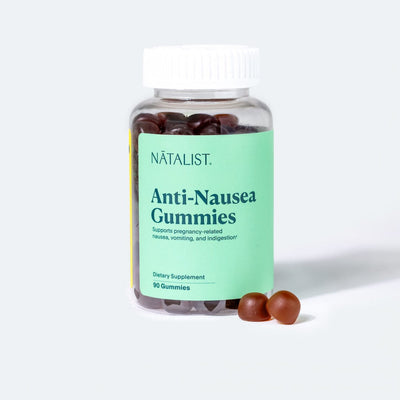 Extra 10% off your first delivery when you subscribe with code SEPT23
$32