Mish Metz on Pregnancy and Accepting New Changes and Challenges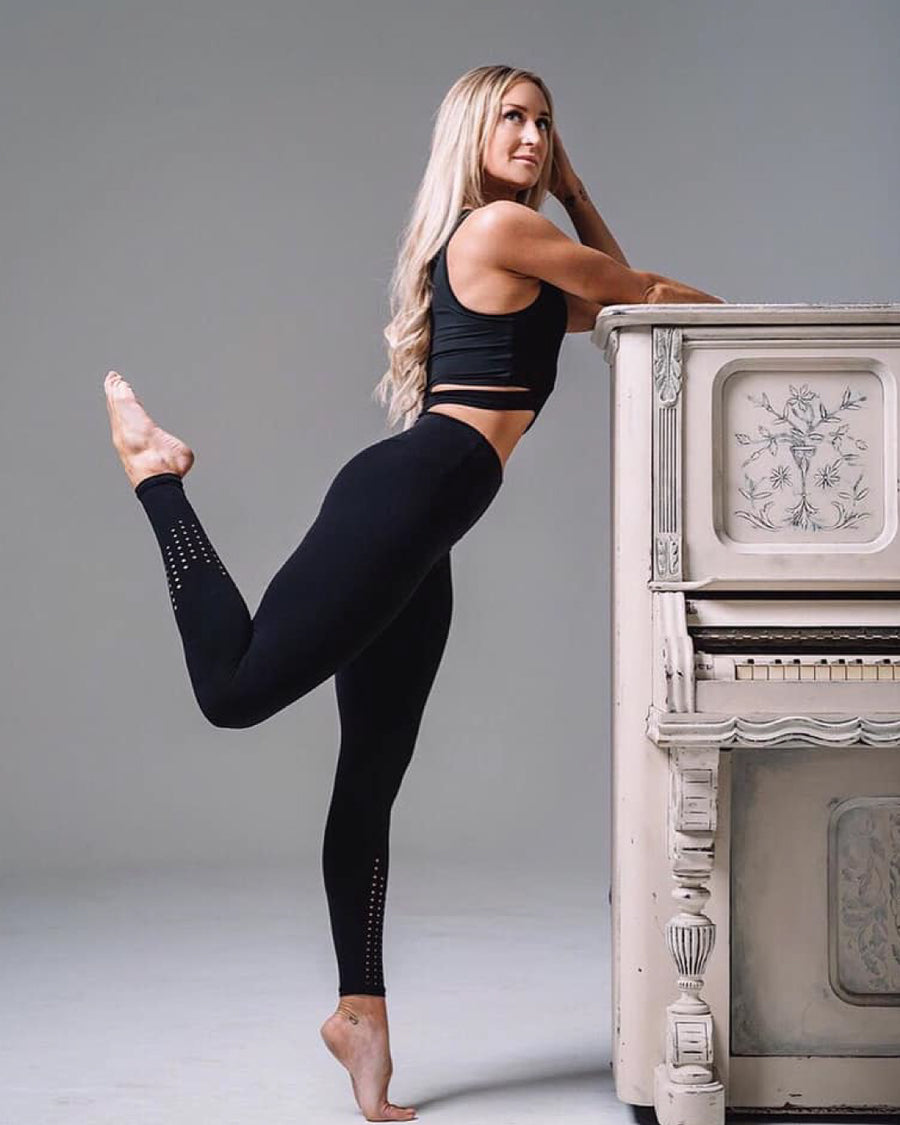 Tell us a little about yourself.
I am a fitness instructor and lover of all things movement, dance, fashion and make-up!  I grew up in Golden, CO and began dancing at age three. Staying active and striving to be better was truly ingrained in me at a young age, and I am forever grateful for that. I grew up in a fitness family where working out and eating right were number one. When I got to college, I auditioned for the Denver Nuggets Dance team, and from there, I continued my passion for fitness and dance when I found Pure Barre and owned and operated a fitness studio for seven years. After selling the studio, I was able to continue my love for teaching and fitness by branching out and teaching spin and variations of cardio and dance. I absolutely love helping people meet their fitness goals and most importantly find confidence and self-love. I believe we are all always a work in progress.
Follow Mish on Instagram at @themishy or check out her Linktree.
Tell us about your path to (soon-to-be) motherhood.
I had an IUD for nearly ten years to help me manage my cycle (I was ovulating every two weeks), and although it truly was just a bandaid on an issue I didn't fully understand, it worked well enough to allow me to continue my active and busy lifestyle. After dating my guy for just over a year, we discussed wanting kids, and I really wanted to get to the bottom of my menstrual issues, so I had my IUD removed. My doctor at the time wasn't too concerned with me getting pregnant right away, and we were going to let my body cleanse itself and see where we were before the next move. I had heard so many stories of women who had been on birth control for long periods of time, and it took them quite some time to get to the bottom of hormone imbalances and to get pregnant. Well, that wasn't the case for me...
Tell us how you found out you were pregnant. We'd love details and pictures!
Well SURPRISE!! I found out that we were pregnant ON CHRISTMAS EVE! What a gift!  I knew something was off when I realized I was a day late during a VERY early morning private one-on-one training with a client. I remember being so anxious to get home and take a test. Took a test (well maybe four tests in a row), and there was the proof!
You balanced a long-distance relationship, a pandemic, and a pregnancy. What was that like?
Whew...it was a lot! I am so lucky to have the most loving and supportive family and friends! I leaned on them more than I ever have during that time. My boyfriend John and I did long-distance (Colorado to New York) for a year and a half seeing each other every other month or so. Throw in a world wide pandemic and the chances to see each other began to diminish, and the opportunities to share all the exciting milestones of pregnancy and doctors appointments were very little. The only appointment we got together was the 20-week ultrasound—and perhaps the most important! We cherish that we got that moment together.  We confirmed it was a little girl and that she was healthy and thriving!  
You're a barre and cycle teacher as well as a former NBA dancer. How do you care for your body while pregnant?
By a healthy balance of staying active and also letting myself enjoy the cravings that come with being pregnant. The first trimester was extremely challenging for me, as I am sure many women can relate. There were so many changes at once. I was constantly hungry. The hunger woke me up every night! I felt sick and tired and gained weight right away. Others couldn't see it, but when you're used to working out hours a day, having a lot of energy and control over what your body looks like the first stage of being pregnant doesn't come easy. I wanted to shout "I'm pregnant!" before I taught each class, but you want to be sure all is well before announcing, so this was a struggle for me. Once I was able to announce, it was a relief and that continued into the second trimester. I was able to maintain my workouts five times a week, and although they weren't as hard as my regular routine, any movement I accomplished was celebrated. My third trimester has been the best one yet, and that may also be because I am finally with my guy and made the move across the country, I feel good! I finally look pregnant! I am constantly working on the balance between "it's ok to rest" and "let's workout hard," but each day is different, and I am trying my best to be kind to myself.
What are your go-to exercises/exercise tips during pregnancy?
My workouts and what felt good changed with each trimester. I was able to continue most of my regular workouts, (spin, dance cardio, Pure Barre in all three formats) throughout my first trimester. Pure Barre felt so good until about half way through, and I highly recommend that for women. Pure Barre is always challenging and always safe with the correct modifications for each person. Once I started to show more, there were too many abdominal exercises that interfered with the effectiveness, and I needed more modifications. Same with spin and dance. Sitting on a spin bike was out. Dance cardio spiked my heart rate too high. As I grew, I found that the bigger movements felt better. I still find this interesting. HIIT style workouts have been my "go-to" now!  I use five and eight pound weights and mix up circuit style workouts. Anything to get my heartrate up and make me sweat! Shorter, more intense workouts have been best!  
How have you felt as your body has changed during pregnancy?
As a dancer and fitness instructor, it has been hard for me. I am a very open and honest person, and pregnancy hasn't been something I have enjoyed, and I do not feel ashamed for saying so. Every woman is different. Everyone experiences their journey differently. It's been hard for me because of my job and my background, as my body is my main tool, and the pressure I put on myself is heavy. Letting your body grow and feeling like you don't have control over it isn't something I am good at. I CAN say that I have a new found love for what my body can do and is doing! I am growing a human! I haven't loved the ups and downs—in my energy and on the scale—but I love every single kick from her! It's a constant learning experience, and I know the best is yet to come.  
What advice do you have for other aspiring mamas?
Be kind to yourself. It is something I like to bring up often, but I still need this reminder almost daily myself. Pregnancy isn't easy. Motherhood is a whole new ballgame. We are all too hard on ourselves, but we are doing one of the greatest things that life has to offer. Creating life and becoming a mother aren't easy, so let's be nice to ourselves.