Rachel Nicks on Preparing for Labor and Healing After Miscarriage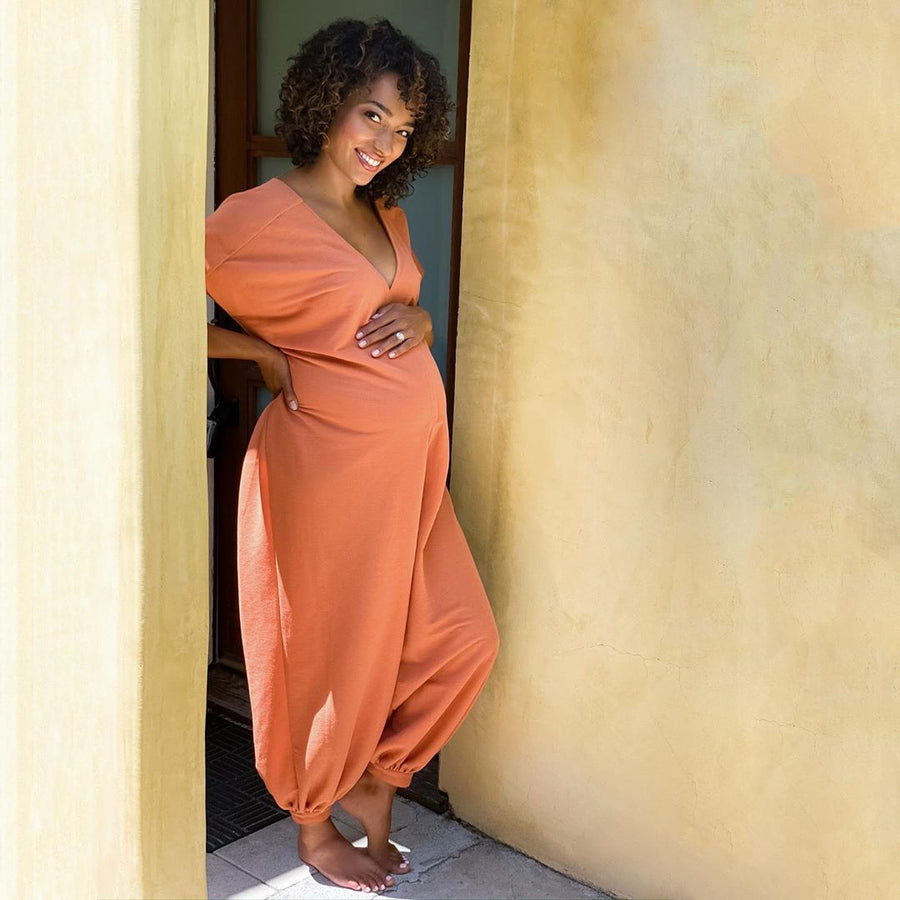 Tell us a little about yourself.
I'm a fitness trainer, actor, doula, and mom—with another little one on the way! Movement has been a part of my life forever. I started gymnastics at the age of two and continued to play sports throughout my childhood. When sports ended, I craved movement and began going to the gym and doing Pilates. After college, I got really into hot yoga. Curious about the philosophy of yoga, I decided to do my 500 hour training. I fell in love with teaching and began to educate myself, training and gaining multiple certifications. Every new skill strengthened my commitment to be equipped with multiple tools in order to meet my students where they are on their journey so I can properly support them to achieve their goals with a sense of empowerment!
You can connect with Rachel on Instagram at @RachelENicks or visit her on her website www.RacheNicks.com.
As a fitness trainer, mom, and doula, you have a unique triple perspective on childbirth. Give us the highlights of what things a woman should know and do to prepare for labor.
Make sure you educate yourself so you are entering your birth empowered to make informed choices. The last thing I want is for a woman to enter her birth full of fear without tools and leave feeling like her birth happened to her.
I highly suggest getting a doula. 
As a pre/postnatal trainer, I also highly recommend working out throughout your pregnancy with the proper tools. Some quick modifications, no forward flexion or twisting and limit high impact workouts in your second and third trimester. Practice your transverse abdominal toning and kegels. Make sure you practice engaging your core without engaging your pelvic floor muscles so that you are prepared to push. You don't want to close the exit while trying to bring that brilliant human into the world, and you want to maintain your strength so you are able to pop 'em out. Oh, if only mine just popped out—he was a biiiiiig boy. Definitely, a lot of pushing happening to bring him forth.
You don't want to close the exit while trying to bring that brilliant human into the world, and you want to maintain your strength so you are able to pop 'em out.
Postpartum, do not rush to workout! Rest and cuddle and nourish your body. Delete snap back from your mind. You didn't snap your fingers and have a baby, so you won't be snapping and fitting your tightest jeans. You will become healthy and fit and reach your goals but it will be a process, and you will make it happen. Being kind, patient, and honest with yourself is so important. And remember, six weeks is not a one size fits all number. Everyone's journey is unique, so listen to your body before rushing back to working out. I highly recommend seeing a pelvic floor therapist postpartum to understand all that is happening with your body and avoid high impact workouts while allowing your core and pelvic floor to heal. 
I am here to help you if you need any support as a doula and as a trainer and a mama!!
You're currently pregnant with your second—how has this pregnancy been different from the first?
I am chasing a toddler!! And the spas are closed! Listen ladies, lay down and relax as much as possible during your first pregnancy. Being pregnant during Covid has been a lot of work. I am a full-time mom, career woman, wife, and domestic. There are no breaks. 
I feel really strong, and yes, I get tired. The main difference with this pregnancy is that I am much more emotional and quick to cry about loads of things and I was not that way before. I have been really active throughout my pregnancy which has served my spirits, mind, and body well during this unique and trying time. I still teach a full schedule of 12-15 classes a week at MIRROR, and I try to workout for myself at least three times a week.  
Tell us about your fertility journey—how long did it take you to get pregnant?
It took us about five months to get pregnant the first time. We got married in August and were pregnant by February. I got off the pill in May to give my body a chance to regulate. My cycle was on a 35 day cycle until around September. I was really stressed about getting pregnant right away. In January, I got my eggs checked and when the doctor told me that everything was normal, it really allowed me to relax, and we got pregnant right after that.
What did you do to increase your chances? 
I went off the pill about three months before trying to get pregnant. I did a cleanse with my Ayurvedic doctor. I began my prenatal vitamins a few months before trying to conceive. I tracked my ovulation. I ate healthy. I stopped my drinking while trying to get pregnant but one day, my mom said, "Honey, you may want to have your wine again." She realized how stressed I was and wanted me to relax—and wine and I are good friends. Everyone tells you to relax, but I found it was really difficult because I wanted to be a mother so badly.
You've spoken publicly about experiencing a miscarriage. How has that experience shaped your life? How did you grieve and heal?
My miscarriage happened November 16th, 2019 and I conceived again, December 31st, 2019. It was an extremely emotional and devastating loss. However, I didn't really have time to grieve before I was pregnant again. I can say that being a mom helped me keep hope alive about getting pregnant again. I can only imagine how scary and anxiety producing it is to miscarry before becoming a mom because you probably fear that it will never happen for you. The first seven days after the miscarriage, I was extremely emotional and vulnerable and then I began to lose my hair, and I have to say, that was really tough. I dreaded washing my hair because every time I saw the clumps falling out, I was reminded of my loss. 
My second pregnancy was not planned nor was it an accident. We were open to having another and my husband is good at knowing when I am ovulating because I had one period and was pregnant again right after the miscarriage.  I believe a kid-free vacation in Jamaica and an open bar on New Years Eve helped a bit as well!
I didn't have the chance to fully process or grieve my miscarriage before my next pregnancy. I was really excited when I found out I was pregnant, but I felt the need to hide it to spare people the disappointment of another possible miscarriage. I also felt the need to hide it as an actor. I don't trust that I may lose opportunities as a result of my pregnancy. This is something that so many women deal with, and it breaks my heart and pisses me off. No woman should have to hide for the comfort of others or safety of her career. 
Around 17 weeks pregnant, I had a breakdown because I realized I hadn't fully emotionally connected or celebrated this little person because I was afraid of losing another baby. I was at my mom's house on her toilet and I just fell apart riddled with guilt. She assured me that this child still felt loved and this baby would be healthy and everything would workout. I did make the choice to not go fully public with my pregnancy, though, until I was 20 weeks.
How would your son describe you?
He would say he loves me. My son tells me and the baby and daddy, "I love you, Mommy. I love my brother. My brother loves me." every day. He feeds me and asks me if I am ok. So I think he would tell you, "My mommy loves me. She plays with me. We make recipes together. My baby brother is in her tummy."
Last question: what advice do you have for other aspiring mamas?
There is no perfect time to become a mother. Just go for it. You may hear from elders "it will all workout," and I am here to say IT DOES.
I have been so blessed by becoming Samuel's mother. He is the light of my life. He is my motivation. And to my surprise, he has made me a better business woman.
I have worked more as an actor since having him than ever, and opportunities have come and continue to come my way that I never would have imagined since having him. I have made more money in my career ever since being a mother. I share that because I think many women think that it will be the opposite. 
Listen, do what is best for you and your family. But do not let fear stop you from becoming a mother. Trust the process. Educate and advocate for yourself and never forget to prioritize your self care mentally, physically, and emotionally. Hold on to all of your pieces. Becoming a mother is a lot of work but you deserve to still let your other pieces thrive as well. When mommy is good, everyone thrives. Never forget that! There is no one way to do anything. Always trust your gut, ask for help, and have a tribe of supportive women to support and uplift you. There will be beautiful days and extremely challenging days but the morning always comes and you always get another shot to start fresh.
For more of Rachel, you can find her at Robyn or as a trainer on MIRROR (use the code RACHEL3 for a three month free subscription and free delivery).