Sarah Kuhn on Finding Space for One More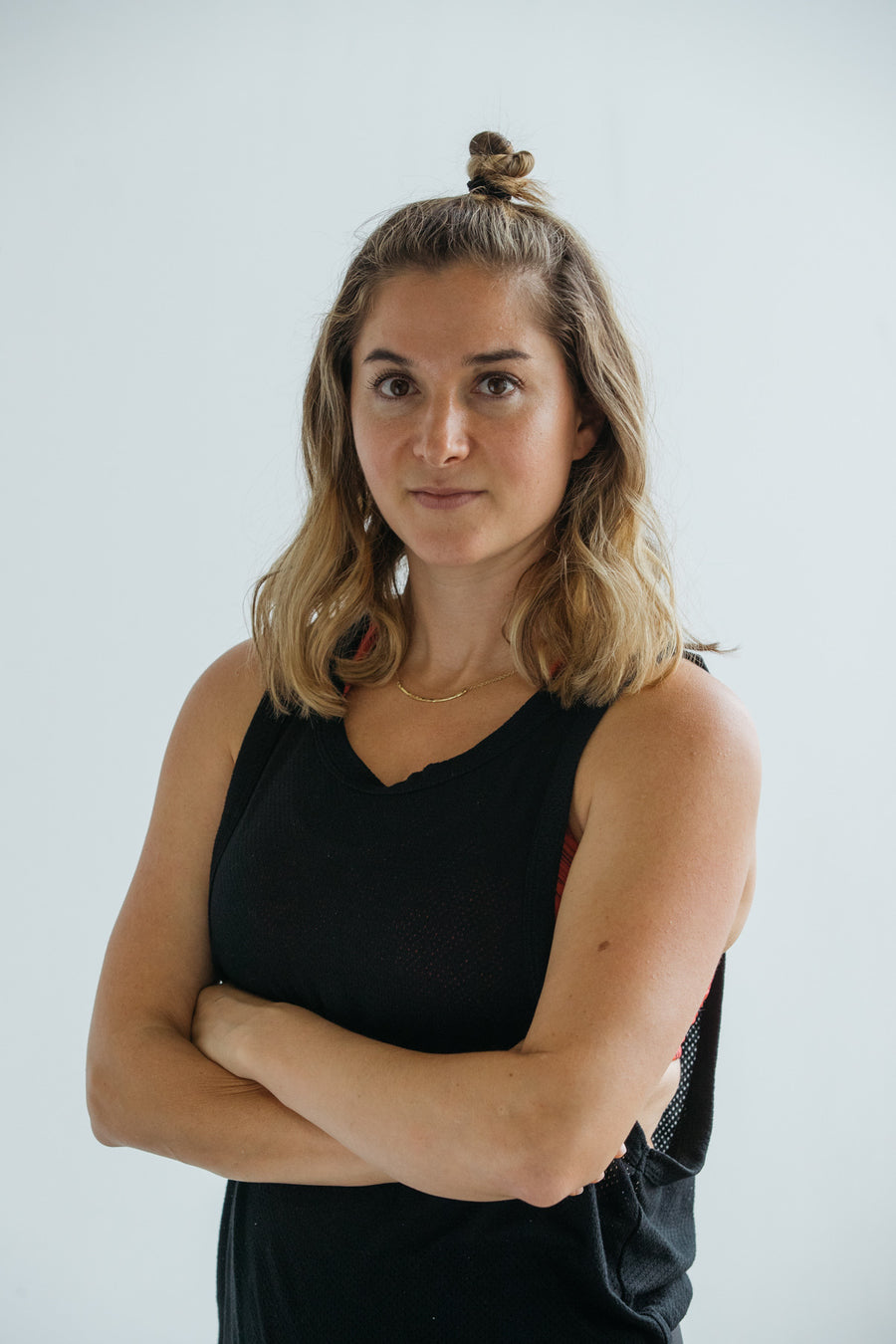 Tell us a little about yourself.
I am Sarah Kuhn, Founder and CEO of Juna, a fitness and nutrition app for pregnant and postpartum mamas. I have two children, a boy Luca who is three, and a girl Kyla who is 14 months. We're just beginning our TTC journey for baby number three.
Natalist customers can use code NATALIST30 to get the first month free (or $19.99 off quarterly or annual subscriptions) on Juna!
What brought you to where you are now? Bring us along from the beginning.
When I thought of my future family sitting around a dinner table at thanksgiving it was filled with lots of chaos, but a lot more love. After giving birth to my daughter, and now having a boy and a girl, I expected to think "this is enough." And, they are enough, but I still have this spot in my heart that just knows that there is space for one more.
Tell us about your partner. What made you want to start or grow a family together?
My husband Eric is the best human being in the world. He is smart, handsome, and someone that just amazes me with his support and kindness everyday. When we met I wasn't sure I wanted children; we had two dogs and that was enough at that point. Eric says often that he never doubted once that I would change my mind because of how passionately I loved those dogs. Anyway, the day after we got married I remember turning to Eric and saying "OK, I'm ready for a baby now, I'm taking my IUD out." It turned out to be not as simple as just taking my IUD and starting a family...
What was your journey to parenthood like?
It was a long one, but worth it in the end. My first pregnancy was ectopic, the pregnancy was unplanned as my husband thought I had jumped the gun on removing my IUD so I went back on BC and happened to get pregnant in that tiny two week period. Finding out it was ectopic was disappointing; it was treated with methotrexate, but six weeks later my fallopian tube ruptured. I had to have emergency surgery, and I lost one tube. Six months later we started trying again, and I got pregnant immediately, but I miscarried at six weeks. Again, we started trying the next month, and I got pregnant again immediately. At around seven weeks I had a drop of bright red blood and got nervous, so I scheduled an appointment with the OB. I had a cornual ectopic and was admitted to the hospital immediately and spent eight days there. After this was resolved I scheduled an appointment with a reproductive endocrinologist, and their advice was to do IVF. After a round of IVF and a failed frozen embryo transfer, we decided we need to take a much needed break from pregnancy stuff. Emotionally and physically, it had taken a toll on me and my husband. We went to New York, ate and drank too much, and found out on January 2nd that I was pregnant with my first child who is now three. Long journey to parenthood, but worth it in the end.
How did you care for yourself while trying to conceive?
While trying to conceive I focused on all the things I could nourish my body with. I was eating mostly plant based with some fish, lots and lots of veggies, and I had cut my alcohol consumption to one to two glasses of wine a week. I was trying to do everything I could to optimize my body for pregnancy. The month I actually got pregnant was not the month my body was in pristine condition. But I think that has more to do with the stress, anxiety, and cortisol my body was carrying than anything else.
How did you care for your body while pregnant?
I wish I could say that I treated my body like a temple. But, I was pregnant and cravings are what they are. I worked out regularly through both pregnancies (regularly being three to four times per week) and for the most part ate healthily. First trimester was tough with both pregnancies. I am pretty sure my plate was beige for three months straight: crackers, pasta, french fries, bread. But I was able to clean my diet up significantly in the second and third trimesters. I saw chiropractors during both pregnancies for my back and hip pain and was pretty regular with prenatal massages.
What experiences shaped your understanding of conception and pregnancy?
I thought starting a family would be easy. I had absolutely NO idea all that could go wrong. I knew that my experience was unique when I was relieved to have just had a miscarriage, and that felt so natural compared to the two ectopics I experienced. I spent my entire first pregnancy absolutely terrified. I now knew all that could go wrong and felt like it would. I'm thankful that wasn't my experience the second time around and that I was able to relax a bit more.
Tell us how you found out you were pregnant. We'd love details!
I was supposed to get my period on New Years Day. Normally I would have taken three pregnancy tests prior to even skipping a period, but because we hadn't been "trying" that month I didn't even think to. After my period didn't come, my husband and I ran to the CVS to buy a pregnancy test. I took one and came out absolutely shocked. I said "Eric, I am pregnant," and he said, "I knew it, those are definitely pregnancy boobs," and we both burst out laughing. I then spent the next ten days ABSOLUTELY terrified it was in the wrong place. When we finally got back to LA after vacation I was able to go to my RE and confirm that it was in the uterus, and that was the most excited and relieved I think we've ever felt.
What have you learned as a result of trying to get pregnant and/or being pregnant?
I'm shocked at how clinical it is. I've now figured out that I absolutely cannot tell my husband when I am ovulating because he cannot handle that stress and pressure. So I test, and then keep it to myself and let him think that I just really want to have sex on a Wednesday night.
What's your wish for women who are trying to conceive?
My wish for women who are trying to conceive is that their experience is simple, straightforward, and that they can continue to keep the romance alive. Men don't love to be told when they have to do it, haha. 
Anything else you'd like to share about your journey to parenthood?
I realize I sound like a robot when I explain my journey to a successful pregnancy. But I really did have SO many emotions; I went to lots of therapy; I was depressed. I wasn't fun to be around and felt like the world would never be colorful again. But now that I have my children, it's hard for me to recall just how dark those days really were because the days are so bright now. So, whoever else is going through infertility, just know that your story is still being written. You will figure out how to have a child one way or another, whether it's adoption, IVF, surrogacy, or spontaneous luck. If you want to be a mom, you will be a mom one way or another.
Natalist customers can use code NATALIST30 to get the first month free (or $19.99 off quarterly or annual subscriptions) on Juna!