What Causes Stillbirth? 6 Reasons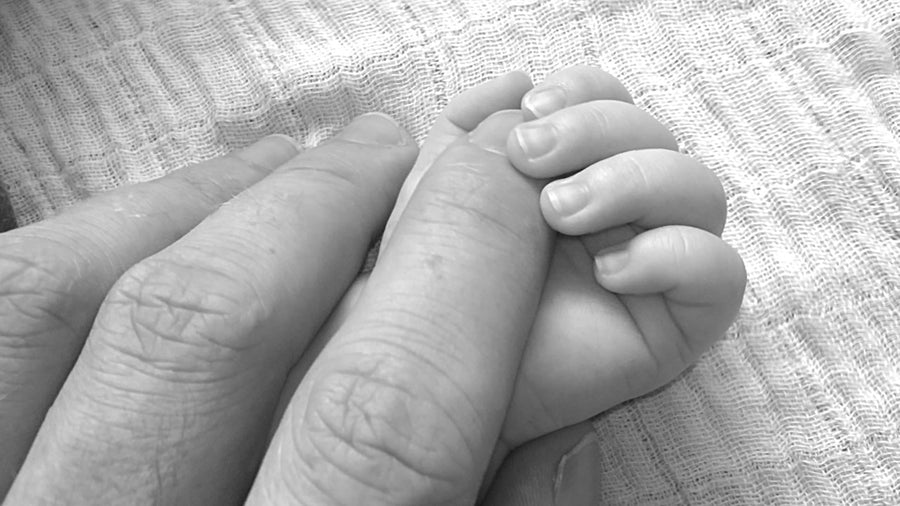 A stillbirth is the loss of a baby at 20 weeks of pregnancy or later. [1] Stillbirths occur in about one of every 160 births in the United States, and one of every 72 births globally. [1-3] While some cases of stillbirth are unpredictable and unexplained, there are ways to reduce the risk of stillbirth and support a healthy pregnancy. Let's take a look at some of the risk factors and causes of stillbirth. 
Stillbirth Risk Factors
Before we get into the determined causes of some stillbirths, let's review some of the factors that may put someone at an increased risk of stillbirth. Keep in mind that stillbirth can happen to anybody, regardless of age, background, or ethnicity. [2] 
Racial Disparities
Research has identified important information regarding stillbirths, race, and ethnicity. In the United States, stillbirths are over twice as likely among Black people than White people. [4] Research also shows that the most common causes of stillbirth differ between races. Stillbirths to Black and non-Hispanic pregnant people tended to be caused by infection or complications of pregnancy and labor, and are more likely to occur during labor or earlier than 24 weeks of pregnancy. [4] Because of racial disparities in the United States, Black people assigned female at birth (AFAB) are three times more likely to die from a pregnancy-related cause than White people AFAB. [5] As we move forward in healthcare, it's vital that we continue to address these disparities and work to call out, recognize, and eliminate conscious and unconscious bias. 
Stress
Research shows that experiencing chronic stress or stressful life events can increase the risk of stillbirth. Stress can be related to finances, employment, emotions, or other personal events. Those that experienced stress a year prior to delivery had an increased risk of stillbirth. Experiencing two stressful events was shown to increase the odds of stillbirth by nearly 40%. 
Use of Certain Substances 
According to the NIH, the use of certain substances during pregnancy is associated with double or even triple the risk of stillbirth. [4] This includes the use of tobacco, marijuana, prescription painkillers, or other illicit drugs.  Research also suggests that alcohol use during pregnancy can increase the risk of stillbirth, preterm delivery, miscarriage, and other conditions. [6] 
Age and Health
Some data also suggests that those over the age of 35, obese people, or malnourished people are all at a higher risk of having a stillbirth. [2] Additionally, those with a preexisting health condition may be more likely to experience a stillbirth. 
If you fall into one or more of these groups, speak with your healthcare provider about your concerns. Having one or more of these factors does not necessarily mean you will experience a stillbirth, and finding adequate prenatal care can be extremely helpful for supporting a healthy pregnancy. [2] Learn about recurrent pregnancy loss. 
Understanding Stillbirth Causes
Some cases of stillbirth are unpredictable, and about one in three cases of stillbirth will go unexplained. [2] That being said, some observed and reported causes of stillbirths range from genetic conditions to injury or infection. 
Pregnancy and Labor Complications
Complications during labor or pregnancy are thought to be the most common cause of stillbirth before week 24 of pregnancy and are associated with almost one in three stillbirths. [4] Potential complications include preterm labor, multiple pregnancy, placental abruption (the separation of the placenta from the womb), etc.  [4] 
Complications with the Placenta and Umbilical Cord
About a quarter of stillbirths are thought to be caused by issues with the placenta and are likely to occur after week 24 of pregnancy. [4] Potential problems include insufficient blood flow to the placenta or abnormalities of the placenta. Problems with the umbilical cord are also considered a probable cause of about 10% of stillbirths. [4] 
Birth Defects
The third most common cause of stillbirth is the presence of a genetic or structural birth defect. Examples include omphalocele, gastroschisis, spina bifida, encephalocele, and others. [7] Many of these defects refer to the abnormal development of vital organs. 
Infections
Another potential cause of stillbirth is an infection, which is more likely to occur prior to week 24 of pregnancy than after. [2,4] Infections could impact the fetus, placenta, or maternal health. In many cases, infections are bacterial and travel from the vagina to the uterus. [2] Some of the more common infections or bacteria include Group B Streptococcus, E. coli, chlamydia, ureaplasma, rubella, Lyme disease, malaria, and others. [2] 
Maternal Medical Complications and Disorders
Problems with maternal health, such as high blood pressure, diabetes, etc. have contributed to stillbirths in the past. [4] If you do have a preexisting condition or are experiencing signs of preeclampsia, be sure to speak with your healthcare provider about how to best manage your condition during pregnancy. 
Trauma or Injury
In addition to complications, defects, or infections, trauma or injury can also cause stillbirth. Getting into a car crash, suffering a bad fall, and other accidents can have detrimental effects. [2] If you are ever in an accident or experience some form of injury while pregnant, be sure to speak to a healthcare provider as soon as possible. 
This isn't an exhaustive list but does cover some of the most common causes of stillbirth that we're aware of. [4] If you have concerns or questions about your own pregnancy or pregnancy loss, speak directly with your healthcare provider. If you have experienced a pregnancy loss, remember that you are not alone and there are many resources available if you would like additional support. If and when you hope to conceive again, read our guide on pregnancy after stillbirth. 
Preventing Stillbirth
Stillbirth prevention isn't always possible, however, there are ways to reduce risk factors and support a healthy pregnancy. [2] First, it's important to be aware of the common risk factors and to discuss any preexisting conditions with your healthcare provider. Be sure to make all routine ultrasounds and checkups to ensure your pregnancy is progressing normally. [2] When possible, take steps to reduce risk factors and improve overall health. Some steps you can take include [2]:
Avoid recreational drugs, smoking, and alcohol. 
Alert your healthcare provider as soon as possible if you experience any bleeding or changes in fetal movement, and alert them of any preexisting conditions or previous high-risk pregnancies. 
Strive for a healthy pre-pregnancy body, including a healthy weight, diet, and exercise routine. 
Stay vigilant on infection prevention by washing hands thoroughly, wearing a mask when appropriate or as desired, avoiding raw or undercooked meat, etc. 
Sleep on your side and not your back during pregnancy. 
Attend all routine checkups
Key Takeaways
Pregnancy loss is an incredibly difficult experience to live through. Anyone can experience a stillbirth, regardless of their health, age, race, etc. While some factors can put someone at a higher risk of stillbirth, we know that not all stillbirths have a clear cause. If you have experienced a stillbirth or another loss of pregnancy, know that you aren't alone. Speak to your healthcare provider if you're in need of any support, including counseling or peer support. Read more about pregnancy loss on the Natalist blog. → 
References:
MacDorman MF, Gregory EC. Fetal and perinatal mortality: United States, 2013. National vital statistics reports: from the Centers for Disease Control and Prevention, National Center for Health Statistics, National Vital Statistics System. 2015; 64(8):1-24.
Stillbirth. Cleveland Clinic. August 2020. URL. 
Stillbirth. Unicef. January 2023. URL. 
What are possible causes of stillbirth? NIH Office of Communications. October 2022. URL. 
Working Together to Reduce Black Maternal Mortality. CDC. April 2023. URL. 
Bailey BA, Sokol RJ. Prenatal alcohol exposure and miscarriage, stillbirth, preterm delivery, and sudden infant death syndrome. Alcohol Res Health. 2011;34(1):86-91.
Heinke D, Nestoridi E, Hernandez-Diaz S, et al. Risk of Stillbirth for Fetuses With Specific Birth Defects. Obstet Gynecol. 2020;135(1):133-140. doi:10.1097/AOG.0000000000003614
Shop Products From This Article