What to Look for When Buying Ovulation Test Strips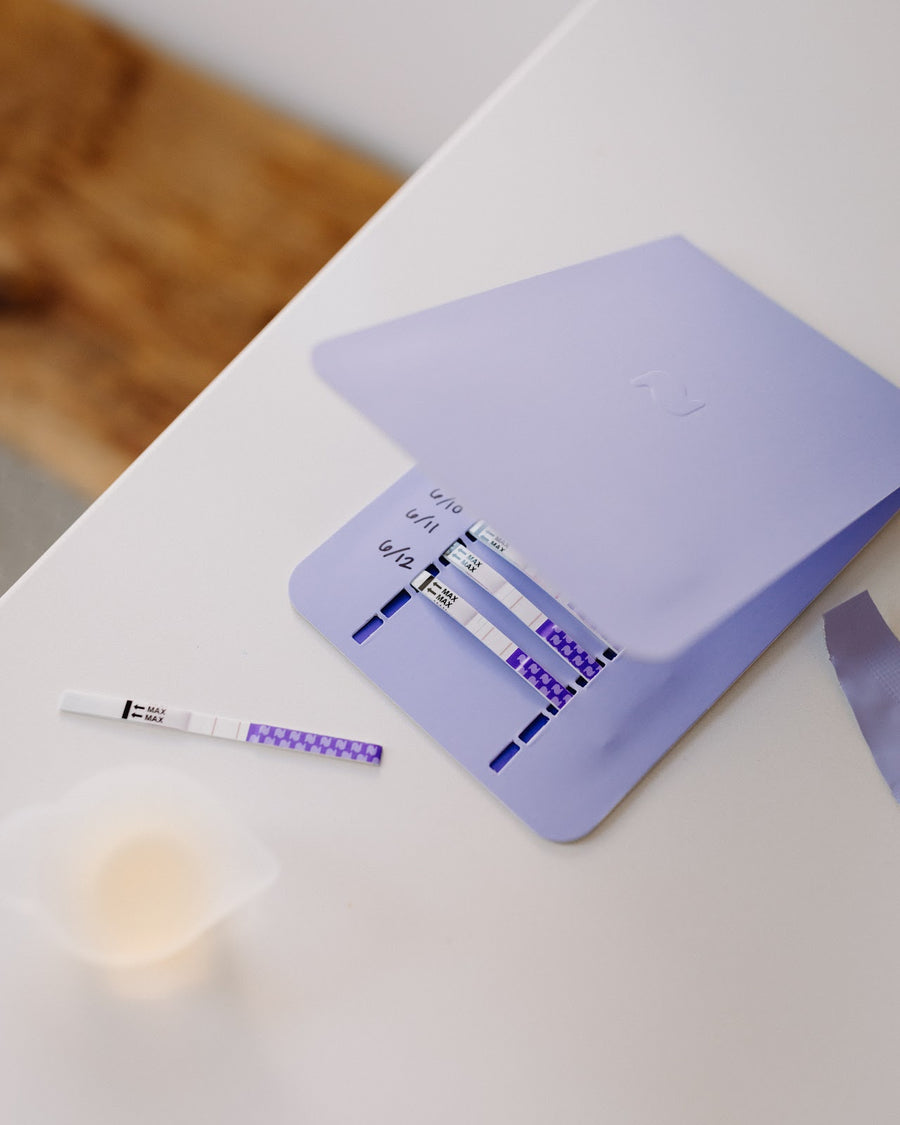 A quick guide on how an ovulation test strip works, how to pick a good brand, and how to use them properly. 
Ovulation test strips are an affordable, efficient, and environmentally friendly way to know when it's the right time of month to start trying for a baby! They provide a detailed and accurate reading of your hormonal changes, allowing you to better understand when you are within your fertile window! 
The Natalist Ovulation Test Strips have a simple, sleek, and easy-to-use design, and in this guide we will discuss everything you need to know on how to use them!
What to look for when shopping for ovulation test strips 
With so many options on the market, it may seem overwhelming to pick the right one. Here are some things to look for:
Sensitivity levels: Different brands of ovulation tests differ in sensitivity, but all work to determine an increase in luteinizing hormone (LH), which indicates you will ovulate soon. The sensitivity of a test indicates the minimum amount of LH in your urine that the test is able to detect. This minimum threshold ranges from 10 IU/L to 40 IU/L, but most tests on the market today have a sensitivity level of 25-30 IU/L. A lower number means the test is more sensitive, meaning it can detect lower ranges of LH that would be missed on a test with a higher threshold. Read more about ovulation test sensitivity. 
Reliability: Not all tests are created equal. And while the US government requires companies to file registration with the FDA, that doesn't mean all tests have the same quality. There's nothing more frustrating than an invalid test result.   
Convenience: Some women have irregular cycles or ovulate on different days of their cycle each month. Everyone is different—the Natalist Ovulation Test Kit has all the tools  you need to both test for ovulation and keep and reference your test strips in order to help predict future cycles and fertile windows.
Ease of use: Testing for ovulation can be tricky, especially if you're new to it. You'll want something like Natalist's clear, jargon-free ovulation test kit instructions that walk you through everything step by step.
Customer service: If you have questions, you'll need answers. Natalist's customer service team consists of moms and doctors who know a thing or two about getting pregnant. 
How do Natalist's ovulation test strips work?
Similar to Natalist's midstream ovulation test, the ovulation test strips detect urinary luteinizing hormone (LH), a hormone released by the anterior pituitary gland in the brain that gives your ovaries the greenlight to start ovulating. Around 24-48 hours prior to ovulation, your LH levels spike, known as the LH surge. During this time you are in the medial point of your fertile window, and if you take an ovulation test, it will come out positive—meaning it is the ideal time to try for making a baby! 
If you take a look at the graph below, you will see the changes in your LH levels during your cycle. As you notice, your LH levels spike right before ovulation, thereby acting as an indicator of when you are within your fertile window and whether or not you should have sex. 
Additionally, Natalist's ovulation test strips provide you with a qualitative analysis of your urinary LH levels. This means that when your urinary LH levels surpass a common LH surge threshold or sensitivity, usually around 25–30 mIU/ml, you will receive a positive result and will likely ovulate within the next 24-48 hours. Natalist's ovulation test strip sensitivity is 25mIU/mL, so once your urinary LH levels are at or above this value, it signals that you are about to start ovulating. 
Why customers love this product
"I love the Natalist ovulation test strip kit because I can write the date on the test strip holder and save it to predict when I will ovulate next month!" 
"This product is environmentally friendly because of the decreased plastic use, and I feel great using it not only as an aspiring mama, but also as an environmentalist!" 
"These test strips are so compact and easy to carry around and are great for traveling moms!"
Things to keep in mind
When shopping for an at-home ovulation test kit, make sure to pick one that is reliable, convenient, and easy to use.
Different brands of ovulation tests differ in sensitivity. Make sure you understand the sensitivity of the tests you choose.
Make sure to buy from a company you can actually get a hold of if you have a question.
Learn more about the Natalist Ovulation Test Kit here.