When Should I Announce My Pregnancy?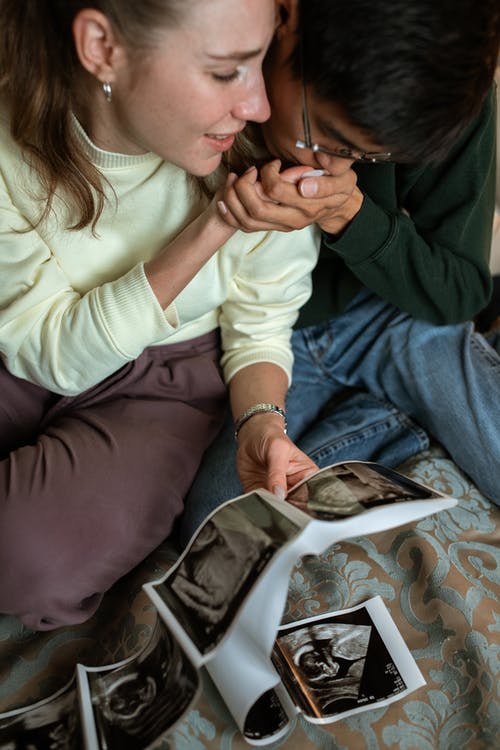 Preparing to share your baby announcement can be a very complex process. Unsharing is even harder. We're here to break down how, why, and when pregnant people are choosing to share all kinds of pregnancy news.
By women's health enthusiast Addison Hagarty
There are tons of exciting milestones to experience during your pregnancy, but one of the most memorable decisions along this journey is deciding how and when to disclose your news to friends and family. Although this is traditionally a thrilling milestone, if you are someone who has already experienced pregnancy loss or you have an increased chance for complications, your pregnancy announcement may be an exceptionally difficult and delicate situation to navigate.
Making this decision will be different for everyone, but here are some helpful reminders and tips for when it comes time to share your baby announcement with the world.
The right time to share the news
First and foremost, there is no right or wrong time to share your pregnancy announcement. 
Every pregnancy carries with it a unique story full of emotion, struggle, happiness, grief, and excitement, and the manner in which you decide to spread your baby announcement is completely dependent on your level of comfort, need for support, and personal preference.
When do many people announce their pregnancy?
Many people make a pregnancy announcement after their first trimester—at around 12 weeks. This is often due to the rapid decline of miscarriage following the end of the first trimester of pregnancy.
Why do people announce "early?"
Some people decide to announce their pregnancy before the typical 12 weeks.  
Similar to waiting until later in your pregnancy, announcing early is a personal decision that is often driven by the desire to build a strong support system around an exciting, but nerve wracking time in life!
Announcing early often provides people the chance to share a hopeful experience with friends and family. Although it can definitely be difficult to feel completely secure in making an early pregnancy announcement if you have experienced loss, struggled to conceive, or simply aren't ready to share the news quite yet.
Why do people "wait" to announce their pregnancy?
Waiting to make an official pregnancy announcement, again, is an extremely personal decision that often revolves around the comfort and previous experiences of the person expecting. Most of the fear pregnant people have in announcing too early is centered around having to unshare if a miscarriage occurs.
The further along you are in in your gestation, the lower and lower your risk for miscarriage gets.  However, about 10 to 20 percent of known pregnancies end in miscarriage. Although the actual number is most likely higher because many miscarriages occur very early in pregnancy—before you might even know about a pregnancy.
If someone has experienced loss, choosing to wait until later on in the pregnancy when risks and complications continue to decline is an exceptionally powerful way to remove some of the stress related to long TTC journeys.
When to share pregnancy news if you already have a child 
When it comes time to share the news of your growing family with your kids, is there a best approach?⁠ Not really! Just as there is no "right" time to share your pregnancy, there's no "right" time to tell your kiddos they're going to be a sibling!⁠  
Generally, though, you may consider letting your child know at around the same time you choose to announce your pregnancy to the rest of the world. Once you've told a little one they're going to be a sibling, they'll want to share the news, and you don't want to have to ask your child to keep a secret.
How to share news with children
Here's my advice for how to share the news with children whenever the time feels right:⁠
⁠Keep it simple⁠: As questions arise, keep your explanations relatively easy to digest. You may not be ready for your children to know the detailed information about the complex realities of conception, gestation, and birth, but they deserve to know the basics during this changing time in everyone's lives! 
Emphasize positivity: Kids have a habit of reflecting the energy adults put out. Because of this, it's super important to make it clear that this time is hopeful and exciting, even though it may be accompanied by some change, fears, or worry.
Answer questions⁠: Let your child know that questions are welcomed and do your best to begin building a healthy environment for open conversation. Be prepped with a plan to answer:

How did the baby get in there?
How long will the baby be in there?
How does the baby get out?
Can I have a baby, too?

Be honest⁠: Although it can be tempting to create elaborate explanations for many of the (endless) questions your kids may have about becoming a sibling, try to prepare them with the knowledge they will need in order to grow into their role as an older child of the family. This means honest, open communication and dedication to including them in decisions about your growing household! 
How do people share their pregnancy news with friends and family
With social media at the forefront of most of our lives, making a post has become one of the most efficient and effective methods of communication for most announcements to your general circle.
Although generally, people choose to start with more intimate family gatherings to spread the news in person one-on-one, over a phone call, or, in the time of COVID, on a video chat. The most important thing to remember when deciding how to share your news with friends and family is that it is really nobody else's business until you decide to make it!
You are not responsible for satisfying the wishes of friends or family members when it comes time to share your baby announcement. Make the choice that brings you and your growing little one the most peace, comfort, and support—and have FUN! 
How to announce around the holidays
There are tons of fun ways expecting individuals, couples, and families can share the news of a bun in the oven, but announcing around the holidays has grown increasingly more popular and often provides even more room for creativity and fun. And while we certainly don't think a "clever" announcement is required, we've rounded up some of our favorite ideas for creative ways to celebrate and spread the news to family and friends during the holidays:
Wrap your pregnancy test, ultrasound, or baby clothes and let family unwrap them
Letterboard a holiday pun ("The more the merrier")
Let your Elf on a Shelf announce by holding your ultrasound
Write a festive letter that refers to someone as a grandparent for the first time
Decorate festive cookies with your delivery date
The holidays can be a wonderful time to spread some extra joy, but as always, take your personal situation into account and make the announcement choice that makes you most comfortable. 
How to share news of pregnancy loss
Although this is something you never want to plan for or even consider, you may have to share the news of a pregnancy loss along your journey. This can be an extremely difficult time in life as is, but it is important to share the news of your loss while surrounded by support in order to begin to heal.
Take the easy route: Don't be afraid of keeping it overly simple. Sending a standard text or email to those you had announced to is more than sufficient.  
Have support: Take extra care to be gentle with yourself during this time, and make sure you have the necessary support around you before, during, and after you have shared the news of your loss.
Enlist help: Many also choose to lean on a friend or family member to break the news so that you can focus on addressing and managing your immediate grief during this difficult time.
As difficult as this reality may be, you should prepare yourself for comments and well-intentioned advice from people as they learn the news. Know that it is not up to you to educate your circle of friends if someone makes an ignorant comment; instead, end the discussion as soon as you're able to do so for your own peace.
To sum it all up
To reiterate, there is no right or wrong way to share your pregnancy news—of any kind—with friends, families, partners, or the world. Each pregnancy is unique, and the right way to share your baby announcement is the way you wish to share it.