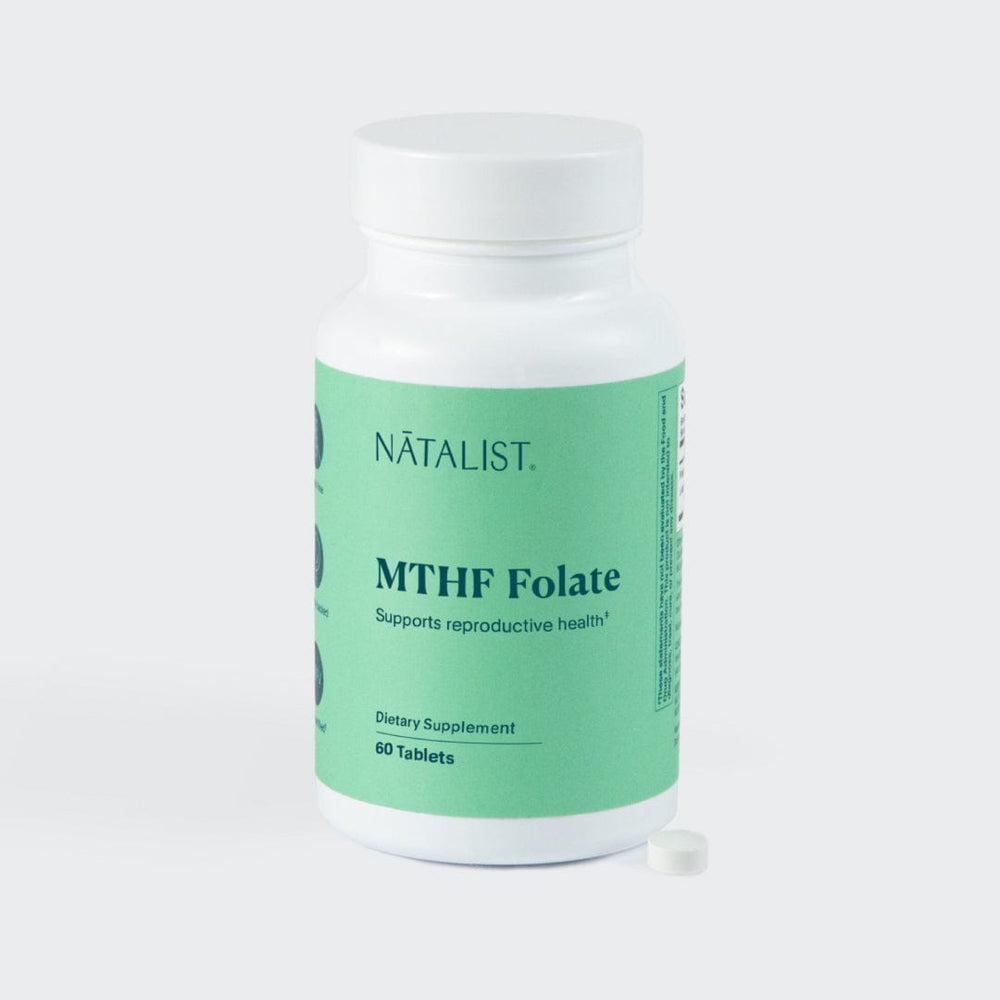 MTHF Folate
A biologically active methylated folate supplement for reproductive health and fetal development. 
Our 5 MTHF supplement contains the most abundant form of folate found in the body. Folate is recommended by the CDC and ACOG for all women of childbearing age to reduce the risk of spina bifida and other neural tube defects. Each tablet contains 1,000 mcg (1 mg) of folate to support fertility and pregnancy outcomes.‡
Product Details
2 month supply: 60 vegan tablets
1,000 mcg (1 mg) per tablet
Contains no yeast, wheat, gluten, soy protein, dairy, corn, sodium, sugar, starch, artificial coloring, preservatives, or flavoring
Why We're Proud
GMP Certified
Evidence Backed
Vegan
Gluten Free
100% Plastic Neutral
No Preservatives
"I've spent a big part of my career studying the impact of nutrition on fertility, and my top recommendation for women trying to conceive is to take at least 800 mcg of folate daily."
We do our homework. See the research behind our Methylated Folate (MTHF) supplements.
Natalist vitamins are formulated with attention to detail. Each ingredient is researched and considered.
Natalist vitamins are formulated with premium, high bioavailability ingredients for maximum efficacy and potency.‡
We are committed to manufacturing excellence. Every batch of vitamins is tested for product integrity.
All of our vitamins are made in an FDA Registered and Inspected Facility, which meets or exceeds FDA 21 CFR 111 guidelines. Certificates of analysis are reported for every batch of manufactured vitamins to ensure final product integrity and quality. Our vitamins are free of artificial and synthetic dyes and all allergens are disclosed on our label. Additionally, our vitamins are manufactured under strict procedures to ensure there is no cross-contamination during manufacturing and storage.‡
Formulated with high bioavailability MTHF folate to protect against neural tube defects.
MTHF folate (L-5-MTHF) is the most abundant folate found in the human body. It is naturally found in food, but is most easily absorbed from a dietary supplement. MTHF folate is the highest bioavailability folate found in dietary supplements. It can be immediately utilized by your body and doesn't need to be converted by the enzyme methylenetetrahydrofolate reductase (MTHFR).
Up to 25% of the population has a variant of the MTHFR gene (MTHFR 677TT) that significantly impairs their ability to metabolize folic acid. Individuals with this MTHFR variation are also at a higher risk of having a child with neural tube defects. The research is still preliminary, but people with the MTHFR 677TT variant are likely to benefit from MTHF folate supplementation over folic acid.‡ Learn more ⟶
Supports fertility and pregnancy outcomes.
Taking supplemental MTHF folate before and during pregnancy has been shown to reduce the risk of neural tube defects. Emerging research also shows that additional folate, above the levels taken to reduce neural tube defects, can improve fertility and birth outcomes in women trying to conceive.
Higher intakes of folate have been correlated with a reduced risk of infertility, shorter time to pregnancy, lower risk of pregnancy loss, and better outcomes of fertility treatments. Additionally, folate seems to be important for egg quality and maturation. Data suggests that high folate levels in follicular fluid (the liquid that surrounds the egg in the ovary) are associated with three-fold greater odds of becoming pregnant among women undergoing fertility treatments.‡
May improve IVF and other ART outcomes.
Women undergoing assisted reproduction, like IVF and IUI, have unique needs when it comes to nutrition and fertility. In 2019, A Harvard study found that women who took in more than 800 micrograms of supplemental folate while undergoing fertility treatment, among other dietary changes, had an increased probability of live birth.
Other studies have found similar results: One study evaluating 232 women undergoing assisted reproduction found that live birth rates were 20 percent higher among women who took the most folate (more than 800 mcg/day) compared to women who took less than 400 mcg/day. Additionally, higher supplemental folate intake was associated with higher fertilization rates and lower cycle failure rates before embryo transfer in this study.‡
Supports fertility for women exposed to frequent traffic-related air pollution.
Consistent exposure to traffic-related air pollution has been shown to be correlated with reduced fertility. Women who live closer to a major roadway or who are exposed to higher levels of nitrogen dioxide (gaseous air pollutants created due to road traffic and other fossil fuel combustion activities) are more likely to present with fertility challenges, including increased time to pregnancy, higher risk of miscarriage, lower chance of implantation, pregnancy, and live birth following fertility treatments.
Research from two independent studies suggest that high doses of supplemental folate can help the body reduce the negative effects of environmental pollutants on fertility, including nitrogen dioxide which is found in air pollution and bisphenol A which is found in consumer plastics.‡
Non-GMO, but that doesn't really matter.
Along with 88% of polled scientists, Natalist believes that the majority of genetically modified (GM) foods are safe. That said, we also believe that bioengineered ingredients should be clearly labeled so that consumers can make an informed purchase decision. Transparency is essential in building trust between brands and consumers. Our products clearly state if they do or do not contain genetically modified organisms (GMOs).
Discuss your dietary supplement routine with your doctor.
There's a lot of junk science out there, and products being sold with grand promises, but little or no data to back it up. We stand by our products and only sell supplements with ample clinical evidence supporting the claims. We try to be very clear about who would benefit most from these supplements, but it's also important to discuss your dietary supplement routine with your physician who can give further guidance.
This product is manufactured and packaged in a facility which may also process milk, soy, wheat, egg, peanuts, tree nuts, fish, and crustacean shellfish.
Here's some of the research that went into making our MTHF Folate supplement.
Technical Information
MTHF Folate Usage
Adults take 1 tablet every day or as directed by your doctor.
Serving Size: 1 Tablet
Servings Per Container: 60
Ingredients
Folate (as Metafolin®)
1,667 mcg DFE (1000 mcg L-5-MTHF)
Other ingredients:
Dicalcium Phosphate, Silicon Dioxide, Stearic Acid, Croscarmellose Sodium, Microcrystalline Cellulose, Magnesium Stearate.
Commonly asked questions about Natalist's MTHF Folate
Is your MTHF gluten-free?
Is your MTHF GMO-free?
Yes, our MTHF Folate is non-GMO.
How should I take MTHF?
That is totally up to you. Some people find it most convenient to take all of their vitamins for the day together; others prefer to space them out. Some take them in the morning; some take them at night. Some take them with food; others don't. Experiment and find what works best for you.
Will MTHF make me nauseous?
It's possible, but unlikely. If they do, try taking them with food or before bed to lessen this effect.
How should I store my MTHF?
For optimal results, vitamins should be stored in a cool, dry place. Avoid placing your vitamins in areas with excess heat or moisture; these elements can start to deteriorate the product and reduce their potency.
Does your MTHF Folate contain folate or folic acid?
Our product utilizes Folate in the natural form of 5-MTHF. For information on MTHF folate, read here.
What is the difference between Methylated Folate and Folic Acid?
While the terms are sometimes used interchangeably, folic acid is a synthetic form of folate made in a laboratory. It's found in vitamins, and it is also used in fortification of some processed foods. Methylated folate is dietary folate that can also be found in prenatal vitamins. It's a bit confusing, but MTHF folate can go by many names, such as levomefolic acid, L-5-MTHF, L-5-methyltetrahydrofolate, and (6S)-5-methyltetrahydrofolate, (6S)-5-MTHF. They are all the same kind of folate. Folic and folate are both within prenatal supplements, but you can read more on if
folate or folic acid is better for prenatal vitamins
.
Can I take this while pregnant or breastfeeding?
Yes. You can take MTHF Folate while breastfeeding, however, we recommend you consult your doctor if you have any concerns.
Do these expire?
Yes, all good things must come to an end. Check the expiration date on the bottle.
What if I take too many vitamins?
Call poison control at 800-222-1222.
How big is the Natalist MTHF?
Our MTHF Folate is a tablet that is 11/32" round.
What is this bottle made of?
Our supplement bottles are made of HDPE plastic (#2), BPA and phalate free, and are blue-bin recyclable.
So, why should you take 5 Methylfolate when trying to conceive?
Simply put, it's the perfect supplement that promotes healthy fertility because it can both increase the chance of a healthy fetus and can help strengthen your reproductive system.
What makes your packaging earth friendlier?
All Natalist products and packaging are 100% plastic neutral. For every pound of plastic we sell, we facilitate the removal of a pound of plastic pollution—giving your purchase a net-zero plastic footprint.
Can I get just one month's worth of MTHF Folate?
Consistency is key for many supplements, so we only offer this product as a subscription purchase. If you want to try it just once, you can place an order and either skip the next shipment, choose a specific date for your next shipment, or cancel. Simply log in to your Natalist account, head over to "Manage Subscriptions," and click "Edit" to get started. Additionally, we are excited to offer exclusive perks to subscribers, including discounted products (up to 50% off) and free shipping on all subscription orders.
‡These statements have not been evaluated by the Food and Drug Administration. This product is not intended to diagnose, treat, cure, or prevent any disease.
Consult your healthcare provider before adding any supplements to your regimen.