5 Reasons Why We Developed Prenatal Gummies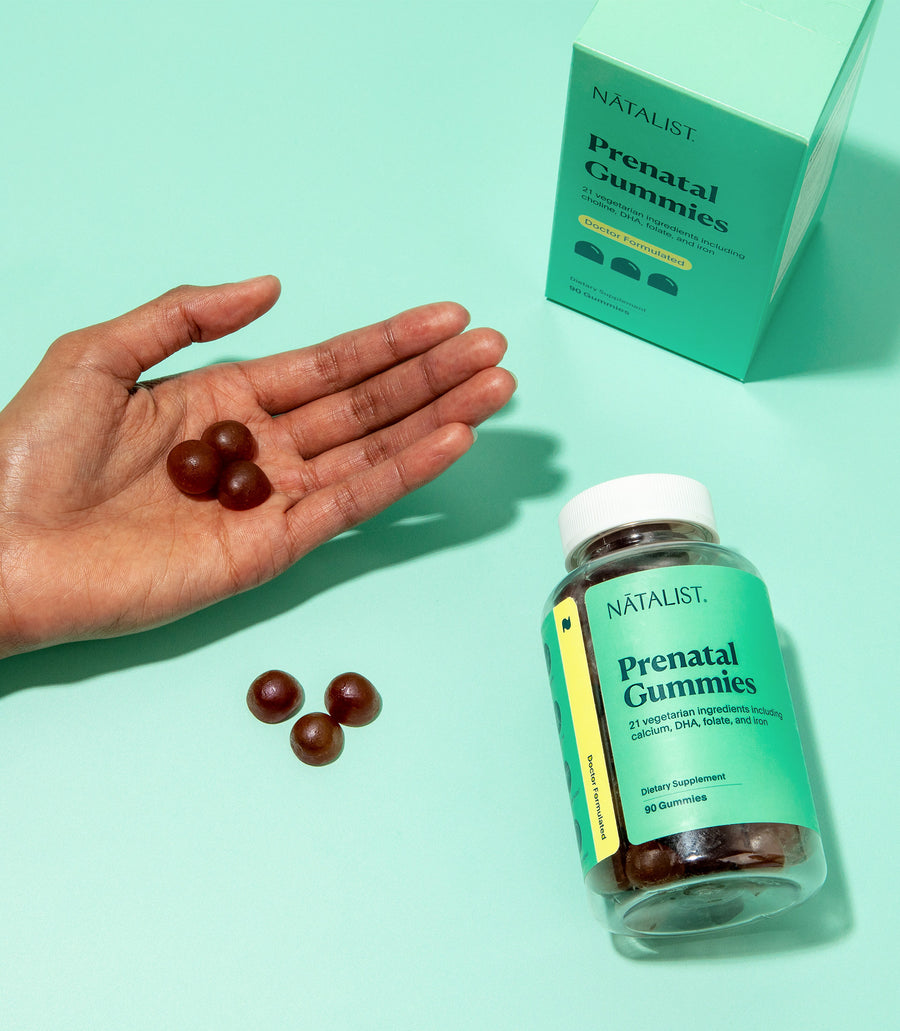 Pregnancy itself can be a challenge; why make it even harder by taking a prenatal vitamin you don't enjoy? Natalist Prenatal Gummies were formulated to provide a delightful alternative.
By product developer and women's rights enthusiast Courteney Bechtel
So you're thinking about trying to conceive (TTC) and know you need to start taking multivitamins formulated specifically for prenatal needs, but don't know where to start? Or perhaps you take a prenatal vitamin regimen already, but dread taking it everyday? Even worse, maybe you regularly skip taking your prenatal vitamin due to morning sickness or nausea? We get it, and that's why we developed our Prenatal Gummies. Here's why we love it!
1. Offers an alternative for people who struggle with swallowing pills
After receiving consumer feedback that many people struggle with swallowing any pills (not just prenatal vitamins), we wanted to provide an alternate option. Plus, with pregnancy nausea and other symptoms, even pregnant people who typically have no issues with swallowing capsules or pills may find a new challenge once their hormone levels start rising (oh the joys of pregnancy). After all, the best prenatal vitamin is the one you can take!
Natalist Prenatal Gummies are chewable (no need to swallow multiple whole pills with water) and have no fishy flavor.
2. Accommodates gluten-free and vegetarian lifestyles
Whether it's due to allergies, medical conditions, or just dietary preference, many people follow lifestyles that necessitate gluten-free or vegetarian ingredients. Our team specifically sought out ingredients to be in line with these dietary preferences in order to ensure our products include as many lifestyles as possible. Plus, all of our products are clearly labeled so you know exactly what's in them.
3. Provides vital prenatal nutrition with 21 key ingredients
Our advanced Prenatal Daily Packets offer the most comprehensive prenatal vitamin routine, but we get it—swallowing five capsules every single day throughout TTC and pregnancy can be tough. In developing our Prenatal Gummies, we researched and considered ingredients according to peer-reviewed studies to support and nourish your body at every stage of your pregnancy journey. In just three gummies per day, Natalist Prenatal Gummies offer 21 essential ingredients including DHA, folate, and iron—vital nutrients during pregnancy. Specifically, DHA supports brain and eye growth, DHA and folate support nervous system development, and iron can supply oxygen to the fetus. 
And while packing 100% daily value of all recommended nutrients into a gummy vitamin is nearly impossible, we worked with a practicing OBGYN and registered dietician specializing in fertility and pregnancy to formulate a prenatal gummy supplement with 21 key vitamins. As always, listen to your body throughout TTC and pregnancy and talk to your doctor about what supplements are right for you.
4. Includes choline–which some prenatals lack!
Some prenatal vitamins on the market lack choline, but growing evidence of its benefits shows choline improves several pregnancy outcomes and protects against certain neural and metabolic disorders. Approximately 95% of pregnant women don't get enough choline through diet, and most prenatals contain little—if any—choline. Some evidence indicates that lower choline levels are associated with an increased risk of neural tube defects. And while adding choline as an ingredient into a gummy was admittedly a challenge when it came to formulation, it was important to our team that our prenatal gummy include it. Natalist Prenatal Gummies contain 100mg of choline per serving, and when paired with a nutrient-rich diet, can help support you throughout every stage of TTC and pregnancy. Read more about choline-rich foods.
5. Appeals to many with its affordable price point
Finally, it was important for us to develop an affordable prenatal vitamin option. We've all seen the brands that offer prenatal vitamin subscriptions priced more than an OBGYN checkup. But we believe all women and pregnant people deserve to be able to take high-quality prenatal vitamins—and our Prenatal Gummies are just that.
We are proud of Natalist Prenatal Gummies and cannot wait for you to try them out! You can purchase them alone or bundled alongside our Vitamin D3 Gummies and CoQ10 Gummies for a gummy trio tailored to TTC and pregnancy needs. 
Takeaways
We spent nearly a year formulating Prenatal Gummies alongside pregnancy and fertility experts.

Prenatal Gummies were developed after reading feedback from people who struggle with swallowing pills or capsules.

The top 5 reasons why we developed Prenatal Gummies are: 1) provides a gummy alternative, 2) aligns with gluten-free and vegetarian lifestyles, 3) offers vital prenatal nutrition with 21 key ingredients, 4) includes choline, and 5) affordable price point.

You can purchase Prenatal Gummies alone or bundled with our other gummy products.
Read more about choline, DHA, iron, and more on the Natalist blog.
Shop Products From This Article