Can Breastfeeding Cause Fatigue?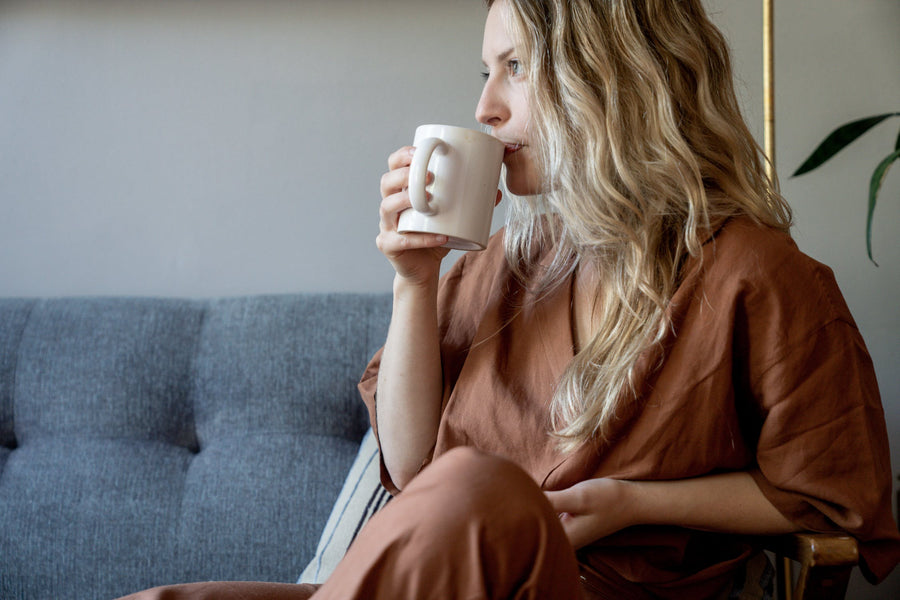 Exhausted from breastfeeding? Read on to learn why nursing may cause fatigue and get tips on how to keep your energy levels up.
The postpartum period is well known as a time of sleepless nights. Not only are you healing after childbirth, but you may be attempting to breastfeed and are adjusting to life with a newborn. It's estimated that around 64% of new mothers experience fatigue during the postpartum period. [1] So is this just the case for the majority of new moms, and does breastfeeding make fatigue worse?  
Why breastfeeding can make you tired
Postpartum life is likely to cause some fatigue while you heal from childbirth and adjust to caring for a newborn. In addition to this general sleepiness during postpartum, breastfeeding may actually worsen feelings of fatigue. [2] 
Diet
The American College of Obstetricians and Gynecologists (ACOG) recommends consuming an additional 450 to 500 calories a day while breastfeeding. [3] Nutrition plays a vital role in energy levels, and it's important that calories lost through breast milk are being replenished regularly. Fatigue has been tied to a deficiency in certain vitamins and minerals as well as anemia. [4] A study found that in 2018, 36% of research participants were anemic during the postpartum period. [5] Not eating enough, being iron-deficient or anemic, and having vitamin or nutritional deficiencies can all cause fatigue. To adequately support nutrition while breastfeeding, be sure to eat a balanced diet, take in additional calories, and talk to your healthcare provider about taking a postnatal vitamin or iron supplement. [3]
Hydration
Hydration also plays a vital role in milk production, nutrition, and energy levels. Breast milk is actually 80% water, meaning you lose a lot of water while breastfeeding and should try to consume about 16 cups of water a day. [6-7] Luckily, this doesn't all have to come from drinking plain water, and you can also reach your daily water intake through hydrating foods and hydrating drinks like electrolyte mixes. 
Not getting enough water may result in decreased milk supply, muscle weakness, headache, and fatigue. [8] Electrolytes are also an important factor in hydration and help transport vital nutrients throughout the body. Some people wonder if electrolytes can increase energy levels. While taking in electrolytes isn't going to give you more energy, research shows that vitamin B12 and other B vitamins may be helpful for supporting energy levels through oxygen and nutrient delivery. [4] Additionally, low levels of vital minerals (electrolytes) can lead to fatigue and lethargy. [4] Learn more about staying hydrated while breastfeeding → 
Hormones
There are a lot of hormonal changes occurring during the postpartum period, especially while breastfeeding. Breastfeeding causes the release of two hormones: oxytocin and prolactin. These hormones are responsible for milk production, milk flow, and help to inhibit ovulation for a few months while breastfeeding. There isn't conclusive evidence yet, but there is data that suggests moderate to high levels of prolactin may impact daytime sleepiness.  [9] 
Disrupted sleep cycles
It's no secret that caring for a newborn is hard work. The physical demands that come with breastfeeding, changing diapers, and healing from childbirth can all impact your energy levels. If you're waking up multiple times throughout the night to care for your child, you're likely disrupting the REM cycle which can lead to feelings of fatigue, emotional distress, mood disorders, and cognitive, memory, and performance deficits. [10] 
4 ways to manage fatigue while breastfeeding
1. Change your feeding techniques
Changing up your feeding techniques may help your baby get full feedings, stay full longer, and limit the amount of times you need to wake up or stop what you're doing to breastfeed. Practice responsive feeding rather than scheduled feedings, allowing your baby to nurse whenever they seem hungry. [11] Responsive feeding is likely to lead to babies feeding several times over a short period of time and sleeping for a longer period of time. 
It's also recommended that you feed your baby until they appear full and content every feed, rather than feeding for short periods of time. If necessary, you can provide stimulation to your child while they are nursing in order to keep them from dozing off. This may result in a longer feeding that will keep them full for longer. [11]
2. Ensure you're eating and drinking enough
As previously mentioned, hydration and diet play a very important role in postpartum recovery and breastfeeding. ACOG recommends that those breastfeeding consume additional calories every day to aid in milk production and to replace calories lost while breastfeeding. [3] Our cells obtain energy from the food we eat, so maintaining a balanced diet is key for fueling your body throughout the postpartum period. [12] Try to keep high protein snacks on hand so you can have something to eat during or after breastfeeding. Water is also necessary to help move nutrients and oxygen around the body and to the cells. You may want to speak to your healthcare provider about taking a postnatal vitamin to help you obtain all the important nutrients needed while breastfeeding. 
Hydration & Energy Electrolyte Drink Mix is a great way to support energy levels while staying hydrated. Shop breastfeeding safe drink mixes → 
3. Plan ahead and take time for yourself
Attempting to work through the fatigue of breastfeeding and taking care of a newborn can be difficult, especially if you're trying to take care of household chores, work, or have other obligations weighing you down. Try to prioritize activities that make you feel good and allow yourself the time to nap and rest during the day whenever possible. Having most of the essentials you need while nursing around the house can also help you feel more prepared and hopefully take some of the stress out of breastfeeding. Lastly, plan some you-time when you know you can nap, take a bath, visit with a friend, read a book, etc. 
4. Lean on your loved ones and ask for help
We should all be encouraged to ask for help when we need it. Postpartum brings about a lot of hormonal, physical, and emotional changes. It's completely normal to go through a period of adjustment and to sometimes feel exhausted or overwhelmed. [11] Now is a great time to lean on your loved ones for support. Whether you need help cleaning or organizing your home, getting groceries, cooking meals, changing diapers, etc., a helping hand can make a huge difference. Some people also lean on postpartum doula services or other services to help with baby care. Speak to your healthcare provider about how you're doing at home and if you think you can use support with child care. 
Postpartum depression and fatigue
Although not always the case, postpartum mood and anxiety disorders may be caused by a variety of factors, including increased fatigue. [13] Fatigue may also be a warning sign of postpartum depression and should be taken seriously. If you're struggling with your mental health or have concerns about your fatigue, reach out to a healthcare provider for support services immediately. There are also online support groups and resources available, such as:
Key takeaways
Fatigue during the postpartum period is experienced in about 64% of new moms
Breastfeeding uses up a lot of metabolic energy, which can increase fatigue.
If you aren't eating enough calories while breastfeeding, you may be putting yourself at risk of various vitamin deficiencies, including anemia. This can increase levels of fatigue.
Dehydration may also be impacting energy levels. Around 16 cups of water a day are needed while breastfeeding. 
Disrupted sleep cycles and hormonal changes can also play a role in fatigue. 
To support energy levels, be sure to eat a balanced diet and consume an additional 450-500 calories per day. 
Stay hydrated by eating hydrating foods and drinking plenty of water or other hydrating drinks, such as electrolyte mixes. 
Adjusting your feeding techniques may help your baby stay full longer, giving you longer periods of time to catch up on sleep. 
Don't be afraid to lean on your loved ones for support if you need time to rest. Speak to your healthcare provider if you have concerns about your mental health or fatigue levels. 
References:
Badr HA, Zauszniewski JA. Meta-analysis of the predictive factors of postpartum fatigue. Appl Nurs Res. 2017;36:122-127. doi:10.1016/j.apnr.2017.06.010
Senol DK, Yurdakul M, Ozkan SA. The effect of maternal fatigue on breastfeeding. Niger J Clin Pract. 2019;22(12):1662-1668. doi:10.4103/njcp.njcp_576_18
Breastfeeding Your Baby. ACOG. Updated May 2021. URL. Accessed April 2023. 
Tardy AL, Pouteau E, Marquez D, Yilmaz C, Scholey A. Vitamins and Minerals for Energy, Fatigue and Cognition: A Narrative Review of the Biochemical and Clinical Evidence. Nutrients. 2020;12(1):228. Published 2020 Jan 16. doi:10.3390/nu12010228
Anemia in Pregnant and Postpartum Women. Minnesota WIC Fact Sheet. 2019. URL. 
Breastfeeding. WHO Q&A. July 28 2015. URL. Accessed April 2023. 
Gordon B. Nursing Your Baby What You Eat and Drink Matters. Academy of Nutrition and Dietetics. April 13 2022. URL. 
Shaheen NA, Alqahtani AA, Assiri H, Alkhodair R, Hussein MA. Public knowledge of dehydration and fluid intake practices: variation by participants' characteristics. BMC Public Health. 2018;18(1):1346. Published 2018 Dec 5. doi:10.1186/s12889-018-6252-5
Mogavero MP, Cosentino FII, Lanuzza B, et al. Increased Serum Prolactin and Excessive Daytime Sleepiness: An Attempt of Proof-of-Concept Study. Brain Sci. 2021;11(12):1574. Published 2021 Nov 28. doi:10.3390/brainsci11121574
Medic G, Wille M, Hemels ME. Short- and long-term health consequences of sleep disruption. Nat Sci Sleep. 2017;9:151-161. Published 2017 May 19. doi:10.2147/NSS.S134864
Tips for handling fatigue during the early stages of breastfeeding. UpToDate. URL. Accessed April 2023.
Alberts B, Johnson A, Lewis J, et al. Molecular Biology of the Cell. 4th edition. New York: Garland Science; 2002. How Cells Obtain Energy from Food. Available from: https://www.ncbi.nlm.nih.gov/books/NBK26882/
Postpartum Depression. ACOG FAQ 091. Reviewed December 2021. URL. Accessed April 2023. 
Shop Products From This Article
Subscribe & Save $5.00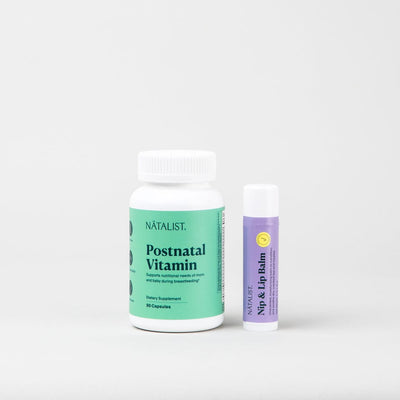 Essentials to support your breastfeeding journey
$55 $45
Subscribe & Save $3.00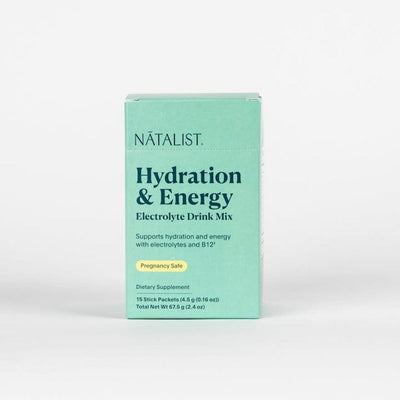 Caffeine-free & sugar-free energy support‡
$32