Do Stretch Marks Go Away After Pregnancy?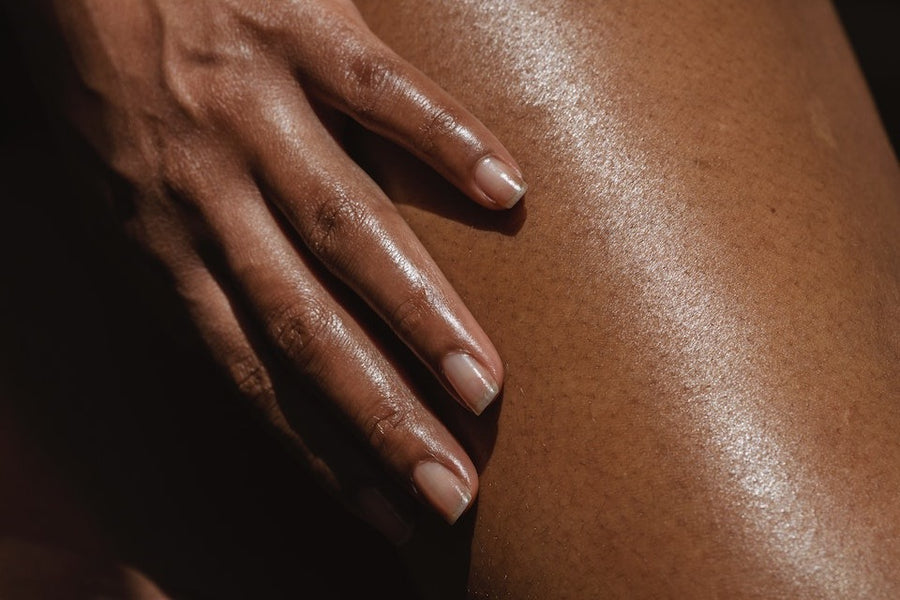 A growing body during pregnancy will often lead to the development of stretch marks on the arms, thighs, abdomen, and breasts. Let's talk about the healing process of stretch marks and what we know about potential treatments. 
The truth about stretch marks after pregnancy
Stretch marks are very common during pregnancy and postpartum and are caused by the elastin and collagen in the dermis breaking, reorganizing, and healing. [1] Stretch marks most commonly appear on the thighs, stomach, and breasts. Anywhere from 50% to 90% of pregnant individuals will develop stretch marks during or after pregnancy. [2] While there isn't much that can be done to prevent or get rid of stretch marks, time will cause them to fade. It's important to remember that stretch marks are not something to be afraid of or embarrassed about; they are just proof of the amazing changes your body is capable of!
Do pregnancy stretch marks really go away?
Yes and no. There are a few different classifications of stretch marks (striae), including striae rubrae (red or pink and slightly raised) and striae albae (wrinkled scars, typically white or without pigment). [1] When stretch marks first appear they are likely raised and more noticeable on the skin, however with time, the marks will begin to fade, lose their color, and feel more like depressions in the skin. [1-2] This fading process can take years and typically still results in some sort of permanent scar. [3] It's rare that stretch marks will disappear or fade completely on their own. 
Factors affecting the healing process
Some people are at a higher risk of developing stretch marks or having more evident stretch marks. [1] These risk factors may also cause stretch marks to be darker or more prominent throughout the healing process. This includes the following [1]:
Family history of stretch marks
Having a darker skin tone
Younger maternal age while pregnant
Increased weight gain or abdominal circumference
History of smoking 
Use of corticosteroids
How long does it take for stretch marks to fade after pregnancy?
There may be individual differences in healing time depending on skin elasticity, age, genetics, and more. [1,3,4] It is not a guarantee that stretch marks will fade completely after giving birth, generally striae will lose pigmentation and begin to sink beneath the skin, becoming more of a depression than raised lines. [2] It's estimated that stretch marks begin to fade within six months to several years after they form.   
Tips for reducing the appearance of stretch marks
While no one should ever feel as if they need to prevent or reduce the appearance of their stretch marks, I understand that some people may be curious about what methods are effective. Truthfully there are no proven methods for completely preventing or getting rid of stretch marks, but we do know that some tips may help support skin health and elasticity overall. [2] Some research also suggests that tending to fresh stretch marks may be more effective than attempting to reduce more mature or faded striae. [5]
Topical treatments
There are a lot of topical treatments available that claim to treat fine lines, wrinkles, stretch marks, and more. There is no guarantee that these products will be effective for everyone, but some data does suggest that water-in-oil stretch mark creams or belly oil made with argan oil, cocoa butter, beeswax, and other emollients may be useful for skin repair, moisturization, and more. [6] This keeps the skin moisturized and more elastic, potentially reducing stretch mark development, managing existing stretch marks, or treating itchy stretch marks during and after pregnancy. [2,6] Other topical products include tretinoin, although this product is not deemed safe for use while pregnant or breastfeeding. [1]

In-office treatments
There are some more invasive options for stretch mark treatment that include laser treatments, microdermabrasion, chemical peels, etc. Efficacy of these treatments is unknown or difficult to conclude due to low quality trials and differing results. [1] These treatments must be completed in-office with a healthcare professional and often are not safe during pregnancy or while breastfeeding. [1] Laser or light therapy has shown some of the most promising results for improving the appearance of stretch marks, but may not be suitable for all skin types. [1-2]
Staying hydrated
Keeping the body hydrated is another way to support skin health and potentially aid in the healing of stretch marks. Our skin is approximately one third water, and water plays an important role in the elasticity and resiliency of the skin. [7] Maintaining optimal dietary water intake may be useful for reducing the severity of stretch marks or improving the healing and fading process. [1,7] Support proper fluid balance with pregnancy safe Hydration & Energy Electrolyte Drink Mix 
Other postpartum changes to expect
Stretch marks likely aren't the only change you'll notice during pregnancy and postpartum. Hormones are shifting after delivery and during breastfeeding which can cause changes in your sleep, skin, hair, emotions, and more. [8-10] Many will experience thick, voluminous hair during pregnancy only to experience hair loss after giving birth. Same goes for your skin; around 90% of pregnant women will experience skin changes during pregnancy. [8] Breastfeeding and healing from childbirth can also cause cracked nipples, pain, problems with the pelvic floor, etc. Have a conversation with your healthcare provider about what to expect during postpartum and what warning signs to be aware of when identifying postpartum complications. The good news is that many changes will resolve on their own within a few weeks to a few months after childbirth. 
Embracing your post-pregnancy body
While sometimes easier said than done, embracing your body before, during, and after pregnancy is so important. Everyone's reproductive journey is different, beautiful, and bound to cause some physical and emotional changes. There's nothing wrong with wanting to feel and look your best, so proceed in any way that feels right for you and is approved by your healthcare provider. Consulting medical professionals is the best way to find treatments and products that are safe and effective. Check out Natalist Self-Care products to pamper and nourish your body at every stage of your journey. 
References:
Oakley AM, Patel BC. Stretch Marks. [Updated 2022 Aug 8]. In: StatPearls [Internet]. Treasure Island (FL): StatPearls Publishing; 2023 Jan-. Available from: https://www.ncbi.nlm.nih.gov/books/NBK436005/
Wollina U, Goldman A. Management of stretch marks (with a focus on striae rubrae). J Cutan Aesthet Surg. 2017;10(3):124-129. doi:10.4103/JCAS.JCAS_118_17
Stretch Marks. Cleveland Clinic. May 4 2022. URL. 
Mendes N, Alves PJ, Barros M, Rodrigues JM, Machado J. A Narrative Review of Current Striae Treatments. Healthcare (Basel). 2022;10(12):2565. Published 2022 Dec 17. doi:10.3390/healthcare10122565
Bogdan C, Moldovan ML, Man IM, Crișan M. Preliminary study on the development of an antistretch marks water-in-oil cream: ultrasound assessment, texture analysis, and sensory analysis. Clin Cosmet Investig Dermatol. 2016;9:249-255. Published 2016 Sep 6. doi:10.2147/CCID.S107298
Ahmed M, Hwang JH, Choi S, Han D. Safety classification of herbal medicines used among pregnant women in Asian countries: a systematic review. BMC Complement Altern Med. 2017;17(1):489. Published 2017 Nov 14. doi:10.1186/s12906-017-1995-6
Popkin BM, D'Anci KE, Rosenberg IH. Water, hydration, and health. Nutr Rev. 2010;68(8):439-458. doi:10.1111/j.1753-4887.2010.00304.x
Kar S, Krishnan A, Shivkumar PV. Pregnancy and skin. J Obstet Gynaecol India. 2012;62(3):268-275. doi:10.1007/s13224-012-0179-z
Piérard-Franchimont C, Piérard GE. Alterations in hair follicle dynamics in women. Biomed Res Int. 2013;2013:957432. doi:10.1155/2013/957432
Mughal S, Azhar Y, Siddiqui W. Postpartum Depression. [Updated 2022 Oct 7]. In: StatPearls [Internet]. Treasure Island (FL): StatPearls Publishing; 2023 Jan-. Available from: https://www.ncbi.nlm.nih.gov/books/NBK519070/