Can Implantation Bleeding Be Heavy? What to Expect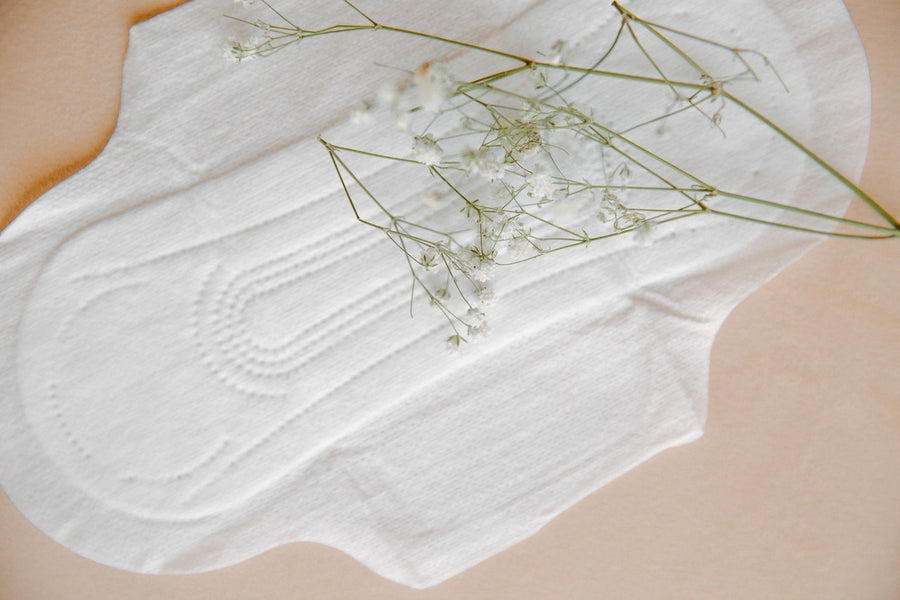 By OBGYN Dr. Kenosha Gleaton
Wondering how heavy implantation bleeding can be? Whether or not you're trying to conceive, identifying the cause and type of vaginal bleeding you're experiencing can be confusing. Let's talk about what implantation bleeding is and what it looks like. 
What Is Implantation Bleeding?
Implantation bleeding refers to the spotting or bleeding that sometimes occurs after a fertilized egg attaches to the uterine lining. [1-2] Implantation bleeding is thought to occur in about 25% of pregnant people and is considered a normal part of pregnancy. [1-2]
Backing up, a normal menstrual cycle consists of menstruation and ovulation. Ovulation is the release of an egg, which occurs about once a month. Fertilization refers to the meeting of sperm and egg, which then creates an embryo. After fertilization occurs, an embryo will travel down the fallopian tubes and into the uterus, which is where a fetus will grow until childbirth. In order for the embryo to develop and grow into a fetus, it must attach to the wall of the uterus. [1-2] This is where implantation occurs. When the embryo implants, it can disrupt some of the blood vessels found in the lining of the uterus, resulting in implantation bleeding. [2] Learn more about after ovulation symptoms → 
When Does Implantation Bleeding Occur?
Implantation bleeding can be confusing for many as it tends to occur when you might expect your period to begin. Most often, implantation bleeding will happen around 6 to 14 days after conception, about two weeks after ovulation. [1,3] It's possible and common for someone to wonder if they are experiencing implantation spotting or their menstrual period. This is why knowing the concurring symptoms of early pregnancy or menstruation, as well as what to look out for when identifying implantation bleeding can be so helpful.  If you aren't sure when you're ovulating, check out our ovulation calculator or consider using ovulation tests to pinpoint your fertile window. 
How Long Does It Last?
The length of implantation bleeding can vary from person to person. Some people have reported spotting or bleeding for a few days while others may only notice the bleeding once. In many cases, the bleeding may only be noticed because it shows up as a spot on your underwear or toilet paper. It's very unlikely that implantation bleeding will last for more than 2 days. [1] 

Can Implantation Bleeding Be Heavy?
Implantation bleeding is actually spotting, or very light bleeding. This bleeding only occurs as a result of some uterine blood vessels being disrupted during implantation. If someone is experiencing heavy bleeding, such as enough blood to soak a pad or tampon, it is unlikely that they're experiencing implantation bleeding. [1-3] There are many other explanations as to why someone may be experiencing heavier bleeding, including menstruation, fibroids, an ectopic pregnancy, or an underlying condition. [2] You should speak to a healthcare provider if you're concerned or have questions about any vaginal bleeding. 
What Does Implantation Bleeding Look Like?
Implantation bleeding is most likely to appear as light spotting. The blood may be brown or slightly pink, but usually will not be bright red or heavy enough to contain clots. [1] You may be able to notice a hint of blood when wiping or inspecting your underwear, but implantation isn't likely to cause enough blood to soak through a pad or tampon. Additionally, bleeding from an implanted embryo will resemble the flow of normal vaginal discharge rather than the flow of a period, meaning it won't be continuous and is unlikely to get heavier as time passes. [1] To summarize, implantation bleeding often looks like [1]:
Slightly pink or brown 
Similar amount and flow of normal vaginal discharge (lasting less than 48 hours)
Not heavy enough to soak a pad
How to Recognize Implantation Bleeding
Keep in mind that there are many different causes of vaginal bleeding or spotting, ranging from an ectopic pregnancy to an irregular period. There are a few factors to consider when trying to determine the cause of your bleeding. 
The first thing to keep in mind is timing. Implantation usually occurs anywhere from six to 14 days after fertilization, which can line up with the start of your next period. [1,3] If you're experiencing bleeding outside of this time frame, you may be experiencing ovulation spotting or some other kind of vaginal bleeding. [2] 
The second thing to note is how long your bleeding lasts. Make note of when you noticed the bleeding and how long it's happening. If you only had spotting for under 48 hours, you may be experiencing implantation bleeding. While some people can have very short menstrual periods, bleeding typically lasts for a minimum of three days. [2] 
Lastly, you may want to keep an eye out for other early pregnancy symptoms. If you're experiencing implantation bleeding, that means that a fertilized egg has implanted in your uterus and you're in the early stages of pregnancy. Not everyone will have pregnancy symptoms this early on, but it is possible to experience some fatigue, bloating, nausea, breast tenderness, and headache. [1] With early-result pregnancy tests, you may be able to determine if you're pregnant as early as six days before a missed period. 
Take Out the Guesswork With Natalist Tests
Whether you are hoping to conceive or not, you deserve to get a clear answer as early as possible. Vaginal bleeding can range from light spotting to a heavy flow and may be caused by a wide variety of things. While there are some telltale signs to look for when comparing implantation bleeding and menstruation, the best way to confirm if you're pregnant is by taking a sensitive, early-result pregnancy test. As a reminder, you should always speak with your provider directly if you have any concerns or questions. 
Shop all Natalist tests, or keep reading about TTC. 
References:
Implantation Bleeding. Cleveland Clinic. December 2022. https://my.clevelandclinic.org/health/symptoms/24536-implantation-bleeding
Jeanmonod R, Skelly CL, Agresti D. Vaginal Bleeding. [Updated 2023 Feb 5]. In: StatPearls [Internet]. Treasure Island (FL): StatPearls Publishing; 2023 Jan-. Available from: https://www.ncbi.nlm.nih.gov/books/NBK470230/
Marnach, M. Is implantation bleeding common in early pregnancy? Mayo Clinic. April 2022. https://www.mayoclinic.org/healthy-lifestyle/pregnancy-week-by-week/expert-answers/implantation-bleeding/faq-20058257