Diabetes and Male Fertility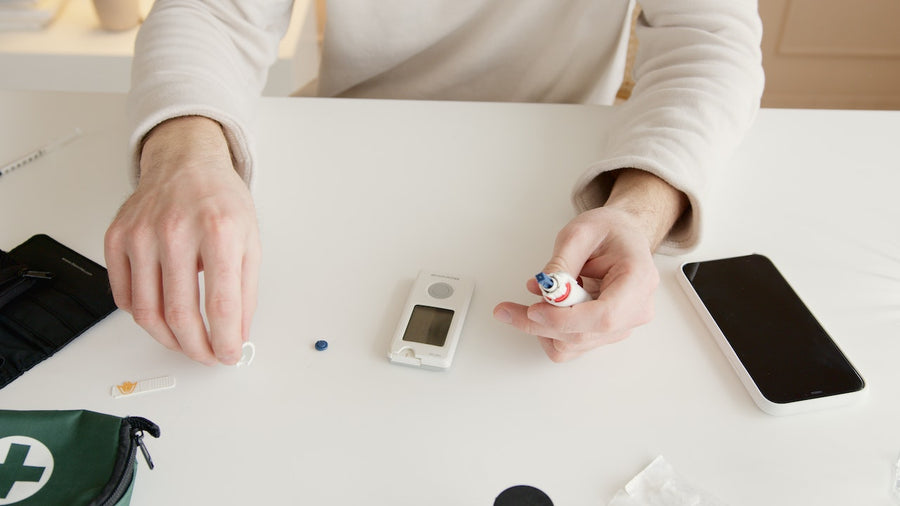 By OBGYN Dr. Kenosha Gleaton
What Is Diabetes?
Diabetes is a chronic health condition that impacts the way the body turns food into energy. When we eat food, the body breaks down the majority of the food into sugar (glucose). When our blood sugar goes up, the pancreas then begins to release insulin, which allows our cells to turn the sugar into usable energy. People with diabetes aren't able to produce enough insulin or use insulin as well as they should. This leads to a surplus of sugar in the bloodstream, which can lead to serious health problems down the line, including heart disease, kidney disease, vision loss, and others. [1] 
There are a few different types of diabetes, including type 1, type 2, and gestational diabetes, which occurs during pregnancy. Type 1 diabetes is thought to be caused by an autoimmune reaction that stops the body from making insulin. [1] Type 1 diabetes makes up about 5-10% of diabetes cases. Children, teenagers, and young adults are usually diagnosed with type 1 diabetes and the condition isn't thought to be preventable at this time. [1] 
Type 2 diabetes is more common, making up about 90-95% of cases. Those with type 2 diabetes aren't able to use insulin well and aren't able to regulate blood sugar properly. Type 2 diabetes develops over many years and can be prevented or delayed with healthy lifestyle choices. [1] 
Does Diabetes Impact Male Fertility?
Diabetes does have the potential to impact male fertility, especially if it's uncontrolled. Studies show that men with diabetes are more likely to have erectile dysfunction than those without diabetes. [2] Additionally, diabetes is associated with reduced semen volume, sperm health, and decreased testosterone. [3] Let's take a closer look at the effects of diabetes on male fertility. 
Type 1 Diabetes
Research shows that patients with type 1 diabetes have reduced semen count, concentration, and diminished semen volume, likely caused by mitochondrial damage in the body and damaged ejaculation nerves. [3-4] Researchers also found that patients with type 1 diabetes had increased oxidative stress that can alter sperm health. Oxidative stress can lead to DNA damage, sperm dysfunction, and other negative health effects. [5] Other data shows that type 1 diabetes is associated with reduced motility, meaning the sperm is unable to move efficiently. [3] 
Type 2 Diabetes
Research shows that type 2 diabetes patients show even more signs of oxidative damage than those living with type 1 diabetes. [4] Those with type 2 diabetes had increased white blood cells in their semen, increasing damage to sperm motility, mobility, and sperm count, as well as damage to sperm DNA. [4] 
Obesity and Male Fertility
In some ways, obesity and diabetes are correlated. Studies show that being overweight raises the risk of type 2 diabetes, and about 90% of patients with type 2 diabetes are considered overweight or obese. [6] Current evidence suggests that obesity negatively affects sperm parameters in men and is associated with low testosterone levels. [3] 

Managing Diabetes
We don't have a cure for diabetes at this time, but diabetes is fortunately a very manageable condition. Altering your diet, exercising regularly, and losing weight are three ways to reduce your risk of diabetes and manage the condition. [1] It's also important to take your medicine as prescribed, educate yourself on self-management techniques, and attend all healthcare appointments. Other ways to manage diabetes include [7]:
Test your A1C
Check your blood pressure
Manage your cholesterol
Stop smoking
If you have questions about your meal plan, exercise routine, or monitoring goals, be sure to speak directly with your healthcare provider. 
Supporting Sperm Health
So what can be done to support healthy sperm and fertility? There are many factors that influence male fertility, so don't be discouraged if you or someone you love has diabetes. Although some data suggest that male fertility is negatively impacted by diabetes, managing the condition and finding other ways to support sperm health can increase your risk of positive outcomes. In general, the best way to support male fertility is through [8]:
Maintaining a healthy weight
Eating a healthy diet
Preventing and treating STIs
Supporting a healthy diet with Male Prenatal Vitamins or CoQ10 supplements
Managing stress
Exercising regularly
Limiting alcohol
Limiting exposure to toxins
Don't smoke
Key Takeaways
Diabetes is a chronic condition related to the way the body turns food into energy. 
There are three types of diabetes: type 1, type 2, and gestational diabetes. 
Diabetes has the ability to impact male fertility and has been associated with erectile dysfunction and reduced semen volume, sperm count, testosterone levels, and sperm health. 
Type 1 diabetes specifically was shown to increase the risk of reduced semen count, concentration, and semen volume. 
Type 2 diabetes was shown to increase the risk of oxidative damage to sperm, including sperm motility, mobility, sperm count, and sperm DNA. 
Diabetes can't be cured but is manageable with medications, monitoring, diet, and exercise. 
Those wanting to support sperm health and male fertility should adopt a healthy lifestyle, including stress management, adequate nutrition, physical activity, and other healthy habits. 
References:
What is Diabetes? CDC. April 2023. URL. 
Kouidrat Y, Pizzol D, Cosco T, et al. High prevalence of erectile dysfunction in diabetes: a systematic review and meta-analysis of 145 studies. Diabet Med. 2017;34(9):1185-1192. doi:10.1111/dme.13403
Zhong O, Ji L, Wang J, Lei X, Huang H. Association of diabetes and obesity with sperm parameters and testosterone levels: a meta-analysis. Diabetol Metab Syndr. 2021;13(1):109. doi:10.1186/s13098-021-00728-2
Condorelli RA, La Vignera S, Mongioì LM, Alamo A, Calogero AE. Diabetes Mellitus and Infertility: Different Pathophysiological Effects in Type 1 and Type 2 on Sperm Function. Front Endocrinol (Lausanne). 2018;9:268. Published 2018 May 25. doi:10.3389/fendo.2018.00268
Agarwal A, Virk G, Ong C, du Plessis SS. Effect of oxidative stress on male reproduction. World J Mens Health. 2014;32(1):1-17. doi:10.5534/wjmh.2014.32.1.1
Carolyn T. Bramante, Clare J. Lee, Kimberly A. Gudzune; Treatment of Obesity in Patients With Diabetes. Diabetes Spectr 1 November 2017; 30 (4): 237–243. https://doi.org/10.2337/ds17-0030
Managing Diabetes. National Institute of Diabetes and Digestive and Kidney Diseases (NIDDK). December 2016. URL. 
Healthy sperm: Improving your fertility. Mayo Clinic. May 2022. URL.
Shop Products From This Article