Lycopene for Prostate Health: Benefits & What to Know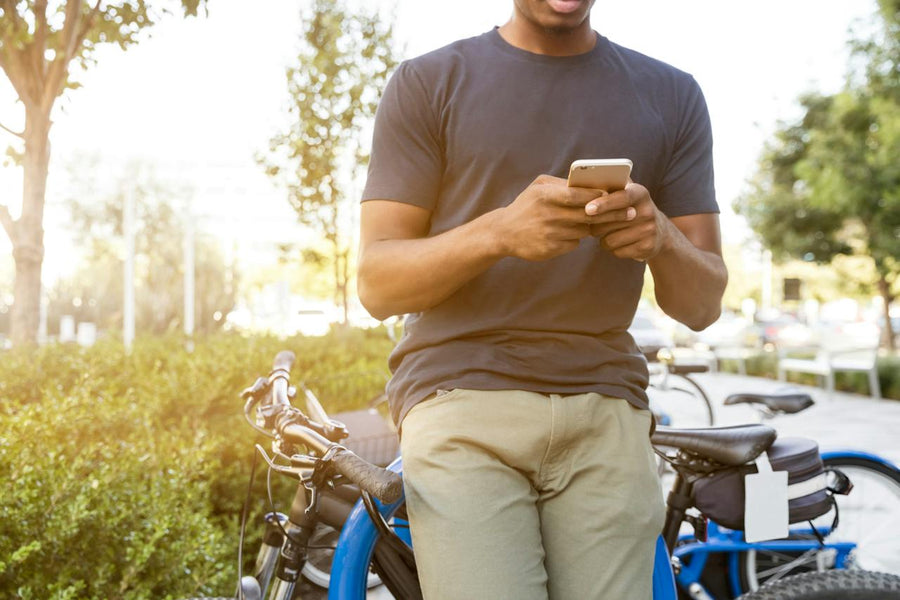 What Is Lycopene?
Lycopene is a compound found in plants that has been shown to support fertility, bone health, and heart health. [1] Lycopene is a plant pigment, meaning it gives certain plants a distinct color.. (here's a hint: tomatoes are a very rich source of lycopene). [1] 
Origin and Characteristics
Lycopene is a member of the carotenoid family, a class of over 700 naturally occurring red, yellow, and orange pigments that are found in plants, algae, and bacteria. Carotenoids are what give certain plants, fruits, and vegetables their distinctive colors- such as tomatoes, bell peppers, watermelon, etc. [1] 
Research suggests that lycopene may have the highest antioxidant potential among carotenoid pigments, supporting our health in a variety of ways. [2] Lycopene is responsible for the red or pink pigment in many fruits and vegetables and provides beneficial antioxidant, anticancer, and anti-inflammatory benefits to the body. [1-2] 
Foods Rich in Lycopene
Now that you know what color to look for, you may already have a good idea of what fruits and vegetables are rich sources of lycopene. Here are a few examples of lycopene-rich foods [1]:
Tomatoes
Guava
Grapefruit
Papaya
Apricot
Watermelon
Red bell pepper
Persimmon
Tomatoes are the most well-known sources of lycopene. When heat-treated, tomatoes can contain extremely high amounts of the compound. For example, it's estimated that one serving of tomato powder contains over 45,000 mcg of lycopene, while a raw tomato only contains about 4,500 mcg. [1] 
The Connection Between Lycopene and Prostate Health
Not only is lycopene a great source of antioxidants, but some research suggests that lycopene may have a positive effect on prostate health and prostate cancer. 
Lycopene's Role in Prostate Health
The prostate is a small gland that helps produce semen. [3] The prostate is located below the bladder and in front of the rectum. Aside from skin cancer, prostate cancer is the most common cancer in American men. [3] Multiple studies have shown that high levels of lycopene may protect against prostate cancer and slow or stop the growth of some cancer cells. [4-5] We're still learning more about lycopene's effects, but research suggests that lycopene enhances antioxidant behavior in prostate cells, reducing oxidative damage in cells as well as helping to stop the replication of cancer cells. [6] This means that lycopene may be beneficial for both preventing and treating prostate cancer. [4-7] These anti-cancer effects may also reduce the risk of colorectal cancer. [1,5] More research is needed to fully understand lycopene's effects on cancer. Read a urologist's guide to male fertility. 
How Much Lycopene Should I Take for Prostate?
There is no established dose recommendation for lycopene intake. Research studies focused on prostate health have established that consuming anywhere from  9 and 21 mg/day was associated with positive outcomes. [4] Other studies have also reported beneficial health effects and minimal side effects when supplementing with up to 45 mg of lycopene per day. [8] Keep in mind that lycopene is already consumed naturally through a balanced diet and is found in various fruits and vegetables, such as tomatoes, tomato products, watermelon, bell peppers, and more. [1] If you are looking for another way to increase your lycopene intake, consider a multivitamin. Natalist Male Prenatal contains 8 mg of lycopene along with other key nutrients.  You should speak to your healthcare provider before trying any new supplements or if you have any concerns or questions about lycopene intake or prostate health. 
Other Health Benefits of Lycopene
Lycopene has been shown to benefit more than just male reproductive health. From heart health to skin protection, here are a few additional health benefits of lycopene. 
Lycopene and Cardiovascular Health
Some studies have also found an association between lycopene and heart health. Research shows that the antioxidant effects of lycopene may actually reduce the risk of cardiovascular disease, a leading cause of death in the United States. [1-2] A study found that lycopene binds to some plasma cholesterol, which can limit clogged arteries and inflammation. [2] Diets high in lycopene have also been found to reduce the risk of stroke and CVD. [1,9]
Lycopene for Bone and Skin Health
Lycopene's antioxidant activities make it a useful compound for bone and skin health. Research shows that lycopene may help to decrease bone loss, support bone strength, and improve bone density. [10-11] Lycopene may also protect against UV damage which can result from prolonged sun exposure and may increase the risk of skin cancer and signs of aging. [12-13] 
Lycopene and Fertility Support
Aside from a healthy prostate, lycopene has been shown to support male fertility by improving sperm parameters. [14-15] Lycopene's antioxidant effects on fertility have been shown to increase sperm count, improve motility, and improve viability. Two different studies have also found that lycopene intake may improve pregnancy rates. [14-15] 
Additional Benefits
There are many other studied benefits of lycopene, including vision support, protection against some pain, memory loss, and seizures associated with neurological conditions, and more. [1] Learn more about the benefits of lycopene here. 
Side Effects of Lycopene Intake
Consuming large amounts of lycopene has the potential to lead to minor skin discoloration. [16] This is a result of a high carotenoid content and can also happen if someone consumes a very high amount of any particular pigment, such as beta-carotene found in carrots. Skin discoloration is considered harmless and temporary. [16,17] There may be some interactions or negative side effects for anyone that is pregnant, breastfeeding, taking anticoagulant medications, or taking antiplatelet drugs. [8] These groups should be cautious when supplementing or eating high amounts of lycopene. A reminder that a healthcare provider should always be consulted before taking new medications. 
Natalist's Commitment to Reproductive Health
Reproductive health involves fertility, sexual health, puberty, and any conditions, diseases, or complications relating to female and male reproductive organs. Supporting reproductive health is likely a priority for many who are actively trying or planning to grow their family. No matter what stage you're currently in, taking steps to support your health and wellness is important. At Natalist, we're focused on providing resources and products to support reproductive and sexual health for all. Get lycopene-rich male prenatal vitamins, female prenatal daily packets, self-care bundles, and more. Keep learning about nutrition on the Natalist blog. 
References:
Khan UM, Sevindik M, Zarrabi A, et al. Lycopene: Food Sources, Biological Activities, and Human Health Benefits. Oxid Med Cell Longev. 2021;2021:2713511. Published 2021 Nov 19. doi:10.1155/2021/2713511
Przybylska S, Tokarczyk G. Lycopene in the Prevention of Cardiovascular Diseases. Int J Mol Sci. 2022;23(4):1957. Published 2022 Feb 10. doi:10.3390/ijms23041957
What Is Prostate Cancer? Division of Cancer Prevention and Control, Centers for Disease Control and Prevention. July 2023. https://www.cdc.gov/cancer/prostate/basic_info/what-is-prostate-cancer.htm
Chen P, Zhang W, Wang X, et al. Lycopene and Risk of Prostate Cancer: A Systematic Review and Meta-Analysis. Medicine (Baltimore). 2015;94(33):e1260. doi:10.1097/MD.0000000000001260
Reuter S, Gupta SC, Chaturvedi MM, Aggarwal BB. Oxidative stress, inflammation, and cancer: how are they linked?. Free Radic Biol Med. 2010;49(11):1603-1616. doi:10.1016/j.freeradbiomed.2010.09.006
Holzapfel NP, Holzapfel BM, Champ S, Feldthusen J, Clements J, Hutmacher DW. The potential role of lycopene for the prevention and therapy of prostate cancer: from molecular mechanisms to clinical evidence. Int J Mol Sci. 2013;14(7):14620-14646. Published 2013 Jul 12. doi:10.3390/ijms140714620
Mirahmadi M, Azimi-Hashemi S, Saburi E, Kamali H, Pishbin M, Hadizadeh F. Potential inhibitory effect of lycopene on prostate cancer. Biomed Pharmacother. 2020;129:110459. doi:10.1016/j.biopha.2020.110459
Lycopene. NIH. Medline Plus. September 8 2021. https://medlineplus.gov/druginfo/natural/554.html#Safety. 
Li X, Xu J. Dietary and circulating lycopene and stroke risk: a meta-analysis of prospective studies [published correction appears in Sci Rep. 2014;4:5906]. Sci Rep. 2014;4:5031. Published 2014 May 22. doi:10.1038/srep05031
Ardawi MM, Badawoud MH, Hassan SM, et al. Lycopene treatment against loss of bone mass, microarchitecture and strength in relation to regulatory mechanisms in a postmenopausal osteoporosis model. Bone. 2016;83:127-140. doi:10.1016/j.bone.2015.10.017
Walallawita US, Wolber FM, Ziv-Gal A, Kruger MC, Heyes JA. Potential Role of Lycopene in the Prevention of Postmenopausal Bone Loss: Evidence from Molecular to Clinical Studies. Int J Mol Sci. 2020;21(19):7119. Published 2020 Sep 27. doi:10.3390/ijms21197119
Rizwan M, Rodriguez-Blanco I, Harbottle A, Birch-Machin MA, Watson RE, Rhodes LE. Tomato paste rich in lycopene protects against cutaneous photodamage in humans in vivo: a randomized controlled trial. Br J Dermatol. 2011;164(1):154-162. doi:10.1111/j.1365-2133.2010.10057.x
Stahl W, Heinrich U, Aust O, Tronnier H, Sies H. Lycopene-rich products and dietary photoprotection. Photochem Photobiol Sci. 2006;5(2):238-242. doi:10.1039/b505312a
Babaei A, Asadpour R, Mansouri K, Sabrivand A, Kazemi-Darabadi S. Lycopene protects sperm from oxidative stress in the experimental varicocele model. Food Sci Nutr. 2021;9(12):6806-6817. Published 2021 Oct 17. doi:10.1002/fsn3.2632
Durairajanayagam D, Agarwal A, Ong C, Prashast P. Lycopene and male infertility. Asian J Androl. 2014;16(3):420-425. doi:10.4103/1008-682X.126384
Jawaid A. Shaw, Meghashyam Koti. Orange discoloration of the palms. CMAJ Apr 2009, 180 (8) 895; DOI: 10.1503/cmaj.071335
Edigin E, Asemota IR, Olisa E, Nwaichi C. Carotenemia: A Case Report. Cureus. 2019;11(7):e5218. Published 2019 Jul 23. doi:10.7759/cureus.5218
Shop Products From This Article