Lycopene Rich Foods & Health Benefits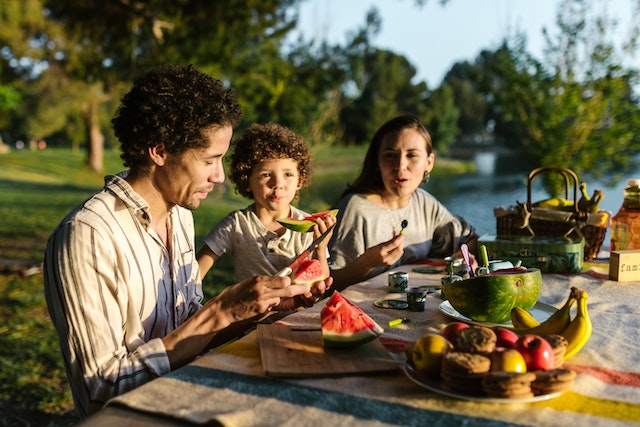 By Dr. Kenosha Gleaton, OBGYN
Ever wondered what makes tomatoes so red, or guavas and watermelon so pink? The secret ingredient is lycopene, and it has a lot of great health benefits.
What is Lycopene?
The phytochemical Lycopene is a member of the carotenoid family and a valuable antioxidant. [1] Carotenoids are a class of pigments that are responsible for much of the pigment given to different plants, fruits, and vegetables. [1] Not only do carotenoids give our foods a pretty color, but they also provide many health benefits. Lycopene is the pigment seen in tomatoes, watermelon, guavas, and many other pink or red foods. [1] Recent studies have also found that lycopene provides many antioxidant and anti-inflammatory benefits to the body, potentially protecting against different illnesses and promoting the health of different bodily systems. [1] 
The Role of Lycopene in Reproductive Health
The reason you may notice lycopene in Natalist Male Prenatal Daily Packets is because lycopene has actually been shown to promote fertility and sperm health. [2-3] The antioxidant effects of lycopene help neutralize free radicals and promote healthy sperm. Multiple studies have found that lycopene supplementation may help to improve sperm viability, sperm count, and sperm motility. [2-3] In addition to sperm health, lycopene may improve fertility rates. 
More Benefits of Lycopene
Aside from its role in male fertility and making our fruits and vegetables so colorful, lycopene provides other useful health benefits as well [1,4-5]:
Supports heart health
Protects against cancer
Supports skin health
Promotes a healthy nervous system
Protects bone health
Promotes good eyesight
Top Lycopene-Rich Foods
Now that you know that lycopene is responsible for the reddish-pink pigment in fruits and vegetables, you may already have a good idea of some rich sources. Tomatoes, guavas, bell peppers, grapefruit, and apricots, to name a few, all contain high levels of lycopene. [1] What's unique about lycopene is that heat-treated foods, such as sun-dried tomatoes or tomato paste, actually result in a higher bioavailability than the raw form. [1] This means you can get more bang for your buck when consuming certain heat-treated products. Let's take a look at some of the best sources of lycopene. 
Tomatoes: A Lycopene Powerhouse
Tomatoes are one of the most well known and highest sources of lycopene. Tomatoes can be prepared in many different ways, and as stated previously, heat-treated foods often contain a higher bioavailability of lycopene than raw foods. [1] Sun-dried tomatoes, tomato powder, and tomato paste are some of the highest sources of lycopene, containing around [6]:
46,000 mcg in one serving (100 grams) of tomato powder
19,000 mcg in one serving (¼ cup) of tomato paste
13,000 mcg in one ounce of sun-dried tomatoes
4,600 mcg in one large raw tomato
Guavas: Tropical Source of Lycopene
Guavas are pink fruits that are found in tropical and subtropical climates. [7] Guavas are a great source of vitamin C, phosphorus, iron, calcium, and lycopene. One guava is estimated to contain 2,860 mcg of lycopene. [6] There are a lot of health benefits associated with guava and guava leaf extract, including improved blood sugar levels, insulin resistance, healthy digestion, and even relief for uterine cramps!  [8-10] 
Watermelon: A Refreshing Source of Lycopene
Not only is watermelon a great source of water, magnesium, calcium, and vitamin C, but it also contains a high amount of lycopene. Watermelon is estimated to provide about 7,000 mcg in one cup, or about 13,000 mcg in one wedge. [6] What a lot of people don't realize is that watermelon seeds also contain a lot of health benefits, including essential fatty acids, magnesium, and folate.  [11] 
Pink Grapefruit: Citrusy Lycopene Source
Grapefruit is another food packed full of antioxidants and essential vitamins. However, it's important to get the right variety if you're specifically wanting a high amount of lycopene. White grapefruit doesn't contain any lycopene, whereas pink grapefruit contains nearly 2,500 mcg. [6] Pink grapefruit also contains over 80% of the daily value of vitamin C, which is a great vitamin for supporting the immune system. If you prefer grapefruit juice, one serving (8 ounces) contains roughly 700 mcg of lycopene and 60% of the daily value of vitamin C. [6] 
Other Lycopene-Rich Foods
There's a long list of other fruits and vegetables that contain lycopene as well as other vitamins and minerals [6]:
Papaya: 2,800 mcg in one fruit
Red bell peppers: 513 mcg in one cup, cooked
Persimmon: 260 mcg in one fruit
Mangos: 10 mcg in one fruit
Asparagus: 55 mcg in one cup, cooked
Cabbage: 20 mcg in one cup, chopped 
How to Incorporate Lycopene into Your Diet
If you are looking to increase your lycopene intake, try adding more red or pink fruits and vegetables to your meals or snacks. Lycopene can also be found in supplement form, either in multivitamins or as a standalone supplement. Natalist Male Prenatal Daily Packets include some lycopene to benefit sperm health. 
Tips for Maximizing Lycopene Absorption
There isn't an established recommended daily amount for lycopene, so it's hard to determine how much or how little lycopene should be consumed. Some data do suggest that 5,000 to 7,000 mcg per day should be enough to gain important health benefits. [12] Higher doses of lycopene (35,000+ mcg) have been used for the management of cancer or cardiovascular disease. [12] Data shows that dietary fat enhances the absorption of carotenoids such as lycopene, which may result in more noticeable health effects. In order to increase absorption, some may attempt to increase fat content in meals when eating high lycopene foods. This could include healthy fats such as plant oils, avocados, etc. 
Key Takeaways
Lycopene is a phytochemical that is a member of the carotenoid family.
Lycopene gives fruits and vegetables their red or pink color. 
There have been many observed benefits of lycopene, including improved sperm parameters and supported bone health, vision, skin health, and more. 
Heat-treated foods that contain lycopene actually result in a higher bioavailability
Tomatoes are one of the best sources of lycopene, especially tomato powder, tomato paste, and sun-dried tomatoes.
Other sources of lycopene include guavas, watermelons, pink grapefruit, and papaya.
Research shows that dietary fat enhances the absorption of lycopene.
Incorporating lycopene into the diet can be done through including more lycopene rich foods into meals or snacks, or taking a multivitamin that includes lycopene, such as the Natalist Male Prenatal Vitamin. 
References:
Khan UM, Sevindik M, Zarrabi A, et al. Lycopene: Food Sources, Biological Activities, and Human Health Benefits. Oxid Med Cell Longev. 2021;2021:2713511. Published 2021 Nov 19. doi:10.1155/2021/2713511
Babaei A, Asadpour R, Mansouri K, Sabrivand A, Kazemi-Darabadi S. Lycopene protects sperm from oxidative stress in the experimental varicocele model. Food Sci Nutr. 2021;9(12):6806-6817. Published 2021 Oct 17. doi:10.1002/fsn3.2632
Durairajanayagam D, Agarwal A, Ong C, Prashast P. Lycopene and male infertility. Asian J Androl. 2014;16(3):420-425. doi:10.4103/1008-682X.126384
Imran M, Ghorat F, Ul-Haq I, et al. Lycopene as a Natural Antioxidant Used to Prevent Human Health Disorders. Antioxidants (Basel). 2020;9(8):706. Published 2020 Aug 4. doi:10.3390/antiox9080706
Gupta SK, Trivedi D, Srivastava S, Joshi S, Halder N, Verma SD. Lycopene attenuates oxidative stress induced experimental cataract development: an in vitro and in vivo study. Nutrition. 2003;19(9):794-799. doi:10.1016/s0899-9007(03)00140-0
My Food Data. Nutrition Facts Search Tool. URL. 
Guava. DPI Infographic Template. URL. 
Daswani PG, Gholkar MS, Birdi TJ. Psidium guajava: A Single Plant for Multiple Health Problems of Rural Indian Population. Pharmacogn Rev. 2017;11(22):167-174. doi:10.4103/phrev.phrev_17_17
Yang Q, Wen YM, Shen J, et al. Guava Leaf Extract Attenuates Insulin Resistance via the PI3K/Akt Signaling Pathway in a Type 2 Diabetic Mouse Model. Diabetes Metab Syndr Obes. 2020;13:713-718. Published 2020 Mar 13. doi:10.2147/DMSO.S231979
Chiwororo WD, Ojewole JA. Spasmolytic effect of Psidium guajava Linn. (Myrtaceae) leaf aqueous extract on rat isolated uterine horns. J Smooth Muscle Res. 2009;45(1):31-38. doi:10.1540/jsmr.45.31
Why Watermelon Should Be Part of Your Diet. Cleveland Clinic. February 23 2023. URL. 
Bin-Jumah MN, Nadeem MS, Gilani SJ, et al. Lycopene: A Natural Arsenal in the War against Oxidative Stress and Cardiovascular Diseases. Antioxidants (Basel). 2022;11(2):232. Published 2022 Jan 26. doi:10.3390/antiox11020232
Shop Products From This Article
Extra 10% off your first delivery when you subscribe with code SEPT23
$125 $110
Extra 10% off your first delivery when you subscribe with code SEPT23
$120 $110