6 Selenium-Rich Foods & Why We Need Selenium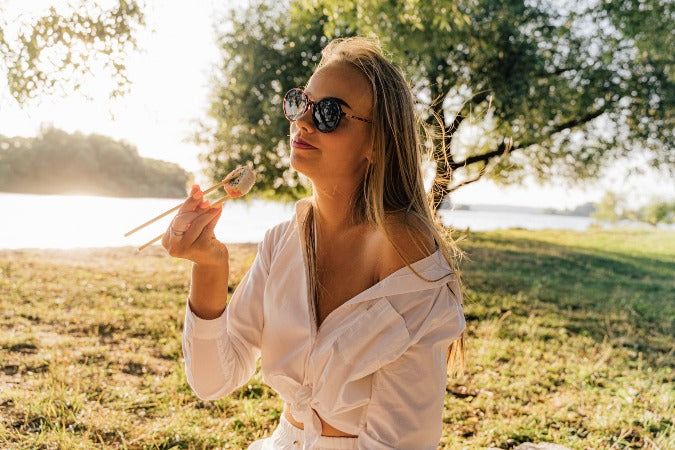 By Dr. Kenosha Gleaton, OBGYN
What is Selenium?
Selenium is an essential nutrient that can be found in soil, as well as in a variety of foods and supplements. We use selenium for many important bodily functions, such as reproduction, DNA synthesis, thyroid function, and others. [1] The thyroid gland and skeletal muscle tissue are responsible for storing high amounts of selenium in the body. 
The recommended dietary allowances for selenium are as follows [1]:
Birth to six months: 15 mcg
Seven months to three years: 20 mcg
Four to eight years: 30 mcg
Nine to thirteen years: 40 mcg
Fourteen and up: 55 mcg
Pregnancy: 60 mcg
Lactation: 70 mcg
Selenium's Role in the Body: Why We Need It
Selenium is a trace element, meaning the body only needs it in small amounts, however, it still plays a big role in the overall functioning of our bodies. [2] Selenium helps the body make antioxidant enzymes, which protect the body from cellular damage and oxidative stress. Selenium has also been shown to support cardiovascular health, cognitive functioning, thyroid function, and fertility. [1] Read Selenium Benefits for Fertility
The Top 6 Selenium-Rich Foods
Some of the best food sources of selenium include Brazil nuts, tuna, halibut, and ham. [1] Here's a breakdown of 6 foods high in selenium. [1] 
Brazil Nuts
Brazil nuts are exceptionally high in selenium, containing nearly 1,000% of the daily value in as little as six to eight nuts. Eating too many of these nuts in one sitting, or eating them regularly can lead to selenium toxicity. It's recommended that people limit their intake of Brazil nuts to avoid potential health complications. 
Yellowfin Tuna
Yellowfin tuna, frequently referred to as ahi tuna, has the second highest amount of selenium. 3 ounces of yellowfin tuna when cooked contains nearly 100 mcg, or 167% of the daily value. Yellowfin tuna can be found in tropical and subtropical oceans around the world, including the waters near southern California and the U.S. Pacific Islands. [3] 
Halibut and Other Seafood
Halibut and sardines are other selenium rich seafood options. Halibut is a part of the flounder family and comes in a few different varieties depending on the region. [4] 3 ounces of halibut cooked contains about 47 mcg of selenium, and 3 ounces of sardines contain close to 45 mcg. Canned shrimp is thought to contain about 40 mcg per serving.  
Ham and Other Meats
Different kinds of meat contain some levels of selenium as well. Roasted ham has the highest concentration of selenium with about 42 mcg per 3 ounce serving. Beef steak, turkey, and beef liver range from 28 to 33 mcg each per serving, with chicken containing about 22 mcg per serving. 
Enriched Grains
Many grains in North America are enriched with vital nutrients. Whole grains and enriched products can be a great source of selenium. For example, a cup of cooked macaroni noodles contains about 37 mcg of selenium. Rice, whole-wheat bread, and oatmeal are all also likely to contain some amount of selenium, ranging anywhere from 13 to 20 mcg per serving. 
Dairy Products and Eggs
Lastly, animal products such as dairy and eggs also contain some selenium. One cup of cottage cheese contains 20 mcg of selenium, over a third of the recommended daily value. One hard-boiled egg or one cup of milk or yogurt contains anywhere from 8 mcg to 15 mcg of selenium. 
Selenium concentrations can vary somewhat by region, based on the amount of selenium found in the soil of the sourced food. Concentrations of selenium tend to be higher in the Midwest and Western United States than in the South or Northeast. [1] 
The Risks of Selenium Deficiency and Overdose
It's important to adhere to the recommended daily allowance of all vitamins and minerals unless told otherwise by your healthcare provider. In many cases, pregnant or breastfeeding people will require higher amounts of nutrients. Consuming too little or too much selenium can result in various symptoms or health effects. [1] 
Symptoms of Selenium Deficiency
A deficiency in selenium is thought to be rare for most people living in the United States and Canada. [1] There is ample selenium intake in most diets, and selenium can be found in many fortified foods. Those at a higher risk of selenium deficiency include people living in selenium-deficient regions, mainly certain parts of China and some European countries. [1] Those that adhere to vegan or vegetarian diets, people undergoing kidney dialysis, and people living with HIV may also be at a higher risk of selenium deficiency. 
Initial signs of deficiency include [5]:
Nausea, vomiting
Seizures
Fatigue
Headaches
Confusion
Inadequate intake of selenium may lead to harmful health effects, such as [1]:
Male infertility
Osteoarthritis: the degeneration of bone and joint cartilage. 
Cardiomyopathy: a disease of the heart
Selenium Toxicity Symptoms
There are also health concerns that may arise if someone consumes too much selenium. This may occur if someone is eating a high volume of Brazil nuts regularly, is taking a high-dose supplement, or if there is a misformulation of over-the-counter products. [1] The established tolerable upper intake level for selenium in all adults, regardless of pregnancy or lactation, is 400 mcg.    Learn How to Read a Supplement Label → 
Initial symptoms of selenium toxicity include [1]:
Metallic taste
Garlic breath
Hair and nail loss or brittleness
Nausea
Diarrhea
Skin rash
Fatigue
Irritability
Tooth discoloration or decay
Muscle tenderness
Lightheadedness
Extreme cases of selenium toxicity can be very dangerous and may lead to issues with the heart or kidneys. Be sure to check any supplements or vitamins for selenium to ensure you aren't consuming too much. Speak to a healthcare provider if you have concerns. 
How Natalist Can Help
Maintaining an adequate balance of vital nutrients like selenium can be done through a healthy diet as well as through comprehensive vitamins and supplements. If you're hoping to conceive soon, it's important to support your nutrition with a prenatal multivitamin. Natalist offers prenatal daily packets for men and women that are formulated with 21 essential ingredients, including selenium. Check out the Natalist blog for more information on nutrition and fertility. 
References:
Shop Products From This Article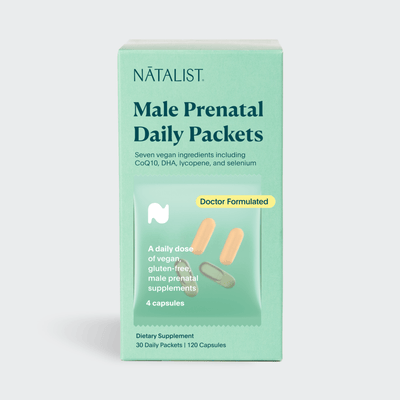 Extra 10% off your first delivery when you subscribe with code SEPT23
$60