How to Read a Supplement Nutrition Label: Upper Limit vs Daily Value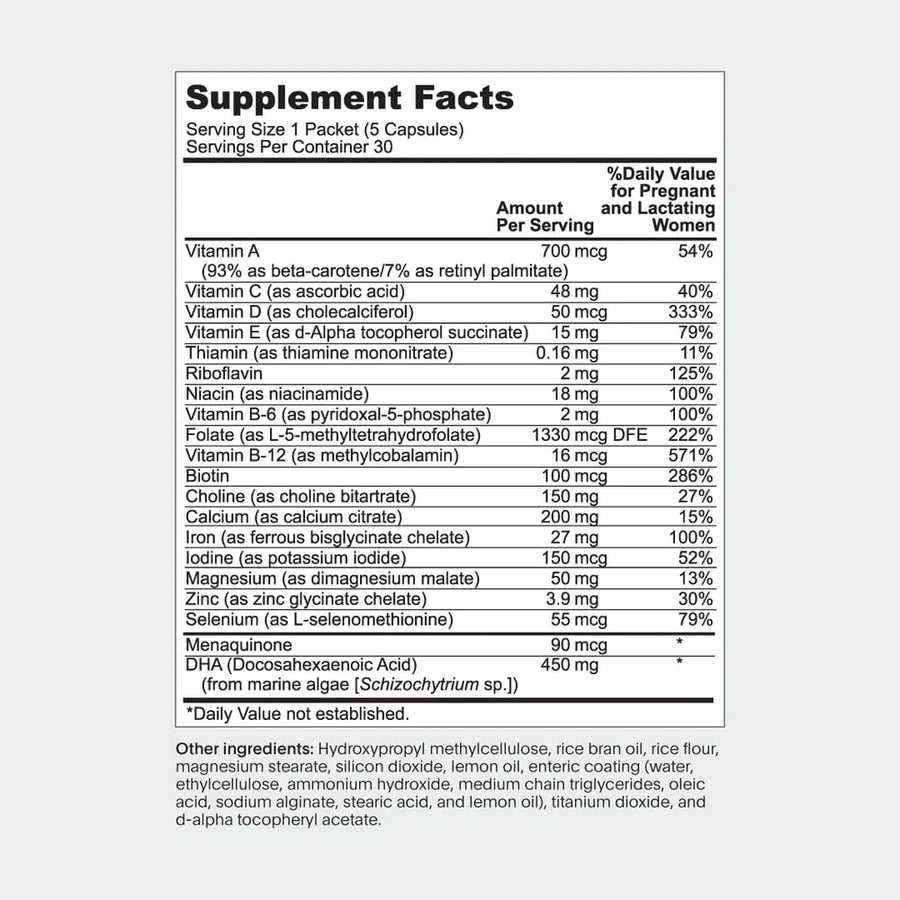 The world of supplements can feel intimidating. And because there is so much junk science out there – it's important to equip yourself with an understanding of how to determine what, if anything, you should take.
In this guide, we'll talk about everything from how to read a supplement label to how to know what to take. With a little bit of knowledge, I hope you'll be able to more confidently navigate supplement labels and make informed decisions about the products you use.
How to read a supplement label
The U.S. Food and Drug Administration (FDA) requires supplement manufacturers to label their products in a consistent way. This makes it easier to know what to look for on any bottle and enables you to compare labels across products. 
So where do you start? From ingredient lists to daily values, there is a lot of information to take in. Let's take it step by step. 
The ingredient list
This is where you will find a list of all the ingredients that are contained in the supplement, including the active ingredients and any fillers or binders. It's important to pay attention to the active ingredients, as these are the ingredients that provide the intended benefits of the supplement. It's also a good idea to research any ingredients that you are not familiar with, to ensure that they are safe for you to consume.
Daily Values
Daily Values (DV) are the FDA's recommended daily intake of a nutrient for the target audience of that supplement. There are four different groups defined by the FDA that may be used on supplement labels depending on the intended consumer for that product: 
Infants through 12 months
Children 1 through 3 years
Adults and children 4 years of age and older. 
Pregnant and lactating women
For instance, in our Prenatal Gummy, we state the DV% for Pregnant and Lactating Women on the label.
DVs give you the approximate requirement of each nutrient in that supplement. The number is provided in a percentage, so you can see what percent a serving contributes to reaching a healthy total daily diet. DVs are based on the RDA (Recommended Dietary Allowance) and Adequate Intake (AI) which is set by the Institute of Medicine (IOM) of the National Academy of Sciences for each nutrient. [1]
Some things to know about DVs [1]:
These numbers were developed for the average person in the category. It's important to ask your provider if there are certain ingredients you should have more or less of because of your health status.
These numbers can and do change as the IOM and FDA update their guidelines. But manufacturers are usually given a few years to update their labels. 
If a nutrient is missing a DV or you see asterisks (**) in place of the value, it signifies that there is no established DV for that particular ingredient.
Water-soluble vitamins and minerals are measured in milligrams (mg) and micrograms (mcg). To convert, 1 milligram is equivalent to 0.001 grams, and 1 microgram is equivalent to 0.001 milligrams. 
Fat-soluble vitamins, such as vitamins A, D, and E, are measured in International Units (IU).
Serving size
Another important thing to look for on supplement labels is the serving size. This tells you how much of the supplement you should take in order to achieve the desired results. It's important to follow the recommended serving size or the serving size recommended by your provider. 
Cautions
Labels also must contain information about any potential allergens or other cautions on the label (for instance, if it's manufactured in a facility that also processes shellfish). This information is important to pay attention to, especially if you have any allergies or sensitivities.
When and how to take a supplement
Labels may also include when to take the supplement (morning or evening) and how to take it (with or without food). These are optional guidelines for the manufacturer to include on the label, but these suggestions can be helpful for reducing the chances of an upset stomach.
Prop 65
The United States Pharmacopeia (USP) [2] sets the federal limits for lead and other toxic elements (such as mercury, arsenic, and cadmium) known to cause reproductive harm or cancer. The USP sets two limits: one that is acceptable for an ingredient and one for daily intake. But even if a product passes federal guidelines, it may not pass the even stricter guidelines set by the state of California in Proposition 65 (known as "Prop 65").
Products sold in the State of California must comply with Proposition 65, the Safe Drinking Water and Toxic Enforcement Act of 1986 [3]. This proposition states that any product, including prenatal vitamins and supplements, must test for and list any ingredients that contain carcinogens or reproductive toxicants. If a product does knowingly contain a chemical in an amount exceeding established standards, the brand must provide a "clear and reasonable" warning. 
So if you see the Prop 65 warning on a supplement label, it means that the product contains at least one chemical on the Prop 65 list at a level that requires the warning. The Prop 65 standard for warning is more stringent than the federal standard. And since Prop 65 is a California law, it only applies to products sold in that state.
Daily Value vs Tolerable Upper Intake Level (UL)
The difference between DV and the Tolerable Upper Intake Level (UL) of a nutrient can be confusing. To put it simply, UL is the highest amount of a nutrient that can be consumed daily without risking negative health effects, while Daily Value (DV) is the recommended daily intake of a nutrient for healthy individuals [4].
UL is also determined by the National Academy of Sciences and is intended to be a safe upper limit for daily consumption. [1] For example, the UL for vitamin A is 3,000 micrograms (mcg) for adults, which means that consuming more than this amount could potentially lead to negative health effects [5].
As described above, DV is intended to provide a general guideline for the daily intake of a nutrient that is necessary for maintaining good health. It is presented on supplement labels as a percentage, to make it easy to understand how that supplement fits into a bigger diet. 
UL and DV are not the same thing and should not be used interchangeably. UL is a safety limit, while DV is a recommended intake. Additionally, the UL and DV for a particular nutrient may vary depending on age, gender, and other factors.
Why is the DV% above 100%?
Sometimes you will see a nutrient on a supplement label that is above 100%. For example, let's take a look at our Vitamin D3 supplement, which has a DV of 250% for vitamin D3 (50 mcg). The NIH recommends 15 mcg for people aged 1 to 70, including pregnant and breastfeeding people [6]. So this is where it's important to look at the UL, which is 100 mcg for people over nine years of age or pregnant and breastfeeding. That means that vitamin D3 exceeds the recommended daily amount, but is still safe to consume without risking negative health effects.
Why would someone prescribe higher than the UL?
Healthcare providers may prescribe supplements above the Daily Value (DV) or Upper Limit (UL) for several reasons:
Medical conditions: Certain medical conditions, like anemia or osteoporosis, may require higher levels of certain nutrients. [8-9]
Nutrient deficiencies: Individuals with nutrient deficiencies may need to take supplements at higher levels than the DV or UL to correct the deficiency. For instance, if you have vitamin D deficiency, you may need to take supplements at higher levels than the DV until the deficiency is under control. [8]
Absorption issues: If you have difficulty absorbing certain nutrients from food because of gastrointestinal issues or other medical conditions, supplements may be prescribed at higher levels to ensure adequate intake. [8-9] 
And sometimes, a healthcare provider may prescribe a supplement at a level above the DV or UL based on your unique needs. This may be based on genetic testing, medical history, or other factors. [8] In these cases, a healthcare provider has weighed the pros and cons of taking this dosage of a supplement and determined it's reasonable for your case. 
Getting nutrients from food vs. supplements
This is where things get tricky, because your own unique diet and body may get more of some nutrients than others. Perhaps you live in a sunny place and eat an orange a day, so having a prenatal vitamin with low DV% of vitamin D is okay because you're getting the recommended dietary allowance of that nutrient. But on the other hand, you are a vegetarian with anemia, so getting a high DV% of iron and B12 is crucial. 
Since some nutrients are plentiful in diets, and others harder to get from food, supplements may help fill the gap. You can use the DV% as a general guidepost, but your unique needs will depend on your diet, lifestyle, and health status… which for most of us is constantly changing. This is why it's important, especially if you are pregnant, to discuss your diet and health status with your provider. 
How to know what supplements to take
Choosing the right supplements can be a confusing and overwhelming task, but there are a few steps you can take to ensure that you are making the best choices for your health.
Talk to your healthcare provider. First and foremost, it's always best to speak with a healthcare provider, such as a doctor or a registered dietitian. They can help you evaluate your specific needs and determine the right supplements for you based on your health status, medication use, and any other relevant factors.
Understand the research. Do your own research, but don't trust everything you read on the internet or see on social media. Spend time on trusted websites, like the NIH Office of Dietary Supplements [9]. Be wary of supplements that make exaggerated claims or have little scientific evidence to back them up.
Look for quality and purity. Look for supplements that have been third-party tested for purity and potency. Many reputable organizations such as the United States Pharmacopeia (USP), ConsumerLab, and NSF International provide such certification.
Remember that supplements should not be used as a replacement for a healthy diet. A balanced diet is the best way to ensure that you are getting all the nutrients your body needs. However, supplements can be a useful tool for filling any nutrient gaps in the diet, especially during pregnancy!


Sources:
"Summary Report of the Dietary Reference Intakes." Institute of Medicine, https://www.nationalacademies.org/our-work/summary-report-of-the-dietary-reference-intakes. Accessed 13 April 2023.
"Elemental Impurities Updates." The United States Pharmacopeia, https://www.usp.org/small-molecules/elemental-impurities-updates. Accessed 13 April 2023.
"Proposition 65 - OEHHA." OEHHA, https://oehha.ca.gov/proposition-65.  Accessed 13 April 2023.
"Tolerable Upper Intake Level." NIH, ​​https://ods.od.nih.gov/pubs/conferences/tolerable_upper_intake.pdf. Accessed 13 April 2023.
"Vitamin A and your bones." Harvard Health Publishing, https://www.health.harvard.edu/newsletter_article/vitamin-a-and-your-bones. Accessed 13 April 2023.
"Vitamin D." NIH. https://ods.od.nih.gov/factsheets/VitaminD-Consumer/. Accessed 13 April 2023.
Institute of Medicine (US) Committee on Diet and Health; Woteki CE, Thomas PR, editors. Eat for Life: The Food and Nutrition Board's Guide to Reducing Your Risk of Chronic Disease. Washington (DC): National Academies Press (US); 1992. Chapter 8, Vitamins, Minerals, And Chronic Diseases. Available from: https://www.ncbi.nlm.nih.gov/books/NBK235010/
Bruins MJ, Bird JK, Aebischer CP, Eggersdorfer M. Considerations for Secondary Prevention of Nutritional Deficiencies in High-Risk Groups in High-Income Countries. Nutrients. 2018;10(1):47. Published 2018 Jan 5. doi:10.3390/nu10010047
"Office of Dietary Supplements." NIH. https://ods.od.nih.gov/. Accessed 13 April 2023.
Shop Products From This Article