Selenium Benefits for Fertility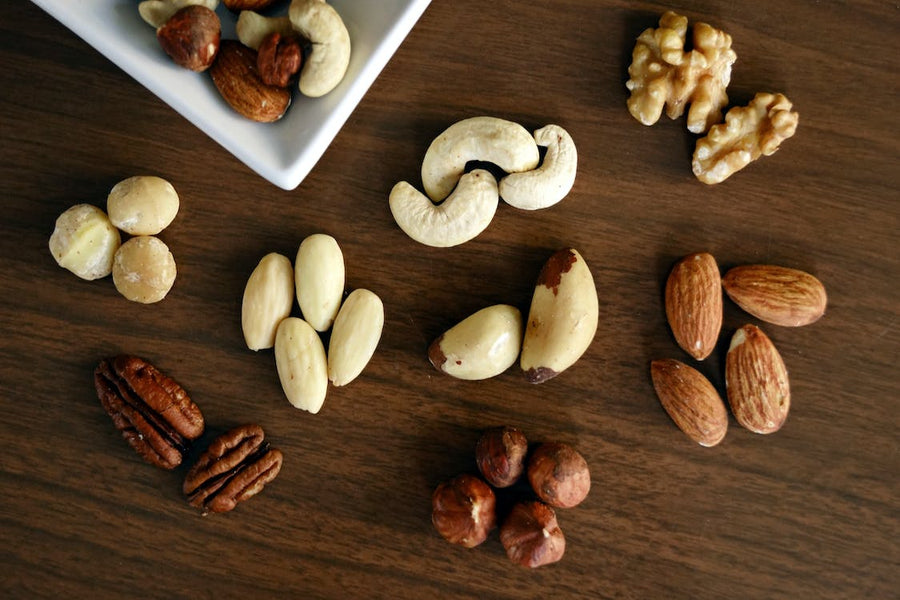 Selenium is beneficial for reproductive health, the endocrine system, DNA synthesis, and more. Let's talk about how much selenium you should be getting in your diet and the impact it has on male and female fertility. 
By OBGYN Dr. Kenosha Gleaton
What is Selenium?
Selenium is a trace element found naturally in many foods and supplements. Selenium is an essential nutrient that plays an important role in thyroid health, DNA synthesis, reproduction, and protection against oxidative stress. [1] Selenium is found in high amounts in nuts, seafood, and organ meats. The best food sources of selenium include Brazil nuts, tuna, halibut, sardines, and ham. [1] In the average American diet, common food sources of selenium include breads, grains, meat, poultry, eggs, and fish. Selenium can also be found in dietary supplements such as multivitamins or standalone supplements. 
Benefits of Selenium
Selenium provides many health benefits and has been shown to support cardiovascular health, cognitive functioning, thyroid health, and fertility. [1] Selenium has antioxidant effects that protect the body from reactive oxygen species that lead to oxidative damage. Oxidative damage in the body can result in a wide range of diseases or conditions. Selenium also impacts DNA repair, the immune system, endocrine function, and other mechanisms in the body. [1] 
Selenium for Female Fertility
Selenium is a beneficial nutrient for healthy female fertility. Data suggest that a deficiency in selenium may result in a decreased fertility rate, retained placenta (when some of the placenta remains in the body after childbirth), and the occurrence of reproductive diseases. [2] A study also observed low follicular levels of selenium in people with unexplained infertility. [2] Selenium is also necessary for a healthy pregnancy. Research shows that low concentrations of selenium in early pregnancy may be associated with low birth weight. [3] The Food and Nutritional Board (FNB) suggests that pregnant and lactating people consume an additional 5-15 mcg of selenium a day to support adequate levels. [1] 
Selenium for Male Fertility
Male fertility is also connected to selenium levels. Data suggests that a selenium deficiency is associated with decreased sperm motility and semen quality, as well as diminished function of the testes. [4] Selenium plays an important role in the body by protecting against oxidative stress. Studies show that sperm can be severely impacted by oxidative stress and relies on selenium to fight off free radicals. [5] Data also shows that a higher dietary intake of selenium may improve sperm concentrations, testicular antioxidant activity, and various sperm parameters. [5] 
The Link Between Thyroid Health and Fertility
Thyroid health is a vital part of our overall health, including fertility. The thyroid is a gland that controls the endocrine system, which is the foundation for most of the major bodily functions. [6] Metabolism, hormone levels, heart rate, brain development, and fertility are just a few of the many functions impacted by the thyroid and thyroid hormones. [6] Major hormones that impact reproductive health, such as luteinizing hormone, follicle-stimulating hormone, and others, are dependent on the proper functioning of the thyroid gland. [7] 
Selenium concentration is higher in the thyroid gland than in any other organ in the body and is necessary for the proper functioning of the thyroid and thyroid hormones. [1] Without adequate levels of selenium, multiple bodily functions could potentially be impacted, including menstruation, ovulation, pregnancy, semen quality, and testicular function. [6-8] 
Read more about thyroid disorders and infertility → 
How Much Selenium is Recommended Daily?
Now that we know how important selenium is for the body, let's talk about how much selenium is recommended for daily intake [1]: 
Birth to 6 months: 15 mcg
7 to 12 months: 20 mcg
1-3 years: 20 mcg
4-8 years: 30 mcg
9-13 years: 40 mcg
14-51+ years: 55 mcg
Pregnancy: 60 mcg
Lactation: 70 mcg
These are the recommended dietary allowances (RDAs) sufficient to meet the nutrient requirements of most healthy individuals. You should speak to a healthcare provider directly if you're concerned about your nutrition or vitamin intake. 
Can You Have Too Much Selenium?
It is possible to consume too much of certain vitamins and minerals, including selenium. Some potential indicators of too much selenium include garlicky breath, metallic taste, hair and nail loss or brittleness, nausea, diarrhea, skin rashes, irritability, and fatigue. [1] If high intake of selenium continues, toxicity symptoms may occur and include severe gastrointestinal and neurological symptoms, hair loss, muscle tenderness, kidney failure, and more. [1] Be sure to speak with your healthcare provider about your diet and supplements to maintain healthy levels of all nutrients. The FNB recommends that adults (including pregnant and lactating people) stay below 400 mcg a day to avoid toxic effects. [1] 
Support Your Nutrition with Natalist
It can be hard to keep up with all of the different vitamins and minerals your body needs, especially if you're trying to conceive (TTC) soon. At Natalist, we're on a mission to support your family planning goals from concept to conception and beyond. Natalist Prenatal Daily Packets include 55 mcg of selenium as well as other evidence-based nutrients, and our Male Prenatal Vitamin contains 100 mcg to support sperm health when TTC! Read more about nutrition on the Natalist blog. 
References:
Selenium. Health Professionals Fact Sheet. NIH. March 26 2021. URL. 
Qazi IH, Angel C, Yang H, et al. Selenium, Selenoproteins, and Female Reproduction: A Review. Molecules. 2018;23(12):3053. Published 2018 Nov 22. doi:10.3390/molecules23123053
Lewandowska M, Sajdak S, Lubiński J. The Role of Early Pregnancy Maternal Selenium Levels on the Risk for Small-for-Gestational Age Newborns. Nutrients. 2019;11(10):2298. Published 2019 Sep 26. doi:10.3390/nu11102298
Pieczyńska J, Grajeta H. The role of selenium in human conception and pregnancy. J Trace Elem Med Biol. 2015;29:31-38. doi:10.1016/j.jtemb.2014.07.003
Dahlen CR, Reynolds LP, Caton JS. Selenium supplementation and pregnancy outcomes. Front Nutr. 2022;9:1011850. Published 2022 Oct 31. doi:10.3389/fnut.2022.1011850
Thyroid. Cleveland Clinic. June 7 2022. URL. 
Shahid MA, Ashraf MA, Sharma S. Physiology, Thyroid Hormone. [Updated 2023 May 1]. In: StatPearls [Internet]. Treasure Island (FL): StatPearls Publishing; 2023 Jan-. Available from: https://www.ncbi.nlm.nih.gov/books/NBK500006/
La Vignera S, Vita R. Thyroid dysfunction and semen quality. Int J Immunopathol Pharmacol. 2018;32:2058738418775241. doi:10.1177/2058738418775241
Shop Products From This Article
Extra 10% off your first delivery when you subscribe with code SEPT23
$120 $110