Does Gestational Diabetes Affect the Baby?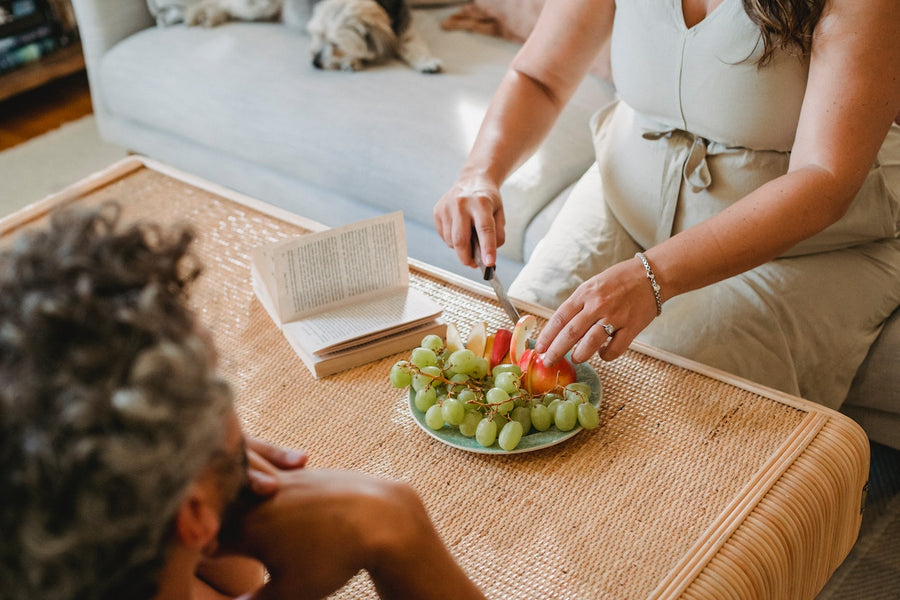 What is Gestational Diabetes?
Gestational diabetes (GD) refers to the onset of diabetes during pregnancy. GD impacts up to 10% of pregnancies in the United States every year. [1] GD can be very dangerous when not treated, so it's important to follow healthcare providers' guidelines when managing this condition. Because GD often doesn't cause any symptoms, most pregnant people will be tested for GD around the 24th week of pregnancy. [1] It is possible to lower the risk of GD by maintaining a healthy weight and getting regular physical activity. [1]  Learn if gestational diabetes is genetic → 
Is Gestational Diabetes Considered High Risk?
Gestational diabetes increases the risk of other pregnancy and health complications and may require high-risk pregnancy care if complications do arise. [2] This is why sticking to the treatment and management your provider recommends is so important. 
Impact on the Mother's Body
Gestational diabetes is characterized by high blood sugar levels in pregnant people. When someone develops GD, it's because the body is unable to effectively use insulin or produce enough insulin to overcome insulin resistance. [1,3] This causes the amount of glucose in the blood to increase (high blood sugar) as glucose is then unable to move into the cells. [4] 
Those with GD are at a higher risk for possible complications, including preeclampsia, pregnancy loss, preterm labor, difficult delivery or cesarean section, and so on. [4]  
Potential Complications for the Baby
If you do have gestational diabetes, your baby also has an increased risk of some complications. Babies whose mothers had GD are at a higher risk for low blood sugar at birth, preterm birth, jaundice, breathing problems, low levels of minerals in the blood, and being large-bodied. [1,4] Some complications may also arise later in life, such as becoming overweight or obese, glucose intolerance, insulin resistance, and type 2 diabetes. [1,4] 
How Gestational Diabetes Influences Baby's Growth
As mentioned, GD can have an impact on your baby's growth and health. It's important to understand these potential risks and to follow your recommended treatment plan to prevent complications. 
The Role of Insulin and Glucose
When someone has GD, their pancreas is working hard to produce insulin even though insulin isn't lowering blood glucose levels. Research shows that insulin doesn't cross the placenta, but glucose and other nutrients do. [5] When someone has extra blood glucose during pregnancy, the glucose can cross through the placenta and raise blood glucose levels in the baby. [5] 
Effects on the Baby's Pancreas and Energy Storage
High blood glucose levels in the baby can cause the baby's pancreas to produce excess insulin. Being born with high insulin can lead to impaired glucose levels at birth, breathing problems, and other conditions. [5] In addition to this, the baby's body will begin storing excess energy as fat. [5] 
Potential Complications for the Baby
What specific complications is a baby at risk for when someone has GD? Let's find out. 
Can Gestational Diabetes Cause Birth Defects?
GD can lead to some negative health outcomes for your baby but is unlikely to cause the kinds of birth defects seen in babies of those who had diabetes prior to pregnancy. [5] This is because GD develops later in pregnancy after much of the fetus has been formed. [5] Many birth defects would be formed earlier on during pregnancy and may be related to genetics, infectious diseases, older maternal age, medications, and so on. [6] The bottom line is that having uncontrolled diabetes prior to pregnancy can increase the risk of a birth defect, but developing GD is unlikely to have an impact. [5] 
Macrosomia
In some cases, untreated or poorly managed GD can also cause an overweight baby, also known as macrosomia. Macrosomia is defined as a fetus being larger than average, above 4,000 grams or 8 pounds and 13 ounces. [7] As a result of extra blood glucose passing through the placenta and to the baby, the baby's pancreas makes extra insulin, and excess energy is stored as fat. Babies with macrosomia may experience injury during birth, difficulty breathing, and an increased risk of obesity and type 2 diabetes. [7] 
Premature Birth and Associated Risks
When a baby is born before 37 weeks of pregnancy they are considered preterm. [8] Preterm babies are at a much higher risk of death and disability, especially when born before 32 weeks. Some complications associated with premature birth include [8]:
Breathing difficulties
Feeding difficulties
Hearing problems
Developmental delays
Vision problems
Cerebral palsy
Hypoglycemia in Newborns
Hypoglycemia, also known as low blood sugar, can occur in newborns born to a mother with GD. Hypoglycemia can also be caused by growth restrictions in the womb, preterm birth, infections, and other factors. [9] Hypoglycemia may not cause any symptoms, but can also cause pale skin, breathing problems, irritability, poor feeding, difficulty staying warm, and tremors. [9] It's normal for healthcare providers to check a newborn's blood sugar level even if there are no symptoms. Hypoglycemia can be treated and may resolve with extra feedings or sugar solutions, but can also continue for longer periods of time. Possible complications of hypoglycemia include impaired mental function and learning disabilities. [9] 
Long-Term Implications for the Child
Gestational diabetes has the potential to impact long-term health outcomes for your child like obesity and type 2 diabetes. 
Risk of Obesity in Childhood
As mentioned already, babies born to mothers with GD are at a higher risk of becoming overweight or obese later in life. There are many other factors that can contribute to being overweight, such as eating patterns, lack of physical activity, trouble with sleeping, some medications, genetics, etc. [10] Obesity can increase someone's risk of other conditions like heart disease and cancer. Sticking to a healthy balanced diet and regular physical activity can help manage or reduce the risk of obesity. [10] Learn what to eat with gestational diabetes. 
Increased Likelihood of Type 2 Diabetes in Adulthood
In addition to the risk of being overweight or obese, GD may also lead to an increased likelihood of type 2 diabetes in adulthood. Type 2 diabetes is the most common form of diabetes that occurs when the body can't use insulin properly. [11] It's possible to prevent or delay type 2 diabetes by adopting healthy lifestyle habits early on, including [11]:
Encouraging physical activity
Eating more fruits and vegetables
Opting for healthier food choices
Limiting sugary drinks and snacks
Coping with Gestational Diabetes
It can be scary and upsetting to read about all of the potential negative effects GD can have on your health and your child's health, but keep in mind that appropriate treatment for gestational diabetes can encourage positive outcomes. [1] While we have the ability to influence some risk factors for GD, the disease isn't 100% preventable and there are many factors outside of our control. You shouldn't blame yourself for having GD and feeling angry, sad, or disappointed in yourself will only cause more stress and emotional turmoil. Try your best to lean on your support system, follow your treatment plan, and find ways to incorporate healthy habits into your routine. The good news is that GD often resolves after giving birth, and prioritizing healthy habits for your whole family after delivery can support everyone's health and wellness!  [1,4,5,10] 
Natalist's Commitment to Maternal and Infant Health
The best way to prevent or manage GD is through maintaining a healthy weight, eating a balanced diet, and exercising regularly. That being said, some research suggests that vitamin D and myoinositol supplementation may lower the risk of gestational diabetes by lowering fasting blood glucose levels and decreasing insulin resistance. [12-13] Natalist offers these supplements as well as many other quality vitamins to support fertility, pregnancy, and postpartum health. Explore all supplements here or keep reading about pregnancy on the Natalist blog. Remember— you are capable, strong, and resilient. We're rooting for you!
References: 
Gestational Diabetes. CDC U.S. Department of Health & Human Services. December 2022. URL. 
Seely, E. Gestational Diabetes: Managing Risk During and After Pregnancy. Brigham and Women's Hospital. Accessed August 2023. URL. 
Gestational Diabetes. Mayo Clinic. April 2022. URL. 
Am I at risk for gestational diabetes? U.S. Department of Health and Human Services. NIH Publication No. 12-4818. June 2012. National Institutes of Health. Eunice Kennedy Shriver National Institute of Child Health and Human Development. 
How Gestational Diabetes Can Impact Your Baby. American Diabetes Association. Accessed August 2023. URL.
What are Birth Defects? CDC. June 2023. URL. 
Fetal Macrosomia. Cleveland Clinic. March 2022. URL. 
Preterm Birth. CDC. November 2022. URL. 
Low blood sugar - newborns. Medline Plus. November 2021. URL. 
What Are Overweight and Obesity? NIH. March 2022. URL. 
Type 2 Diabetes. CDC. April 2023. URL. 
Mashayekh-Amiri, S., Mohammad-Alizadeh-Charandabi, S., Abdolalipour, S. et al. Myo-inositol supplementation for prevention of gestational diabetes mellitus in overweight and obese pregnant women: a systematic review and meta-analysis. Diabetol Metab Syndr 14, 93 (2022). https://doi.org/10.1186/s13098-022-00862-5
Ibrahim I, Bashir M, Singh P, Al Khodor S, Abdullahi H. The Impact of Nutritional Supplementation During Pregnancy on the Incidence of Gestational Diabetes and Glycaemia Control. Front Nutr. 2022;9:867099. Published 2022 Apr 8. doi:10.3389/fnut.2022.867099
Shop Products From This Article