What to Eat With Gestational Diabetes & Foods to Avoid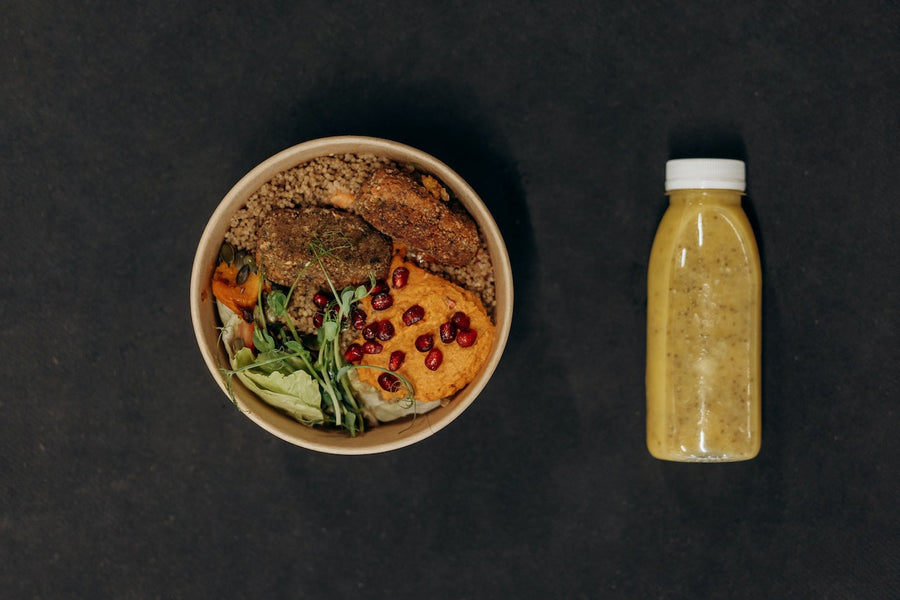 By Dr. Kenosha Gleaton, OBGYN
What is Gestational Diabetes? 
Gestational diabetes (GD) refers to diabetes diagnosed for the first time during pregnancy. Up to 10% of pregnancies in the United States are impacted by gestational diabetes. [1] GD is caused by the body's inability to produce enough insulin during pregnancy. Most healthcare providers will test for GD around the 24th week of pregnancy to ensure any needed treatment starts as soon as possible. [1] In those that are high-risk, testing may begin even earlier. Some risk factors for gestational diabetes include [1]:
Obesity
Personal history of GD 
Previous delivery of a baby over 9 pounds
Older than 25
Family history of type 2 diabetes
Polycystic ovary syndrome (PCOS)
Certain races and ethnicities (Black, Hispanic or Latino, American Indian, Native Hawaiian, and others)
If someone is diagnosed with GD, they can often manage the condition with diet, exercise, regular monitoring, and in some cases, medications. 
What Foods Are Good for Gestational Diabetes? 
One of the best ways to manage gestational diabetes is to follow a healthy and balanced diet. Certain foods that may seem healthy can actually be poor choices for someone with insulin resistance, which is why it's so important to speak to your healthcare provider directly about a healthy eating plan. [2] Generally it's recommended that you should eat three small to moderate-sized meals every day in addition to healthy snacks one or more times every day. To help stabilize blood sugar, try to avoid skipping meals and snacks, and stick to relatively similar foods and meals. [2] 
Recommended Foods 
To adequately fuel our bodies during and outside of pregnancy, it's important to consume a variety of healthy foods in various food groups. The need for a healthy and balanced diet is especially important when managing gestational diabetes. 
Fats
Fats tend to get a bad reputation, but there are some healthy fat options that are actually important for a balanced diet. Some fats and oils are necessary for healthy development, so attempt to add in healthier options like avocados, nuts, peanut oil, olive oil, etc. [2] 
Carbohydrates
It's recommended that carbohydrates make up less than half of the calories you consume. [2] The best kind of carbohydrates to include in your diet are complex carbohydrates which are often high in fiber or whole-grain. Examples of complex carbohydrates include whole grain products (quinoa, buckwheat, whole-wheat pasta, rice, bread), beans, broccoli, leafy green vegetables, carrots, greek yogurt, berries, apples, etc. [2-3] 
Protein
Lean proteins can help you feel full and are made up of vital nutrients needed for fetal development. Protein may also be helpful for combating morning sickness. It's recommended that you consume about 2 to 3 servings of protein every day. [2] Some examples of lean protein include chicken, eggs, fish, dairy, and turkey. Protein can also come from legumes, whole grains, and some vegetables. If you are consuming fish, be sure to follow your healthcare provider's guidelines for seafood while pregnant. [2-3] 

Fruits and Vegetables
Fruits and vegetables are great sources of nutrients and should be eaten regularly. Opt for fruits with lower sugar content and attempt to eat 2 to 4 servings of fruits every day. [2] Some options include grapefruits, oranges, tangerines, apples, etc. Some sources suggest eating 3 to 5 servings a day of fresh or frozen vegetables, such as spinach, broccoli, romaine lettuce, carrots, and peppers. [2] 
Dairy Products
It's recommended that those on a GD diet consume about 4 servings of low-fat or nonfat dairy products every day. [2] Some examples include low-fat or nonfat milk, yogurt, and cheese. Dairy products can be an excellent source of protein, calcium, and phosphorus. [2] 
Dietary Supplements
In addition to an appropriate diet, taking certain supplements may also be beneficial. Some research suggests that vitamin D and myoinositol supplementation may lower the risk of gestational diabetes by lowering fasting blood glucose levels and decreasing insulin resistance. [5-6] Research is limited on the effects of these vitamins for existing GD, but they may still be useful. [5-6] Always speak to your healthcare provider before changing your diet or supplement routine. 
What Foods Should You Avoid with Gestational Diabetes?
If you are managing gestational diabetes, you should also be aware of what foods are best to avoid. 
Foods and Drinks to Limit 
Generally, those on a GD diet or anyone hoping to stick to a healthy and balanced diet should try to avoid processed foods, sugary drinks, fast food, fried foods, and high amounts of starchy foods. [1-3] When eating carbohydrates, it is often best to avoid simple carbohydrates such as processed foods or snacks. Chips, candy, potatoes, white rice, etc. are all considered simple carbohydrates and can raise your blood sugar quickly. [2] It's also recommended that those with GD avoid or limit the consumption of butter, margarine, full-fat products, cooking oil, and desserts. [2] 
The longer you adjust to a GD diet the easier meal planning will become. Be patient with yourself as you learn what foods to avoid, which to prioritize, and how best to support your body during pregnancy. Always check with your healthcare provider if you have any questions or concerns about your diet. 
Managing Gestational Diabetes Beyond Diet 
Aside from eating a healthy diet and limiting sugar intake, it's very important to stay active and monitor your blood sugar. [1,4] Read our guide on treating and preventing gestational diabetes.
The Role of Exercise 
Regular physical activity is an important part of wellness before, during, and after pregnancy. Moving your body can help to lower your blood sugar and may even relieve some common discomforts associated with pregnancy, such as back pain, cramping, swelling, etc. [4] Make sure that physical activity is approved by your healthcare provider before trying anything new. Some low-impact exercises to start with include gardening, walking, and swimming. [4] 
Regular Check-ups and Medications 
Your healthcare provider may have you check your blood sugar levels regularly to ensure you are staying within a healthy range. It's also important to see your provider for all scheduled check-ups to keep a close eye on your pregnancy. If needed, you may be prescribed certain medications to help manage your blood sugar. [4] 
Natalist's Commitment to Maternal Health
Natalist is committed to providing products that positively impact maternal health and well-being. Whether you're attempting to conceive for the first time or you're in between kiddos, we're proud to offer products and supplements that can support your health and wellness. Shop sugar free, hydrating drink mixes, nutrient dense prenatal vitamin packs, and more on the Natalist website. Have more questions about pregnancy or nutrition? Check out our blog for more information. 
References:
Gestational Diabetes. CDC U.S. Department of Health & Human Services. December 2022. URL. 
Jacobson, J. Zieve, D. Gestational Diabetes Diet. Medline Plus. April 2021. URL. 
What Should You Eat When You're on a Gestational Diabetes Diet Plan? Cleveland Clinic. June 2021. URL. 
Gestational Diabetes. Mayo Clinic. April 2022. URL. 
Mashayekh-Amiri, S., Mohammad-Alizadeh-Charandabi, S., Abdolalipour, S. et al. Myo-inositol supplementation for prevention of gestational diabetes mellitus in overweight and obese pregnant women: a systematic review and meta-analysis. Diabetol Metab Syndr 14, 93 (2022). https://doi.org/10.1186/s13098-022-00862-5
Ibrahim I, Bashir M, Singh P, Al Khodor S, Abdullahi H. The Impact of Nutritional Supplementation During Pregnancy on the Incidence of Gestational Diabetes and Glycaemia Control. Front Nutr. 2022;9:867099. Published 2022 Apr 8. doi:10.3389/fnut.2022.867099
Shop Products From This Article