Guide to Types of Lube: Water, Oil, & Silicone Based
Learn about the three main types of lubricants and the pros and cons of each. Discover what to look for in your personal lubricant to protect vaginal health.
No matter what kind of sex you're having or what your family planning goals are, it's important to know the different pros and cons to different types of lubricants. Let's talk about the benefits of lube, what kind might be right for you, and what kind of lubricant to avoid. 
What are the benefits of lube?
Personal lubricant can be a great product to bring into the bedroom for a variety of reasons. Lube can be beneficial for everyone, regardless of the kind of sex you're having or your family planning goals. Lube may be beneficial for those experiencing vaginal dryness or painful sex, and may support sexual function, pleasure, and enjoyment during sex [1]. 
Lube is often recommended for use with condoms to reduce breakage, which improves the protection against STIs, HIV, and pregnancy (although this isn't the case for oil-based lubes, which we'll get to later) [1]. For those hoping to conceive, there are sperm friendly or fertility-friendly lubricants made to be compatible with sperm, eggs, and embryos [2]. 
Whether or not you're trying to conceive (TTC), it's important to know what kind of lube you're using and why the different types of lube matter. Above all, it's important that you're protecting the health of yourself and your partner(s) by practicing safe sex with safe products. Read more about lube, such as How Lube Can Affect Vaginal Health and Can Lube Cause a UTI?
What are the different types of lube?
There are three main categories of lube: water based, oil based, or silicon based. All lubricant is created to aid in pleasurable, frictionless sex, but there are pros and cons to each that you should know about. 
Water-based lube
Lubricants that are water-based are a popular choice. These lubricants are usually safe for use with condoms and silicon devices and aren't likely to stain clothing or sheets. Water-based lubricants may also be more likely to have a healthy pH and osmolality. The con is that some water-based lubricants contain ingredients you may want to avoid, especially if you're TTC, sensitive to artificial flavors, colors, or are prone to getting bacterial or yeast infections [3-4]. This is especially true for any lubricants marketed as "warming" or "flavored" lubed. Keep an eye out for ingredients like glycerin and parabens, and read the full list of what lube ingredients to avoid.
Oil-based lube
Oil-based lubes do tend to last longer than water-based or silicone-based lubes, which can be a pro for some people. Unfortunately, oil-based lubes are associated with an increased risk of yeast infections, which is something to keep in mind [5]. Oil is also more likely to stain clothing or sheets and can be hard to wash away. Another important fact to note about oil-based lubricants is that they can erode latex condoms. This isn't ideal if you're relying on condoms for STI or pregnancy prevention. 
Silicon-based lube
Lubricants made with a silicon base are usually waterproof, hypoallergenic (assuming there are no added allergens), and sometimes thicker than other lubricants [6]. These lubes are safe for use with most condoms, but shouldn't be used with silicon devices. Some studies have found that silicon-based lubricants may be associated with some skin cell damage or irritation and may decrease condom puncture strength [7]. 
What are safe lube alternatives?
You should always proceed with caution before trying any alternative lube options. Products that were not designed to be used as personal lubricants may contain ingredients that can be damaging to your health and fertility. Always avoid products that contain alcohol or chemicals. 
Potential alternatives to lube include organic coconut oil, saliva, or pure aloe vera gel. 
Keep in mind that even natural oils can damage condoms, and saliva can pass on some STIs [8-9]. Never use any scented lotions, soaps, baby oil, or other products as a lubricant. These products can cause infections or irritate the skin. You should stick to cleared fertility-friendly lubricants if you're TTC, or speak to your healthcare provider for their recommendations on other lube options. 
What types of lube should you avoid?
When shopping for lube, keep in mind that different types of lubricants all have their pros and cons. In general, it's best to avoid any products that contain glycerin, parabens, and artificial fragrances. If you're using latex condoms, avoid oil-based lubricants and keep in mind that some silicon-based lubes may weaken condom puncture strength [7]. If you're TTC, avoid lubricants that haven't been cleared by the FDA as fertility friendly. For those prone to infections or with sensitive skin, consider water-based lubricants. For specific questions or recommendations, you should speak to your healthcare provider.
Key takeaways
Personal lubricants may be beneficial for those experiencing painful sex, vaginal dryness, or would like support with sexual function, pleasure, and enjoyment.
Lubes are often water based, silicon based, or oil based.
Water-based lubricants are safe for latex condoms and aren't likely to stain sheets or clothing.
Oil-based lubes shouldn't be used with latex condoms and may stain; however, they are known to last much longer. 
Silicon lubes are likely hypoallergenic and waterproof, but shouldn't be used with silicon devices and have been associated with skin irritation and decreased condom strength. 
If you're hoping to conceive soon, opt for a fertility-friendly lubricant that is safe for sperm, eggs, and embryos. 
References:
Kennedy CE, Yeh PT, Li J, Gonsalves L, Narasimhan M. Lubricants for the promotion of sexual health and well-being: a systematic review. Sex Reprod Health Matters. 2021;29(3):2044198. doi:10.1080/26410397.2022.2044198
Product Classification. U.S. Food and Drug Administration. Updated March 13 2023. Accessed March 14 2023. URL.
Van Ende M, Wijnants S, Van Dijck P. Sugar Sensing and Signaling in Candida albicans and Candida glabrata. Front Microbiol. 2019;10:99. Published 2019 Jan 30. doi:10.3389/fmicb.2019.00099
Hung KJ, Hudson PL, Bergerat A, Hesham H, Choksi N, Mitchell C. Effect of commercial vaginal products on the growth of uropathogenic and commensal vaginal bacteria. Sci Rep. 2020;10(1):7625. Published 2020 May 6. doi:10.1038/s41598-020-63652-x
Brown, Joelle M. PhD, MPH; Hess, Kristen L. PhD, MPH; Brown, Stephen MD; Murphy, Colleen PGDip; Waldman, Ava Lena MPH; Hezareh, Marjan PhD. Intravaginal Practices and Risk of Bacterial Vaginosis and Candidiasis Infection Among a Cohort of Women in the United States. Obstetrics & Gynecology 121(4):p 773-780, April 2013. | DOI: 10.1097/AOG.0b013e31828786f8
Mancuso A, Tarsitano M, Udongo BP, et al. A comparison between silicone-free and silicone-based emulsions: Technological features and in vivo evaluation. Int J Cosmet Sci. 2022;44(5):514-529. doi:10.1111/ics.12800
Geibel S. Condoms and condiments: compatibility and safety of personal lubricants and their use in Africa. J Int AIDS Soc. 2013;16(1):18531. Published 2013 Jul 9. doi:10.7448/IAS.16.1.18531
Hook EW 3rd, Bernstein K. Kissing, saliva exchange, and transmission of Neisseria gonorrhoeae. Lancet Infect Dis. 2019;19(10):e367-e369. doi:10.1016/S1473-3099(19)30306-8
Cornelisse VJ, Fairley CK, Read TRH, et al. Associations Between Anorectal Chlamydia and Oroanal Sex or Saliva Use as a Lubricant for Anal Sex: A Cross-sectional Survey. Sex Transm Dis. 2018;45(8):506-510. doi:10.1097/OLQ.0000000000000800
Shop Products From This Article
Subscribe & Save $2.00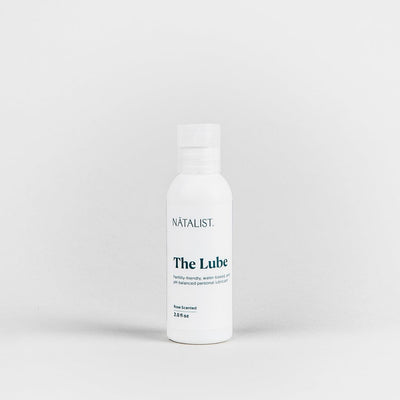 Extra 10% off your first delivery when you subscribe with code SEPT23
$23