How Much Vitamin D Should You Take During Pregnancy?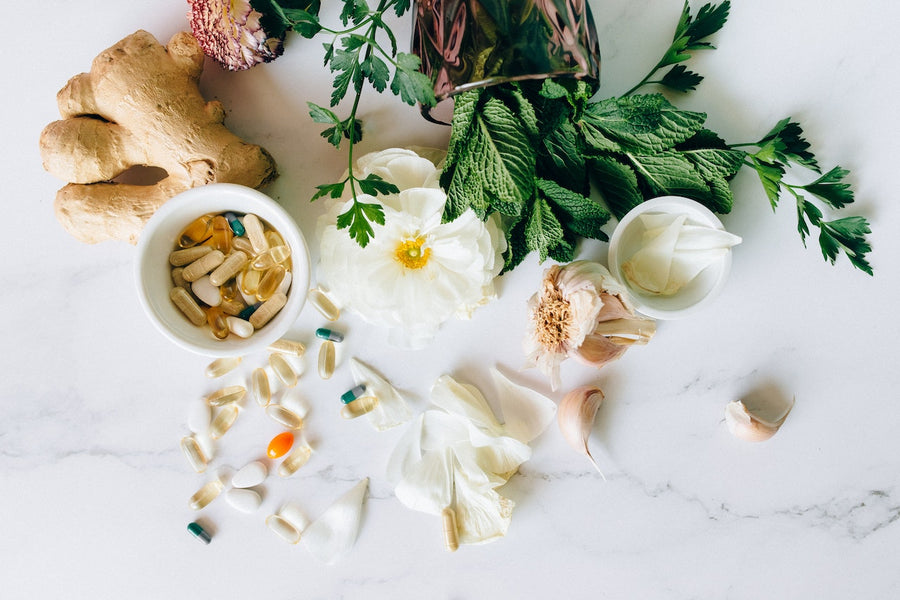 Originally published 02/07/2021. Updated for accuracy and relevancy on 09/19/2023.
If you keep up with health and nutrition, chances are you've heard of the various benefits that vitamin D supplementation can offer. With so many sources and conflicting information, it can be difficult to sort fact from fiction. There are many vitamins and supplements that can increase your chances of pregnancy, from folate to CoQ10, though few people are aware of the importance of vitamin D. Let's evaluate vitamin D as it relates to pregnancy—how much, how often, and can there ever be too much?!
What Is Vitamin D? 
Vitamin D is a fat-soluble vitamin which means it is absorbed with dietary fats and is stored in fatty tissues of the body. Its role is to promote absorption of calcium from the gastrointestinal tract and facilitate normal bone development and growth. Various studies have also shown potential benefits including reduced autoimmune disease and hypertensive disorders. 
Is Vitamin D Safe During Pregnancy?
Vitamin D is safe and recommended during pregnancy. While multiple studies conclude that vitamin D is safe in pregnancy, the ideal dosage is a little less clear. [1] Studies have reported that vitamin D is not only safe but beneficial—especially for those with vitamin D deficiency and those with higher risks for pregnancy complications.
Vitamin D2 vs. D3 for Pregnancy
When choosing a vitamin D supplement, look for one that is long acting and easily absorbed, such as cholecalciferol (D3). This supplement is well-tolerated and typically has few side effects. Ergocalciferol (D2) is another safe vegan option, but is less bioavailable. 
How Much Vitamin D Should You Take During Pregnancy?
While there is general consensus regarding the need for vitamin D supplementation in pregnancy, there is confusion regarding optimal target levels and the dose required to achieve them. [2] Traditionally, vitamin D supplementation of up to 2,000 IUs per day has been deemed adequate for pregnancy. 
Is Too Much Vitamin D3 Bad During Pregnancy?
Although extensive data on the safety of higher doses are lacking, most experts and recent studies agree that supplemental vitamin D is safe in dosages up to 4,000 IUs per day during pregnancy or lactation. [3] If you stay under this threshold, you're unlikely to experience any negative effects. It's very rare to develop vitamin D toxicity, but potential consequences include nausea and vomiting, weakness, frequent urination, bone pain, and more. [4] Be sure to follow your provider's recommendations when it comes to vitamin D supplementation. 
How Much Vitamin D Should Be In Your Prenatal Vitamin?
Most prenatal vitamins contain 400 IUs of vitamin D; however, given the widespread incidence of vitamin D deficiency, most experts now agree that levels should likely be higher. Pregnancy represents a nutritionally vulnerable period where demands are greatest for both mom and baby. Moreso, Black women and women with rich darker pigment are even more susceptible to vitamin D deficiency and often require higher doses of vitamin D due to decreased absorption through the skin. [2] This difference is important to note since Black women share a higher burden of preterm birth, low birth weight, and pre-eclampsia—conditions that have all been studied in association with vitamin D supplementation. 
When selecting a prenatal vitamin, consider one that provides doses sufficient to prevent deficiency throughout pregnancy as well as the breastfeeding period, such as the Natalist prenatal vitamin. If you have been diagnosed with vitamin D deficiency, your provider may suggest taking a vitamin D supplement in addition to your prenatal. 
What Happens If Vitamin D Is Low During Pregnancy?
Studies have suggested that pregnant women with low vitamin D levels (blood serum level <50nm) are more likely to experience pregnancy complications including pre-eclampsia, preterm birth, and small babies. In addition, babies born with vitamin D deficiency may have poor bone growth or in severe cases, rickets (flexible bones).
How Can I Raise My Vitamin D Levels Quickly?
The best way to increase vitamin D levels is through a multi-factorial approach focused on increased sun exposure, increased dietary content, and vitamin D supplementation. Depending on your specific needs and risk factors, your provider may recommend supplementation in the range of 1,000 to 4,000 IUs per day. Although there's not universal agreement on the best dosing regimen during pregnancy, most experts agree that vitamin D supplementation is likely safe for up to 4,000 IUs per day.  [3] 
More Ways to Boost Vitamin D
Since vitamin D is essential for various bodily functions, it's important to understand the best ways to achieve adequate levels. Vitamin D—also known as the "sunshine vitamin"—is synthesized in the skin during sun exposure, thus it's important to allow for at least eight to ten minutes of direct sun exposure daily. [3] During this time, it's best to limit sunscreen to ensure optimal vitamin D production.
Various foods contain or are fortified with vitamin D as well and include fatty fish and seafood such as salmon, tuna, shrimp, sardines and anchovies. It's important to note that farm-raised fish contains only 25% of the vitamin D content of wild-caught salmon. Other excellent sources of vitamin D include egg yolk, mushrooms, and fortified foods such as milk, cereal, orange juice, and yogurt. 
Can Too Much Vitamin D Be Harmful In Pregnancy?
Although vitamin D toxicity is rare, doses higher than 4,000 IUs per day have not been widely studied. Excessive vitamin D supplementation can lead to higher levels of calcium in the fetus, which can potentially be dangerous. If you have profound deficiency requiring supplementation, discuss with your OBGYN to find the best and fastest route to achieve a normal level. 
Current literature also does not adequately support the association between vitamin D during pregnancy and autism. More studies are needed to determine when fetal vulnerability is highest for neurodevelopment and if vitamin D supplementation is able to reduce the risk of functional alterations of the nervous system and autism development. [5] 
The Sunshine Vitamin Has Many Benefits
In summary, vitamin D (aka "the sunshine vitamin") has many benefits during pregnancy and beyond. If you're at high risk for certain pregnancy complications, or have darker skin, ask your OBGYN if checking your vitamin D levels are warranted and if additional supplementation is right for you.
Key Takeaways
Vitamin D can help promote absorption of calcium from the gastrointestinal tract and facilitate normal bone development and growth. 
Various studies have also shown potential benefits including reduced autoimmune disease and hypertensive disorders.
Low vitamin D levels can lead to pregnancy complications.
Increase your vitamin D levels through a multi-factorial approach including increased sun exposure, diet, and taking a vitamin D supplement.
Experts agree that up to 4,000 IUs per day is safe during pregnancy.
References:
Mithal A, Kalra S. Vitamin D supplementation in pregnancy. Indian J Endocrinol Metab. 2014;18(5):593-596. doi:10.4103/2230-8210.139204
De-Regil LM, Palacios C, Lombardo LK, Peña-Rosas JP. Vitamin D supplementation for women during pregnancy. Cochrane Database Syst Rev. 2016;(1):CD008873. Published 2016 Jan 14. doi:10.1002/14651858.CD008873.pub3
Vitamin D: screening and supplementation during pregnancy. Committee Opinion No. 495. American College of Obstetricians and Gynecologists. Obstet Gynecol 2011;118:197–8.
Zeratsky, K. What is vitamin D toxicity? Should I be worried about taking supplements? Mayo Clinic. March 2022. https://www.mayoclinic.org/healthy-lifestyle/nutrition-and-healthy-eating/expert-answers/vitamin-d-toxicity/faq-20058108#
Principi N, Esposito S. Vitamin D Deficiency During Pregnancy and Autism Spectrum Disorders Development. Front Psychiatry. 2020;10:987. Published 2020 Jan 31. doi:10.3389/fpsyt.2019.00987
Shop Products From This Article