Myo-Inositol During Pregnancy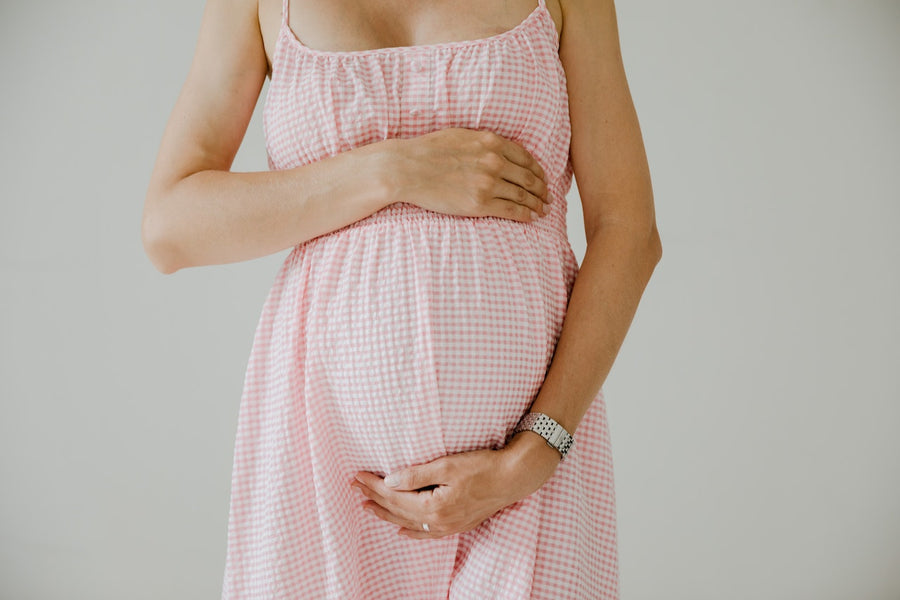 Inositol is a nutrient found naturally in the body that can also be obtained through dietary supplements. Inositol is often used to support hormone balance and cycle regularity, but there are also potential benefits when taken during pregnancy. 
What Is Myo-Inositol?
Myo-inositol (MI) is one form of inositol, a sugar that is naturally produced in the body and a member of the vitamin B complex group. [1] Inositol is used for proper functioning and development of the body and can be found in dietary supplements as well as some foods. The two most common forms of inositol include myo-inositol (MI) and d-chiro-inositol (DCI). MI aids the body with substance and hormone activation, while DCI aids with storage and synthesizing. [1] While MI and DCI have different functions, they work effectively together in certain ratios. In fact, every inositol-rich organ has a certain MI/DCI ratio to support its specific function. [2] 
Benefits of Inositol
Inositol is a necessary nutrient for the functioning and development of our cells. It has also been shown to support or reduce the risk of various health conditions, including [1]:
Metabolic syndrome:

 

Metabolic syndrome is a group of conditions that can increase the risk of heart disease, diabetes, and stroke. Studies show that inositol may lower the risk for metabolic syndrome by improving glucose and insulin balance, blood pressure, and lipid profiles. [1-3] 
High cholesterol:

 

Some data suggest that inositol can lower high cholesterol.
Insulin resistance: Inositol's role as a messenger in the body helps the body process insulin more effectively. 
Mood disorders:

 

Some research suggests that inositol may relieve symptoms of depression and other mood disorders. 
Polycystic ovary syndrome (PCOS):

 

PCOS is a hormone condition that can greatly impact fertility and pregnancy outcomes and causes many uncomfortable symptoms, including obesity, acne, high androgen levels, and more. Inositol has been shown to improve symptoms of PCOS by improving insulin sensitivity and encouraging regular ovulation. [1,4] 
Additionally, inositol may be useful for supporting pregnancy outcomes. Let's talk a bit more about inositol use during pregnancy. Read more about inositol benefits. 
Benefits of Inositol During Pregnancy
There are a host of potential complications that can arise during pregnancy, from preeclampsia to gestational diabetes. In many cases, complications may be unpreventable or difficult to manage. Fortunately, with the help of various lifestyle changes, medications, and adequate nutrition, we may be able to reduce the risk of potential negative outcomes. This includes supplementing with nutrients such as folic acid, prenatal vitamins, and even inositol. 
Reduces the Risk of Gestational Diabetes
Gestational diabetes (GD) impacts up to 10% of pregnancies in the United States. GD increases the risk of high blood pressure, C-section delivery, and some fetal complications. [5] Recent research has found that taking inositol during pregnancy may have positive effects on blood sugar control, which can decrease the risk of developing gestational diabetes. [6] The use of inositol for GD prevention is especially effective among high-risk women, including those who are obese, overweight, have PCOS, or have a family history of diabetes. [6]  Keep reading about preventing gestational diabetes. 
Reduces the Risk of Preterm Birth
Preterm birth is defined as birth before 37 weeks gestation. Preterm birth is thought to be the most common cause of infant death and a leading cause of long-term disability. [7] The causes of preterm birth are only partly understood, but can either be spontaneous or medically indicated. For example, poorly managed or worsening gestational diabetes can increase someone's risk of preterm birth. Fortunately, some studies have found that supplementing with inositol during pregnancy may reduce the risk of preterm birth. [1,8] Learn how to recognize the symptoms of premature labor → 
Reduces the Risk of Hypertensive Disorders
Hypertension, also known as high blood pressure, is the most common medical disorder occurring during pregnancy and a leading cause of maternal mortality. [9] Well known hypertensive disorders include preeclampsia, eclampsia, chronic hypertension, and gestational hypertension. [9] According to some data, a deficiency in inositol has been previously associated with preeclampsia. [10] A study also found that inositol supplementation during pregnancy may actually reduce the risk of hypertensive disorders. [8] 
Is Inositol Safe During Pregnancy?
In most cases, inositol is thought to be well tolerated during pregnancy in doses up to 4g every day. [10] However, you should always consult a healthcare provider before taking any new vitamins or supplements, especially during pregnancy. 
Should I Stop Taking Myo Inositol During Pregnancy?
Inositol is sometimes recommended to those trying to conceive (TTC), especially those hoping to support cycle regularity and hormone balance. Current research suggests that taking inositol during pregnancy is safe for many people and may actually be beneficial for reducing the risk of various pregnancy complications. That being said, you should consult your healthcare provider if you have questions about what supplements you should and should not take while pregnant or TTC. 
Side Effects 
It is important to note that all dietary supplements have the potential to cause side effects. In most cases, inositol is thought to be well tolerated, especially when taken as prescribed or recommended by your healthcare provider. Some side effects that may occur while taking inositol include [1]:
Diarrhea
Nausea
Headache
Fatigue
Abdominal pain
Dizziness
Natalist Supplements for a Healthy Pregnancy
Prioritizing your health during pregnancy is extremely important for supporting fetal and maternal outcomes. General recommendations for a healthy pregnancy include eating healthy foods, staying active, avoiding drugs or alcohol, getting regular prenatal checkups, and taking a prenatal vitamin. [11] In some cases, additional supplementation such as inositol may also be beneficial. If you have any concerns or questions about your health during pregnancy or supplement routine, be sure to speak directly to a healthcare provider. If you're in need of high-quality, evidence-based products, browse all Natalist collections here. 
References:
Inositol. Cleveland Clinic. August 2023. https://my.clevelandclinic.org/health/drugs/25173-inositol
Nordio M, Proietti E. The combined therapy with myo-inositol and D-chiro-inositol reduces the risk of metabolic disease in PCOS overweight patients compared to myo-inositol supplementation alone. Eur Rev Med Pharmacol Sci. 2012;16(5):575-581.
Caputo M, Bona E, Leone I, et al. Inositols and metabolic disorders: From farm to bedside. J Tradit Complement Med. 2020;10(3):252-259. Published 2020 Mar 24. doi:10.1016/j.jtcme.2020.03.005
Kalra B, Kalra S, Sharma JB. The inositols and polycystic ovary syndrome. Indian J Endocrinol Metab. 2016;20(5):720-724. doi:10.4103/2230-8210.189231
Gestational Diabetes. CDC. December 2022. https://www.cdc.gov/diabetes/basics/gestational.html
Tahir F, Majid Z. Inositol Supplementation in the Prevention of Gestational Diabetes Mellitus. Cureus. 2019;11(9):e5671. Published 2019 Sep 16. doi:10.7759/cureus.5671
Preterm Labor and Birth. NIH Office of Communications. May 2023. https://www.nichd.nih.gov/health/topics/preterm
Motuhifonua SK, Lin L, Alsweiler J, Crawford TJ, Crowther CA. Antenatal dietary supplementation with myo-inositol for preventing gestational diabetes. Cochrane Database Syst Rev. 2023;2(2):CD011507. Published 2023 Feb 15. doi:10.1002/14651858.CD011507.pub3
Khedagi AM, Bello NA. Hypertensive Disorders of Pregnancy. Cardiol Clin. 2021;39(1):77-90. doi:10.1016/j.ccl.2020.09.005
Formoso G, Baldassarre MPA, Ginestra F, Carlucci MA, Bucci I, Consoli A. Inositol and antioxidant supplementation: Safety and efficacy in pregnancy. Diabetes Metab Res Rev. 2019;35(5):e3154. doi:10.1002/dmrr.3154
Good Health Before Pregnancy: Prepregnancy Care. ACOG. FAQ 056. December 2021. https://www.acog.org/womens-health/faqs/good-health-before-pregnancy-prepregnancy-care
Shop Products From This Article