Recognizing Premature Labor Symptoms: A Guide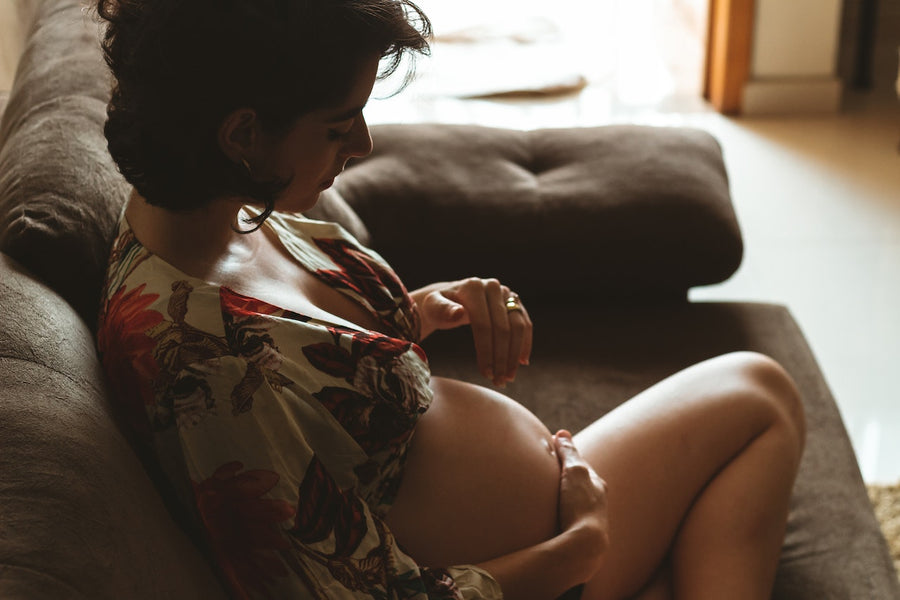 By OBGYN Dr. Kenosha Gleaton
Understanding Premature Labor
For most pregnant people, labor is likely to begin between week 37 and week 42 of pregnancy, with a typical pregnancy averaging about 40 weeks long. [1-2] When labor begins before 37 weeks of pregnancy, it is known as premature or preterm labor. Going into preterm labor does not automatically mean someone will have a preterm birth, but preterm labor does require prompt medical attention. [2] 
Premature Labor vs Premature Birth
While the two are correlated, many people confuse the meanings of premature labor and premature birth. While premature labor is the start of the body going into labor, premature birth (the delivery of a baby) is not always going to occur. [2] Preterm birth requires the actual birth of a child before 37 weeks. While not always possible, there are ways to delay labor in order to prevent premature birth. In about 30% of preterm labor cases, labor will actually stop on its own without medical intervention. [2] 
The Causes of Premature Labor
The reality is that anyone can be at risk of preterm labor and preterm labor can occur without warning. That being said, there are some specific risk factors that may increase the risk of preterm labor. Some of these factors include [2-3]: 
Previous preterm birth 
Ongoing Pregnancy complications 

Vaginal bleeding during pregnancy
Infections
Preeclampsia 

A short cervix early on in pregnancy
A history of gynecological surgery or conditions
Low pre-pregnancy weight
Multiple pregnancy 
Smoking during pregnancy 
Dietary deficiencies (Get nutritional support during pregnancy)
Age younger than 17 or older than 35 
Identifying the Symptoms of Premature Labor
It's important to know the symptoms of premature labor so that a healthcare provider can be consulted quickly. Unlike false labor contractions, premature labor is likely to cause regular and painful contractions, and may be accompanied by other symptoms such as [2,4]:
Backache 
Abdominal cramps 
Changes in vaginal discharge (often watery, bloody, or containing mucus) 
Increased vaginal discharge 
Changes to the cervix 

Thinning of the cervix 
Dilation of the cervix 

Pelvic or lower abdominal pressure 
Water breaking 
Decreased fetal movement
When in preterm labor, four or more contractions should occur in one hour and will not go away after changing position or relaxing. [4] Real contractions will begin to occur closer together and will become more painful. Braxton Hicks contractions can feel similar, but shouldn't be as painful as true labor contractions and will differ in frequency and duration. [4]
If you have any signs or symptoms of preterm labor, reach out to or visit your healthcare provider right away.
The Importance of Recognizing Symptoms Early
If you are concerned you're experiencing preterm labor, begin to measure the duration of and time between contractions. It's also important to note any other symptoms you're experiencing. If symptoms are in line with preterm labor, it's extremely important to seek out medical care immediately. If preterm labor progresses into preterm birth, the baby may be born with serious health problems or complications. [2] Preterm babies may be affected by cerebral palsy, learning disabilities, developmental delays, or other complications that may be lifelong or may develop later in life. [2] 
Recognizing symptoms of preterm labor early on and seeking out treatment may benefit both maternal and fetal health outcomes. Depending on how far along labor has progressed, fetal development, and other factors, some interventions may be used to delay labor and reduce complication risk. [2]
Medical Interventions
If someone is in preterm labor there are a few different options healthcare providers may consider. While some cases of preterm labor will stop on their own, the majority (70%) of cases will not. [2] There are medications available that may be able to delay birth or reduce the risk of fetal complications. Tocolytics are medications that can be used to delay delivery for up to 48 hours. [2] Delaying delivery allows healthcare providers more time to prepare for preterm delivery and allows more time for other medications to be given. In some cases, magnesium sulfate or corticosteroids are given to aid in fetal organ development and prevent cerebral palsy. [2] Read more about betamethasone for preterm labor →
Preventing Premature Labor
Treatment options for preventing premature labor are somewhat limited, but providers do have a few options available if someone is at high risk. Progesterone, a hormone vital for a healthy pregnancy, has been shown to be effective at preventing premature labor in some high-risk groups. [2,5] Progesterone is often given as a vaginal gel or suppository that is placed in the vagina regularly. 
Cerclage is another prevention method that is a more invasive procedure. If someone has a short cervix, a history of preterm birth, or other specific conditions, the cervix can be closed with one or more stitches. [2,5] 
Healthy Prenatal Care
In addition to medical interventions, it's important to promote healthy behaviors during and before pregnancy. Some risk factors for premature labor can be handled prior to getting pregnant, such as maintaining a healthy weight, quitting smoking, and eating a balanced diet. [2,6] Many healthcare providers recommend taking a comprehensive prenatal vitamin to support healthy vitamin and mineral intake. [6] 
Additionally, some models of prenatal care may improve pregnancy and birth outcomes. One example of this is the prenatal care model Centering Pregnancy. Centering Pregnancy is a model of group prenatal care, allowing more time with healthcare providers, social support, and collaborative learning and less time spent in waiting rooms. [7-8] This model gives patients a chance to connect with other pregnant individuals and strives to support knowledge-sharing and self-management. This model has been shown to decrease the rate of preterm and low-weight babies, increases breastfeeding rates, and more. [7]
How Natalist Supports Your Pregnancy Journey
We at Natalist know how frustrating it can be to navigate fertility and pregnancy spaces. There is a lot of junk science and outdated information out there, and we're dedicated to providing a space full of high-quality, evidence-backed, easy-to-understand products and information. Support a healthy pregnancy with Natalist Prenatals, self-care products, drink mixes, and more. Have more questions? Visit the Natalist blog. 
References:
Shop Products From This Article
Subscribe & Save $7.00
Extra 10% off your first delivery when you subscribe with code SEPT23
$85 $68