The Role of Betamethasone for Preterm Labor Management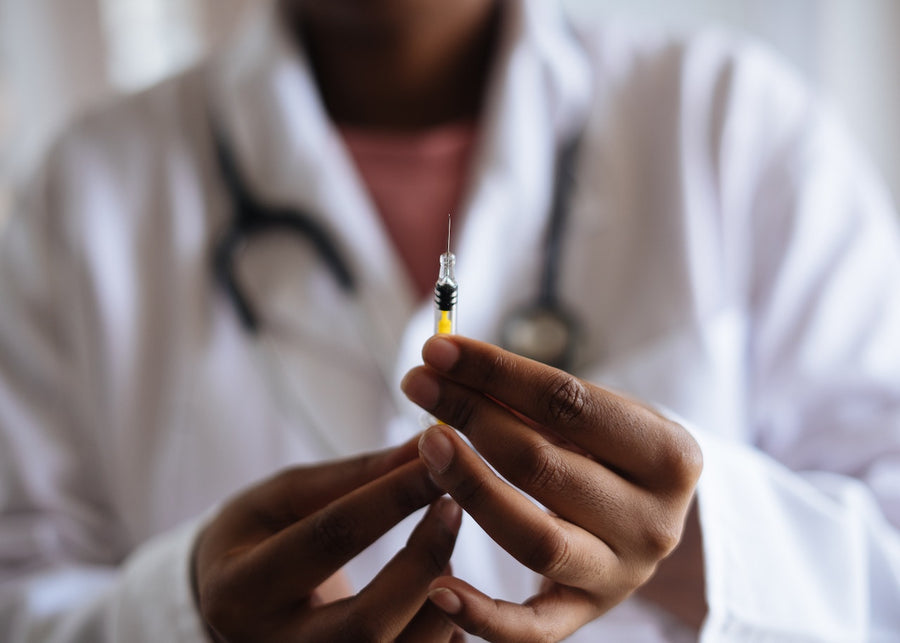 By Dr. Kenosha Gleaton, OBGYN
Labor is considered preterm when it begins before 37 weeks of pregnancy. [1] Preterm labor does not necessarily mean someone will have a preterm birth, but preterm labor still requires immediate medical attention. Those that are at risk of preterm birth should be aware of related fetal outcomes, including low birth weight, breathing difficulties, vision problems, developmental delays, and more. [1] Fortunately, some treatments may be used to delay labor and encourage adequate fetal development.  Learn the symptoms of premature labor →  
Betamethasone for Preterm Labor
When someone goes into preterm labor, they are advised to seek medical attention immediately. Although preterm labor doesn't always result in preterm birth, the majority of people will need some sort of medical intervention in order to delay delivery and ensure adequate fetal development. Premature labor will stop on its own in about 30% of cases but will continue to progress in the remaining 70%. [2] Medications such as corticosteroids, magnesium sulfate, and tocolytics are a few of the potential interventions used to reduce the risk of fetal complications and to delay labor for a few hours. [1-2] 
What is Betamethasone?
Betamethasone is a corticosteroid that is often used to treat inflammation and various skin conditions, such as itching, swollen, and irritated skin. In some cases, betamethasone can actually be used to aid in fetal development when someone is in preterm labor. [1-2] The American College of Obstetricians and Gynecologists (ACOG) recommends that steroids such as betamethasone and dexamethasone be given to help with organ development and to potentially reduce the risk of fetal complications or death. [3-4] 
Benefits of Betamethasone for Preterm Babies
Studies show that betamethasone can speed up lung development and may aid in the lubrication of fetal lungs. [5] Additionally, this medication reduces the risk of serious respiratory problems, brain bleeds, and intestinal infections. [5] Betamethasone also reduces the risk of developmental disabilities, including cerebral palsy, hypoxic-ischemic encephalopathy (HIE, a type of brain damage), and others. It's estimated that these effects decrease the risk of fetal death by up to 40%. [5] 
Betamethasone Dose for Preterm Labor
When used for preterm labor, betamethasone is given as an intramuscular injection (a shot). [3] ACOG recommends two 12-mg doses given 24 hours apart. Regularly scheduled repeat courses of the medication are not currently recommended, and medication should be reserved for cases when a pregnant person is at risk of preterm delivery within seven days. [3] 
Risks and Considerations of Betamethasone Use
As with all medications, there is the potential for adverse reactions. Various research studies have also highlighted potential risks and considerations that should be taken into account. For example, some studies have found that multiple courses of betamethasone (outside of the recommended two doses) may have negative effects, such as reduced birth weight and head circumference. [3] Providers are still researching the risks and benefits associated with multiple courses of betamethasone at this time. There is also some controversy on the duration of corticosteroid benefits and whether or not current recommendations for repeat courses are providing the most benefit. [3] A few animal studies have suggested that repeat courses of corticosteroids may be associated with the development of cerebral palsy, although the majority of data surrounding the current recommended dosage show no evidence of long-term harm. [3] Fortunately, ACOG is constantly reevaluating new data to provide recommendations that provide the most benefit  while reducing risks as much as possible. If you have specific concerns about betamethasone or other medications used for preterm labor, speak to your healthcare provider. 
Tocolytics and Magnesium Sulfate
We've discussed the role of betamethasone, but what are tocolytics, and how does magnesium sulfate help with premature labor? Tocolytics are medications that are used to slow or stop contractions. [1-2] Tocolytics can be given during premature labor for up to 48 hours in order to give medications like betamethasone time to provide the maximum benefit. Tocolytics can also be helpful if someone needs to be transported to a different hospital that can provide specialized care for premature infants. [2] 
Magnesium sulfate is another helpful compound that may be recommended for those at risk of delivering between weeks 24 and 32. [2] Studies show that magnesium sulfate may reduce the risk of cerebral palsy in infants born before 32 weeks of gestation. [2]  Learn more about the benefits of magnesium. 
Other Medical Interventions for Preterm Babies
When a baby is preterm, they will often be cared for in the neonatal intensive care unit (NICU), a specific area in a hospital or care center that specializes in caring for premature infants. It's common for preemies to undergo some testing in order to rule out potential health conditions and to ensure their organs are developing appropriately. Some common tests include [6]:
Breathing and heart rate monitoring
Blood tests
Fluid input and output measurement
Ultrasound
Echocardiography (ultrasound of the heart)
Eye exam
Depending on the baby's needs, there are various treatments that can be given to support health outcomes. Treatments include incubators, feeding tubes, blood transfusions, and more. [6] Some medications can also be given to improve the lungs and the heart. It can be scary to think about all the what-ifs of having a premature birth, but fortunately many medical advances allow us to care for preemies and in many cases, prevent death or severe conditions. [7] An analysis of over 115,000 women that had premature births found the following [7]:
7.9% of infants had major illnesses or conditions
37.6% of infants had minor illnesses or conditions
53.1% of infants survived without any studied morbidities
Key Takeaways
Preterm labor refers to labor beginning prior to 37 weeks of gestation.
If someone is experiencing symptoms of preterm labor, they should seek out medical care immediately. 
Preterm birth can lead to an increased risk of low birth weight, vision problems, underdeveloped organs, and more. 
There are a few different medications that can be used to delay labor and promote fetal development, such as betamethasone, magnesium sulfate, and tocolytics.
Betamethasone is a corticosteroid that is often used to treat skin conditions but can also reduce the risk of premature infant mortality and morbidity. 
Studies show that betamethasone can reduce the risk of developmental disabilities, cerebral palsy, respiratory problems, brain bleeds, and more. 
There are specific dosage instructions based on how far along someone is when experiencing premature labor. Speak to your healthcare provider if you have specific questions or concerns about your pregnancy. 
References:
Premature Labor. Mayo Clinic. Feb 2022. URL. 
Preterm Labor and Birth FAQ087. ACOG. April 2023. URL. 
Antenatal corticosteroid therapy for fetal maturation. Committee Opinion No. 713. American College of Obstetricians and Gynecologists. Obstet Gynecol 2017;130:e102–9.
Czamara, D., Dieckmann, L., Röh, S. et al. Betamethasone administration during pregnancy is associated with placental epigenetic changes with implications for inflammation. Clin Epigenet 13, 165 (2021). https://doi.org/10.1186/s13148-021-01153-y
Betamethasone. HIE Help Center. Accessed July 2023. URL.
Premature Birth. Mayo Clinic. Feb 2023. URL. 
Manuck TA, Rice MM, Bailit JL, et al. Preterm neonatal morbidity and mortality by gestational age: a contemporary cohort. Am J Obstet Gynecol. 2016;215(1):103.e1-103.e14. doi:10.1016/j.ajog.2016.01.004
Shop Products From This Article
Extra 10% off your first delivery when you subscribe with code SEPT23
$95 $85
Subscribe & Save $7.00
Extra 10% off your first delivery when you subscribe with code SEPT23
$85 $68