What You Need to Know About Pregnancy Osteoporosis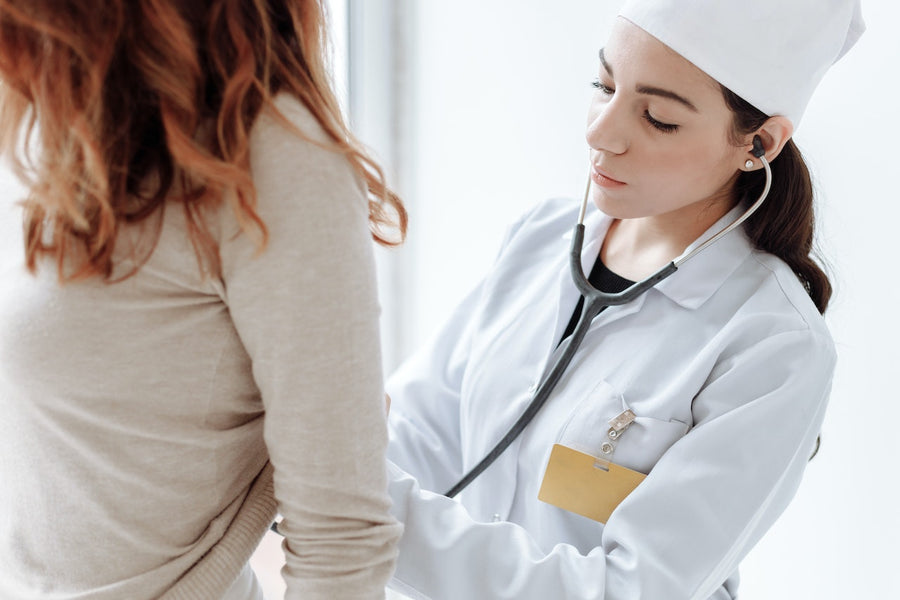 By OBGYN Dr. Kenosha Gleaton
What Is Osteoporosis?
Osteoporosis is a bone disease that develops when bone mass and bone mineral density decrease, or when the structure and strength of bone change. [1] Osteoporosis leads to a decrease in bone strength which can increase the risk of broken bones. Many people with osteoporosis don't show symptoms and may not be aware they have the disease until a bone is fractured. Fractures may occur in any bone but often occur in the hip, spine, and wrist. [1] 
Who's at Risk of Osteoporosis?
 Osteoporosis is most commonly seen in postmenopausal women and older men, however, the disease can affect people of all races, ages, and ethnic groups. The risk of osteoporosis increases as you get older, and may increase when taking certain medications. [1] Other factors that can play a role in developing osteoporosis include [1]:
Diet: A diet low in calcium and vitamin D, or excessive dieting and poor protein intake can increase the risk of bone loss. 
Medical conditions: Certain medication conditions require treatment or management that can increase the risk of osteoporosis, including endocrine and hormonal diseases, gastrointestinal diseases, arthritis, cancer, anorexia nervosa, and HIV. 
Lifestyle: Those with low levels of physical activity or prolonged periods of inactivity may see more bone loss. Heavy alcohol use and smoking are also considered significant risk factors. 
Changes to hormones: low levels of testosterone or estrogen can increase someone's chances of developing osteoporosis. Read my article on hormone testing for women
Family history, age, sex, race, and body size are all considered significant factors as well. 
Can Pregnancy Cause Osteoporosis?
Technically it is possible for osteoporosis to develop as a result of pregnancy. It's common for pregnant people to experience a decrease in bone density, however this is often temporary and normal bone density is restored after pregnancy. [2] Pregnancy and breastfeeding require mom and baby to share vital nutrients in order to support fetal or infant growth and development. This includes calcium and vitamin D, two nutrients that play an important role in our bone and teeth health. [3] Make sure you're taking a comprehensive prenatal vitamin that contains these ingredients.  
Does Breastfeeding Cause Osteoporosis?
Research shows that in some rare cases, people can develop osteoporosis while breastfeeding. [4] Similar to pregnancy, breastfeeding moms share a good portion of their nutrients with their breastfed infant. Calcium and vitamin D are especially important for your baby during this time in order to support healthy bone development, and low levels of these vitamins may lead to low bone elasticity, low bone density, and osteoporosis later in life. It's common to experience some loss of bone density during and after pregnancy, but is often reversed after weaning. [2] Learn more about nutrition on the Natalist blog. 
Pregnancy and Lactation-Associated Osteoporosis
While the condition is still being studied, research shows that some people may develop osteoporosis during pregnancy, after delivery, or while breastfeeding. [4] Pregnancy and lactation-associated osteoporosis (PLO) is a very rare condition but can be very serious, leading to spinal fractures, disability, and severe back pain. It's thought that PLO impacts less than 200,000 people a year.  [4] 
You may be wondering how PLO occurs. Truthfully, we aren't entirely sure of the exact cause of PLO. [3-4] We do know that calcium and vitamin D are necessary nutrients that are shared with a fetus during pregnancy or an infant through breast milk. Some risk factors that have been identified include physiologic changes during pregnancy, genetics, race, preterm labor, and hypertension. [3] Researchers are hoping to learn more about the cause of PLO in the coming years. 
Symptoms of Osteoporosis During Pregnancy
Unfortunately there are often very few warning signs that someone has osteoporosis and the disease is often discovered after a fracture has already occurred. [4] Most often, complaints of severe back pain will prompt imaging tests that then reveal broken vertebrae in the spine.  Case studies report some of the following symptoms [3-5]:
Back pain
Hip pain
Chest pain
Loss of height
Change in posture
So far, treatment options for PLO include bisphosphonates (a group of medicines used to treat bone diseases), calcium supplements, vitamin D supplements, and other medications. [3] Because the condition is so rare, no official treatment guidelines have been created. If you're experiencing any extreme back pain or other concerning symptoms, you should speak to a healthcare provider. 
Calcium and Vitamin D Supplementation During Pregnancy
There are many vitamins and minerals necessary for supporting a healthy pregnancy. Not only are these nutrients vital for maternal health, but fetal development is also dependent on adequate nutrition. Research shows that adequate calcium and vitamin D intake can help prevent preeclampsia, newborn fractures, congenital rickets, and other complications. [6-7]
In addition to these benefits, calcium and vitamin D supplementation are thought to be very useful for treating osteoporosis. Calcium is the major component of bone and is dependent on vitamin D in order to be properly metabolized by the body. [8] Both of these nutrients play an important role in bone growth and development in children, as well as the maintenance of bone mineral loss in certain groups. It's recommended that pregnant people consume 600 international units of vitamin D and 1,000 mg of calcium every day through their diet and prenatal vitamins. [9] If you have questions or concerns about your nutrient intake or bone health, be sure to speak to a healthcare provider. 
Key Takeaways
Osteoporosis is a bone disease that develops when bone mass and bone mineral density decrease, or when the structure and strength of bone change.
Osteoporosis is most commonly seen in postmenopausal women and older men but can occur in people of any age, race, ethnicity, and sex.
While rare, some people develop pregnancy and lactation-associated osteoporosis (PLO) during pregnancy, after delivery, or while breastfeeding. 
There isn't an exact cause of PLO that we know of, but potential risk factors include age, genetics, race, pregnancy complications, and others. 
Osteoporosis is usually a silent condition, meaning there are very few symptoms that can be observed. People with PLO often present with back pain due to spinal fractures. 
Treatment and prevention methods are still being studied for PLO, but often include the use of certain medications and supplements, including calcium and vitamin D. 
Supporting your nutrition during pregnancy with a balanced diet and prenatal vitamins is a great way to promote adequate levels of vitamins and minerals. 
References:
Osteoporosis. NIH. National Institute of Arthritis and Musculoskeletal and Skin Diseases. December 2022. URL. 
Pregnancy, Breastfeeding, and Bone Health. NIH. National Institute of Arthritis and Musculoskeletal and Skin Diseases. May 2023. URL. 
Yun KY, Han SE, Kim SC, Joo JK, Lee KS. Pregnancy-related osteoporosis and spinal fractures. Obstet Gynecol Sci. 2017;60(1):133-137. doi:10.5468/ogs.2017.60.1.133
Cohen, A. Rare Form of Osteoporosis around Pregnancy Gets Spotlight at Columbia. Columbia University. May 2018. URL. 
Qian, Y., Wang, L., Yu, L. et al. Pregnancy- and lactation-associated osteoporosis with vertebral fractures: a systematic review. BMC Musculoskelet Disord 22, 926 (2021). https://doi.org/10.1186/s12891-021-04776-7
Vitamin D: screening and supplementation during pregnancy. Committee Opinion No. 495. American College of Obstetricians and Gynecologists. Obstet Gynecol 2011;118:197–8.
Meertens LJE, Scheepers HCJ, Willemse JPMM, Spaanderman MEA, Smits LJM. Should women be advised to use calcium supplements during pregnancy? A decision analysis. Matern Child Nutr. 2018;14(1):e12479. doi:10.1111/mcn.12479
Laird E, Ward M, McSorley E, Strain JJ, Wallace J. Vitamin D and bone health: potential mechanisms. Nutrients. 2010;2(7):693-724. doi:10.3390/nu2070693
Nutrition During Pregnancy. FAQ001. ACOG. June 2023. URL.
Shop Products From This Article