When Does Pregnancy Brain Start? & How To Get Rid of It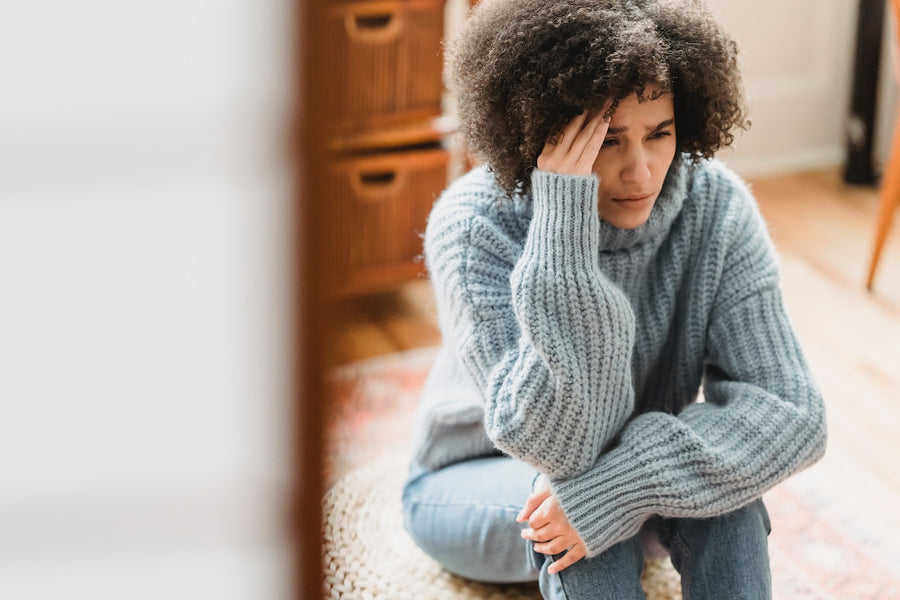 Have you had a difficult time concentrating recently? Maybe you're having a harder time focusing at work, you keep forgetting your keys, or it's taking you a bit longer than normal to recall information. While it may sound silly, pregnancy brain may actually be a real thing that impacts pregnant and postpartum people. A lot of us are used to treating and talking about the more physical changes of pregnancy like a growing belly or increased nausea, but a considerable number of people also struggle with mental clarity and memory. [1] 
What Is Pregnancy Brain?
The terms pregnancy brain, mom brain, and mommy brain are colloquial names used to describe certain symptoms that some people experience during pregnancy or postpartum. Those experiencing pregnancy brain may notice brain fog, an increase in forgetfulness, memory disturbances, absentmindedness, difficulty reading, poor concentration, etc. [1-2] While this may sound a bit unusual, there have been a few studies on cognitive functioning during pregnancy that back up these claims. [1-3] 
Multiple studies have focused on cognitive function by presenting various tests that measure attention, memory, learning, etc. Results often show that non-pregnant individuals score higher than pregnant or recently postpartum people. [1-3] 
Why Does Pregnancy Brain Happen?
So what causes this change in brain function? We don't have a definitive answer, but research does point to a few different theories. 
Hormones
If you've been reading up on pregnancy changes and what causes them, you've probably already seen that hormones have a huge impact. Hormones play a role in many different symptoms and bodily functions, like acne, round ligament pain, breastfeeding, mood, nausea, and so much more. Data also shows that increased levels of sex hormones may be to blame for pregnancy brain symptoms. [1-2] Hormones like progesterone and estrogen are very high during pregnancy in order to support the growing fetus, and may have an impact on cognitive function. Hormones are also higher during the second and third trimesters, which is when symptoms of pregnancy brain are highest. [1-2] 
Sleep Deprivation
Another potential cause of forgetfulness, brain fog, difficulty concentrating, etc. could be lack of sleep. Having a hard time getting ample sleep can start during pregnancy and can last for months after giving birth while you adjust to taking care of a newborn. Increased urination, discomfort, nausea, etc. can all make it difficult to sleep during pregnancy. Research shows that sleep deficiency can cause problems with cognitive function, mood, and behavior. [4] If you're having a difficult time falling asleep or staying asleep, speak with your doctor about what can help. Check out natural remedies for insomnia. 
Physical Changes In The Brain
New evidence shows a very interesting pattern in certain areas of the brain during pregnancy. [5] Researchers have reason to believe that there are changes in brain structure, primarily a reduction in gray matter volume, during pregnancy. [5] Gray matter is a type of tissue in the brain that is made up of many different neurons and is important for memory, language, reasoning, decision-making, movement, and more. 
Anxiety or Stress
Poor mental health or increased stress may also lead to difficulty concentrating or memory problems. It's normal to have some anxiety and stress when waiting for your baby to come, but if you feel as though you don't have a good handle on your anxiety or stress, you should speak to a healthcare provider. Research shows that high levels of stress may have an affect on memory and attention skills. [6] 
Poor Nutrition
Another important factor when supporting a healthy pregnancy is adequate nutrition. Many pregnant people will require more vitamins and minerals than those who aren't pregnant, which is why taking a prenatal vitamin and eating a balanced diet are so important. Research shows that some vitamin deficiencies can lead to impaired cognition and memory. [7-8] Ensure you're getting enough nutrients and calories every day to support your pregnancy and speak to your provider if you have concerns about your diet or nutrition. 
When Does Pregnancy Brain Start? 
You may notice some brain fog and other signs of pregnancy brain as soon as the first trimester, when hormones begin to increase. Many people also report symptoms in the second and third trimester. [1-3] We are still learning more about these cognitive effects and don't know for certain when symptoms may begin and end. 
When Does Pregnancy Brain End?
Pregnancy brain can last for a few weeks or months after giving birth. Symptoms may differ from person to person, but we do know that fluctuating hormones, sleep deprivation, and other potential causes are still present during the postpartum period. Brain fog may get better as soon as you give birth, or you may notice symptoms lingering for some time after. Just remember that you should always tell your provider if you're experiencing any symptoms so they can rule out any other causes. 
How to Get Rid of Pregnancy Brain
So what can be done to fix pregnancy brain? Unfortunately we still don't know much about what can cause or prevent these symptoms from appearing, but prioritizing your nutrition, sleep schedule, and stress levels may be helpful. Some tips for getting rid of pregnancy brain include:
Take a prenatal vitamin
Eat a balanced diet [9] 

Prioritize omega-3 fatty acids, vitamin B12, antioxidants, vitamin K, folate, and beta carotene. DHA supplements can also support baby's brain development!

Get plenty of sleep

Take naps during the day if needed, and find ways to support relaxation.

Exercise

Talk to your doctor about what exercises are safe for you. Research shows that physical activity is helpful for cognition. [10]

Work your brain

Studies show that mental activity is helpful for reducing cognitive impairment. [10] Try doing a crossword puzzle, sudoku, or another type of logic puzzle that will encourage you to work your brain. 

Adjust your routines

If you can't beat the pregnancy brain symptoms, try to adjust little parts of your routine that will help you later. Set reminders on your phone, use sticky notes, leave things in plain sight, text information to yourself, and lean on your partner, family, and friends for support. 
Natalist: Supporting You Every Step of the Way
Whether you're struggling with nausea, acne, constipation, or pregnancy brain, remind yourself that pregnancy doesn't last forever and there are many ways to manage and treat the not-so-great symptoms you may be experiencing. It is always best to see a healthcare provider if you're experiencing any new symptoms, but rest assured that it's normal for pregnancy to cause a long list of new sensations and experiences. If you're looking for ways to support your nutrition, hydration, and comfort throughout your pregnancy and postpartum journey, Natalist has got you covered. 
References:
Barda G, Mizrachi Y, Borokchovich I, Yair L, Kertesz DP, Dabby R. The effect of pregnancy on maternal cognition. Sci Rep. 2021;11(1):12187. Published 2021 Jun 9. doi:10.1038/s41598-021-91504-9
Henry JF, Sherwin BB. Hormones and cognitive functioning during late pregnancy and postpartum: a longitudinal study. Behav Neurosci. 2012;126(1):73-85. doi:10.1037/a0025540
Davies SJ, Lum JA, Skouteris H, Byrne LK, Hayden MJ. Cognitive impairment during pregnancy: a meta-analysis. Med J Aust. 2018;208(1):35-40. doi:10.5694/mja17.00131
How Sleep Affects Your Health. NIH. June 2022. https://www.nhlbi.nih.gov/health/sleep-deprivation/health-effects
Hoekzema, E., Barba-Müller, E., Pozzobon, C. et al. Pregnancy leads to long-lasting changes in human brain structure. Nat Neurosci 20, 287–296 (2017). https://doi.org/10.1038/nn.4458
Protect your brain from stress. Harvard Health Publishing. Harvard Medical School. February 2021. https://www.health.harvard.edu/mind-and-mood/protect-your-brain-from-stress
Spencer SJ, Korosi A, Layé S, Shukitt-Hale B, Barrientos RM. Food for thought: how nutrition impacts cognition and emotion. NPJ Sci Food. 2017;1:7. Published 2017 Dec 6. doi:10.1038/s41538-017-0008-y
Jatoi S, Hafeez A, Riaz SU, Ali A, Ghauri MI, Zehra M. Low Vitamin B12 Levels: An Underestimated Cause Of Minimal Cognitive Impairment And Dementia. Cureus. 2020;12(2):e6976. Published 2020 Feb 13. doi:10.7759/cureus.6976
Foods linked to better brainpower. Harvard Health Publishing. Harvard Medical School. March 2021. https://www.health.harvard.edu/healthbeat/foods-linked-to-better-brainpower 
Andrade C, Radhakrishnan R. The prevention and treatment of cognitive decline and dementia: An overview of recent research on experimental treatments. Indian J Psychiatry. 2009;51(1):12-25. doi:10.4103/0019-5545.44900
Shop Products From This Article